x
Fiesta Inn Aeropuerto Ciudad de Mexico
Location #93 of 294 hotels in Mexico City
GreenLeader Platinum
Summary of qualifications
Best comments
"Good Option for Overnight Stay"
We stayed in the Ramada on our outbound flight and we were much happier with the Fiesta Inn. Bigger rooms, nicer beds and carpet on the floor. Excellent quick check in with complimentary beverages on all floors. Our booking included breakfast - options were vast from eggs, cereal etc to a full lunch buffet! Shuttle bus will drop and collect from the airport terminals. A good option for overnight transit.
"Great stay for an overnight layover"
Get explicit details from the hotel about the free shuttle from the airport. It can be a little complicated if you haven't been to MEX before. Good restaurant and a very comfortable room (although ours seemed to be at an angle). The grounds are very nicely landscaped and the entire hotel is very quiet compared with the surrounding traffic. I would stay here again except that I thought that the price was a little high for Mexico City.
"Fantastic Staff and accommodations"
I was pleasantly surprised by the accommodations and friendliness of the staff. They made my trip there special. The front desk staff were excellent and the waiters were extremely pleasant. Food was great as well and the price was very reasonable.
"Starting and Ending of a Journey"
I traveled with a Cactus and Succulent tour that started and ended at the Fiesta Inn Aeropuerto, in Mexico City, by the airport. The dinner and breakfast buffets were very good, as was all of the service that was paid to our group. The location was very good, with quick access to and from the airport!
"Good for one night stop over"
Basic Hotel, it has some style but still you feel you are like in a days inn or quinta inn, Internet worked very good, buffet food not good at all, flavors very flat, nothing special, most of the food are hot and they should thing in the rest of the world, not everybody eats spicy food. only a "parrilla" that had the ultra basic stuff was not hot. right next to the airport so is good when you arrive late or leave early. Price is a little bit high to what you get, they should work on that. I would recommend this hotel for 1 night stay. Pillows needs an upgrade, foam is the material and not very comfy for sleeping.
Top-rated Attractions Nearby
National Museum of Anthropology (Museo Nacional de Antropologia)
Eat Mexico Private Culinary Tours
Journeys Beyond the Surface Private Popular Culture Tours
Segway Tours by Greenway
Sabores Mexico Food Tours
Enigma Rooms
Pata de Perro DF - Private Tour
Mexican Food Tours
Walk it.
Mexico City Urban Adventures - Day Tours
Photos hotel and surroundings (139)
Strategically located across from the Mexico City Airport, with shuttle service for guests during all year, this hotel is an excellent option for business travelers that need a central location and an agreeable setting. The hotel has gardens and an outdoor pool. The hotel is situated just 20 minutes from the Historic Center, the Zona Rosa neighborhood and 10 minutes from the Foro Sol stadium and the Palacio de los Deportes (sports arena). The hotel offers free airport-hotel-airport shuttle service every 20 minutes (At the number 4 door in the Terminal 1 and in front of national arrivals in Terminal 2)


Fiesta Inn Aeropuerto Ciudad de México is an Eco-friendly hotel, so it is a 100% smoke free hotel.

We remind you that the check-in time is from 3:00 PM. Check-out is at 12:00 PM. We suggest you use our express check-out service.

Services
The hotel has 327 rooms, a restaurant, a lobby bar open from 1:00 p.m. to 12:00 a.m., swimming pool and fitness center. Hotel services include: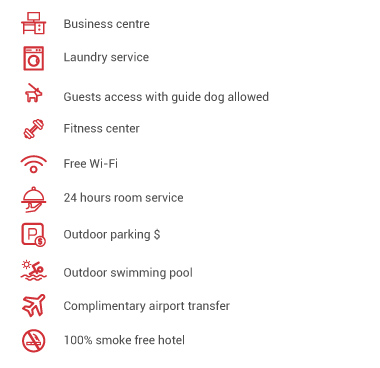 Restaurant

Restaurant
The Fiesta Inn features a restaurant which opens from 6:00 a.m. until 12:00 a.m. and is an excellent choice for breakfast, lunch and dinner. Try our breakfast, lunch or dinner buffets or order items from the menu. Different buffet styles are served Monday through Friday including Mexican, Italian and Seafood on Fridays.
Meeting Rooms

Event and meeting rooms
The hotel has a Business Center with computers and high speed wireless Internet, and 12 meeting rooms with a screen, air conditioning and capacity for 8 people.

It also features event rooms that can be adapted to host up to 500 people in an auditorium; each room has a board, electric screen, flip charts, coffee service and personalized service. Our professional team will help with your groups and conventions.
Rooms
Executive Room, 1 King
Whether traveling for work or pleasure, you will feel instantly relaxed when entering these spacious rooms with minimalist design and laminated floors. Each room has a king bed, 32" LCD TV, two telephones, and work desk with high-speed wireless Internet. They also offer a bathroom with tub, air conditioning, security safe and ironing kit, and everything you need for an enjoyable stay, including 24-hour room service and a travelers kit.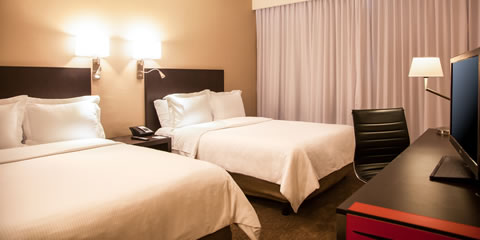 Executive Room, 2 Double
These spacious rooms feature minimalist design and laminated floors, making them ideal for rest and relaxation. Each room has two double beds, 32" LCD TV, two telephones, and work desk with high-speed wireless Internet. They also offer a bathroom with tub, air conditioning, security safe and ironing kit, and everything you need for an enjoyable stay, including 24-hour room service and a travelers kit.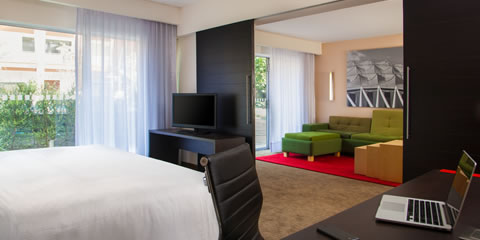 Junior Suite King
A spacious room with 2 areas: living room and bedroom; featuring 1 king-sized bed, microwave, mini refrigerator, two 32" LED screens (one in each room), 2 phone lines and a spacious desk.