Please be advised that until June 27th, 2015, we will be working in public areas and swimming pool refurbishment to create a better experience for our guest. We apologize in advance for any inconvenience that this may cause.
Fiesta Inn continues to evolve, transform, and innovate its Business Class hotel concept. With a fresh, modern image and new facilities, Fiesta Inn Cuautitlán is the perfect example of business accommodations done right. Designed to encourage creativity and productivity, the hotel's spaces are functional yet friendly, allowing guests to be connected while remaining independent. Today's Fiesta Inn is more than simply a hotel; it is a community of professionals who thrive on success.
Located in the city of Cuautitlán Izcalli, in the northern region of the State of Mexico, the hotel is just 5 minutes away from the most important shopping centers and industrial complexes in the area, such as O'Donnell, Tres Ríos, El Convento, La Luz, El Trébol and Cuamatla. It is strategically located to give you an endless number of options for comfort, well-being and fun.
The hotel has 128 comfortable rooms, a pool, restaurant, high-speed wireless Internet, 24-hour room service, office services and the perfect spaces to hold work events or meetings.
We remind you that the check-in time is from 3:00 PM. Check-out is at 1:00 PM. We suggest you use our express check-out service.

Fiesta Inn Cuautitlan is an Eco-friendly hotel, so it is a 100% smoke free hotel.
Restaurant

Restaurant
Fiesta Inn Cuautitlán brings you the freedom and service of La Isla, a 24-hour restaurant that lets you choose what you want and when. Offerings include a breakfast buffet, restaurant, grab and go, room service, or special items to take a break and relax. The dining area¿s bright, refreshing colors and its modern style are visually appealing and create the perfect place for you to enjoy your stay. Try our breakfast buffets and order from our lunch and dinner menus, which offer dishes including salads, pasta, sandwiches, fish and more, all designed to be healthy options that keep you feeling your best.
Services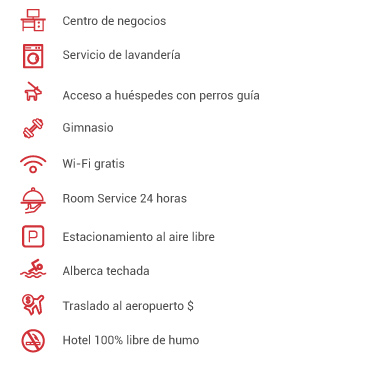 We care for business travelers
The hotel has 128 rooms, a restaurant, a lobby bar open from 12:00 p.m. to 11:00 p.m., indoor swimming pool, gift shop and fitness center. Hotel services include:

-24 hour room service
-Free high speed Internet
-Laundry service
-Outdoor parking
-Guest access with a guide dog allowed
-Business center
-Airport transfer (an additional charge applies)

-100% smoke free hotel