Please be advised that until August 5th, 2015, we will be working in public areas refurbishment to create a better experience for our guest. We apologize in advance for any inconvenience that this may cause.
Fiesta Inn continues to evolve, transform, and innovate its Business Class hotel concept. With a fresh, modern image and new facilities, Fiesta Inn Cuautitlán is the perfect example of business accommodations done right. Designed to encourage creativity and productivity, the hotel's spaces are functional yet friendly, allowing guests to be connected while remaining independent. Today's Fiesta Inn is more than simply a hotel; it is a community of professionals who thrive on success.
Located in the city of Cuautitlán Izcalli, in the northern region of the State of Mexico, the hotel is just 5 minutes away from the most important shopping centers and industrial complexes in the area, such as O'Donnell, Tres Ríos, El Convento, La Luz, El Trébol and Cuamatla. It is strategically located to give you an endless number of options for comfort, well-being and fun.
The hotel has 128 comfortable rooms, a pool, restaurant, high-speed wireless Internet, 24-hour room service, office services and the perfect spaces to hold work events or meetings.
We remind you that the check-in time is from 3:00 PM. Check-out is at 1:00 PM. We suggest you use our express check-out service.

Fiesta Inn Cuautitlan is an Eco-friendly hotel, so it is a 100% smoke free hotel.
Services
The hotel has 128 rooms, a restaurant, a lobby bar open from 12:00 p.m. to 11:00 p.m., indoor swimming pool, gift shop and fitness center. Hotel services include: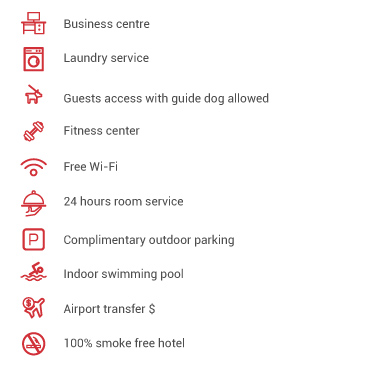 Restaurant

Restaurant
Fiesta Inn Cuautitlán brings you the freedom and service of La Isla, a 24-hour restaurant that lets you choose what you want and when. Offerings include a breakfast buffet, restaurant, grab and go, room service, or special items to take a break and relax. The dining area¿s bright, refreshing colors and its modern style are visually appealing and create the perfect place for you to enjoy your stay. Try our breakfast buffets and order from our lunch and dinner menus, which offer dishes including salads, pasta, sandwiches, fish and more, all designed to be healthy options that keep you feeling your best.
Meeting Rooms

Event and meeting rooms
Work is more enjoyable with our Business Center. We have 5 meeting rooms that accommodate 6 people each and are equipped with TVs, computer equipment, fax machine, copier, black-and-white and color printers, scanner, Internet access, and secretary services.
To help make your trip and event a success, we have 3 modular meeting rooms which can be configured to accommodate up to 180 people. Each room is equipped with whiteboard, projector, flip chart, coffee service for breaks, and personalized service to meet your needs.
x
Location #1 of 1 hotels in Cuautitlan Izcalli
GreenLeader Silver
Certificate of Excellence 2015
Summary of qualifications
Best comments
"Good hotel and good service"
I was in the hotel on a trip for work. The hotel is under renovation, but the friendly staff make you forget the inconvenience caused by the work. Both the staff at the reception that the restaurant are very kind and especially the restaurant follow clients with attentive solicitude. At the start the staff offered me a Margarita. A pleasant thought that I will return on my next trip
"Confortable"
The hotel is ok. The service is just fine. Although I had a group reservation for a wedding event. They did not have my room reserved online, so we had to wait a bit in the reception. Other than that the Hotel is confortable.
"Great Experience!"
I visited this hotel while working in the area and was very pleased with the quality and service. Especially the evening crew Adrian, Moises, Jose and Chef Miguel. The food is great! And they take care of every aspect of your stay while you are there. I would definitely recommend to anyone who is in the are and needs a convenient hotel with great customer service
"Good value for the money and very good customer service!"
My wife and I stayed in this Fiesta Inn Cuautitlan on May 1-2 2015 as we were attending a wedding in the nearby Tepozotlan area. We were gladly surprised by the excellent and kind service offered by all the staff since arriving. Check in was very fast, Internet service worked well and swimming pool and gym facilities were in very good conditions. Still this is a business-oriented hotel and is very similar to other hotels of the same chain (not really designed for a pleasure stay). However, what makes different this hotel for the rest of the Fiesta Inn is how courteous and service is the personnel. Its outstanding how in this location in particular the staff really make an effort to make your stay a pleasant experience. Its more outstanding the service level comparing against other hotels from the same chain we have visited: Santa Fe, Patriotismo, & Reforma (all in Mexico DF), In conclusion, this is a good option if: -You need to attend the Cuautitlan or Tepozotlan areas (bizz, wedding, or visiting nearby eco-park "Xochitla"). - A short stay (1/2 days) and looking for clean room with some amenities (OK pool and good wifi service, OK restaurant). Probably not that good option if: -You are looking for some 5-star/luxury stay (booking to some VIP visitors or so); - if you are planning to go Mexico City frequently (it's still far away and could take more that 2 hours in rush hour). Still in general a nice hotel which we gladly would return if we had the chance!!!
"Nice hotel for business travel"
I stay here regularly for business and have always had a good experience. The rooms are clean and quite and the food at the restaurant is good. The gated shopping center where the hotel is located also has a lot of nice places to shop and eat. This is not a high thrills hotel, but it is very clean and feels safe. Most of the staff I have encountered speak at least a little bit of English, and some speak it very well. As far as I know it is the best hotel in the area.
Top-rated Attractions Nearby
Museo de Artes Populares
Pocket's Billiards & Fun
Xochitla
Museo Nacional del Virreinato
Plaza Estado De Mexico
Lo De Marcos Horse Tours
Library (Biblioteca)
Museo Adolfo Lopez Mateos
Bacalar Bike Tour- Day Tours
Mayaventuras Tours - Day Tours
Photos hotel and surroundings (26)
Rooms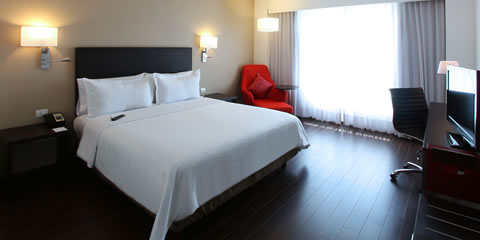 Superior Room, 1 king
The warm environment of this room will inspire you to accomplish everything you need to during your trip. It is equipped with a king-size bed, coffeemaker, high-speed Internet access, work desk with task lamp, cable TV, pull-out bed, ironing kit, personal care items, hair dryer and bathtub.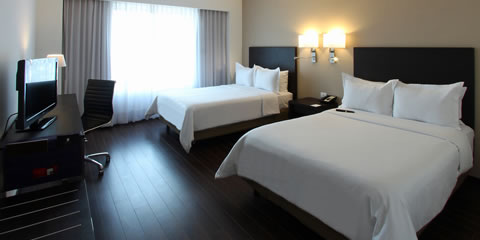 Superior Room, 2 double
We have designed this comfortable room to guarantee your rest and provide you with everything you need to work comfortably. It is equipped with 2 double beds, a work desk with ergonomic chair, high-speed Internet access, 2 wardrobes, cable TV, luggage cart, closet, full length mirror, and ottoman.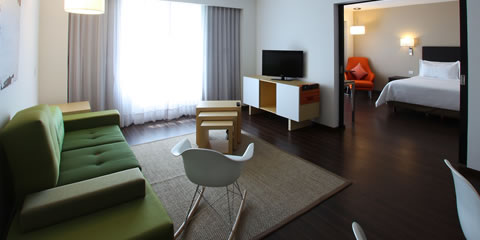 Junior Suite King
Experience your stay exactly how you imagined it with the freedom of this spacious room that features two parts: a bedroom with a king-size bed and a living room with a 4-person dining table, microwave and refrigerator. This room has 3 telephone jacks, an executive work desk, 2 TVs, living room, dining room, clothes rack, and comfortable pullout bed.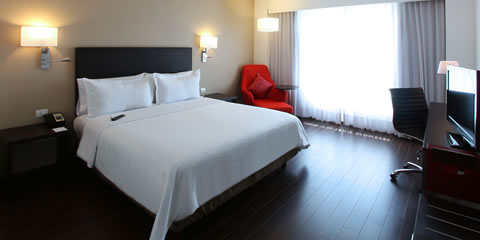 Room for handicapped persons
This room is outfitted with safety rails, shower bars, an elevated toilet with grab bars, and a wide entry door, providing you with everything you require to meet your special needs. It is also equipped with a single bed, closet, work desk, wireless internet, telephone, cable TV, air conditioning, coffeemaker and full bathroom.