Please be advised that until June 30th, 2015, we will be working in public areas and swimming pool refurbishment to create a better experience for our guest. We apologize in advance for any inconvenience that this may cause.
Fiesta Inn continues to evolve, transform, and innovate its Business Class hotel concept. With a fresh, modern image and new facilities, Fiesta Inn Cuautitlán is the perfect example of business accommodations done right. Designed to encourage creativity and productivity, the hotel's spaces are functional yet friendly, allowing guests to be connected while remaining independent. Today's Fiesta Inn is more than simply a hotel; it is a community of professionals who thrive on success.
Located in the city of Cuautitlán Izcalli, in the northern region of the State of Mexico, the hotel is just 5 minutes away from the most important shopping centers and industrial complexes in the area, such as O'Donnell, Tres Ríos, El Convento, La Luz, El Trébol and Cuamatla. It is strategically located to give you an endless number of options for comfort, well-being and fun.
The hotel has 128 comfortable rooms, a pool, restaurant, high-speed wireless Internet, 24-hour room service, office services and the perfect spaces to hold work events or meetings.
We remind you that the check-in time is from 3:00 PM. Check-out is at 1:00 PM. We suggest you use our express check-out service.

Fiesta Inn Cuautitlan is an Eco-friendly hotel, so it is a 100% smoke free hotel.
Services
The hotel has 128 rooms, a restaurant, a lobby bar open from 12:00 p.m. to 11:00 p.m., indoor swimming pool, gift shop and fitness center. Hotel services include: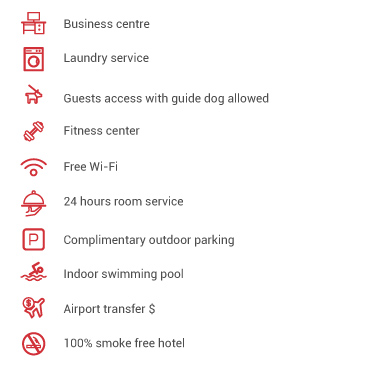 Restaurant

Restaurant
Fiesta Inn Cuautitlán brings you the freedom and service of La Isla, a 24-hour restaurant that lets you choose what you want and when. Offerings include a breakfast buffet, restaurant, grab and go, room service, or special items to take a break and relax. The dining area¿s bright, refreshing colors and its modern style are visually appealing and create the perfect place for you to enjoy your stay. Try our breakfast buffets and order from our lunch and dinner menus, which offer dishes including salads, pasta, sandwiches, fish and more, all designed to be healthy options that keep you feeling your best.
Meeting Rooms

Event and meeting rooms
Work is more enjoyable with our Business Center. We have 5 meeting rooms that accommodate 6 people each and are equipped with TVs, computer equipment, fax machine, copier, black-and-white and color printers, scanner, Internet access, and secretary services.
To help make your trip and event a success, we have 3 modular meeting rooms which can be configured to accommodate up to 180 people. Each room is equipped with whiteboard, projector, flip chart, coffee service for breaks, and personalized service to meet your needs.
Rooms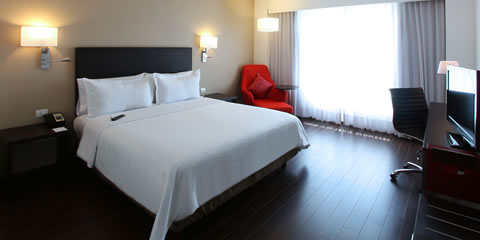 Superior Room, 1 king
The warm environment of this room will inspire you to accomplish everything you need to during your trip. It is equipped with a king-size bed, coffeemaker, high-speed Internet access, work desk with task lamp, cable TV, pull-out bed, ironing kit, personal care items, hair dryer and bathtub.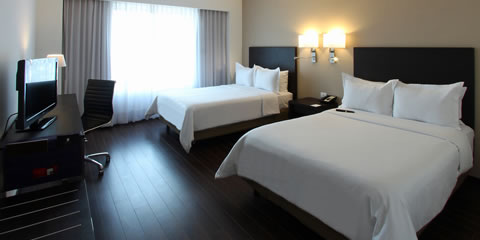 Superior Room, 2 double
We have designed this comfortable room to guarantee your rest and provide you with everything you need to work comfortably. It is equipped with 2 double beds, a work desk with ergonomic chair, high-speed Internet access, 2 wardrobes, cable TV, luggage cart, closet, full length mirror, and ottoman.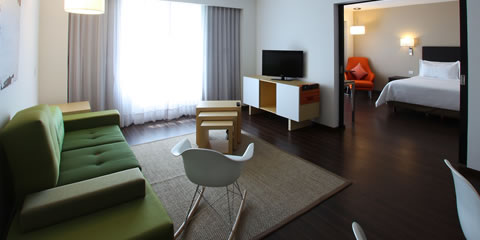 Junior Suite King
Experience your stay exactly how you imagined it with the freedom of this spacious room that features two parts: a bedroom with a king-size bed and a living room with a 4-person dining table, microwave and refrigerator. This room has 3 telephone jacks, an executive work desk, 2 TVs, living room, dining room, clothes rack, and comfortable pullout bed.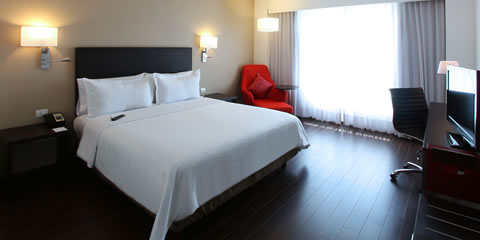 Room for handicapped persons
This room is outfitted with safety rails, shower bars, an elevated toilet with grab bars, and a wide entry door, providing you with everything you require to meet your special needs. It is also equipped with a single bed, closet, work desk, wireless internet, telephone, cable TV, air conditioning, coffeemaker and full bathroom.