Located in the new financial district in the country and also where the largest international firms are located, one block from Expo Bancomer Santa Fe and 5 minutes from the largest shopping center in Latin America: Santa Fe Shopping Center. Situated five km from the highway to Toluca and 1:30 minutes from the Mexico City Airport.

We remind you that the check-in time is from 3:00 PM. Check-out is at 1:00 PM. We suggest you use our express check-out service.

Services
The hotel has 189 rooms, a restaurant, a lobby bar open from 4:00 p.m. until 11:00 p.m., a gift shop and fitness center. Hotel services include: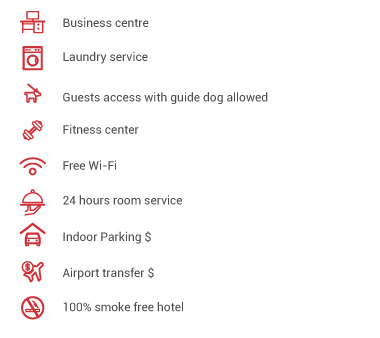 Restaurant

Restaurant
The Fiesta Inn features a restaurant which opens from 6:30 a.m. until 11:00 p.m. and is an excellent choice for breakfast, lunch and dinner. Choose from buffet or menu dishes, our Mexican appetizers and the finest regional cuisine in a setting designed with contemporary style.
Meeting Rooms

Event and meeting rooms
The hotel has a Business Center with computers and high speed wireless Internet, it also has 2 meeting rooms with a screen, air conditioning and capacity for up to 6 people.

Furthermore, as part of the complex adjoined to the Fiesta Americana Santa Fe, the meeting rooms there are available for use. Our professional team will help with your groups and conventions.
x
Fiesta Inn Santa Fe Hotel
Location #76 of 295 hotels in Mexico City
GreenLeader Gold
Summary of qualifications
Best comments
"better not to use"
not a good experience, air conditioning too noise, the service room arrived cold and reception struggle to speak english. room are large and clean. also I've been charged twice, one directly and one via office (pending reimbursement)
"Inconsiderate and Slow"
I go to Mexico City for work about 4-5 times per year and we have stayed at this hotel multiple times. The service(bar/checkin) are always slow, but this time someone tried opening my door at about 2am in the morning. ..luckily I had the extra door lock closed. I literally jumped out of my bed and said hello. They left and I wasn't going to worry about it till the morning. It had been a long day and I wanted to get some sleep. Well, then about 30 minutes later as I was almost asleep again, the front desk calls and asked for my last name. This put me over the edge. I didn't sleep the rest of the night just rolled around which left me in a very tired state the next day. ONE Question, Couldn't they have waited till the morning to check in with me instead of calling me in the middle of the night after already being woke up??? I will not suggest this hotel to anyone and do not plan on staying here again.
"Great hotel to visit"
Clean, limpio access,friendly,affordable, muy barato I give 5 stars,malls,restaurant, Very quite, cerca,near Socalo,downtown Socalo,very secure,muy Seguro,food alimentos comida,clean limpio,best hotel around that area
"Good cost x benefit option"
I was in this hotel for a week in May/2015. Room was fine, although I found some water leaks dropping from the fire alarm. Bathroom was clean, plenty of space in the room and a pretty good breakfast. Considering the location and the costs, in the overall was a good hotel.
"Good Location - Average Services"
The hotel has a friendly Staff and is located in an awesome neighborhood. I reduced two points from the hotel since they set me into a room that had a cigar smell. Since I was tired about the plane trip... I haven't requested to change the room in the first day. In the second day of stay, the smell was going away.... and since I was already setup, I decided not to change room. Other than that: the breakfast is good, with some mexican local dishes. The rooms are spacious and functional, it even has a tub. I would recommend the hotel.. but be aware if your room smells different!
Top-rated Attractions Nearby
Escaparate Bar
Royal Bol
La Castellana Wine & Spirits
Garden Santa Fe
Visiting Cozumel-Day Tours and Boat Tours
KidZania Santa Fe
Crabtree & Evelyn
Centro Santa Fe
Cenote de 7 bocas
The Muddy Boot
Photos hotel and surroundings (19)
Rooms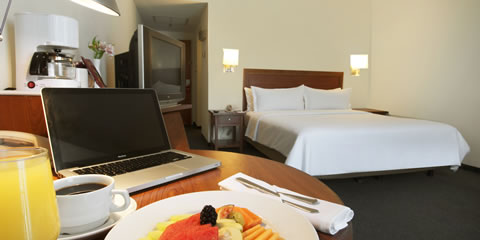 Superior Room, 1 king
The room is 30 m2 with a king-size bed, 2 bedside tables, 29" TV, reading chair and spacious work desk, telephone, bathroom with tub, shower and toilet.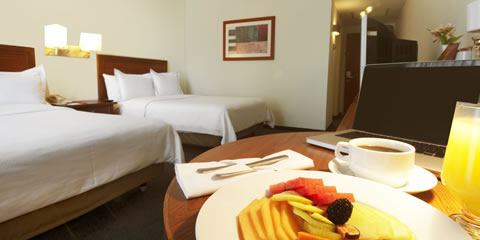 Superior Room, 2 double
Equipped with 2 double beds, 29" TV, spacious work desk, telephone, bathroom with tub, shower and toilet.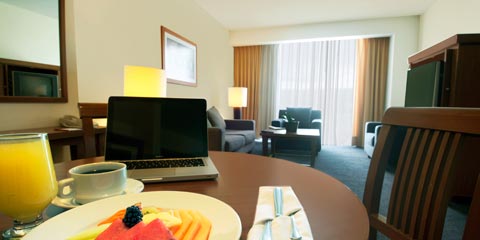 Junior Suite King
This spacious room consists of a fully-furnished bedroom with telephone and TV and a room with a modern dining area with a microwave, coffee maker, a small refrigerator and a comfortable living room with a sofa bed, side tables, a telephone and a 27" television.