x
Location #14 of 89 hotels in Puebla
GreenLeader Platinum
Certificate of Excellence 2015
Summary of qualifications
Best comments
"Good Option"
Good option for business, location is a good place easy to move from there, excelent hospitality, Wifi Ok,in general the stay in this hotel is very comfortable, and of course I recomend this hotel and is one of my favorite place, normally when I have to be in Puebla this is my first option, when it is busy I do not like looking for other options
"Very nice place to stay on the Carreterra"
Traveling through Puebla? If you don't want the hustle and bustle of entering the city The Fiesta Inn FINSA is a very good overnight choice. We were traveling from the south to San Miguel de Allende and needed a comfortable place to stay close to the highway. You can see 3 large hotels while on the Autopista Mexico - Puebla. The Fiesta Inn had very good reviews. It was a very good choice. We booked online through Expedia and saved about 1/2 the drop inn room rate. The check-in process was easy having booked online while traveling. The room was large and well appointed. The staff was very helpful and easy to deal with. We had an excellent breakfast in the morning. About my only complaint was the view of the famous volcano, although easily visible from the room window, had a screen over the space that negated efforts for a few good photos. Too bad, but you can't have everything.
"Solid stay with great service."
Have really enjoyed the great service and friendly manager. Had some meetings in different meeting rooms and we were always served with all our needs in a snap. Good view over the city and to the volcanos from the top floors. But I has to mention, don't spend overnight there, only for the meetings on 3 days.
"Good hotel"
This is a very good hotel, with a fair price for what you get, it is obviously a business hotel, it is just on one side of a very important highway, the room is good, clean and spacious, the only thing i would add it is an alarm/clock there was none in the room i got, i used this hotel for a one night stop and it was good, the staff is very friendly. The only bad point it is that since it is located right in front of the highway you get the vehicles and trailers noise all night long, so if you have a very light sleep i would recommend to ask for a quiet room, at least the one i got it was noisy, but for me it was not a big issue.
"Good hotel"
Hotel is in general good. Is clean, room was very comfortable, not too big but enough space to rest pretty good after a work day. Room was pretty quiet and I was able to have a good sleep, bed was soft and pillows as well soft, clean service did a great job. Room service is good, the breakfast is pretty good, and the staff at the restaurant is amazing! Check In / out was fast. Gym is well equipped, not a bunch of equipment but enough to keep you on shape and working out during your trip. The only one thing I feel disappointed is that they did not charge my Fiesta Rewards points about the consumption food at the hotel, with that I will be upgraded to next level, and I really feel very very disappointed about that, because I sent an email to the manager and she did not follow up this small aspect, but for me is important. Just take care, and make sure they charge your points, all of them if you are part of a rewards program.
Top-rated Attractions Nearby
Rosary Chapel (Capilla del Rosario)
Iglesia de Tonantzintla
Soy Poblana Street Food Tour
Catedral Basilica de Puebla
Zocalo
Church of Santo Domingo (Iglesia de Santo Domingo)
Cantona Archaeological Ruins
Piedras Encimadas
Talavera de la Luz
Biblioteca Palafoxiana
Photos hotel and surroundings (33)
If you are traveling to Puebla, please make sure to arrive at the hotel by 10pm. Due to an ongoing maintenance project, the highway to access the hotel is closed from 10pm to 5am and it could affect your ability to access the hotel. Please plan appropriately to avoid any inconvenience.
Located 5 minutes from the FINSA industrial park, home of several major automotive companies, and near the Mexico-Puebla Highway at the main entrance to Hermanos Serdán Boulevard. The hotel is 20 minutes from the city center and 15 minutes from the main shopping centers.

We remind you that the check-in time is from 3:00 PM. Check-out is at 12:00 PM. We suggest you use our express check-out service.

Services
The hotel has 123 rooms, a restaurant, a lobby bar open from 2:00 p.m. to 11:00 p.m., indoor swimming pool, gift shop and fitness center. Hotel services include: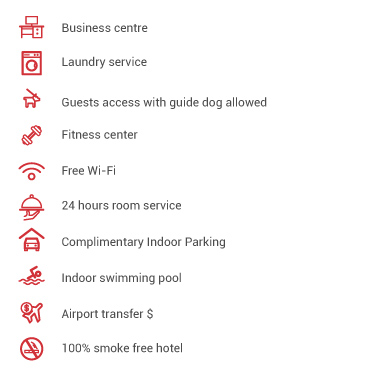 Restaurant

Restaurant
The Fiesta Inn features a restaurant which opens from 6:00 a.m. until 12:00 a.m. and is an excellent choice for breakfast, lunch and dinner. Enjoy the view in the adjoining garden, which has a children's play area.
Meeting Rooms

Event and meeting rooms
The hotel has a Business Center with computers and high speed wireless Internet, It also has 2 meeting rooms with a screen, air conditioning and capacity for 8 people.
It also features meeting rooms that can be adapted to host up to 240 people in an auditorium; each room has a board, electric screen, flip charts, coffee service and personalized service. Our professional team will help with your groups and conventions.
Rooms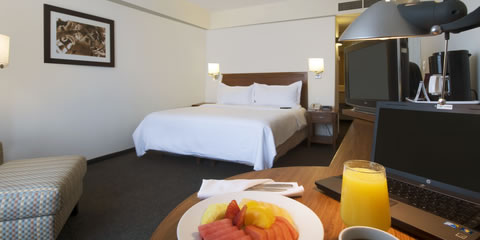 Superior Room, 1 king
The room is 30 m2 with a king-size bed, 2 bedside tables, 29" TV, reading chair and spacious work desk, telephone, bathroom with tub, shower and toilet.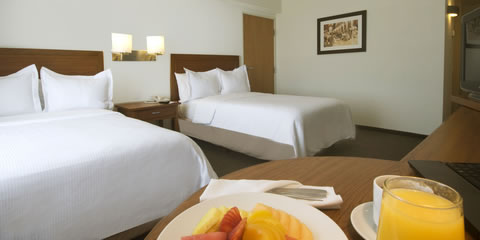 Superior Room, 2 double
Equipped with 2 double beds, 29" TV, spacious work desk, telephone, bathroom with tub, shower and toilet.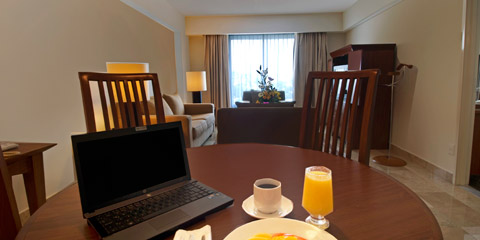 Junior Suite King
Rooms located on the eighth floor. Includes a bedroom with king-size bed and a small living room. One non-smoking and two smoking rooms available; perfect for extended stays.