We would like to share an important notice about the evolution of the Fiesta Inn Querétaro. As of August, the hotel has embarked on an extensive remodeling project of the guest rooms, transforming it into an innovative Fiesta Inn Business Class hotel. The hotel will remain open throughout the renovation process. We invite you to consider if necessary the hotel One Querétaro Plaza Galerías.

Located on Avenida 5 de Febrero, almost on the corner of Avenida Zaragoza, very close to the city center and with easy access to roads going to Mexico City, San Luis Potosi and Celaya. The hotel is only 40 minutes from the city's airport and 10 minutes from the bus station and top tourist attractions, including the Regional Museum, the historic Casona de los 5 Patios (large house with 5 courtyards), Peña de Bernal rock, Cerro de las Campanas Hill and San Miguel de Allende.

Fiesta Inn Querétaro is an Eco-friendly hotel, so it is a 100% smoke free hotel.

We remind you that the check-in time is from 3:00 PM. Check-out is at 1:00 PM. We suggest you use our express check-out service.

Restaurant

Cafe La Fiesta
The Fiesta Inn features Cafe La Fiesta which opens from 6:00 a.m. until 11:00 p.m. and is an excellent choice for breakfast, lunch and dinner. Choose from buffet or menu dishes, our Mexican appetizers and the finest regional cuisine in a colonial-style setting.
Services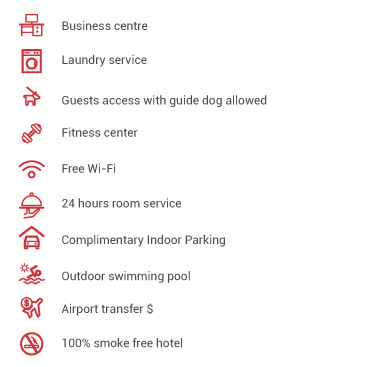 We care for business travelers
The hotel has 175 rooms, a restaurant, a lobby bar open from 4:00 p.m. to 11:00 p.m., outdoor swimming pool, gift shop and fitness center. Hotel services include:

-24 hours Room Service
-Free high speed Internet
-Laundry service
-Indoor parking
-Guest access with a guide dog allowed
-Business center
-Airport transfer (an additional charge applies)
-100% smoke free hotel