Fiesta Inn
Aeropuerto Ciudad de México
Fiesta Inn Aeropuerto Ciudad de México
Strategically located across from the Mexico City Airport, with shuttle service for guests during all year, this hotel is an excellent option for business travelers that need a central location and an agreeable setting. The hotel has gardens and an outdoor pool. The hotel is situated just 20 minutes from the Historic Center, the Zona Rosa neighborhood and 10 minutes from the Foro Sol stadium and the Palacio de los Deportes (sports arena). The hotel offers free airport-hotel-airport shuttle service every 20 minutes (At the number 4 door in the Terminal 1 and in front of national arrivals in Terminal 2)


Fiesta Inn Aeropuerto Ciudad de México is an Eco-friendly hotel, so it is a 100% smoke free hotel.

We remind you that the check-in time is from 3:00 PM. Check-out is at 12:00 PM. We suggest you use our express check-out service.

Services
The hotel has 327 rooms, a restaurant, a lobby bar open from 1:00 p.m. to 12:00 a.m., swimming pool and fitness center. Hotel services include:
Gym
Restaurant(s)
100% smoke free hotel
Guests access with guide dogs
Outdoor parking with cost
Shuttle service (subject to availability)
Pets are not allowed
Business center
Free Wi-Fi access
Laundry service
Bar(s)
24 hours room service
Outdoor pool
Restaurant

Restaurant
The Fiesta Inn features a restaurant which opens from 6:00 a.m. until 12:00 a.m. and is an excellent choice for breakfast, lunch and dinner. Try our breakfast, lunch or dinner buffets or order items from the menu. Different buffet styles are served Monday through Friday including Mexican, Italian and Seafood on Fridays.
Meeting Rooms

Event and meeting rooms
The hotel has a Business Center with computers and high speed wireless Internet, and 12 meeting rooms with a screen, air conditioning and capacity for 8 people.

It also features event rooms that can be adapted to host up to 500 people in an auditorium; each room has a board, electric screen, flip charts, coffee service and personalized service. Our professional team will help with your groups and conventions.
Qualified:
x
Fiesta Inn Aeropuerto Ciudad de Mexico
Location #66 of 312 hotels in Mexico City
GreenLeader Platinum
Summary of qualifications
Best comments
"Expensive hotel getting dated"
Hotel is located close to airport. staff is very kind and helpful. fast internet. room cleanliness is deficient, noise insulation in room is poor and allows you to hear the planes all night long. breakfast is not included in price and it should be because is not cheap.
"Great little hotel. Would stay again."
I had an early morning flight from DF, so the only option was to stay close to the airport. I took a risk with the Fiesta and was very happy with the result. Their is a small reception in DF airport where you can wait for the bus and have complementary water and coffee. The little bus from the airport to the hotel was quick (some may say a little too quick). Checkin was very fast and friendly and the room was easy to find. The room was a nice size with complementary water and coffee. The bed was big and comfortable and the tv on the wall was HUGE for a hotel at this price. The bathroom was an ok size with a very nice shower. I will definitely be staying here again.
"Perfect for an overnight close to the airport"
Arrived at night and leave early morning, the hotel was perfect to rest one night between my flights. The staff in reception were super nice , (check in/out), the breakfast was very good with very large selection of food. They have shuttle service to and from the airport for free, so do not forget to ask in which doors at the terminal you can take the shuttle to go to the hotel.
"Excellent Stay, Painful Arrival"
The Fiesta Inn was the perfect pace for us to break up a long journey. The staff was friendly, the room was clean and comfortable, and there was a WIngs restaurant right next door for reasonably priced food. Our only issue was with the shuttle from the airport. Their website said to go to door four of international arrivals and the shuttle would come by every 20 minutes. After waiting for half a hour with a tired one year old baby, we began to ask around. A local baggage handler told us that we had to talk to a guy inside the airport to call the shuttle for us! 20 minutes later it arrived. if my wife didn't speak spanish, we may have waited there for hours. We were not impressed by the disconnect between their website and the actual process for getting their shuttle.
"The worst possible place to stay in Mexico City!"
I have been visiting Mexico City since 1999. This is the first time I am hosted in a place with all the defects I really hate. As follows: 1- You will always find a huge traffic jam to arrive at the hotel. 2- The hotel always turn off the air conditioning compressors during the night. 3- Internet is extremely bad. 4- Even staying a few meters from the airport, the windows are non soundproof. 5- Unfriendly Staff. 6- Low quality and worn out towels. 7- Unsafe! Yes unsafe! My varanda door was just impossible to be locked. If you wish to give them a chance when in Mexico City, I wish you good luck!
Top-rated Attractions Nearby
National Museum of Anthropology (Museo Nacional de Antropologia)
Eat Mexico Culinary Tours
Journeys Beyond the Surface Popular Culture Tours
Museo del Tiempo Tlalpan
Eat Like a Local Mexico
Mexcity Tours- Day Tours
Mexico City Urban Adventures
Escape Rooms Mexico
Casa Jacaranda
Sabores Mexico Food Tours
Photos hotel and surroundings (267)
Rooms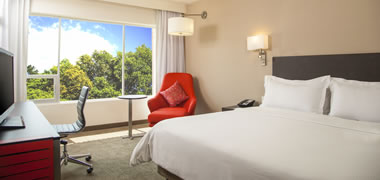 Executive Room, 1 King
Whether traveling for work or pleasure, you will feel instantly relaxed when entering these spacious rooms with minimalist design. Each room has a king bed, 32" LCD TV, two telephones, and work desk with high-speed wireless Internet. They also offer a bathroom with tub, air conditioning, security safe and ironing kit, and everything you need for an enjoyable stay, including 24-hour room service.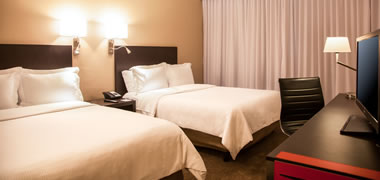 Executive Room, 2 Double
These spacious rooms feature minimalist design, making them ideal for rest and relaxation. Each room has two double beds, 32" LCD TV, two telephones, and work desk with high-speed wireless Internet. They also offer a bathroom with tub, air conditioning, security safe and ironing kit, and everything you need for an enjoyable stay, including 24-hour room service.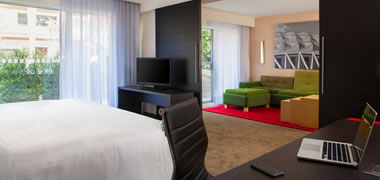 Junior Suite King
A spacious room with 2 areas: living room and bedroom; featuring 1 king-sized bed, two 32" LED screens (one in each room), 2 phone lines and a spacious desk.