Fiesta Inn
Aeropuerto Ciudad de México
Fiesta Inn Aeropuerto Ciudad de México
Strategically located across from the Mexico City Airport, with shuttle service for guests during all year, this hotel is an excellent option for business travelers that need a central location and an agreeable setting. The hotel has gardens and an outdoor pool. The hotel is situated just 20 minutes from the Historic Center, the Zona Rosa neighborhood and 10 minutes from the Foro Sol stadium and the Palacio de los Deportes (sports arena). The hotel offers free airport-hotel-airport shuttle service every 20 minutes (At the number 4 door in the Terminal 1 and in front of national arrivals in Terminal 2)


Fiesta Inn Aeropuerto Ciudad de México is an Eco-friendly hotel, so it is a 100% smoke free hotel.

We remind you that the check-in time is from 3:00 PM. Check-out is at 12:00 PM. We suggest you use our express check-out service.

Services
The hotel has 327 rooms, a restaurant, a lobby bar open from 1:00 p.m. to 12:00 a.m., swimming pool and fitness center. Hotel services include:
Gym
Restaurant(s)
100% smoke free hotel
Guests access with guide dogs
Outdoor parking with cost
Shuttle service (subject to availability)
Pets are not allowed
Business center
Free Wi-Fi access
Laundry service
Bar(s)
24 hours room service
Outdoor pool
Restaurant

Restaurant
The Fiesta Inn features a restaurant which opens from 6:00 a.m. until 12:00 a.m. and is an excellent choice for breakfast, lunch and dinner. Try our breakfast, lunch or dinner buffets or order items from the menu. Different buffet styles are served Monday through Friday including Mexican, Italian and Seafood on Fridays.
Meeting Rooms

Event and meeting rooms
The hotel has a Business Center with computers and high speed wireless Internet, and 12 meeting rooms with a screen, air conditioning and capacity for 8 people.

It also features event rooms that can be adapted to host up to 500 people in an auditorium; each room has a board, electric screen, flip charts, coffee service and personalized service. Our professional team will help with your groups and conventions.
Qualified:
x
Fiesta Inn Aeropuerto Ciudad de Mexico
Location #55 of 307 hotels in Mexico City
GreenLeader Platinum
Summary of qualifications
Best comments
"good but still missing"
Th hotel in general is ok, specially if you have a flight the next day or if your arriving from a long trip. The front desk needs to smile more and greet you. The buffet is too expensive, you better go and eat "Wings" restaurant that is next to the hotel. The bellboys need to be faster, they never arrived to help us (elderly people) we called the front desk and they never answered they always sent us to the voice machine. The beds are a bit hard and the pillows are horrible you need to change them! we need to sleep and rest not stay awake all night figuring how to fall asleep. The room service was good, but expensive, we have had cheaper room service at all inclusive 5 star resorts.
"All good except for the pillows"
I was expecting a 4 star category hotel but was surprised by how good the hotel looked and services provided like 24 hour room service. All was great until I got to the pillows or better said rocks with pillow cases.
"I don't know why they charge for water!!!"
It's a nice hotel and comfty but I cannot understand why they charge for the water and they don't put decaffeinated coffee or tea??!! For the price (which is very expensive BTW) at least you can expect free water and amenities!!! Very bad for a supposedly 4 stars hotel.
"Lovely hotel, comfy, clean and great location with free shuttle to and from the airport."
I stayed one night after flying in from the U.K. transfer bus was easy to find, just walk straight along the main corridor, it pocks up outside gate 4, (door 4) I was greeted by a nice lady with a clipboard who took my name, she told me the bus would be about ten minutes and it was. The hotel is next to a big mall, the door from reception takes you straight into it, so very convenient if you need to shop for anything, there are also restaurants and food stalls in there. The hotel is modern and well designed. Nice staff, very spacious reception with several seating areas and a tea and coffee station which is complimentary. My room was lovely, this was my first time in a Fiesta Inn and it was the start of my affection for this great chain of quality,value hotels in Mexico! Huge bed, hardwood floors, nice design. It felt like a loft! I loved it. Had everything I needed, bottled water, coffee maker and a really powerful hairdryer, a proper plug it in yourself one! I love there soap and body lotion, I forgot to ask if I could buy some 😔 anything I didn't use went with me. I am still using the lavender massage soap from Campeche! Gorgeous! Slept so well wished I had booked two nights before setting off on my Mexican adventure. Highly recommended.
"A very enjoyable six days!"
Certainly the best restaurant I have ever found in another country. My room (in Building D) was clean, modern, and quiet. The WI-FI was always 100% signal strength. I watched CNN in English, and several HBO movies in English-- that were subtitled in Spanish. The hotel staff really helped me with my visits to the places I wanted most to experience in the city. I would certainly choose THEIR drivers over the public taxis. The one time I used a city taxi, the driver spoke no English at all; the vehicle had no seat belts; and there was no AC. Just a couple of suggestions: When signing in, be sure to specify if you want an upstairs room with a balcony-- and that you don't want a view of parking areas. The Fiesta Inn staff were happy to move me from a ground floor room. And, I believe it better to leave a tip for your room's housekeeper each day you are there. It makes them happy, and I am sure they can use the extra pesos,
Top-rated Attractions Nearby
National Museum of Anthropology (Museo Nacional de Antropologia)
Palacio de Bellas Artes
Chapultepec Castle
Coyoacan
Eat Mexico Culinary Tours
Basilica de Santa Maria de Guadalupe
Journeys Beyond the Surface Popular Culture Tours
Murales de Diego Rivera en la Secretaria de Educacion Publica
Paseo de la Reforma
Frida Kahlo Museum
Photos hotel and surroundings (241)
Rooms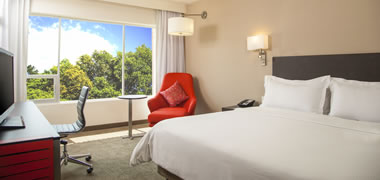 Executive Room, 1 King
Whether traveling for work or pleasure, you will feel instantly relaxed when entering these spacious rooms with minimalist design. Each room has a king bed, 32" LCD TV, two telephones, and work desk with high-speed wireless Internet. They also offer a bathroom with tub, air conditioning, security safe and ironing kit, and everything you need for an enjoyable stay, including 24-hour room service.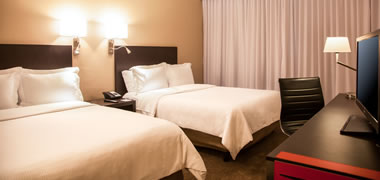 Executive Room, 2 Double
These spacious rooms feature minimalist design, making them ideal for rest and relaxation. Each room has two double beds, 32" LCD TV, two telephones, and work desk with high-speed wireless Internet. They also offer a bathroom with tub, air conditioning, security safe and ironing kit, and everything you need for an enjoyable stay, including 24-hour room service.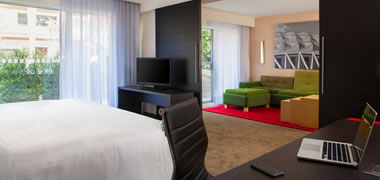 Junior Suite King
A spacious room with 2 areas: living room and bedroom; featuring 1 king-sized bed, two 32" LED screens (one in each room), 2 phone lines and a spacious desk.