Fiesta Inn
Aeropuerto Ciudad de México
Fiesta Inn Aeropuerto Ciudad de México
Strategically located across from the Mexico City Airport, with shuttle service for guests during all year, this hotel is an excellent option for business travelers that need a central location and an agreeable setting. The hotel has gardens and an outdoor pool. The hotel is situated just 20 minutes from the Historic Center, the Zona Rosa neighborhood and 10 minutes from the Foro Sol stadium and the Palacio de los Deportes (sports arena). The hotel offers free airport-hotel-airport shuttle service every 20 minutes (At the number 4 door in the Terminal 1 and in front of national arrivals in Terminal 2)


Fiesta Inn Aeropuerto Ciudad de México is an Eco-friendly hotel, so it is a 100% smoke free hotel.

We remind you that the check-in time is from 3:00 PM. Check-out is at 12:00 PM. We suggest you use our express check-out service.

Services
The hotel has 327 rooms, a restaurant, a lobby bar open from 1:00 p.m. to 12:00 a.m., swimming pool and fitness center. Hotel services include:
Shuttle service
Gym
Restaurant(s)
100% smoke free hotel
Guests access with guide dogs
Pets are not allowed
Business center
Free Wi-Fi access
Laundry service
Bar(s)
24 hours room service
Outdoor pool
Outdoor parking
Restaurant

Restaurant
The Fiesta Inn features a restaurant which opens from 6:00 a.m. until 12:00 a.m. and is an excellent choice for breakfast, lunch and dinner. Try our breakfast, lunch or dinner buffets or order items from the menu. Different buffet styles are served Monday through Friday including Mexican, Italian and Seafood on Fridays.
Meeting Rooms

Event and meeting rooms
The hotel has a Business Center with computers and high speed wireless Internet, and 12 meeting rooms with a screen, air conditioning and capacity for 8 people.

It also features event rooms that can be adapted to host up to 500 people in an auditorium; each room has a board, electric screen, flip charts, coffee service and personalized service. Our professional team will help with your groups and conventions.
Qualified:
x
Fiesta Inn Aeropuerto Ciudad de Mexico
Location #78 of 296 hotels in Mexico City
GreenLeader Platinum
Summary of qualifications
Best comments
"my first visit, front desk employees need to be retrained"
So, I asked for a room in a quiet area, far from traffic and airplane noise. The front desk receptionist, Luis, assured me that he put me in the quietest area possible. It was in fact the noisiest, with the continuous sound of planes landing and taking off. We called the front desk to complain, and to ask to be moved, and the woman who responded was totally unhelpful. Thankfully an amazing bellboy named Edgar saved the day, and found a room for us in Edificio C that was very very quiet. He was so professional and helpful. Luis should lose his job and Edgar should replace him. The beds are as hard as bricks, but still, it's just an airport hotel and I guess they don't care about these things. We ate at both the dinner and breakfast buffet. The dinner buffet was expensive and offered few fresh selections. Most food items had been sitting there for hours, and the ones we wanted, like the bacalao, were gone and we were told there would not be anymore. Unbelievable. I did fill out the survey, and received a reply from, Emmanuel Palomares Gerente General, but he offered no refund or discount for a future visit, which I thought was pretty pathetic. Still, the price was good and I likely will visit again, now that I know where the quiet rooms are located. I just hope I don't have to deal with Luis or the unfriendly woman at the front desk when I return.
"Good hotel, great staff"
We stayed here one night, between flight connections. The staff were very helpful, including the drivers who pick you up from the Airport, who were very friendly. The room was a good size. We didn't get to use the Pool, but the area around the pool looked pleasant with a small pool. More plunge than swim. We had the Gym to ourselves. The food. Well it was really excellent. The best buffet breakfast I've ever had. The fruit was really delicious, perfectly ripe. The hot food offered quite literally everything. We also had lunch before heading back to the airport. Again excellent. The waiters were keen, and whipped your plates away as you finished. More through over enthusiasm. The reason I have given 4 * is that the hotel is not best placed for going for a wander about. Otherwise, Fantastic?
"Excellent Hotel near Mexico City Airport"
This is a perfect choice to be near the airport to catch the next flight. Very conveniently located at about 15 to 30 minues (depending on the traffic conditions) from Mexico City International airport. We booked here for one night before taking our flight to USA. The best part is that this hotel is located inside a huge modern mall. So one can shop as well as avail of many eateries i.e. restaurants inside the mall. Its a very modern style hotel about a year old. It has very well appointed rooms with state- of- the- art furniture. They provide the WiFi access inside the room with no limit on the number of devices connected (we had 3). Check in very efficient and staff is courteous. In sum, an excellent hotel to consider. We have put some fotos of the room for your reference.
"Great Clean Hotel. Freindly Staff."
Great place to stay when in Mexico City. Check in was fast and staff was very friendly. The room was very clean and linen was fresh. The shower was hot as well. I did not use the pool but it looked clean and well kept. A breakfast was included with the stay and was very good. It had just about everything you would want for breakfast. Wifi was free and worked well. I was there 5 nights and there was only one time it didn't work for about 15 mins. A small bottle of complimentary water was also left every day. Great place to stay I would stay here again.
"Very good hotel for a quick Stay over in Mexico City."
The hotel is in good shape, plenty of operadoras at Recepcion, so it was quick although we were a lot registering. Room are OK, beds are hard, grat for a good rest. Some limitations, the shower floor did not have a good inclination towards the drain, so it was very slippery die to soap build up on the tile floor, no shower mat. Like most hotels, not enough insulation in the walls, so I got awaken when my neighbors came in from dinner. Then the 4:30 AM wake up for one of the rooms and then another wake up for another room at 5:15 AM. You can hear the airplanes taking off and landing at the airport. Food at the restaurant was OK, service good but slow. Transportation to the airport OK, but even though your in front of the airport, it will take you at least 15 mins to get there.
Top-rated Attractions Nearby
National Museum of Anthropology (Museo Nacional de Antropologia)
Palacio de Bellas Artes
Chapultepec Castle
Coyoacan
Frida Kahlo Museum
Basilica de Santa Maria de Guadalupe
Paseo de la Reforma
Eat Mexico Culinary Tours
Murales de Diego Rivera en la Secretaria de Educacion Publica
Journeys Beyond the Surface Popular Culture Tours
Photos hotel and surroundings (149)
Rooms
Executive Room, 1 King
Whether traveling for work or pleasure, you will feel instantly relaxed when entering these spacious rooms with minimalist design and laminated floors. Each room has a king bed, 32" LCD TV, two telephones, and work desk with high-speed wireless Internet. They also offer a bathroom with tub, air conditioning, security safe and ironing kit, and everything you need for an enjoyable stay, including 24-hour room service and a travelers kit.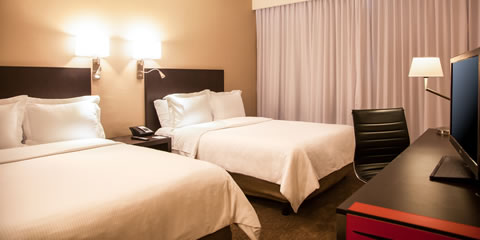 Executive Room, 2 Double
These spacious rooms feature minimalist design and laminated floors, making them ideal for rest and relaxation. Each room has two double beds, 32" LCD TV, two telephones, and work desk with high-speed wireless Internet. They also offer a bathroom with tub, air conditioning, security safe and ironing kit, and everything you need for an enjoyable stay, including 24-hour room service and a travelers kit.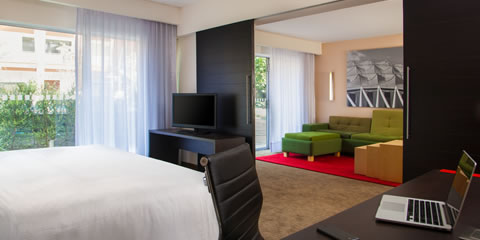 Junior Suite King
A spacious room with 2 areas: living room and bedroom; featuring 1 king-sized bed, microwave, mini refrigerator, two 32" LED screens (one in each room), 2 phone lines and a spacious desk.