Fiesta Inn
Cancún las Américas
Fiesta Inn Cancún las Américas
Fiesta Inn continues to evolve and transform as a leader in Business Class hotels with the Fiesta Inn Cancún Las Américas. The hotel is designed to let visitors pass their time as they wish, with spaces that are functional and welcoming, so guests can work independently or socialize in groups. Today, the Fiesta Inn is more than just a hotel. It's a community of travelers all working to get ahead.

We remind you that the check-in time is from 3:00 PM. Check-out is at 12:00 PM. We suggest you use our express check-out service.
Services
The hotel has 152 rooms, restaurant, bar, a range of spacious and comfortable multi-use rooms for private work sessions, meetings and other group events. Other facilities include Lounge 360°, fitness center and outdoor swimming pool with lap lanes. Hotel services include:
Handicapped access
Gym
Restaurant(s)
100% smoke free hotel
Guests access with guide dogs
Pets are not allowed
Indoor parking with cost
Free Wi-Fi access
Business center
Laundry service
Bar(s)
24 hours room service
Outdoor pool
Restaurant

La Isla
The Fiesta Inn features La Isla, the perfect spot to relax and grab a bite to eat, 24 hours a day. It offers a breakfast buffett, restaurant, grab-and-go refreshments and even room service. There's also a self-service bar with domestic and imported drinks.

Meeting Rooms

Event and meeting rooms
The B-on Business Center offers computer workstations with high-speed wireless Internet access and three meeting rooms, with projection screen and air conditioning, accommodating up to 12 guests.

There are also four meeting and event rooms accommodating up to 300 people with auditorium seating. Each room has whiteboard, video screen, flipchart and other amenities. The professional staff can assist with coffee breaks and other services.


Qualified:
x
Fiesta Inn Cancun Las Americas
Location #85 of 181 hotels in Cancun
GreenLeader Gold
Summary of qualifications
Best comments
"Good hotel if you are on your own and to not want to spend to much time for finding restaurants and shopping."
The location of the hotel in combination with shopping center is perfect and with many restaurant opportunities in the center and nearby. Further, it gives good opportunity for early morning jogging/run to the nearby waterfront area - you can do a 5-10 km tour.
"One night... Better than ok"
We got a VERY reasonably priced night at the Fiesta Inn, and the hotel itself was quite nice. Couple issues, first, there is really no parking and we had to drive around the hotel a couple of times to find a place to park, then even for a short stay to drop off bags had to pay $10 pesos to park. Second, I understand the whole ECO FRIENDLY thing, but hot water would be nice. I ran the shower for 10 minutes trying to get something more than 70° water... Cold showers were not on my agenda. The staff was very courteous, and there is certainly plenty of restaurants around, albeit, they are all tourist trap type places and all large international chains. We took a cab to the Downtown Hotel district, and were able to get there from around $40 pesos, so it was very convenient. We didn't really like Cancun as a whole, it's really not our speed, but this was a very affordable way to see/experience Cancun while still being safe and convenient.
"Nice and Affortable"
Great service, clean, complimentary fresh coffee, tea and water. I forgot my toothbrush, I called the desk and within seconds someone was knocking on the door to deliver the toothbrush. I loved the card with tips on how to have a restful night.
"Really nice surprise by service, that overcame my expectations"
When I went to get breakfast at this hotel, I was visited by chef, who asked me, haw was my food and service. Do you need to know more?! I was really surprised by excellent service. It is not expensive hotel. Does not have beachfront. Has little swimming pool on top. Prompt reaction on ANY request I had. Good room service. Location in one of the biggest commercial plazas of Cancun. So you do no need to do your browsing around for restaurant or store- all in one. I just went to any other hotel or park and did pay for beach, when we were not busy by excursion. Right on the side of this hotel is an waffles place, where you could have the breakfast too. I recommend this place form the bottom of my heart- great hotel. Stress free- it is a lot, when you come to vacation. Many of expensive hotels should learn, how to treat customers, so come and take classes from Fiesta Inn! I will be back.
"Perfect for what it is"
I landed late one night and needed an easy place to stay in Cancun. This price is reasonable, the location is perfect, and allowed me an early start to Chichenitza the next morning. Rooms were large, clean, and the bed is comfortable. It's quite perfect for what it is and a good landing spot to get your Yucatan adventure started.
Top-rated Attractions Nearby
Photos hotel and surroundings (66)
Rooms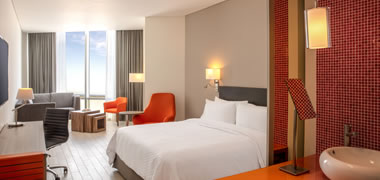 Superior Room, 1 king
There are 45 rooms with King bed, work desk, closet, telephone, coffeemaker, wireless Internet, full bathroom, air-conditioning and flat-screen cable TV.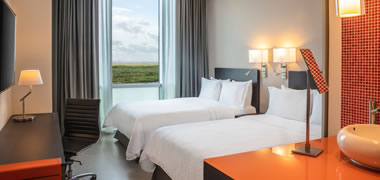 Superior Room, 2 double
The hotel offers 86 rooms with double bed, work desk, closet, telephone, coffeemaker, wireless Internet, full bathroom, air-conditioning and flat-screen cable TV.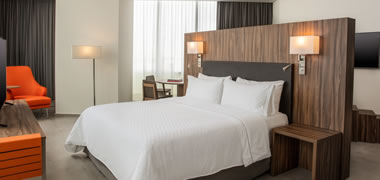 Junior Suite
For a more spacious experience, there are 11 Junior Suites with king bed, work desk, closet, telephone, coffeemaker, wireless internet, full bathroom, air conditioning, cable TV with LCD screen and alarm clock with ipod docking station, additionally feature a living room.