Fiesta Inn
Cancún las Américas
Fiesta Inn Cancún las Américas
Fiesta Inn continues to evolve and transform as a leader in Business Class hotels with the Fiesta Inn Cancún Las Américas. The hotel is designed to let visitors pass their time as they wish, with spaces that are functional and welcoming, so guests can work independently or socialize in groups. Today, the Fiesta Inn is more than just a hotel. It's a community of travelers all working to get ahead.
Fiesta Inn Cancún Las Américas is an Eco-friendly hotel, so it is a 100% smoke free hotel.

We remind you that the check-in time is from 3:00 PM. Check-out is at 12:00 PM. We suggest you use our express check-out service.
Services
The hotel has 152 rooms, restaurant, bar, a range of spacious and comfortable multi-use rooms for private work sessions, meetings and other group events. Other facilities include Lounge 360°, fitness center and outdoor swimming pool with lap lanes. Hotel services include:
Handicapped access
Gym
Restaurant(s)
100% smoke free hotel
Guests access with guide dogs
Pets are not allowed
Indoor parking with cost
Free Wi-Fi access
Business center
Laundry service
Bar(s)
24 hours room service
Outdoor pool
Restaurant

La Isla
The Fiesta Inn features La Isla, the perfect spot to relax and grab a bite to eat, 24 hours a day. It offers a breakfast buffett, restaurant, grab-and-go refreshments and even room service. There's also a self-service bar with domestic and imported drinks.

Meeting Rooms

Event and meeting rooms
The B-on Business Center offers computer workstations with high-speed wireless Internet access and three meeting rooms, with projection screen and air conditioning, accommodating up to 12 guests.

There are also four meeting and event rooms accommodating up to 300 people with auditorium seating. Each room has whiteboard, video screen, flipchart and other amenities. The professional staff can assist with coffee breaks and other services.


Qualified:
x
Fiesta Inn Cancun Las Americas
Location #51 of 182 hotels in Cancun
GreenLeader Gold
Summary of qualifications
Best comments
"GOOD LOCATION"
Well I did like the location of this place stuck on the back of a big shopping mall. It was easy to catch a bus and get about.Taxis were outside the main door. The hotel zone was easily reached. I was not looking for a party, all inclusive resort. The hotel was older and some repairs were underway. The room I had was spacious with everything you need. Staff were friendly and helpful.
"Caro para lo que te ofrecen. Expensive for what you get"
La verdad es que me decepcionó. Llegué con mi familia y la vedad es que las habitaciones son muy pequeñas e incómodas. El aire no se puede regular y te ahogas de calor o te congelas. El parking está muy incómodo y lejos para llevar las maletas hasta el lobby. I was deceptioned. I went there with my family and the rooms were very small and unconfortable. The air conditioner can´t be regulated and either you freeze or you melt. The parking is located far from the lobby and it´s a hassle to carry the luggage.
"Hotel Hell"
If I could give zero stars, I would. No HOT WATER even though we spoke with 3 different managers of various shifts over 1 1/2 days. Then had to argue for money off our room when we checked out! DO NOT STAY HERE.
"Great hotel"
This hotel is a hotel which I recommend for a one night stay but not for a family trip. The place is really nice, the wifi doesn't work. This, out of the 2 other hotels I went to on this trip, is the only one with blankets. This is a really corporate hotel, for work, but it still is nice. With its rooftop pool and bar, even a fitness area, this is really good. The flat screen tv has many channels, one tv per room, it has sports and other stuff. Really cool hotel for a one night stay.
"Good hotel if you are on your own and to not want to spend to much time for finding restaurants and shopping."
The location of the hotel in combination with shopping center is perfect and with many restaurant opportunities in the center and nearby. Further, it gives good opportunity for early morning jogging/run to the nearby waterfront area - you can do a 5-10 km tour.
Top-rated Attractions Nearby
Photos hotel and surroundings (76)
Rooms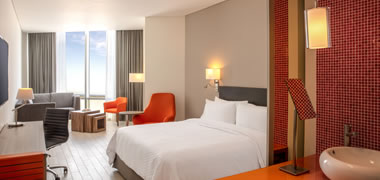 Superior Room, 1 king
There are 45 rooms with King bed, work desk, closet, telephone, coffeemaker, wireless Internet, full bathroom, air-conditioning and flat-screen cable TV.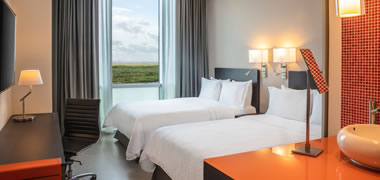 Superior Room, 2 double
The hotel offers 86 rooms with double bed, work desk, closet, telephone, coffeemaker, wireless Internet, full bathroom, air-conditioning and flat-screen cable TV.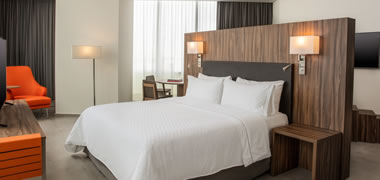 Junior Suite
For a more spacious experience, there are 11 Junior Suites with king bed, work desk, closet, telephone, coffeemaker, wireless internet, full bathroom, air conditioning, cable TV with LCD screen and alarm clock with ipod docking station, additionally feature a living room.