Fiesta Inn
Cancún las Américas
Fiesta Inn Cancún las Américas
Fiesta Inn continues to evolve and transform as a leader in Business Class hotels with the Fiesta Inn Cancún Las Américas. The hotel is designed to let visitors pass their time as they wish, with spaces that are functional and welcoming, so guests can work independently or socialize in groups. Today, the Fiesta Inn is more than just a hotel. It's a community of travelers all working to get ahead.
Fiesta Inn Cancún Las Américas is an Eco-friendly hotel, so it is a 100% smoke free hotel.

We remind you that the check-in time is from 3:00 PM. Check-out is at 12:00 PM. We suggest you use our express check-out service.
Services
The hotel has 152 rooms, restaurant, bar, a range of spacious and comfortable multi-use rooms for private work sessions, meetings and other group events. Other facilities include Lounge 360°, fitness center and outdoor swimming pool with lap lanes. Hotel services include:
Handicapped access
Gym
Restaurant(s)
100% smoke free hotel
Guests access with guide dogs
Pets are not allowed
Indoor parking with cost
Free Wi-Fi access
Business center
Laundry service
Bar(s)
24 hours room service
Outdoor pool
Restaurant

La Isla
The Fiesta Inn features La Isla, the perfect spot to relax and grab a bite to eat, 24 hours a day. It offers a breakfast buffett, restaurant, grab-and-go refreshments and even room service. There's also a self-service bar with domestic and imported drinks.

Meeting Rooms

Event and meeting rooms
The B-on Business Center offers computer workstations with high-speed wireless Internet access and three meeting rooms, with projection screen and air conditioning, accommodating up to 12 guests.

There are also four meeting and event rooms accommodating up to 300 people with auditorium seating. Each room has whiteboard, video screen, flipchart and other amenities. The professional staff can assist with coffee breaks and other services.


Qualified:
x
Fiesta Inn Cancun Las Americas
Location #60 of 177 hotels in Cancun
GreenLeader Gold
Summary of qualifications
Best comments
"Cambio no para mejorar"
Decepcionado en esta ocasion. No me dieron la habitacion que solicite y las toallas estaban raidas. Dissapointed this ocassion since I was not given the room i booked and on top of that the towels were falling apart.
"Optimum location for our business"
I was in Cancun on business where the location of this hotel proved most convenient for our use. The rooms are clean andthe check-in process was fast. The hotel is located in the Plaza Las Americas mall which is very convenient, thers is a supermarket besides the mall and lots of restaurants for dining. I would stay here again for the simple facts the value was great, location very convenient for all Cancun applications.
"Basic Hotel"
Due to our flight home being cancelled by Air Canada we stayed here for 1 night. It was attached to a mall and the room was basic and overall it served the purpose. It has a small restaurant. The breakfast buffet was decent.
"Nice for business purposes "
With a one-night stay, I can say that this is a very good option for business purposes, not for holiday. Staff is very Kindle and helpful, rooms are well organized and AC works OK. In my opinion, there could be a little more channels on TV. Gym and pool are on the top of the building. One suggestion to lobby staff is that when you recognize that it's the customer's first day, show them how to use the elevator with the card, I was thought by a girl inside the lift. In my case, Wi-Fi didn't work a lot. In the very positive thoughts about the hotel is the location, plaza las Americas offers you all kind of options to be busy such as Restaurants, Starbucks, cinema and shops. Don't think is a good option for big families.
"GOOD LOCATION"
Well I did like the location of this place stuck on the back of a big shopping mall. It was easy to catch a bus and get about.Taxis were outside the main door. The hotel zone was easily reached. I was not looking for a party, all inclusive resort. The hotel was older and some repairs were underway. The room I had was spacious with everything you need. Staff were friendly and helpful.
Top-rated Attractions Nearby
Photos hotel and surroundings (96)
Rooms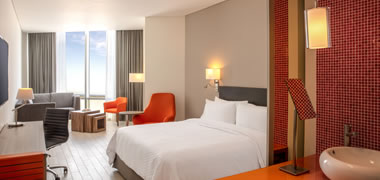 Superior Room, 1 king
There are 45 rooms with King bed, work desk, closet, telephone, coffeemaker, wireless Internet, full bathroom, air-conditioning and flat-screen cable TV.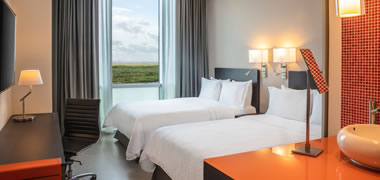 Superior Room, 2 double
The hotel offers 86 rooms with double bed, work desk, closet, telephone, coffeemaker, wireless Internet, full bathroom, air-conditioning and flat-screen cable TV.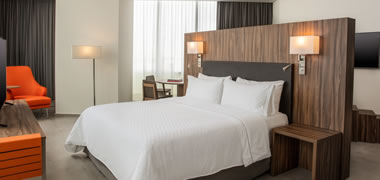 Junior Suite
For a more spacious experience, there are 11 Junior Suites with king bed, work desk, closet, telephone, coffeemaker, wireless internet, full bathroom, air conditioning, cable TV with LCD screen and alarm clock with ipod docking station, additionally feature a living room.