Fiesta Inn
Cancún las Américas
Fiesta Inn Cancún las Américas
Fiesta Inn continues to evolve and transform as a leader in Business Class hotels with the Fiesta Inn Cancún Las Américas. The hotel is designed to let visitors pass their time as they wish, with spaces that are functional and welcoming, so guests can work independently or socialize in groups. Today, the Fiesta Inn is more than just a hotel. It's a community of travelers all working to get ahead.
Fiesta Inn Cancún Las Américas is an Eco-friendly hotel, so it is a 100% smoke free hotel.

We remind you that the check-in time is from 3:00 PM. Check-out is at 12:00 PM. We suggest you use our express check-out service.
Services
The hotel has 152 rooms, restaurant, bar, a range of spacious and comfortable multi-use rooms for private work sessions, meetings and other group events. Other facilities include Lounge 360°, fitness center and outdoor swimming pool with lap lanes. Hotel services include:
Handicapped access
Gym
Restaurant(s)
100% smoke free hotel
Guests access with guide dogs
Pets are not allowed
Indoor parking with cost
Free Wi-Fi access
Business center
Laundry service
Bar(s)
24 hours room service
Outdoor pool
Restaurant

La Isla
The Fiesta Inn features La Isla, the perfect spot to relax and grab a bite to eat, 24 hours a day. It offers a breakfast buffett, restaurant, grab-and-go refreshments and even room service. There's also a self-service bar with domestic and imported drinks.

Meeting Rooms

Event and meeting rooms
The B-on Business Center offers computer workstations with high-speed wireless Internet access and three meeting rooms, with projection screen and air conditioning, accommodating up to 12 guests.

There are also four meeting and event rooms accommodating up to 300 people with auditorium seating. Each room has whiteboard, video screen, flipchart and other amenities. The professional staff can assist with coffee breaks and other services.


Qualified:
x
Fiesta Inn Cancun Las Americas
Location #56 of 176 hotels in Cancun
GreenLeader Gold
Summary of qualifications
Best comments
"Great hotel"
Would stay here again for sure. Amazing food, clean rooms, staff was very helpful and understanding of having small kids. Breakfast was amazing!! Not bad for being stuck in Cancun. Close to everything in walking distance.
"A good place to stay"
The Fiesta Inn in Cancun lies within a huge shopping mall, Las Americas. It is large and modern, no atmosphere really, just a clean American style hotel with a good sized pool and lounge chairs on the roof (and a nicely equipped fitness room). There is also a pool side bar which looks as if it has never been open. This is a real pitty because there is a comfortable seating area - couches, chairs with nice fat cushions - where we would have spent time with a book. We had a large clean room. There are numerous electrical outlets and a coffee machine, but no fridge which we sorely missed. We needed help establishing a wi-fi connection with our android devices, but after that everything was great. Consistent strong connections. Our room is noisy. We are on the 7th floor and can easily hear people in the gym one floor up. We have been disturbed by the noise of what sounds like construction. The front desk staff were very helpful at check-in and later printing some tour vouchers. As for location, many people have discussed the pros and cons of the downtown versus the hotel zone. Our experience downtown is very positive. There are several decent Mexican restaurants around the bull ring which is five minutes walk away (La Guada gave us so much free food when we ordered two beers that we were unable to follow up with orders from the menu!), a fabulous pub and restaurant called La Playita across from the Bull Ring, some fine restaurants like Cafe Marakame and La Troje 20 minutes away on foot, and the famous Mercado 28 flea market a 30 minute walk and well worth the visit. We would strongly recommend that a first-time visitor to this hotel walk a km to the left, along Ave. Bonampak, to an exceptional Italian restaurant called Rinos. Along the way, you will see cafes and several other restaurants that all seem worth a look. We have visited the hotel zone only briefly. It looked terribly commercial and expensive - great if all you want is the beach. For us, downtown Cancun was just fine.
"Good restaurant, dirty rooms"
This Fiesta Inn is relatively new and is more modern than other ones I have stayed in. However the cleaning staff needs to do a better job. I found hair on the floor in my room and crumbs on the chairs. Other than that my stay was fine, and I particularly enjoyed the restaurant.
"A good place to be in Cancún Downtown"
If you do not have many options and money to stay at a hotel near the beach in Cancun, this is definitely your place, because it is inside in a large shopping mall plaza that takes a whole day to explore, you will find cinemas, restaurants and much entertainment, in addition to being well connected and with public transport and supermarkets nearby.
"Ok place"
I just visited this place, it was ok, the pillows felt like the were made of feathers but you only only felt the sticks. There as an apple core on the floor, 2 of their courtesy wattle bottles were salty, and their bedroom key kept dis-activating so I had to go to the lobby to get it programmed again. However it was a nice view, nice shower, and the staff was courteous.
Top-rated Attractions Nearby
Photos hotel and surroundings (104)
Rooms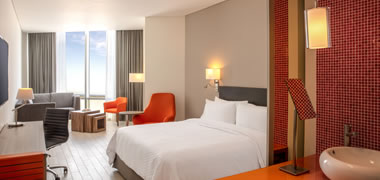 Superior Room, 1 king
There are 45 rooms with King bed, work desk, closet, telephone, coffeemaker, wireless Internet, full bathroom, air-conditioning and flat-screen cable TV.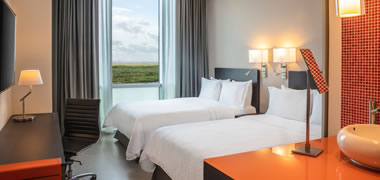 Superior Room, 2 double
The hotel offers 86 rooms with double bed, work desk, closet, telephone, coffeemaker, wireless Internet, full bathroom, air-conditioning and flat-screen cable TV.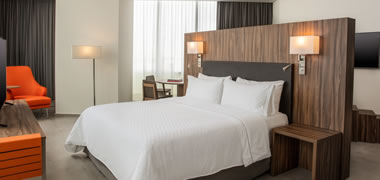 Junior Suite
For a more spacious experience, there are 11 Junior Suites with king bed, work desk, closet, telephone, coffeemaker, wireless internet, full bathroom, air conditioning, cable TV with LCD screen and alarm clock with ipod docking station, additionally feature a living room.