Fiesta Inn
Centro Histórico
Fiesta Inn Centro Histórico
Located within the Parque Alameda Commercial Plaza, in the Historic Center, very close to Mexico City's main attractions, such as the Cathedral, the Casa de los Azulejos, Bellas Artes and countless museums. The hotel is situated just minutes from Reforma and Polanco Avenues, and important business, commercial and social districts.

Fiesta Inn Centro Histórico is an Eco-friendly hotel, so it is a 100% smoke free hotel.

We remind you that the check-in time is from 3:00 PM. Check-out is at 12:00 PM. We suggest you use our express check-out service.



Services
The hotel has 140 rooms, a restaurant, a lobby bar open from 1:00 p.m. to 11:00 p.m. and fitness center. Hotel services include:
Handicapped access
Business center
Free Wi-Fi access
Gym
Restaurant(s)
100% smoke free hotel
Guests access with guide dogs
Laundry service
24 hours room service
Pets are not allowed
Bar(s)
Indoor parking with cost
Restaurant

Restaurant
The Fiesta Inn features a restaurant which opens from 6:00 a.m. until 11:00 p.m. and is an excellent choice for breakfast, lunch and dinner. Enjoy dishes from our buffet or menu, as well as our Sunday brunch.
Meeting Rooms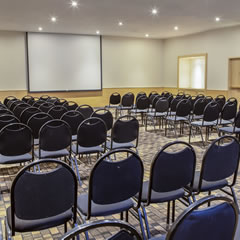 Event and meeting rooms
The hotel has a Business Center with computers and high speed wireless Internet, and 2 meeting rooms with a screen, air conditioning and capacity for 8 people.
It also features 4 event rooms that can be adapted to host up to 210 people in an auditorium; each room has a board, electric screen, flip charts, coffee service and personalized service. Our professional team will help with your groups and conventions.

Qualified:
x
Fiesta Inn Centro Historico
Location #20 of 307 hotels in Mexico City
GreenLeader Gold
Certificate of Excellence 2016
Summary of qualifications
Best comments
"Centrally located, heated, and excellent staff!"
The rooms were heated and it was conveniently located inside a small shopping center with a bank and ATM. It was in the Centro Histórico (Historic Center) right in the center of this beautiful city. We walked EVERYWHERE every day. So no need for taxis, so I can't tell you about that experience. The food in the shopping center was mediocre at best, but just walk a few feet & next door at Hilton's is El Cardenal, premier restaurant. And around the corner is DELICIOUS street food.
"Great location, a little hard to find"
We spent just one night at the Fiesta Inn. We had been traveling all day and got into town after dark. Since we had never been to the hotel before, we were following Google maps, which was as confused as we were in trying to located the hotel. While the entrance is located on Avenida Juarez, the parking garage is located on Jose Azueta and if you're expecting signage of any size, you'll be fooled. We circled the block two or three times before we saw the tiny sign above a single lane entry/exit to the parking garage that is shared by the mall the sits under the hotel. You'll wait your turn for those exiting before you can enter. Once inside the parking garage, you'll have to proceed to the main floor by the food court and take the elevator to the hotel lobby. Again, signage is scarce. Once in the lobby, check in was quick and easy. We got our keys and headed to our room. We were in room 239, facing Ave Juarez and the Alameda Central park. Having a nice view of the park was great but was also noisy from the street with sirens on a regular basis and lots of traffic. The room was clean and modern with plenty of space and a nice bathroom with tub and shower. The bed was comfortable with plenty of pillows. The A/C worked fine but was noisy as it turned on and off through out the night. Plenty of hot water in the shower and plenty of nice soft towels. The hotel is a short 5 block walk to the Palace of Fine Arts, the post office building (very ornate) lots of restaurantes and museums and other sites. Another 7 blocks to the Metropolitan Cathedral, Constitucion Plaza, the National Palace and the Tlaloc Temple. Pleasant stay and LOTS to see very close. Price was good and quality was good. Would consider staying again in the future.
"Very central location"
An easy choice for a centrally located hotel. Staff was very easy and supportive. Very adequate breakfast, It is an easy walk to the Zocalo and the Cathedral. The Palace of Belles Arte is a different direction, but again q walking distance. Go see both.
"Not all that great"
For the money I spent I was not very satisfied. Stuck in a room with o view of 3 walls with windows. Could hear others in their rooms laughing and talking. Great location but I was not impressed with the Hotel. Will stay somewhere else next time
"Mexico City"
Great sheets, pillows & location. Clean. Staffing on check in was very slow. Took almost an hour, not enough staff when we arrived & young inexperienced staff. We were given a key to wrong room. A man opened the door of that room & scared us. We were told manager would call us to apologize & we received no call. Shower water would not go down. Young staff did not acknowledge customers, they were talking to each other instead of customers. I was given a quote for a price for room & I was charged more than quoted. Very disappointing.
Top-rated Attractions Nearby
National Museum of Anthropology (Museo Nacional de Antropologia)
Palacio de Bellas Artes
Chapultepec Castle
Coyoacan
Eat Mexico Culinary Tours
Basilica de Santa Maria de Guadalupe
Journeys Beyond the Surface Popular Culture Tours
Murales de Diego Rivera en la Secretaria de Educacion Publica
Frida Kahlo Museum
Paseo de la Reforma
Photos hotel and surroundings (79)
Rooms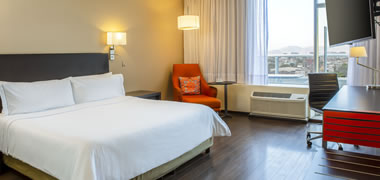 Executive Room, 1 King
Whether traveling for work or pleasure, you will feel instantly relaxed when entering these spacious rooms with minimalist design and laminated floors. Each room has a king bed, 32" LCD TV, two telephones, and work desk with high-speed wireless Internet. They also offer a bathroom with tub, air conditioning, security safe and ironing kit. Each room has a view of the famous Juarez Avenue (subject to availability), and everything you need for an enjoyable stay, including 24-hour room service and a travelers kit.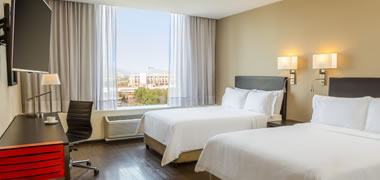 Executive Room, 2 Double
These spacious rooms feature minimalist design and laminated floors, making them ideal for rest and relaxation. Each room has two double beds, 32" LCD TV, two telephones, and work desk with high-speed wireless Internet. They also offer a bathroom with tub, air conditioning, security safe and ironing kit. Each room has a view of the famous Juarez Avenue (subject to availability), and everything you need for an enjoyable stay, including 24-hour room service and a travelers kit.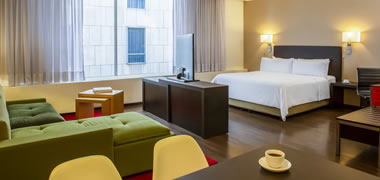 Junior Suite
A spacious room with 2 areas: living room and bedroom; featuring 1 king-sized bed, microwave, mini refrigerator, 2 televisions (one in each room), 2 phone lines and a spacious desk.