Fiesta Inn
Centro Histórico
Fiesta Inn Centro Histórico
Located within the Parque Alameda Commercial Plaza, in the Historic Center, very close to Mexico City's main attractions, such as the Cathedral, the Casa de los Azulejos, Bellas Artes and countless museums. The hotel is situated just minutes from Reforma and Polanco Avenues, and important business, commercial and social districts.

Fiesta Inn Centro Histórico is a responsible hotel, so it is a 100% smoke free hotel.

We remind you that the check-in time is from 3:00 PM. Check-out is at 12:00 PM. We suggest you use our express check-out service.



Services
The hotel has 140 rooms, a restaurant, a lobby bar open from 1:00 p.m. to 11:00 p.m. and fitness center. Hotel services include:
Handicapped access
Business center
Free Wi-Fi access
Gym
Restaurant(s)
100% smoke free hotel
Guests access with guide dogs
Laundry service
24 hours room service
Pets are not allowed
Bar(s)
Indoor parking with cost
Restaurant

Restaurant
The Fiesta Inn features a restaurant which opens from 6:00 a.m. until 11:00 p.m. and is an excellent choice for breakfast, lunch and dinner. Enjoy dishes from our buffet or menu, as well as our Sunday brunch.
Meeting Rooms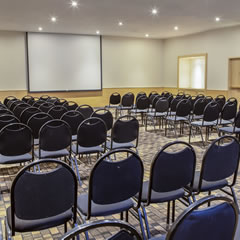 Event and meeting rooms
The hotel has a Business Center with computers and high speed wireless Internet, and 2 meeting rooms with a screen, air conditioning and capacity for 8 people.
It also features 4 event rooms that can be adapted to host up to 210 people in an auditorium; each room has a board, electric screen, flip charts, coffee service and personalized service. Our professional team will help with your groups and conventions.

Qualified:
x
Fiesta Inn Centro Historico
Location #38 of 312 hotels in Mexico City
GreenLeader Gold
Summary of qualifications
Best comments
"Nice hotel in great location"
Nice hotel within walking distance of many good restaurants, museums, and parks. There is a mini-mall on the first floor of the building that has mostly American chains like Starbucks, Krispy Kreme, McDonald's, and Dairy Queen. My room was spacious with 2 double beds, a big TV, and toilet and shower separate from the sink. Rooms were well cleaned every day. Staff was friendly and efficient and clearly used to dealing with tourists and business travelers. Breakfast was uneventful, but the snack menu was good.
"Stay during congress"
Grrrreat hotel. Very friendly and helpful staff. Everyday upon return a fresh smelling room. I don't have much to complain. I only would like a small fridge but that didn't spoil my stay. Would stay here again.
"A very solid 4"
We wanted a reasonable hotel in the centre of Mexico City (where we have visited many times before); the FI centro historic ticks most of the boxes and is a very solid 4. The rooms are surprisingly spacious (given the location), if a bit spartan; everything (plumbing, wi-fi, TV) works well; the staff are friendly and efficient. The breakfast is very good (NB: if you opt for the buffet, which is the best buy, be aware that there are two categories: full [hot] buffet at 230pesos and 'cold' buffet - i.e. juice, cereal, fruit, pastries, etc. - at 170pesos. Both are good value, but make sure you get charged for 'cold' if (like me) you sometimes avoid the temptation of huevos, frijoles, tocino, etc. (it's not a fiddle; it's just that the waiters don't seem to know). The restaurant is spacious, bright and functional (not a place for intimate candle-lit dinners ..). The hotel has a bar (also a bit spartan/minimalist) and a pleasant 'lobby'. Be aware that the hotel entrance, through a centro comercial/mini-mall, is a bit hard to find; many taxi-drivers seem to be unaware of how to find it. The secret is to enter via a side street (José Azueta), between the FI and the Hilton, NOT on the main Avenida Juarez. Room rates (about £70 a night, not including breakfast), seem reasonable; location is very good for centro historico attractions (e.g., Museo Nacional de Arte and very good Museo de Arte Popular just a couple of blocks away). Noise can be a problem: the Alameda hosts (amplified) rock bands and DJs, just across the road, though, to be fair, they seem to stop around 11 am. We also had the impression that the walls were pretty thin, so neighbours who insisted in watching (loud) TV at 3 am caused some problems. At least avoid a room overlooking Juarez and the Alameda.
"Modern and great location"
Modern building and great location in centro historico - bright,clean and good service from staff. Near to Arte popular museum and plenty of local restaurants. Good buffet breakfast, wifi reasonable, but as in other hotels,often inconsistent,partly due to some occasional power cuts.
"No cause for Alarm?"
The Fiesta Inn is a modern hotel well located in the Historic centre. There is a small shopping mall on ground floor. Guests are greeted by a porter who will take luggage while guests take a lift to reception on first floor and after check-in a separate lift (requires room card) to the floors above. Rooms well equipped of generous size each with two double beds. Staff friendly, attentive and helpful. Buffet Breakfast which is paid for at the time and not chargeable to your room offers a wide choice and is good value. Wifi is free but speeds are on the slow side and were close to zero in our room. I noted that a sprinkler system was installed with sprinklers in each room. However in our room the smoke alarm had been removed. There are a number of good quality restaurants in the immediate vicinity.
Top-rated Attractions Nearby
National Museum of Anthropology (Museo Nacional de Antropologia)
Eat Mexico Culinary Tours
Journeys Beyond the Surface Popular Culture Tours
Museo del Tiempo Tlalpan
Eat Like a Local Mexico
Mexcity Tours- Day Tours
Sabores Mexico Food Tours
Casa Jacaranda
Escape Rooms Mexico
Estacion Mexico Free Tours
Photos hotel and surroundings (105)
Rooms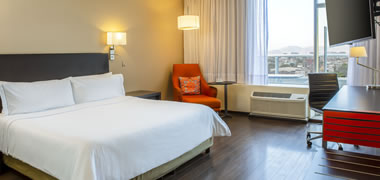 Executive Room, 1 King
Whether traveling for work or pleasure, you will feel instantly relaxed when entering these spacious rooms with minimalist design and laminated floors. Each room has a king bed, 32" LCD TV, two telephones, and work desk with high-speed wireless Internet. They also offer a bathroom with tub, air conditioning, security safe and ironing kit. Each room has a view of the famous Juarez Avenue (subject to availability), and everything you need for an enjoyable stay, including 24-hour room service and a travelers kit.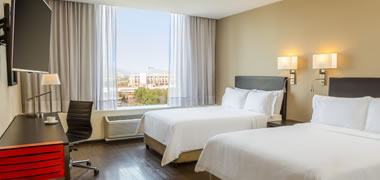 Executive Room, 2 Double
These spacious rooms feature minimalist design and laminated floors, making them ideal for rest and relaxation. Each room has two double beds, 32" LCD TV, two telephones, and work desk with high-speed wireless Internet. They also offer a bathroom with tub, air conditioning, security safe and ironing kit. Each room has a view of the famous Juarez Avenue (subject to availability), and everything you need for an enjoyable stay, including 24-hour room service and a travelers kit.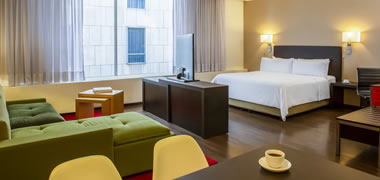 Junior Suite
A spacious room with 2 areas: living room and bedroom; featuring 1 king-sized bed, microwave, mini refrigerator, 2 televisions (one in each room), 2 phone lines and a spacious desk.