Fiesta Inn continues to evolve and transform as a leader in Business Class hotels with the Fiesta Inn Chetumal. The hotel is designed to let visitors pass their time as they wish, with spaces that are functional and welcoming, so guests can work independently or socialize in groups. Today, the Fiesta Inn is more than just a hotel. It's a community of travelers all working to get ahead.

Located at the Capital City of Quintana Roo. Fiesta Inn Chetumal is located on the main street, 6 minutes from the Airport and 5 minutes from the Government Palace. It offers easy access to Rio Hondo River, Bacalar's Lagoon and Kohunlich and Dzibanché's Archeological Zones.

The hotel check-in time is 3pm. Check-out is 12:00 hrs. A convenient Express check-out service is available.


Services
There are 131 guest rooms, restaurant, skybar and a range of spacious and comfortable multi-use rooms for private work sessions, meetings and other group events. Other facilities include Lounge 360°, outdoor pool and fitness center. Hotel services include:
Handicapped access
Gym
Restaurant(s)
100% smoke free hotel
Guests access with guide dogs
Shuttle service (subject to availability)
Indoor parking
Business center
Free Wi-Fi access
Laundry service
Bar(s)
24 hours room service
Outdoor pool
Restaurant
La Isla
The Fiesta Inn features La Isla, the perfect spot to relax and grab a bite to eat, 24 hours a day. It offers a breakfast buffett, restaurant, grab-and-go refreshments and even room service. There's also a self-service bar with domestic and imported drinks.
Meeting Rooms

Event and meeting rooms
The B-On Business Center offers computer workstations with high-speed Internet access and three meeting rooms with projection screen and air conditioning, accommodating up to 14 people.
There are also three meeting and event rooms accommodating up to 300 people with auditorium seating. Each room has whiteboard, video screen, flipchart and other amenities. The professional staff can assist with coffee breaks and other services.

x
Location #2 of 20 hotels in Chetumal
GreenLeader Platinum
Certificate of Excellence 2018
Summary of qualifications
Best comments
"Tired touring hotel"
Hotel getting very worn and tired, busy with large tour groups. Room design same as the rest of the chain, quite large, strange layout, good shower, bottled water provided however the room had not been properly cleaned. Dinner provided was extremely poor quality food; breakfast was OK, no black tea available.
"Clean, comfy hotel with lovely rooftop pool"
Clean, comfy hotel with lovely rooftop pool and in a great location. Clean, spacious room with very comfy king size bed. Roof top pool Small Gym but good facilities for it's size. Great location only a short stroll to El Malecon
"Great except Sky Bar lounge"
Check in was easy and quick. Front desk professional and accommodating. Room was awesome, had the King Suite. Living/dining area with a T.V and bar fridge huge window and a small bathroom. Separate bedroom with kingsize bed, huge window, large closet, safe, desk, T.V. and ensuite bathroom with a double sink, seperate toilet closet, beautiful walk-in spa type shower with glass door and rainfall showerhead. Lots of towels and toiletries NO CONDITIONER though so bring some. Great pool. Great lounge area by pool. Lots of shade or sun. Main lobby has bar and computers. Lobby restaurant has an EXCELLENT buffet breakfast for like $211 MX. Also fresh, made to order hot items on buffet. My ONLY complaint is the Sky Bar. I think the bartender makes his own prices. I asked him how much a glass of red wine was. He hemmed and hawed and said uhm 120? So I said okay, then he poured me a glass and emptied the bottled which was not even a half of a glass. I said 120? For that? He said okay 100 then. When I asked how much a bottle was, he said that he didn't know. I asked how much the bottle on display on the bar was and he said Uhm, 710? Really?? No thanks! Got back to my room, checked the wine list NOTHING NEAR $710! The most expensive was 450. Management needs to monitor lounge staff. Other than that I would stay again. Just bring my own wine next time lol
"We were robbed!!!!!!"
Do not stay here!!!!!! We were robes of $300. USD!!!! We left the $ in the safe that hotel staff said was safe. They came in while we weren't in and took the $. The safe was opened when we returned. The staff refused to help us and insisted they do t have access to housekeeping. That is another department. We asked to see a manager and security as well as the camera footage and they refused. The only evidence they have is that housekeeping had access twice, during the time we weren't in our room. I told them I want to see the footage and they refused to let me see it. This happened in the space of 2 hours and there is still time to find the culprit because I am sure he is cleaning on the same floor. However the staff is very unhelpful. They are a bunch of thieves. Do not stay here!!!!!!!!
"Stolen money in Safe"
Hotel staff stole $300 USD from out locked safe. Hotel records showed that our room had been accessed while we were away. They insisted that housekeeping can not open safes, yet still ours was opened and money was stolen. Management did not do anything about it, not even offering to refund us for the one night we stayed. Aweful experience. We also smelt smoke in our non -smoking room. Was extreme distraught and disappointed with their inability to handle employee theft.
Top-rated Attractions Nearby
Dzibanche
El Malecon de Chetumal
Taj Mahal Cenote
Museum de la cultura maya
Oxtankah Ruins
Paraiso Tours
Kohunlich
Mayan World Adventures
Santuario del Manati
Zoologico Payo Obispo
Photos hotel and surroundings (272)
Qualified:
Rooms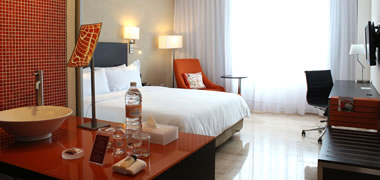 Superior Room, 1 king
There are 62 rooms with king bed, work desk, closet, telephone, coffeemaker, wireless Internet, full bathroom, air-conditioning and flat-screen cable TV.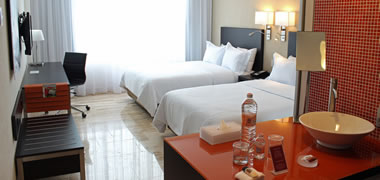 Superior Room, 2 double
The hotel offers 60 rooms with two double beds, work desk, closet, telephone, coffeemaker, wireless Internet, full bathroom, air-conditioning and flat-screen cable TV.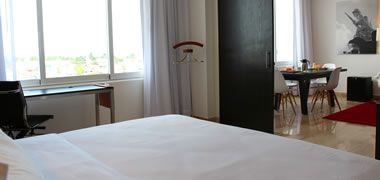 Junior Suite King
For guests wanting more space, there are 7 Junior Suites with king bed, work desk, closet, telephone, coffeemaker, wireless Internet, full bathroom, air-conditioning and flat-screen cable TV. These rooms also have a living and dining room, alarm clock and sofa.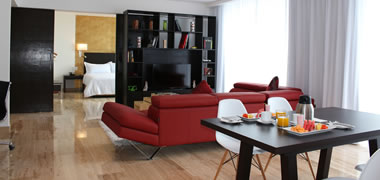 Governor Suite
Elegant, one-bedroom suite with king-size bed, full bathroom and patio. The suite has a living room with a breakfast area for six people, breakfast bar and kitchenette with microwave oven and mini bar.