Fiesta Inn continues to evolve and transform as a leader in Business Class hotels with the Fiesta Inn Chetumal. The hotel is designed to let visitors pass their time as they wish, with spaces that are functional and welcoming, so guests can work independently or socialize in groups. Today, the Fiesta Inn is more than just a hotel. It's a community of travelers all working to get ahead.

Located at the Capital City of Quintana Roo. Fiesta Inn Chetumal is located on the main street, 6 minutes from the Airport and 5 minutes from the Government Palace. It offers easy access to Rio Hondo River, Bacalar's Lagoon and Kohunlich and Dzibanché's Archeological Zones.

The hotel check-in time is 3pm. Check-out is 12:00 hrs. A convenient Express check-out service is available.


Services
There are 131 guest rooms, restaurant, skybar and a range of spacious and comfortable multi-use rooms for private work sessions, meetings and other group events. Other facilities include Lounge 360°, outdoor pool and fitness center. Hotel services include:
Indoor parking
Handicapped access
Free Wi-Fi access
Business center
Gym
Restaurant(s)
100% smoke free hotel
Guests access with guide dogs
Laundry service
24 hours room service
Bar(s)
Outdoor pool
Restaurant
La Isla
The Fiesta Inn features La Isla, the perfect spot to relax and grab a bite to eat, 24 hours a day. It offers a breakfast buffett, restaurant, grab-and-go refreshments and even room service. There's also a self-service bar with domestic and imported drinks.
Meeting Rooms

Event and meeting rooms
The B-On Business Center offers computer workstations with high-speed Internet access and three meeting rooms with projection screen and air conditioning, accommodating up to 14 people.
There are also three meeting and event rooms accommodating up to 300 people with auditorium seating. Each room has whiteboard, video screen, flipchart and other amenities. The professional staff can assist with coffee breaks and other services.

Qualified:
x
Location #1 of 17 Specialty lodging in Chetumal
GreenLeader Platinum
Summary of qualifications
Best comments
"Great Hotel for your Stay in Chetumal"
Convenient location and amenities!! Everytime i travel to chetumal, i always try to stay at fiesta inn. I have been to many hotels and what i love the most is that they have an amazing bathroom shower with hot water and an iron which is something that seems to be lacking in every other hotel i have stayed at. Their rooms, sheets and floors are very clean and they have convenient rooms for handicap. everything is modern but not distateful. They give great quality free coffee in your rooms, the rooftop pool is amazing with a refreshing view and a rooftop bar with a center to relax and even use a projector if necessary. the staff is very friendly, They have a fitness center, mini business center with computers and they have a bell boy(this is new as they didn't have one before) there is parking underneath the building. Although pricey, you pay for what you get. The hotel is eco friendly and places signs to educate you. its the only place i stay at when i am in chetumal(unless they are full) There is a buffet each morning and the options are endless. i would not recommend their pina colada drinks to anyone but they have amazing tres leches desert which i order every trip. YUM!
"Family vacation "
Great hotel and great staff. The upper pool and bar is the best,giving you the greatest view of the sea and the town. My family really enjoy it. I truly recommend Fiesta inn for your next stay in chetumal, Mexico.
"New but getting old fast"
I booked a superior king room which was located on the 5th floor. The hotel is really new, but it would seem they are cutting corners and it could get old fast if adequate maintenance is not given. Still right now it is definitely the best hotel in Chetumal by far. I stayed at this property during the Easter vacations for 1 night. The hotel was filled with large families, and I was told by staff that a lot of them were visiting from Belize to shop in Chetumal. The lobby with so much movement of people was dirty and was not being cleaned as often as it should. It would seem they were short on staff (the bellboy was also our waiter at the restaurant). Even the elevator was slippery from families returning to their rooms from the rooftop pool even later at night. The room itself was very clean and spacious and the bedding was really comfortable. Staff was really friendly and helpful and the free shuttle made it a breeze to catch an early flight. The breakfast buffet is really good offering all kinds of choices and a really good espresso. The dinner not so good and I would recommend dining elsewhere if you are looking for authentic regional cuisine. I ordered a Sopa de Lima, which is a traditional light broth flavored with a local citric. The soup was overpowered by red peppers which I was told was the personal touch of the Chef who was from a Northern State but has no place in this cuisine. I returned it, and instead was served a normal chicken broth with little citric flavor. I also ordered the Salbutes which were served with boiled chicken (no pickled onion) and had little flavor and Poc Chuc which was overpowered with oregano. Both were cold (which is never good with fried antojitos) and really lacked the original flavor expected of these dishes. The only thing resembling food from this region was the very spicy habanero sauce with lemon. In a chain like this one would expect that standard recipes would be served and the Chef would be taught to make local dishes or not serve them at all.
"Good stay and good service"
I stayed at this property for business. I attended a conference. The hotel is comfortable and the staff is very helpful. The room was comfortable and had all the basics. The wifi worked well. The terrace at the top of the hotel is very nice and well suited.
"Great place "
Just stayed at Fiesta inn and most say it was great the rooms well kept and very modern only thing missing is a small fridge but the staff was great and great room service too love the pool very nice I will be back and would recommend it to anyone.
Top-rated Attractions Nearby
Dzibanche
El Malecon de Chetumal
Museum de la cultura maya
Taj Mahal Cenote
Oxtankah Ruins
Mayan World Adventures
Paraiso Tours
Dr. Alfredo Barrera Marin Botanical Garden
Santuario del Manati
Zoologico Payo Obispo
Photos hotel and surroundings (217)
Rooms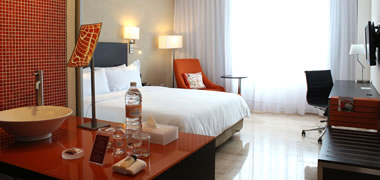 Superior Room, 1 king
There are 62 rooms with king bed, work desk, closet, telephone, coffeemaker, wireless Internet, full bathroom, air-conditioning and flat-screen cable TV.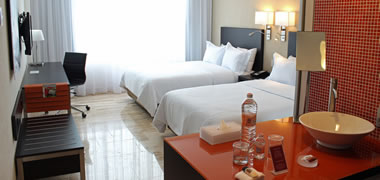 Superior Room, 2 double
The hotel offers 60 rooms with two double beds, work desk, closet, telephone, coffeemaker, wireless Internet, full bathroom, air-conditioning and flat-screen cable TV.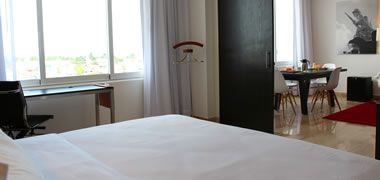 Junior Suite King
For guests wanting more space, there are 7 Junior Suites with king bed, work desk, closet, telephone, coffeemaker, wireless Internet, full bathroom, air-conditioning and flat-screen cable TV. These rooms also have a living and dining room, alarm clock and sofa.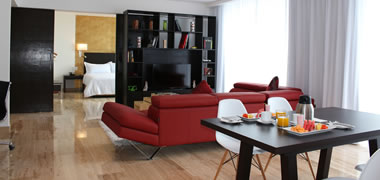 Governor Suite
Elegant, one-bedroom suite with king-size bed, full bathroom and patio. The suite has a living room with a breakfast area for six people, breakfast bar and kitchenette with microwave oven and mini bar.