Located strategically only 5 minutes from the Historic Center, on one of the main avenues where it is possible to enjoy the city's historical, cultural and entertainment attractions. The hotel is situated just 15 minutes from the industrial parks and 20 minutes from the airport, providing quick and easy access to important business corporations.

We remind you that the check-in time is from 3:00 PM. Check-out is at 12:00 PM. We suggest you use our express check-out service.


Services
The hotel has 152 rooms, a restaurant, a lobby bar open from 1:00 p.m. to 11:00 p.m., swimming pool, gift shop and fitness center. Hotel services include:
Indoor parking
Handicapped access
Free Wi-Fi access
Business center
Gym
Restaurant(s)
Guests access with guide dogs
Laundry service
24 hours room service
Pets are not allowed
Bar(s)
Outdoor pool
Restaurant

Restaurant
The Fiesta Inn features a restaurant which opens from 6:00 a.m. until 11:00 p.m. and is an excellent choice for breakfast, lunch and dinner. Enjoy the restaurant's ambient music, breakfasts and theme buffets offered Monday through Sunday. For dinner, choose a dish from the menu with a salad bar and appetizers.

Meeting Rooms

Event and meeting rooms
The hotel has a Business Center with computers and high speed wireless Internet, and 2 meeting rooms with a screen, air conditioning and capacity for 8 people.
It also features event rooms that can be adapted to host up to 160 people in an auditorium; each room has a board, electric screen, flip charts, coffee service and personalized service. Our professional team will help with your groups and conventions.

Qualified:
x
Location #12 of 30 hotels in Chihuahua
Summary of qualifications
Best comments
"Good location, but thats about it"
The only real good thing about the hotel is their location, in one of Chihuahuas most important avenues and close to many things. But that´s about it. In our experience, the hotel lacks a lot. The beds are not very comfortable and the walls are super thin, so you are listening to everything the neighbors are doing. The street traffic was another issue, being on the third floor we listened to it a lot. Another thing was the water. You get 1 bottle (300ml) for a room per day. That is not enough for 2 people. The other bottle is for sale. Its really not the price, which was less then $2 US, but the fact that you don't get water. There is also a coffee pot in the room, but we only got a coffee pack 2 out of 3 days. Its all in the details. There is no safety deposit box in the room. To us this is a deal breaker. Especially in a city like Chihuahua, where crime has escalated. On the plus side, our cleaning lady was super nice, left us messages on a little pad. The rooms are not very new, but are clean.
"Fiesta Inn Chihuahua Employees deserve a recognition"
I stayed for 2 nights and service was very good... Hotel installations are in good conditions... employees made their best effort to provide a good service.. room service.. excellent.... They made my stay comfortable..
"very good hotel"
it's agood and nice Hotel nice people and staf and very kind people. They help youwith everything. the nabouhood is very quit no noice from outside.the breakfast is perfect andyouhave a lot of choice in food and it's fresh
"Getting to know Chihuhua City"
Great place to stay. Rooms and bathrooms are very clean. It is in a quiet area; only three dollar taxi ride from downtown. If you're looking for an inexpensive, clean and comfortable hotel Fiesta Inn provides all that. It is not luxurious but provides all the comfort you would need in a hotel.
"Good enough for work"
Location is OK. Rooms are a bit old but clean. The breakfast buffet was very good, with barbacoa and an omelette station. The thing I did not like, which is happening more and more with hotels in Mexico, is that every single TV channel was dubbed. I really hate that you cannot hear TV shows or movies in the original language, and get even more frustrated because I know that cable companies do have SAP.
Top-rated Attractions Nearby
Parque de Aventura Barrancas del Cobre
Quinta Gameros
Historical Museum of the Mexican Revolution
Catedral de Chihuahua
Museo Casa Chihuahua
Centro Historico de la Ciudad de Chihuahua, MX
Chepe Express
Parque Metropolitano Presa el Rejon
Nombre de Dios
Bodegas Pinesque
Photos hotel and surroundings (48)
Rooms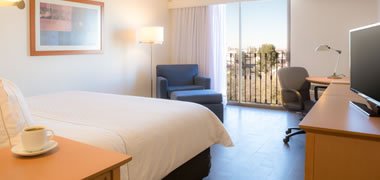 Superior Room, 1 king
The room is 30 m2 with a king-size bed, 2 bedside tables, 29" TV, reading chair and spacious work desk, telephone, bathroom with tub, shower and toilet. With a view of the city, except on the 1st floor.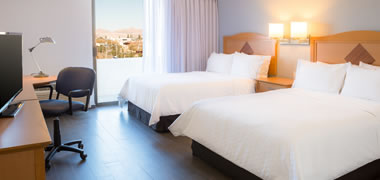 Superior Room, 2 double
Equipped with 2 double beds, 29" TV, spacious work desk, telephone, bathroom with tub, shower and toilet. With a view of the city.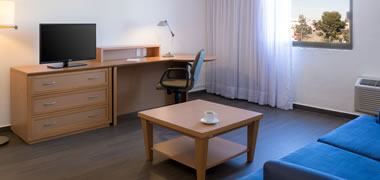 Junior Suite
A large, comfortable room with a king-sized bed, TV, work desk with telephone and wireless Internet. In addition, it has a comfortable TV room with a desk, refrigerator and telephone  completely separate from the main room, providing you with greater privacy.