Fiesta Inn
Ciudad Obregón
Fiesta Inn Ciudad Obregón
Located in the city's hotel district, it offers quick and easy access to the city's financial district and city center. The hotel is situated just minutes from the main thoroughfare into Ciudad Obregón, 20 minutes from the airport and 5 minutes from the center and main corporations.

Fiesta Inn Ciudad Obregón is an Eco-friendly hotel, so it is a 100% smoke free hotel.

We remind you that the check-in time is from 3:00 PM. Check-out is at 12:00 PM. We suggest you use our express check-out service.

Services
The hotel has 123 rooms, a restaurant, a lobby bar open from 1:00 p.m. to 11:00 p.m., and fitness center. Hotel services include:
Shuttle service with cost
Handicapped access
Gym
Restaurant(s)
100% smoke free hotel
Guests access with guide dogs
Pets are not allowed
Indoor parking
Free Wi-Fi access
Business center
Laundry service
Bar(s)
24 hours room service
Outdoor pool
Restaurant

Restaurant
The Fiesta Inn features a restaurant which opens from 6:00 a.m. until 11:00 p.m. and is an excellent choice for breakfast, lunch and dinner. Delight your palate in a casual setting with buffet or menu service. Ideal for work breakfasts and lunches, as well as family outings on weekends.
Meeting Rooms

Event and meeting rooms
The hotel has a Business Center with computers and high speed wireless Internet, and 2 meeting rooms with a screen, air conditioning and capacity for 8 people.
It also features event rooms that can be adapted to host up to 500 people in an auditorium; each room has a board, electric screen, flip charts, coffee service and personalized service. Our professional team will help with your groups and conventions.

Qualified:
x
Fiesta Inn Ciudad Obregon
Location #1 of 9 hotels in Ciudad Obregon
GreenLeader Silver
Certificate of Excellence 2017
Summary of qualifications
Best comments
"do yourself a favor and book next door at the Holiday Inn Express & Suites. you won't regret it."
several of my family members booked at the hotel for a wedding under 'group' rate. when we checked in, front desk argued that because we had 3 people we needed to rent 2 rooms...the 'double' rooms were for 2 people ONLY. after arguing that battle, turns out they did not honor the 1st night under 'group' rate, we paid full rate price. they could not honor the code that first night but had us call the 800 number from the lobby to book 2nd and 3rd night under the 'group' code...so we got 2 out of 3 nights at the discounted rate. the room was VERY small and the beds were even smaller. air conditioning did not work very well, the room remained pretty warm the first night. woke up and went directly to the Holiday Inn...literally...right next door. BEST.DECISION. i made the entire trip. will never stay at Fiesta Inn again.
"Looks like a good one but it isnt"
The hotel used to have good service on many areas. Unfortunately there's been turn over and it lacks talent and attention to detail. I would really reconsider staying on this hotel since they may other options besides it and it could be a better one.
"Very comfortable with reasonable rates"
We were visiting family in Obregon for 3 days during the week before Easter. I can't comment on the pool area or restaurant, as we didn't use either. The hotel is very clean and fairly new. I walked in without a reservation. The ladies at the front desk quoted me a rate that seemed a little high from my research on the internet. One of them took me into the business center, called the central reservations number for me, and let me make an on-the-spot reservation for about $20 per night LESS. The room was very nice and comfortable. AC worked great and the bed was comfy. Bathroom was spotless. Hotel location is great, and there is a casino a few blocks away, for those so inclined. I highly recommend Fiesta Inn.
"excellent place"
great service, great room, great location next to shopping and food :) I highly recommend a stay. I travel professionally and I was happy. I love OXXO coffee and it was less than 100 yards away. OXXO coffee is consistant across Mexico and always good.
"For Ciudad Obregon - Nice Hotel"
For Ciudad Obregon this is a very nice hotel. It's normally full with businessmen or traveling sports teams. The front desk staff is actually really great, some of them do speak english. It has a small business center. A nice pool, a bar but most people don't just sit at the bar here so they were a little confused when we just wanted to sit at the bar and have a drink. The rooms are modern but the set up for the bathroom sink was weird and just kind of open and out there. I can see it being difficult for a woman to get ready. They do include a ton of water for the room each day. 1 x 2 lt bottle and 2 x 600 ml bottles. The gym could use an upgrade but it does have 2 treadmills and a weight station (multifunction machine). They should put a spray bottle with cleaning solution in the weight room. I sweat a lot and would try to wipe down the treadmill afterwards but the best I could do is a dry towel. They do also have a shuttle that will take you to the airport twice a day. Overall it's a great hotel.
Top-rated Attractions Nearby
La Laguna Del Nainari
Tres Marias Game Ranch
Museo Sonora en la Revolucion
Estadio Yaquis
Estadio Tomas Oroz Gaytan
Plaza Tutuli
Plaza Goya
Eco Camp Inn Parque Camping Safari
Photos hotel and surroundings (54)
Rooms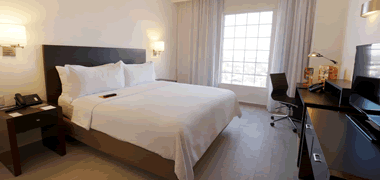 Superior Room, 1 king
The room is 30 m2 with a king-size bed, 2 bedside tables, 29" TV, reading chair and spacious work desk, telephone, bathroom with shower and toilet. With a view of the city, except on the 1st floor.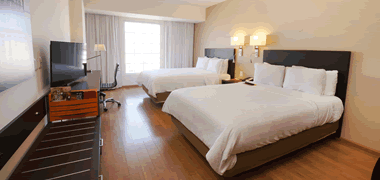 Superior Room, 2 double
Equipped with 2 double beds, 29" TV, spacious work desk, telephone, bathroom with shower and toilet. With a view of the city.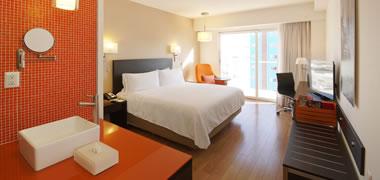 Deluxe Room, 1 king
Discover the perfect place to work and relax in this comfortable room, outfitted with a king bed, closet, bathroom, climate control, coffeemaker, telephone, wireless high-speed Internet, cable TV and special amenities.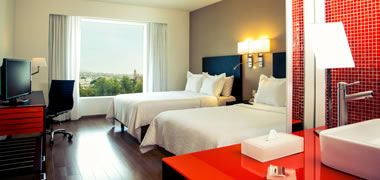 Deluxe Room, 2 double
Discover the perfect place to work and relax in this comfortable room, outfitted with two double beds, closet, bathroom, climate control, coffeemaker, telephone, wireless high-speed Internet, cable TV and special amenities.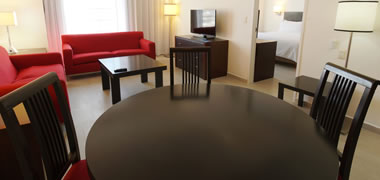 Junior Suite
A spacious room with a king-size bed, modern furnishings including duvets and TV, small living room also with TV, kitchenette, breakfast bar, work desk, closet, bathroom with shower, air conditioning, daily coffee kit and personal toiletries.