Located on the Mexico-Acapulco highway, in front of Galerías Cuernavaca, a shopping center with excellent entertainment and shopping options. The hotel is situated just 10 minutes from CIVAC, the city's most important industrial area, and the Historic Center, where you can visit the Cuauhnáhuac Regional Museum (Cortez Palace), the Cathedral and the Spender Mansion (Borda Garden).

We remind you that the check-in time is from 3:00 PM. Check-out is at 12:00 PM. We suggest you use our express check-out service.

Services
The hotel has 155 rooms, a restaurant, a lobby bar open from 1:00 p.m. to 9:00 p.m., 2 swimming pools and fitness center. Hotel services include:
Handicapped access
Free Wi-Fi access
Gym
Restaurant(s)
Guests access with guide dogs
Laundry service
24 hours room service
Pets are not allowed
Bar(s)
Indoor parking with cost
Outdoor pool
Restaurant

Restaurant
The Fiesta Inn features a restaurant which opens from 6:00 a.m. until 11:00 p.m. and is an excellent choice for breakfast, lunch and dinner. Enjoy our international cuisine and regional dishes. We also have spacious gardens with a capacity of up to 250 diners.
Meeting Rooms

Event and meeting rooms
The hotel has a Business Center with computers and high speed wireless Internet, and 2 meeting rooms with a screen, air conditioning and capacity for 8 people.
It also features event rooms that can be adapted to host up to 400 people in an auditorium; each room has a board, electric screen, flip charts, coffee service and personalized service. Our professional team will help with your groups and conventions.
Qualified:
x
Location #5 of 64 hotels in Cuernavaca
GreenLeader Bronze
Summary of qualifications
Best comments
"Business becomes pleasure"
Usually when I go to work in Cuernavaca I stay in this hotel, and every time is a very good experience, I feel like home, the staff is so kind and attentive. I really recommend this place for any kind of stay, if you are going to work, or if you are going with your family is a very good place to have a time for yourself.
"Good option"
Localization is good for those who are on a business trip and driving a car. The hotel is just on the road which goes to Acapulco. Currently the portion of the road in front of the hotel is under construction. The traffic is really bad.Being that close to the road, makes most of rooms noisy, including during the night. Due to the fact that the hotel has conference rooms, there are always groups. There was a noisy group during my stay. Breakfast is good. There is a beautiful Shopping Center 15 minutes drive from the hotel, where you can shop, have dinner and buy anything you need. There is nothing on a walking distance. Walking is not an option.
"Best hotel in the area"
This was my second stay at this hotel. As same as last time, person at front desk was friendly and helpful. I enjoyed dinner and breakfast with some Mexican touch. Everything was pleasant and I will recommend to everybody staying in the area. Thank you very much for your hospitality.
"Nice Hotel"
Very nice and clean hotel with pleasant staff, good food restaurant. The only concern is with the road construction near hotel, it is kind a difficult to move around but it will get much better after construction is finished.
"Goop option in Cuernavaca"
This was a business/family trip. It was my wife, baby, and mother-in-law, so we stayed in a Junior Suite for 4 nights. It is actually quite big. I expected it to be much smaller. The living room had three couches, flat screen TV, dining table, as well as a mini-fridge and a microwave. The bedroom had a king size bed, another flat screen TV and did not feel cramped at all. There was plenty of space for our toddler to walk around. The hotel is nice. Nothing luxurious, but clean and functional. It has two fairly sized pools. Many kids and adults seemed to enjoyed them. There were also some areas with grass where the kids played. All the staff was friendly and helpful. Ok, so for the issues we had. The main one was that the pullout bed/sofa was practically broken. REALLY uncomfortable. The front desk sent a twin size bed, so I was really grateful that my mother-in-law slept better the next night. I really appreciated that. Anyway, I believe that the sofa should be taken out, or at least ask the travelers if it is going to be used, because it is not a nice surprise at 11pm. The bathroom is ok, but it is the typical bathroom from many years ago with a tub. The shower head is somewhat low, and I am not tall. (5-7) The lid of the toilet kept falling, but I told the front desk. Hope they take care of it. All in all, the room and hotel was worth the money. It was only 40 pesos for parking (for ALL the stay). Some free continental breakfast in the morning would be nice. You can eat breakfast in the restaurant (buffet), around 185 pesos if I recall correctly, and the food is good. Considering prices from other places, I would recommend the Junior Suite. I did not see the other rooms so I cannot say anything about them. The hotel is beside the highway, but it was actually NOT noisy, so no problem there. There was a group of many teenagers staying in our floor, and well, like typical teenagers, were hanging out in the hallways making a lot of noise. Did not report that to the front desk, but I think there should be better control when this happens, because they were really noisy and bothersome. We did tell them if they could keep it down a notch, but obviously they did not care. Good wi-fi. Good option in Cuernavaca. Would come back.
Top-rated Attractions Nearby
TERRA 3 Expediciones
Archaeological Zone of Xochicalco
Robert Brady Museum
Palacio de Cortes
Cathedral of the Asencion (Catedral de la Asuncion)
Spanish Language Institute - Day Course
Tlacuache Adventures
Garden Borda Cultural Center
Museo de Cuauhnahuac
Zona Arqueologica Teopanzolco
Photos hotel and surroundings (59)
Rooms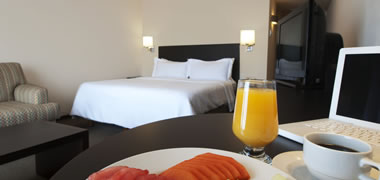 Superior Room, 1 king
The room is 30 m2 with a king-size bed, 2 bedside tables, 29" TV, reading chair and spacious work desk, telephone, bathroom with tub, shower and toilet. With a view of the city, except on the 1st floor.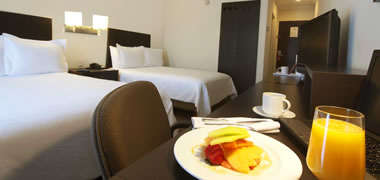 Superior Room, 2 double
Equipped with 2 double beds, 29" TV, spacious work desk, telephone, bathroom with tub, shower and toilet. With a view of the city.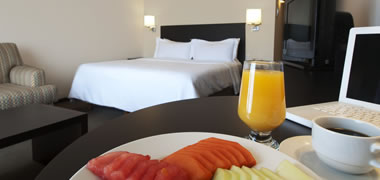 Deluxe Room, Pool View, 1 King
This spacious suite with pool view offers both the perfect place to rest and get your work done quietly and comfortably. There are 13 spacious rooms with king bed, equipped with 2 bedside tables, 29" TV, reading chair and spacious work desk, telephone, bathroom with tub, shower and toilet.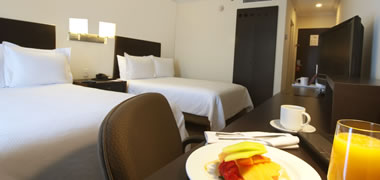 Deluxe Room, Pool View, 2 Double
This spacious suite with pool view offers both the perfect place to rest and get your work done quietly and comfortably. There are 9 spacious rooms with two double beds, equipped 29" TV, spacious work desk, telephone, bathroom with tub, shower and toilet.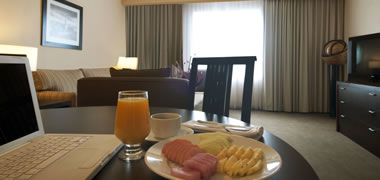 Junior Suite King
A large, comfortable room with 2 areas, with a living and dining area, a bedroom with a king-size bed, 2 TVs with cable, a work desk with Internet connection, 2 closets, a luggage rack and iron.