Located on the Mexico-Acapulco highway, in front of Galerías Cuernavaca, a shopping center with excellent entertainment and shopping options. The hotel is situated just 10 minutes from CIVAC, the city's most important industrial area, and the Historic Center, where you can visit the Cuauhnáhuac Regional Museum (Cortez Palace), the Cathedral and the Spender Mansion (Borda Garden).

We remind you that the check-in time is from 3:00 PM. Check-out is at 12:00 PM. We suggest you use our express check-out service.

Services
The hotel has 155 rooms, a restaurant, a lobby bar open from 1:00 p.m. to 9:00 p.m., 2 swimming pools and fitness center. Hotel services include:
Handicapped access
Free Wi-Fi access
Gym
Restaurant(s)
Guests access with guide dogs
Laundry service
24 hours room service
Pets are not allowed
Bar(s)
Indoor parking with cost
Outdoor pool
Restaurant

Restaurant
The Fiesta Inn features a restaurant which opens from 6:00 a.m. until 11:00 p.m. and is an excellent choice for breakfast, lunch and dinner. Enjoy our international cuisine and regional dishes. We also have spacious gardens with a capacity of up to 250 diners.
Meeting Rooms

Event and meeting rooms
The hotel has a Business Center with computers and high speed wireless Internet, and 2 meeting rooms with a screen, air conditioning and capacity for 8 people.
It also features event rooms that can be adapted to host up to 400 people in an auditorium; each room has a board, electric screen, flip charts, coffee service and personalized service. Our professional team will help with your groups and conventions.
Qualified:
x
Location #4 of 64 hotels in Cuernavaca
GreenLeader Bronze
Summary of qualifications
Best comments
"Fiesta Inn in Cuarnavaca, Mexico"
I have travelled many places in many countries in the world and stayed in many hotels ranging from 1* to 5*. In my experience, I got the worst breakfast service from this Fiesta Inn in Cuarnavaca, Mexico. It is not the issue with the quality of the food or the service of the food. This is the first hotel in my life I had to pay for the breakfast. And not just that I even could not leave the place without paying, not even I could charge the breakfast to my room. Even, they charge my room at the time of check-in. This is just humiliation and embarrasing.
"Business oriented people!!"
Awesome place!!! I stayed one week for business matters. My experience was very good. Rooms are comfortable, restaurant is good!!! I forget a pair of sunglasses at the restaurant one of the nights and next day I ask to the waitress if he found it and, yes, he take it and delivery to his boss!!! At that point there was a little bit of confusion with the final whereabouts of the sunglasses.....but.... managers from the hotel get involved in the situation, beginning with the banquet manager up to the general manager and they manage to found a positive solution to the situation!!! That was very impressive and motivate me to highly recommend this great hotel and their staff!!! Thank you my dear friends !!! Eliel Baez
"Negligent management, unfriendly staff"
Made the reservation on their website which is the slowest responding site I have ever encountered. The system changed the date from the date desired to the day I made the reservation. When I got there they told me they charged me the no show for the night before I was there. I asked to speak to the manager to see what he could do. He refused to come out from his office and just sent a message that all he could do is give me the same rate I had which is a normal rack rate. I had no choice but to stay and pay again because I did not want to go out looking for another hotel. I was upset and the front desk people to the bell boy and valet were very unfriendly. They didn't even help with luggage. I thought maybe they would offer a better room or any amenity. Needless to say never staying here again. I spend 5 or 6 hotel nights a month in this city and hold dinner events at the hotel I'm staying so it's their loss.
"Great Place to Stay in Cuernavaca"
The hotel staff, particularly in the restaurant are outstanding. The rooms are impeccably clean, and comfortable. The property is new, modern and welcoming As a woman traveling alone, I appreciate the safety and security in the hotel also
"" Very Good 7 Day Business Stay ""
Several of my coworkers and I stayed at the Fiesta Inn while on business here in Cuernavaca recently. We all agreed that the friendly service,clean and modern rooms and delicious food made our experience of working long days more than tolerable . The rooms were quiet and the shower had good pressure. ( the important necessities while away from family while on business) . The one opportunity this hotel had was the terrible wifi connection. Very disappointed that we could not talk uninterrupted with family . Poor connectivity at any time-morning or evening.
Top-rated Attractions Nearby
TERRA 3 Expediciones
Archaeological Zone of Xochicalco
Robert Brady Museum
Palacio de Cortes
Spanish Language Institute - Day Course
Cathedral of the Asencion (Catedral de la Asuncion)
Tlacuache Adventures
Borda Gardens (Jardin Borda)
Museo de Cuauhnahuac
Parque Ecologico Chapultepec
Photos hotel and surroundings (38)
Rooms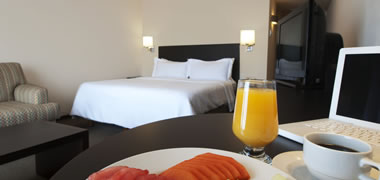 Superior Room, 1 king
The room is 30 m2 with a king-size bed, 2 bedside tables, 29" TV, reading chair and spacious work desk, telephone, bathroom with tub, shower and toilet. With a view of the city, except on the 1st floor.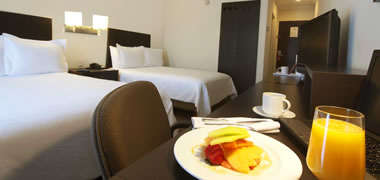 Superior Room, 2 double
Equipped with 2 double beds, 29" TV, spacious work desk, telephone, bathroom with tub, shower and toilet. With a view of the city.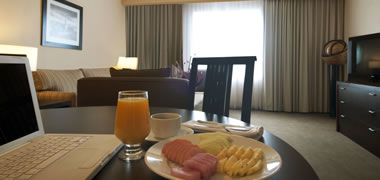 Junior Suite King
A large, comfortable room with 2 areas, with a living and dining area, a bedroom with a king-size bed, 2 TVs with cable, a work desk with Internet connection, 2 closets, a luggage rack and iron.