We would like to share an important notice about the evolution of the Fiesta Inn Culiacán hotel.
Located on the Forum Plaza, within the Tres Ríos urban development, facing the Tamazula river, the city's most recently developed area. The hotel is situated 20 kilometers from the airport and close to the city's main tourist attractions, such as the Science Center, Botanical Garden and the Shrine to the Virgin of Guadalupe "La Lomita".
Fiesta Inn Culiacán is an Eco-friendly hotel, so it is a 100% smoke free hotel.
We remind you that the check-in time is from 3:00 PM. Check-out is at 12:00 PM. We suggest you use our express check-out service.
Services
The hotel has 146 rooms, a restaurant, a lobby bar open from 4:00 p.m. to 11:00 p.m., outdoor swimming pool, and fitness center. Hotel services include:
Shuttle service with cost
Handicapped access
Gym
Restaurant(s)
100% smoke free hotel
Guests access with guide dogs
Pets are not allowed
Indoor parking
Free Wi-Fi access
Business center
Laundry service
Fiesta Kids club
Bar(s)
24 hours room service
Outdoor pool
Restaurant

Restaurant
The Fiesta Inn features a restaurant which opens from 6:00 a.m. until 11:00 p.m. and is an excellent choice for breakfast, lunch and dinner. Enjoy a breakfast buffet every day. Also taco buffet on Tuesday, and seafood buffet on Wednesday, both from 19:00 to 23:00.

Meeting Rooms
Event and meeting rooms
The hotel has a Business Center with computers and high speed wireless Internet, and 2 meeting rooms with air conditioning and capacity for 8 people.
It also features event rooms that can be adapted to host up to 220 people in an auditorium; each room has a board, electric screen and services with additional costo which are flip charts, coffee service, all with personalized service. Our professional team will help with your groups and conventions.


Qualified:
x
Location #1 of 29 hotels in Culiacan
Certificate of Excellence 2017
Summary of qualifications
Best comments
"Nice surprise"
The hotel is quite modern and will accommodate you for shire. The rooms are spacious and well-maintained. The hotel restaurant it's OK don't expect a very quick service but the food is decent. The hotel personnel is very kind to all of the needs that you may have. They try to accommodate them all with good service. The hotel is right next to a mall where you can shop around and also dine.
"Well located"
Well located hotel, close to good restaurants, shopping mall, parking lot and main access roads. Comfortably room, modern, big and clean. Breakfast could be better. But it's ok. I recommend this hotel for business trips.
"Very good but a bit overpriced"
Great location, nice rooms, mostly clean except for the fact that I found a pair of slippers presumably belonging to the previous guest. The restaurant is very good too. Stay was nice overall, and only when leaving I had a minor issue because the ticket to exit the parking lot was not working, and instead of solving it for me, the staff at the frontdesk just told me the ticket was fine and I should take it to the operator of the parking lot, which is actually part of the mall, not hotel exclusive. I believe they should take care of the guest directly.
"Just Ok"
I got impressed by how nice the room was. I had stayed at other Fiesta Inn before and it is, by far, the best one. There are a couple of things though. The bathroom door opens to the opposite site and hampers the toilet, a bit uncomfortable. The other thing is water. I think is very cheap that they leave you just one small bottle of water, if you'd like to drink some more you have to pay for it. I mean, it's water! Last but not least, the aire conditioner didn't have a remote to change temperature and it was very noisy, waking me up a couple of times in the middle of the night.
"Pretty convenient"
looks like is the best option for business and to explore the area, near to every good restaurant and main buildings. they have a nice walking area behind the hotel building and close the river, also there is a shopping center just next to the hotel.
Top-rated Attractions Nearby
Jardin Botanico Culiacan
Parque de la Riberas
Zoo Culiacan
Beisbox
Centro de Ciencias de Sinaloa
Cinepolis VIP Culiacan
Reyes Cantina CLN
Espiral Jugueteria
Opera Nightclub
Plaza Paseo San Isidro
Photos hotel and surroundings (76)
Rooms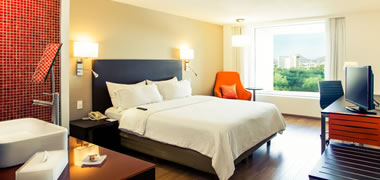 Executive Room, 1 King
Whether traveling for work or pleasure, you will feel instantly relaxed when entering these spacious rooms.  Each room has a king bed, 32" LCD TV, telephone, and work desk with wireless Internet. They also offer a bathroom with tub, air conditioning, security safe, and everything you need for an enjoyable stay, including 24-hour room service and a travelers kit.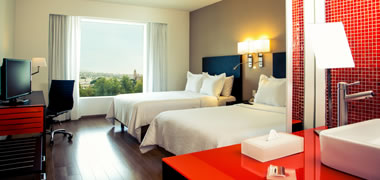 Executive Room, 2 Double
These spacious rooms feature minimalist design, making them ideal for rest and relaxation. Each room has two double beds, 32" LCD TV, telephone, and work desk with wireless Internet. They also offer a bathroom with tub, air conditioning, security safe and ironing kit, and everything you need for an enjoyable stay, including 24-hour room service and a travelers kit.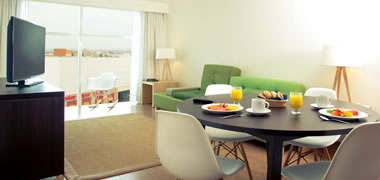 Junior Suite King
A large, comfortable suite that features a standard bedroom with king-size bed and a living area decorated in a modern, functional style, as well as cable 32" LCD screen, bathroom with tub, shower and toilet. Excellent for extended stays.