Fiesta Inn
Guadalajara Expo
Fiesta Inn Guadalajara Expo
Strategically located near the city's business and entertainment centers, including Expo Guadalajara, the Plaza del Sol shopping center and the city center, where you can take a walk or a traditional "Calandria" carriage ride and enjoy remnants of the colonial era. The hotel is situated just minutes from 35 minutes from the airport.

We remind you that the check-in time is from 3:00 PM. Check-out is at 12:00 PM. We suggest you use our express check-out service.


Services
The hotel has 158 rooms, a restaurant, a lobby bar open from 1:00 p.m. to 11:00 p.m., outdoor swimming pool, gift shop and fitness center. Hotel services include:
Handicapped access
Gym
Restaurant(s)
100% smoke free hotel
Stores onsite/nearby
Guests access with guide dogs
Pets are not allowed
Indoor parking
Free Wi-Fi access
Business center
Laundry service
Bar(s)
Outdoor pool
Restaurant

Restaurant
The Fiesta Inn features a restaurant which opens from 6:00 a.m. until 11:00 p.m. and is an excellent choice for breakfast, lunch and dinner. Enjoy traditional regional dishes, such as fine cuts of meat, Rib-eye, T-bone and arrachera steaks, straight from the grill to your table. Accompany your food with a glass of wine.

Meeting Rooms

Event and meeting rooms
The hotel has a Business Center with computers and high speed wireless Internet, and 2 meeting rooms with a screen, air conditioning and capacity for 10 people.
It also features meeting rooms that can be adapted to host up to 170 people in an auditorium; each room has a board, electric screen, flip charts, coffee service and personalized service. Our professional team will help with your groups and conventions.

Qualified:
x
Fiesta Inn Guadalajara Expo
Location #29 of 121 hotels in Guadalajara
Certificate of Excellence 2015
Summary of qualifications
Best comments
"Cheap, Cheap, Cheap"
I am not sure about the price but this property spent the absolute minimum on the rooms. They all have a cheap laminate floor that has been wet and the edges are curling up. The wall unit AC/Heater are old and very noisy. There is no decor in the rooms ? Just 4 plain white walls. No mini bar, table or chairs. Just some cheap desk with a TV. The water pressure in the showers was horrible. The walls and ceilings are very thin. I could hear every time someone walked down the hall or moved in the room above me. There are many nice hotels in Guadalajara. Why anybody would stay at this property is a mystery to me. This hotel is the worst hotel I have stayed at in 20 years.
"Great Hotel close to EXPO"
The hotel, the location with regards to EXPO, was great. would highly recommend if you are attending and event at the EXPO. staff was very friendly and the breakfast very good. The hotel is also located close to shopping and restaurants.
"Great family service!!"
I recently stayed at the Fiesta Inn Guadalajara Expo and my experience in the hotel was wonderful. The rooms are ample and clean. The staff is friendly and very helpful. The hotel is 5min walking from the convention centre and a major commercial plaza, in which you can find almost anything. The computers at the business centre are very useful. I had a wonderful time and I will be back without hesitation.
"Good experience in Guadalajara"
I stayed at the Fiesta Inn during a recently trip to Guadalajara for a conference. The hotel is located a short 10 minute walk from the convention center. Check inn was quick and easy. My Visa card I used at checkin was declined due to it triggering a fraud alert. Another person I was travelling with had the same thing happen with his Visa. No issues with my American Express. The room was simply furnished with a double bed, desk and a comfy chair. The bathroom had a stand up shower, no tub, and one sink. Everything was nice a clean. Internet was included and was wifi only, no hard wired connection. It worked was and was relatively fast. It worked both in the room and the lobby area. There was a very small gym, with one exercise bike, one treadmill, and one step climber. There was a universal weight machine and some free weights. The equipment was in good shape and the gym was not heavily used. There was also an outdoor pool, hot tub and a few lounge chairs. Nothing fancy but everything looked clean and in order. In the lobby were some Dell PC's that could be used for free. There was a small bar and restaurant. I had breakfast there a few mornings. It was simple but not bad. I had a couple Pacifico's at the bar in the evening and the bartender was very friendly. The main negative with the hotel was the noise. We had early starts in the morning so I was getting to bed around 10 - 11 pm. I could hear a lot of noise outside and also a pounding bass beat from what must have been a local club. Around 2am it seemed to finally quiet down. Speaking to my friends on other floors, they all heard the noise. Suggestion - bring earplugs. The hotel is about 30 minutes from the airport. There are a number of restaurants in close proximity as well as a Starbucks, Pizza Hut and McDonalds in very close proximity. If you are looking for something clean and efficient near the convention center, I would recommended this hotel. If you are looking for something a little more upscale and likely quieter, I'd go with the Westin directly across from the convention center.
"It was good"
I travelled with my husband and son in July 2014 on holidays. The hotel is comfortable and clean. The only thing is that they don't have drawers to keep the clothes and he closet is small for three people. It is quiet so we could rest properly. The breakfast food is more or less but if you are in a hurry every morning without much time to go to another place then it is ok. The internet speed is quite good. I would return here if necessary.
Top-rated Attractions Nearby
Instituto Cultural Cabanas
Teatro Degollado
Expiatory Temple
Fox in a Box
Zoologico Guadalajara
Bosque Colomos
Tlaquepaque and Tonala Artisans Tour
Catedral
Guachimontones Pyramids
Metropolitan Cathedral (Catedral Metropolitana)
Photos hotel and surroundings (30)
Rooms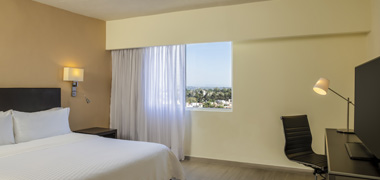 Superior Room, 1 King
The room is 30 m2 with a king-size bed, 2 bedside tables, 29" TV, reading chair and spacious work desk, telephone, bathroom, shower and toilet. With a view of the city, except on the 1st floor.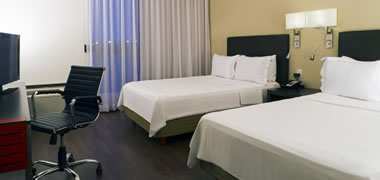 Superior Room, 2 double
Equipped with 2 double beds, 29" TV, spacious work desk, telephone, bathroom, shower and toilet. With a view of the city.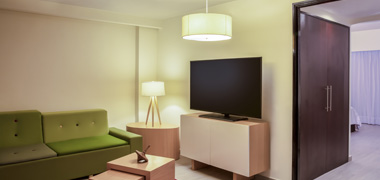 Junior Suite
A spacious room with a king-size bed, 2 phone lines, work desk, cable TV, air conditioning, wardrobe, suitcase rack, coffee maker, dryer, clothes rack, alarm clock, personal bath toiletries and a small, separate living room with a sofa bed.