Fiesta Inn
Insurgentes Sur
Fiesta Inn Insurgentes Sur
Fiesta Inn innovated and transformed the Business Class concept. At the Fiesta Inn Insurgentes Sur, these changes can be seen in the hotel's design and facilities. The rooms are practical and welcoming, connected and independent at the same time, and have been designed to provide creative freedom, making work enjoyable. Today, Fiesta Inn is more than a hotel, it's a community that enjoys constantly striving for success.

Located in the Centro Comercial Insurgentes plaza, behind Teatro Insurgentes, the hotel is surrounded by both corporate and government offices including Conacyt, Grupo Bursátil Mexicano, Apotex, SFP and is very close to UNAM. The hotel is attached to a shopping mall that offers restaurants, cafés, shops, bars, a gym with a pool and a casino.

Fiesta Inn Insurgentes Sur is an Eco-friendly hotel, so it is a 100% smoke free hotel.

We remind you that the check-in time is from 3:00 PM. Check-out is at 12:00 PM. We suggest you use our express check-out service.




Services
The hotel has 162 rooms, restaurant, bar and provides open, multifunctional, comfortable and spacious facilities ideal for working in a pleasant environment without distractions. It features Lounge 360° and fitness center. Hotel services include:
Shuttle service with cost
Handicapped access
Gym
Restaurant(s)
100% smoke free hotel
Stores onsite/nearby
Guests access with guide dogs
Pets are not allowed
Indoor parking with cost
Business center
Free Wi-Fi access
Laundry service
Bar(s)
24 hours room service
Restaurant

La Isla
The new Fiesta Inn features "La Isla", where you can refuel your energy with a convenient snack, open 24-hours and offering many options: breakfast buffet, restaurant, grab and go, room service or other specials, letting you take a break and relax. It also includes a self-service area and a bar with domestic and imported drinks.
Meeting Rooms

Event and meeting rooms
The hotel features a B-on Business Center with computers and high speed wireless Internet, it also has three meeting rooms: one with capacity for 20, one with capacity for 14 and one with capacity for 8 with a screen and air conditioning.
It also features meeting rooms that can be adapted to host up to 358 people in an auditorium; each room has a board, electric screen, flip charts, coffee service and personalized service. Our professional team will help with your groups and conventions.

Qualified:
x
Fiesta Inn Insurgentes Sur
Location #40 of 294 hotels in Mexico City
GreenLeader Gold
Certificate of Excellence 2015
Summary of qualifications
Best comments
"Nice hotel for business trips"
Stayed here 3 nights on a business trip and had a great stay. The iron in my room had caught fire and caused smoke all over the room the but was staff was very quick and helped me move into a new room. Beside that bad experience, found the rooms to be very clean. Bed were comfortable with nice bed sheet and pillow. I did not find the food at the restaurant to be that good. The breakfast buffet was nice but a little pricey. Great to have Starbucks near the reception so didn't have to walk much for coffee or snacks and its open late till 11pm.
"Basic business hotel"
The Fiesta Inn is a basic business hotel. The property is new, so the rooms look fresh. Service is also good for a hotel of its class. The location is good if you're working in the Insurgentes Sur area, but not so good if you're exploring the city -it's kind of far away from Mexico City's nicest/ most interesting areas. You do have the Metrobus a few steps away; it's efficient but super crowded during the week. Overall, I would only recommend this hotel if you need to stay in this area. If not, try something in a more interesting area such as Reforma or La Condesa.
"Good choice for business trip"
Beside from the great location, if you are looking for a well kept hotel, good internet quality service. This is your choice. Although the price is a bit high, they will make every effort to give you the lowest fair and it will be worth it. We, as a Company, have seasoned travel executives from all over the world and they all have left satisfied. Highly recommended for business in the area.
"OK stay - Nothing out of this world."
Stayed at the Fiesta Inn Insurgentes Sur during the first week of October, 2015. It was a business trip and the place served it's purpose. The bed was comfortable and the room was modern. The housekeeping staff did not replace the washcloth and towel I left on the floor. They just took the dirty ones and I had to do without. Another minus would be the lack of a refrigerator and clock in the room. Other than that, nothing out of the ordinary. It did have a Starbucks in the building, so that was a plus.
"Average business class hotel given the above-average rates"
A 30- to 60-minute drive from the airport depending on time-of-day tarffic. Located close to a very busy and noisy street (Avenida Insurgentes Sur). Groud floor offers a bar/restaurant area with outdoor patio (a non-smoking section but many smokers) facing the adjacent shopping mall. There is an attached Starbucks. Restaurant breakfast buffer offers an egg station, very few cereals, some local hot dishes, some international hot dishes, a few sliced fruits, a few juices, French Toast, sliced fruit, cold cut meats, youghert, and a few pbreads/astries. Snack counter seems to be 24-hours. Restaurant offers some national and international dishes. service was very slow and unattentive, even with few customers. Salmon was a bit dry. Only major, national bottled beers were available at the bar and restaurant (and they would run out!). Cost was approiximately $2 USD (38 Pesos). The location was walkable to some nearby restaurants, a $8 Sitio taxi ride to popular restaurants (less on Uber), and close to the MetroBus stop. 3rd floor room had hard, synthetic flooring that transmitted inter-room sounds. Clothes closet with 8 hangers, half was full-length and half was half-height. Bathroom had an enclosed toilet with no fan and a large 1 by 3 meter shower with light grey tiles. A king-size bed was solid but comfortable, with four medium-soft pillows. Room doors produced lound slamming noise that echoed down the hallways. Room telephone offered Wake-up service but its wireless handset typibally failed to pick up in time to avoid a human wake-up knock at the door. 32" Samsung television had about 30cable channels, few in English and no pay movies. No mini-bar or refrigerator in room! Wi-Fi seemed OKAY. Internet PC cluster near lobby had no printer and required emailing documents to the Front Desk (not reasonable for a Business Hotel). Overall, friendly and helpful staff, more in line with international 3-star rankings, requires a bit extra effort to get business done.
Top-rated Attractions Nearby
National Museum of Anthropology (Museo Nacional de Antropologia)
Palacio de Bellas Artes
Chapultepec Castle
Coyoacan
Frida Kahlo Museum
Basilica de Santa Maria de Guadalupe
Murales de Diego Rivera en la Secretaria de Educacion Publica
Eat Mexico Culinary Tours
Paseo de la Reforma
Journeys Beyond the Surface Popular Culture Tours
Photos hotel and surroundings (36)
Rooms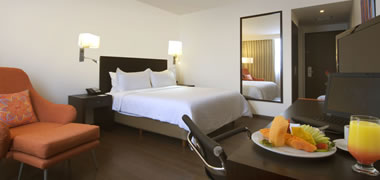 Superior Room, 1 king
Room with one king-size bed, a work desk with ergonomic office chair, LCD screen, one bedside table, bathroom with shower and toilet separated by a sink, cable TV, suitcase rack, closet, full-length mirror and ottoman chair.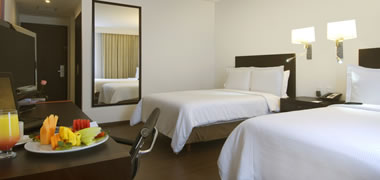 Superior Room, 2 double
Room with two double beds, a work desk with ergonomic office chair, LCD screen, two bedside tables, bathroom with shower and toilet separated by a sink, cable TV, suitcase rack, closet, full-length mirror and ottoman chair.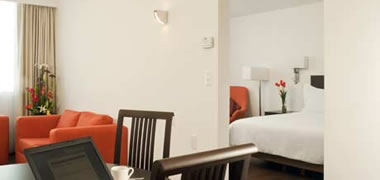 Junior Suite
A one bedroom suite with a living room with lounge for 4 people and a small dining room for 4 people. Also includes a bar with microwave, sink, mini fridge and shelf. Room with one king-size bed, a work desk with ergonomic office chair, LCD screen, one bedside table, bathroom with shower and toilet separated by a sink, cable TV, suitcase rack, closet, full-length mirror and ottoman chair.