Fiesta Inn
Insurgentes Viaducto
Fiesta Inn Insurgentes Viaducto
Fiesta Inn continues to evolve, transform, and innovate its Business Class hotel concept. With a fresh, modern image and new facilities, Fiesta Inn Insurgentes Viaducto is the perfect example of business accommodations done right. Designed to encourage creativity and productivity, the hotel's spaces are functional yet friendly, allowing guests to be connected while remaining independent. Today's Fiesta Inn is more than simply a hotel; it is a community of professionals who thrive on success.
The hotel is located in one of the most lively and convenient parts of the city, just 5 minutes from the World Trade Center, 8 minutes from the Condesa district and 15 minutes from the Mexico City airport, making it ideal for business or pleasure. It offers easy access to the Foro Sol, Sports Palace, Bull Ring, and Azul Stadium. With modern construction and minimalist style, this 18-story hotel offers 210 guest rooms and multi-purpose spaces that are open, comfortable, and ideal for getting work done in a pleasing, distraction-free setting.
The hotel features the 360° Lounge and La Isla Restaurant, the B-On business center, and business concierge executive services. There is also a fitness center, 24-hour room service, high-speed Internet access, and meeting and event facilities.
Please note that check-in begins at 3pm, subject to availability. Check-out is at 12pm. Express check-out is recommended.
Services
The hotel has 210 rooms, a restaurant, a lobby bar open from 1:00 p.m. to 11:00 p.m, and fitness center. Hotel services include:
Handicapped access
Shuttle service with cost
Gym
Restaurant(s)
100% smoke free hotel
Guests access with guide dogs
Pets are not allowed
Indoor parking with cost
Free Wi-Fi access
Business center
Laundry service
Bar(s)
24 hours room service
Restaurant

Restaurant
The Fiesta Inn Insurgentes Viaducto offers the La Isla multi-purpose space that gives you the freedom to recharge 24 hours a day. Breakfast options include a buffet at the hotel restaurant, grab-and-go snacks, and room service. The restaurant offers a relaxed ambiance with friendly service, background music, and a varied menu of international dishes.
Meeting Rooms

Event and meeting rooms
Guests can take advantage of B-On, Fiesta Inn¿s modern business workspace located in the 360º Lounge. It features computer workstations, wireless Internet access and business services. From here, you can keep in touch with the rest of the world and hold meetings in two private meeting rooms with LCD screens and video conferencing facilities accommodating up to 8 people. It's the perfect environment to stay productive
Qualified:
x
Fiesta Inn Insurgentes Viaduct
Location #31 of 305 hotels in Mexico City
GreenLeader Platinum
Certificate of Excellence 2016
Summary of qualifications
Best comments
"Great location for this huge city"
This hotel is located on the corner of Viaducto and Insurgentes. These roads are very busy most part of the day. However, its location allows you to drive from the hotel to most interesting parts of the city through highways (as fast as Mexico City can be). This is if you drive. But if you decide to use the public transportation, you can take metrobus, bus, uber, subway. Neighborhood is very quiet at night. But what about the hotel? It is a comfortable hotel, it seems to be new, and with the service that you can expect of a Fiesta Inn, kind of business class, but seems cozy enough for a none business trip. Be prepared to pay a fee for the parking lot with valet parking.
"Excellent"
Very good place, very good service and the restaurant is very good, this is a rewards member room, good welcome, confortable room and bed, we stay a week on this place, high recommend, Internet access.
"Nice modern hotel in good area"
I visited here on the recommendation of a resident of Mexico City. My room was large and clean and I think very new. The location was great for accessing the airport and also if you want to have a walk around a nice neighbourhood. I felt safe even at night in that area which I was surprised about! Ultimately this is a business hotel but I thought it was very good for staying on holiday for the price.
"Business"
Good location, 24room svc, , good variety for breakfast buffet ,central location near business district. Beds and pillows are Super comfortable and clean. Excellent front desk svc. Nice clean gym and even has a Table Tennis table. However no swimming pool or spa
"refurbished and good breakfast"
This is the third hotel I've stayed in Mexico City recently and it has the best breakfast (good selection of local dishes and also good yogurts and fruits)! The rooms are spacious and clean and the beds are comfortable. Only negative is that the air-conditioning unit is super noisy and I had to turn it off at night. However, the location is good - it's close to the restaurants in La Condesa. Although as another reviewer mentioned, with uber the city is your oyster! The staff are very friendly and do their best to communicate in English.
Top-rated Attractions Nearby
National Museum of Anthropology (Museo Nacional de Antropologia)
Palacio de Bellas Artes
Chapultepec Castle
Coyoacan
Eat Mexico Culinary Tours
Murales de Diego Rivera en la Secretaria de Educacion Publica
Basilica de Santa Maria de Guadalupe
Journeys Beyond the Surface Popular Culture Tours
Frida Kahlo Museum
Paseo de la Reforma
Photos hotel and surroundings (113)
Rooms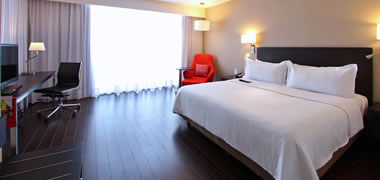 Executive Room, 1 King
These spacious guest rooms feature warm colors and laminated wood floors, making them ideal for relaxation. They are outfitted with a king bed, large dresser, and bathroom with shower stall. Each room has a 32" LCD TV, two telephones, and work desk with high-speed wireless Internet access. They also have bottled water, a coffeemaker, selection of teas, and a travelers kit.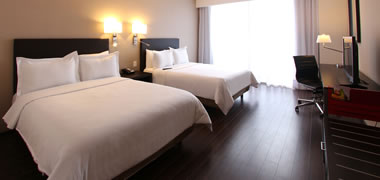 Executive Room, 2 Double
Whether traveling for work or pleasure, these spacious rooms offer a tranquil getaway. They feature warm colors and laminated floors, and are outfitted with a two double beds, large dresser, and bathroom with shower stall. Each room has a 32" LCD TV, two telephones, and work desk with high-speed wireless Internet access. They also have bottled water, a coffeemaker, teas, and a travelers kit.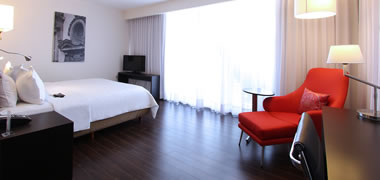 Deluxe Room, 1 king
A spacious and comfortable 35m2 room, with light from windows that surround nearly ¾ of the room. It features a sofa, king-sized bed and space for an additional bed or serving table for 2 people. Bathroom equipped with shower and toilet. Ideal for extended stays.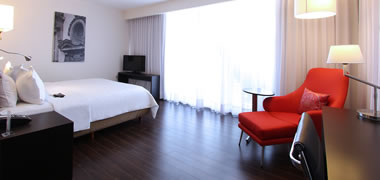 Junior Suite King
Tackle your big projects and ponder your dreams in the comfort of this luxurious suite. It features two separate areas, closet, 4-seat dining table, and kitchenette with microwave oven, coffeemaker and mini-fridge. It also has a cozy sitting room with two large sofas, two coffee tables, stylish lamps, 32" TV, telephone, bathroom scale and luxury amenities.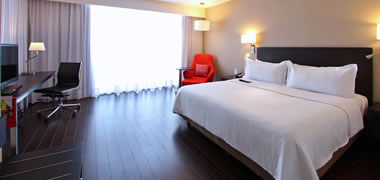 Accessible Room
Experience a comfortable stay in this specially equipped room with one bed, dresser, reading lamps, 32" TV, spacious work desk, telephone and task lamp. The room is outfitted with safety rails, shower bars, an elevated toilet with grab bars, and a wide entry door. The room also has a spectacular view of the city.