The hotel has an excellent location, near the main industrial area in Silao, which makes it the best option for business travelers. Close to the city's main shopping center Centro Max, and near Outlet Mulza, the more exclusive fur zone. The hotel is situated just 10 minutes from Explora theme park where children can learn and play, and 25 minutes from the Bajio international airport.

We remind you that the check-in time is from 3:00 PM. Check-out is at 12:00 PM. We suggest you use our express check-out service.

Services
The hotel has 160 rooms, a restaurant, a lobby bar open from 4:00 p.m. to 11:00 p.m., swimming pool, gift shop and fitness center. Hotel services include:
Shuttle service with cost
Handicapped access
Gym
Restaurant(s)
Stores onsite/nearby
Guests access with guide dogs
Pets are not allowed
Indoor parking
Free Wi-Fi access
Business center
Laundry service
Bar(s)
24 hours room service
Outdoor pool
Restaurant

Restaurant
The Fiesta Inn features a restaurant which opens from 6 00 a.m. until 11:00 p.m. and is an excellent choice for breakfast, lunch and dinner. Choose from buffet or menu dishes, Mexican appetizers, regional and international cuisine.
Meeting Rooms

Event and meeting rooms
The hotel has a Business Center with computers and high speed wireless Internet, and 2 meeting rooms with a screen, air conditioning and capacity for 8 people.
It also features 4 meeting rooms that can be adapted to host up to 200 people in an auditorium; each room has a board, electric screen, flip charts, coffee service and personalized service. Our professional team will help with your groups and conventions.
Qualified:
x
Location #12 of 53 hotels in Leon
Summary of qualifications
Best comments
"Clean, Friendly, Great Location"
The staff at the front desk spoke limited English, but it was not a problem for checking in or out. They were very friendly. The room was very clean with laminated floors which I prefer over carpet. It was a very comfortable bed and I was very satisfied with the provisions. The hotel bar has a nice selection of beer available as well as liquor. Price for a bottle of brew as of Sept 2016 is $40 pesos. If you have never been to Mexico, I recommend Indio beer - nice amber beer with great flavor. They also serve Tecate (or Corona) if you want a light beer. Victoria, Dos XX, and Modelo are also available. There may be others available too. Breakfast is a buffet that includes fresh fruit, cereal, and a large selection of hot choices. Honestly, the breakfast is fantastic - much better than any American hotel that I have stayed at. There is a large selection of restaurants next door and a large indoor mall. It is a nice and safe location. I was able to connect to the WiFi without any difficulty in my room and in the lobby. I did not have any issues with the WiFi. If I am every back in Leon, I will stay here again.
"Just fine and overpriced"
I think they should update their room and building, some others hotel have many minimalistic furniture. Another thing is that everything is overpriced on the menu. I rather have lunch in some please else than here. THE AIR conditioner is inside the room, and it's pretty noise.
"Would not be my first choice again"
While not completely horrible, I would like to explore other options when I return. The hotel was recommended by the company I was visiting and is a decent business class hotel, with some nice restaurants in walking distance so in that respect it's convenient. And that's where it ends. My co worker found bugs in his bed, the internet is the weakest signal I've ever found, regardless of room location, the only place the internet even tried to work was the lobby. The breakfast while decent is overpriced for Mexico. Not Terrible, but if you have the option, I'd explore other hotels.
"Slow front desk service and room was disappointing"
The procedure during check-out actually made me decide to give this hotel a low rating. The staff does not speak English very well and instead of admitting this, they do as if they understand you, but it is clear that they misunderstand you and they do the opposite of what you ask them. It took ages to figure out if I had paid or not and before I got my invoice. On the other hand, the concierge staff was very nice and much more professional than the front desk staff. The beds are very firm and short - like many other hotels in Mexico though. The bathroom has a rain shower, which simply does not work for me. Maybe other people like that?
"Great service and food quality"
I stayed for a couple if days and was able to enjoy a variety of the hotel services. The room was well equipped, with a comfortable bed, energizing shower and good tv. The conference service had all the required equipment and the person incharge of the room preparation provided excellent and timely service. The restaurant had a great breakfast buffet with a variety of mexican dishes as well as excellent breads and the staff was prompt, dilligent and kind.
Top-rated Attractions Nearby
Photos hotel and surroundings (72)
Rooms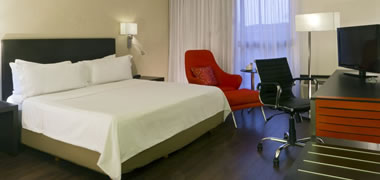 Superior Room, 1 king
The room is 30 m2 with a king-size bed, 2 bedside tables, 29" TV, reading chair and spacious work desk, telephone, bathroom with shower and toilet. With a view of the city, except on the 1st floor.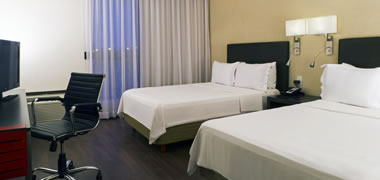 Superior Room, 2 double
Equipped with 2 double beds, 29" TV, spacious work desk, telephone, bathroom with shower and toilet. With a view of the city.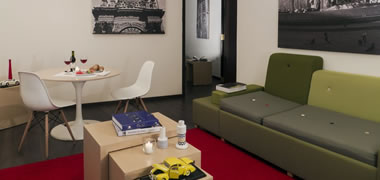 Junior Suite
A large room with an additional living area, both spacious and fully equipped with cable TV, telephone, bathroom with shower and toilet, and everything you need to make your stay more comfortable. We have 3 rooms of this type on floors 2 and 3.