Fiesta Inn Loft is a hotel concept designed for business travelers visiting the city for a long-term stay that want high-quality and comfortable accommodations that rise above the standard hotel experience. Fiesta Inn Loft Irapuato meets the needs of serious travelers and finally gives them a place to feel at home while they're on the road.
The hotel is located 50 minutes from the Guanajuato International Airport. It features 44 nicely equipped rooms, the Lounge 360°, B-On Business Center, meeting rooms, wireless Internet access, fitness center, terrace with fire pit, mini-market and self-service laundry facilities.
Please note that check-in time is 3pm and check-out is 12pm. For your convenience, we recommend using our express check-out service.
Services
Guests can discover the spacious and stylish Lounge 360°, with spaces to relax, read or exercise. For meetings and work sessions, head to the B-On Business Center, equipped with the tools and facilities you need to stay productive while you're on the road. And for a bit of fresh air, the hotel offers pleasant outdoor spaces to explore the roof-top gardens, relax on the terrace or sit by the fire pit.
Everything you need is at-hand, including 24-hour coffee and tea service, mini-market, and self-service laundry facilities. Complimentary daily American breakfast is included in your stay.
Free Wi-Fi access
Gym
Guests access with guide dogs
Laundry service
Restaurant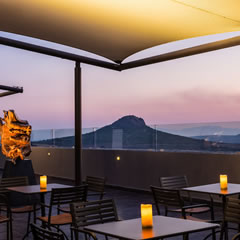 Breakfast area
Start your day at the Fiesta Inn Irapuato off right with a delicious American breakfast served in a comfy atmosphere, included in your daily room rate.
Qualified:
x
Location #5 of 22 hotels in Irapuato
Certificate of Excellence 2017
Summary of qualifications
Best comments
"Nice but out of the way"
I travel to Irapuato for work quite often. I've stayed at the Fiesta Inn Loft every since I found it. It's a little out of the way, but the reason I like to stay here as to other hotels is for the rooms with the ability to cook. Going out every night can become a chore. Also the staff is so friendly and the rooms are very clean. Everyone tries their best to do whatever they can. My Spanish is limited to a few phases but we find a way to communicate. Breakfast is great. In addition to the buffet, the cook will prepare a special for you.
"Pleasant stay for business travelers"
PROS I stayed in this hotel for just one night last week but I could see that their rooms are great for longer stays. The hotel is located in a nice residential area, kind of far away from the city downtown but since Irapuato is a small city, you can get to other places easily.The area around the hotel is very quiet so you can rest comfortably. If you are looking forward to go out shopping or visit some restaurants after work, The hotel is kind of new so all the furniture and household items were in excellent condition. The room I stayed in had all you needed for an enjoyable stay such as a big bed, TV, full bathroom, microwave, glasses and plates, a work desk, blow-dryer, iron, and a small couch. Free bottled water and regular amenities like shower cap, shampoo and soap. There's a small gym in the top floor and a cool terrace with sun lodgers where you can enjoy a beautiful view of the city. You can also get a nice view if you stay in a room in the upper floors. Security is average, there are no security guards at the entrance but you do have to use your room key to get to your floor via the elevator; the room has a safe. Buffet breakfast is also average and is made up of the usual items, such as scrambled eggs with ham, toast, beans, bacon, I think I saw a waffle machine, milk and cereal, fruit and juices. CONS I did notice that the floor in the room was kind of uneven, which was weird since I even tripped twice. In the morning, when I went downstairs for breakfast, the waitress didn't even bother to offer me a coffee or tea (it's a buffet but the coffee was served by staff) so I was completely ignored while sitting there for 15 minutes.
"Limpio tranquilo"
Fui solo y todo esta muy recomendable, sobre todo lo limpio y tranquilo, excelente para descansar, y la zona es residencial buena para caminar y sin ruidos externos, definitivamente regresaria, gracias
"Excelente y exclusivo"
Ubicado en una zona exclusiva de Irapuato, el hotel satisface hasta los gustos mas exigente con habitaciones muy amplias con cocineta y eficiente servicio con calidad, muy bonito decorado en sus áreas comunes y maravillosa vista en su terraza-bar en el 5o. piso, Excelente!
"Precio calidad aceptable"
Para estadías cortas bien. Desayuno regular. En mi caso la cañería de la habitación hacía un sonido muy molesto al dar el agua. Entorno muy seguro para hacer running. No es un hotel cercano al centro de la ciudad pero esta muy bien para descansar.
Top-rated Attractions Nearby
Plaza Cibeles
Cinepolis MacroXE Plaza Cibeles
Los Mojitos Tropical Club
La Choperia
Plaza Jacarandas
Kilkee Irish Pub
La Mezcaleria
Estadio Sergio Leon Chavez
Dirty Martini Irapuato
Photos hotel and surroundings (30)
Rooms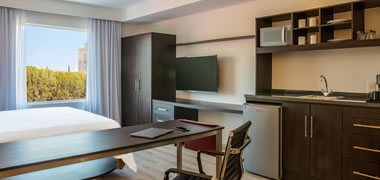 Loft One Bedroom
This spacious room offers cozy accommodations, security and all you need for a long-term stay, including king bed, sofa, full bathroom, air-conditioning, LCD TV, telephone, wireless Internet access, work desk, closet, and kitchenette with microwave, mini-fridge, coffeemaker.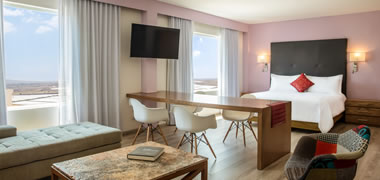 Loft Junior Suite
This one-bedroom unit will become your home away from home, with a spacious floor-plan, inspiring atmosphere and everything you need to stay comfortable and productive during a long-term stay. It  offers a  king bed, sofa, full bathroom, air-conditioning, LCD TV, telephone, wireless Internet access, work desk, closet, and kitchenette with microwave, mini-fridge, coffeemaker. There is also a sitting room and dining room.