Fiesta Inn Monclova
(Hotel & Loft)
Fiesta Inn continues to evolve, transform, and innovate its Business Class hotel concept. With a fresh image and new facilities, Fiesta Inn Monclova is designed to meet the needs of business travelers, while encouraging creativity and productivity. The hotel offers 158 comfortable rooms, including 37 lofts designed for the extended-stay business traveler who wants to enjoy the comforts of home while on the road.
The hotel is located on the busy Avenida Harold R. Pape, 10 minutes from Venustiano Carranza International Airport and highways to Saltillo, Monterrey, and Laredo. The hotel features the 360° Lounge, B-On business center, La Isla restaurant, and a convenience store. Also available to you is 24-hour room service, high-speed Internet access, dry cleaning services, security safes, childcare services, event rooms, parking, a pool and a gym.
Fiesta Inn Monclova is an Eco-friendly hotel, so it is a 100% smoke free hotel.
Please note that check-in begins at 3pm, subject to availability. Check-out is at 12pm. Express check-out is recommended.
Services
The hotel has 121 rooms, a restaurant, a lobby bar open from 5:00 p.m. to 12:00 a.m., outdoor swimming  pool, gift shop and fitness center. Hotel services include:
Handicapped access
Gym
Restaurant(s)
100% smoke free hotel
Stores onsite/nearby
Guests access with guide dogs
Shuttle service (subject to availability)
Pets are not allowed
Free Wi-Fi access
Business center
Laundry service
Bar(s)
24 hours room service
Outdoor pool
Outdoor parking
Restaurant

Restaurant
Fiesta Inn Monclova brings you the freedom and service of La Isla, a 24-hour restaurant that lets you choose what you want and when. Offerings include a breakfast buffet, restaurant, grab and go, room service, or special items to take a break and relax.
The hotel also boasts a restaurant, open from 6AM to 11PM, which serves buffet-style breakfasts and a variety of regional foods that can be ordered from the menu throughout the day.
Meeting Rooms

Event and meeting rooms
Make your event memorable with help from our experts and the perfect spaces to show off every detail. We have 2 business rooms that hold 6 to 8 people each, with coffee or water service during breaks, high-speed Internet and secretary services. We also have 5 comfortable event rooms, perfect for hosting exhibitions, meetings or banquets. These rooms come with high-speed Internet, projector screen, flip chart, and air conditioning, with capacity for between 180 and 650 people.
Qualified:
x
Location #2 of 10 hotels in Monclova
GreenLeader Gold
Certificate of Excellence 2018
Summary of qualifications
Best comments
"Disgusting!!!"
I do not know how some people can rate this hotel as Extremely Clean, I've been staying in the last 10 years and always had been smelly, (sewage smell) dirty and disgusting, the sad thing is that there is no other option. The pillows, mattress, sheets and towels are old, yellow and smelly. Several times I've called the front desk because the sheets had hair and stains from the previous guest. The service is average, so is the restaurant.
"Good and solid for a short stay"
The Fiesta Inn Monclova is a good and solid business hotel. Not far away from the airport (15min.). I had one of the bigger rooms (suite). The room was comfortable. The service and the breakfast are good. Nothing special but fine for a short stay.
"Extremely clean, extremely friendly, but..."
This is a very nice hotel, clean and an extremely friendly staff. I was very impressed with the hardwood floors in my room. Hardwood floors give me more confidence that the floor is truly clean and not a dingy/smelly carpet. The bed was firm with more than enough pillows, really more than enough pillows. I would recommend this hotel for business and families, and I would stay here again. The reason for 3 stars are as follows: 1. Room service takes too long. I ordered a cheeseburger and it took over 1.5 hours to be delivered, and to top it off, I was charged a tip. 2. Each additional coffee pod costs $19.00 pesos. - Tacky 3. One complimentary bottle of water is offered to one room, a larger bottle (1.5 liters) is available in the room and it costs $34.00 pesos. I bought several bottles of water from an OXXO and the maid saw an empty bottle in the trash can and charged my bill. 4. General manager refused to address my issues. I sent her an email with my concerns and informed her I would be in her hotel one more day. She never responded in person, much less via email.
"Safe, Clean, Comfortable"
Highly recommended. I am from the US, my wife from MExico. I felt comfortably leaving my wife and daughter here for a week after I had to return to the US. We had suite which was perfect. You cant find a better hotel in Monclova.
"Best Hotel in Town"
If you visit Monclova, the Fiesta Inn is highly recommended. It is part of the Fiesta Americana group and is is good hotel for the price. The Resturant has very good food and service, you can order off the menus or do the buffet. Service is very good. Hotel is across the street from a grocery store and a Starbucks. Pool and free parking plus good location!
Top-rated Attractions Nearby
Parque Xochipilli
Museo Pape
Estadio Monclova
Deportivo AHMSA
Plaza de las Garzas
Canadas de Mina Resort
Photos hotel and surroundings (60)
Rooms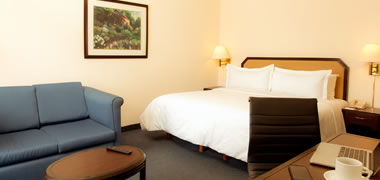 Superior Room, 1 king
Come feel the warmth and inspiration of this room, which is guaranteed to make your stay a productive one. Amenities include a king bed, closet, cable TV, large work desk with lamp and office chair, high-speed Internet, 2 telephones, voicemail service and alarm clock. Some rooms include a pullout bed.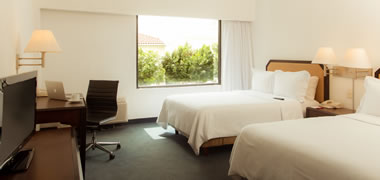 Superior Room, 2 double
Experience a successful and enjoyable stay in this comfortable room. It features 2 double beds, a closet, cable TV, large work desk with lamp and office chair, high-speed Internet, 2 telephones, voicemail service and alarm clock.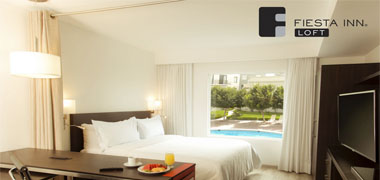 Loft
Enjoy your extended stay without missing the comforts of your home in this spacious and comfortable suite. It is equipped with a king bed, breakfast bar, microwave, minibar, cable TV, desk and office chair, and high-speed Internet. Some Business Suites also have a grill and kitchen sink.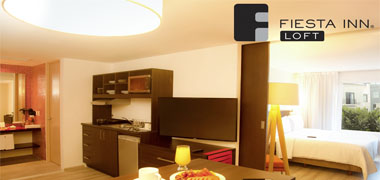 Loft One Bedroom
Come discover the warm yet functional environment of this suite and take advantage of all of its amenities that will make you feel at home. It features a king bed, grill, kitchenette, breakfast bar, microwave, minibar, living room with cable TV, desk and office chair, and high-speed Internet.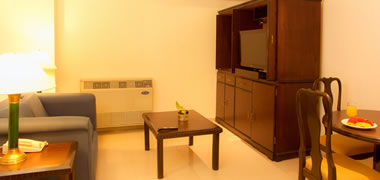 Junior Suite
If you desire more space and comfort, come see what this suite has for you. The Junior Suite is equipped with a king bed, living room, dining room and walk-in closet. It also has a room with a pullout bed and breakfast bar, 2 cable TVs, microwave, minibar and everything else you need to rest or work in a peaceful environment.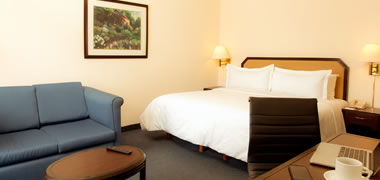 Accessible Room
This room provides you with everything you require to meet your special needs. Located on the ground floor, it is equipped with safety rails and shower rails in the bathroom and upper and lower door peepholes. Furniture is arranged to allow guests to move around easily, and all of the standard amenities are provided: a double bed, cable TV, large desk, high-speed Internet, 2 telephones, voicemail system and alarm clock.