Fiesta Inn
Monterrey Fundidora
Fiesta Inn Monterrey Fundidora
Fiesta Inn continues to evolve, transform, and innovate its Business Class hotel concept. With a fresh, modern image and new facilities, Fiesta Inn Monterrey Fundidora is the perfect example of business accommodations done right. Designed to encourage creativity and productivity, the hotel's spaces are functional yet friendly, allowing guests to be connected while remaining independent. Today's Fiesta Inn is more than simply a hotel; it is a community of professionals who thrive on success.
The hotel is conveniently located next to Parque Fundidora, near CINTERMEX (Monterrey International Convention Center) and just 10 minutes away from Paseo Santa Lucía, 20 minutes from the airport and 30 minutes from highway access to Saltillo.
Fiesta Inn Monterrey Fundidora offers 155 comfortable rooms to choose from, a restaurant, lobby bar, rectangular swimming pool, gym, parking, Business Center, 3 meeting rooms, event rooms that accommodate up to 250 people, and all of the services that customers expect from a business hotel.

Fiesta Inn Monterrey Fundidora is an Eco-friendly hotel, so it is a 100% smoke free hotel.

Please note that check-in begins at 3pm, subject to availability. Check-out is at 12pm. Express check-out is recommended.


Services
The hotel has 155 rooms, a restaurant, a lobby bar open from 5:00 p.m. to 1:00 a.m., outdoor swimming pool and fitness center. Hotel services include:
Handicapped access
Shuttle service with cost
Gym
Restaurant(s)
100% smoke free hotel
Guests access with guide dogs
Pets are not allowed
Indoor parking
Free Wi-Fi access
Business center
Bar(s)
24 hours room service
Outdoor pool
Restaurant

Restaurant
Fiesta Inn Monterrey Fundidora brings you the freedom and service of La Isla, a 24-hour restaurant that lets you choose what you want and when. Offerings include a breakfast buffet, restaurant, grab and go, room service, or special items to take a break and relax.
The hotel also boasts the La Fiesta restaurant, which invites you to try dishes from the menu or buffet while enjoying the warm and welcoming environment. La Fiesta is the perfect venue for work breakfasts and lunches.
Meeting Rooms

Event and meeting rooms
The perfect venue can make an event unforgettable. Fiesta Inn Monterrey Fundidora offers event rooms to host your celebration or meeting. Rooms are carpeted, feature a coffee break area, and come equipped with whiteboard and projector screen. Located on the ground floor, these rooms are easily accessible from the lobby.
Qualified:
x
Fiesta Inn Monterrey Fundidora
Location #16 of 92 hotels in Monterrey
Summary of qualifications
Best comments
"Nice hotel, good service. Not "wow!", just good."
The hotel is located very strategically if visiting the linda vista area, fundidora park or industrial businesses in that neck of the woods. The check in process was good. They had the information available from the reservation site readily and proceeded to issue our key. It's interesting that they ask for the names of the people staying in the room. The room was clean and in good repair. The TV worked as expected although the lighting controls of the room were kind of odd to me. The bathroom didn't have towels, I had to chase down one of the cleaning ladies that was making her rounds and the toilet paper roll had less than a fourth remaining which means I had to call it in the next morning. I would think that once one of those gets close to "term" they would leave a spare or change altogether. Not the case. Also, the ac controls were confusing and I could not get the temperature settings right. It was an unusually cool day in Monterrey so I let the cool air on while we were out and then i let the fan setting work through the night. I would expect a clear or simple thermostat that wouldn't require a call to the front desk. Manageable but a little inconvenient. Didn't try the food nor the coffee maker. Iron and board worked well. The bed was firm so we enjoyed it. Check out was not an issue and taxi cabs were available and in very good repair with friendly drivers.
"An average hotel"
The rooms were good, but there is no pressure in the shower, they were very clean. They are a bit pricy too, you can get a better hotel for the money. If you are traveling from the United states make sure you exchange your money at the airport cause if you don't you are screw. Nobody will take our dollars, not even the hotel. The hotel website should warn you about this.
"service is poor"
We recently stayed at the Fiesta Inn because it was arranged for the wedding we were attending nearby. The room was nicely appointed, however the room where the toilet is located is so small and there is no air circulation. You cannot open or close the door if you are sitting on the toilet and if you are in there for more than a minute or two, the air becomes stifling hot. It did have a wonderful shower in the room. The bed and pillows were rock hard, but the room was clean. The staff at the registration desk could not find our reservation so they had to make us a new one. That was frustrating because we had originally booked a Jr. Suite and had to settle for a single room. After checking in, we asked about transportation to the wedding salon. According to the bride and her wedding planner, the hotel was to provide a shuttle every half hour between the 2 locations. The registration staff seemed to be unaware of this, but after about 10 minutes, the hotel van took us to the wedding salon. There was no return transportation however, so we ended up walking 2 blocks back to the hotel, crossing 2 highway on/off ramps at 3:00am to get there. The next morning we went to the restaurant for breakfast around 10:30am. There were only other tables of 2 people each and both had already been served their food. It took us almost an hour to receive our food. I order pancakes and bacon, my fiance ordered a club sandwich and fries. Ridiculous!!!!! After eating, we went to the reception desk to arrange for the shuttle to take us to the airport the next morning. We had a 12:00pm flight. We were informed that the hotel had no shuttle (even though we had clearly ridden in it the night before). Also, one of our friends (who is a native Spanish speaker, but not from Mexico) had arranged free shuttle transportation from the hotel to the airport for her flight that same day. It took 3 different people to see if the hotel had a shuttle and finally we were told that we would have to take a taxi. I told them that the taxi would need to take a credit card because we were out of pesos at that point. That confused him even more. He went outside and talked to someone and when he came back in he told us that there would be a taxi waiting for us at 9:00am but they can only take credit cards in the morning. It was becoming apparent that we were not getting the same service as the other wedding guests had received and I felt it was because we are American. I would NOT recommend this hotel to anyone.
"Been There, Done That, Going Back!"
This is an excellent, inexpensive hotel in Monterrey close to Cintermex and Parque Fundidora. I have repeatedly stayed here for the last 2 years, and the service has been excellent without exception. This hotel was recently built and is very clean. The staff is representative of a business class hotel, and are very helpful. I would recommend this hotel to everyone!
"Me agrada"
Brindan un buen servicio, la atención en la recepción es eficiente, las instalaciones son agradables, sin embargo como área de oportunidad lo veo en el restaurante, ya que tardaban mucho en el servicio de cobro. Tienen poca variedad en la televisión por cable. El servicio en general me pareció bastante bueno, todo el personal muy amable y cortés, buena idea la de usar la tarjeta para el uso del ascensor ya que brinda mayor seguridad dentro del hotel, tuve una muy agradable estancia y aunque mi viaje fue por negocios lo disfrute y fue placentero.
Top-rated Attractions Nearby
Photos hotel and surroundings (78)
Rooms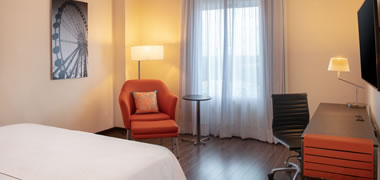 Superior Room, 1 king
Let us be a part of your successful trip by guaranteeing you a pleasant stay in this room. It features a king bed, large work desk, high-speed Internet, 2 telephones, cable TV, armoire, single or double couch, closet, iron and ironing board, coffeemaker, luggage cart, hair dryer, and heating and air conditioning.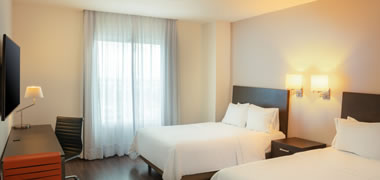 Superior Room, 2 double
After closing a big deal, there is nothing better than returning to a room where you can indulge yourself. This room is equipped with 2 double beds, a large work desk, high-speed Internet, 2 telephones, cable TV, credenza, simple or double couch, closet, iron and ironing board, coffeemaker, luggage cart, hair dryer, and heating and air conditioning.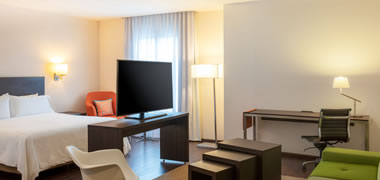 Junior Suite
A hard day's work should be followed by a night of rest and relaxation, and this room will allow you to do both. It comes with a large work desk, high-speed Internet, 2 telephones, cable TV, credenza, single or double couch, closet, iron and ironing board, coffeemaker, luggage cart, hair dryer, and heating and air conditioning. It also features an additional section with a living room, cable TV, closet, and wet bar with a microwave.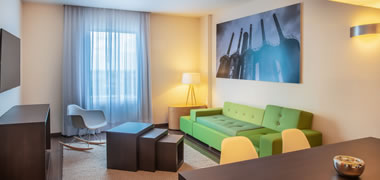 Master Suite
Ensure a successful workday by getting a good night's sleep in this room. Spaciousness abounds, especially in the bathroom and vanity areas. It also features a king bed, desk, credenza, single or double couch, 2 telephones, cable TV, wardrobe, iron and ironing board, coffeemaker, luggage cart and air conditioning.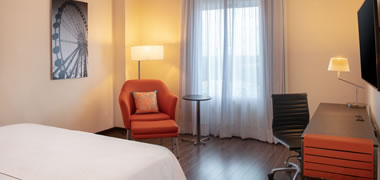 Handicapped Room
This functional and spacious room provides our guests with everything you require to meet your special needs. It features 2 single beds, a work desk, cable TV, coffeemaker, iron and ironing board, personal care items, hair dryer, bathtub and shower. It also includes all of the equipment, furniture and space that guests need to move about unrestricted.