Fiesta Inn
Monterrey Fundidora
Fiesta Inn Monterrey Fundidora
Fiesta Inn continues to evolve, transform, and innovate its Business Class hotel concept. With a fresh, modern image and new facilities, Fiesta Inn Monterrey Fundidora is the perfect example of business accommodations done right. Designed to encourage creativity and productivity, the hotel's spaces are functional yet friendly, allowing guests to be connected while remaining independent. Today's Fiesta Inn is more than simply a hotel; it is a community of professionals who thrive on success.
The hotel is conveniently located next to Parque Fundidora, near CINTERMEX (Monterrey International Convention Center) and just 10 minutes away from Paseo Santa Lucía, 20 minutes from the airport and 30 minutes from highway access to Saltillo.
Fiesta Inn Monterrey Fundidora offers 155 comfortable rooms to choose from, a restaurant, lobby bar, rectangular swimming pool, gym, parking, Business Center, 3 meeting rooms, event rooms that accommodate up to 250 people, and all of the services that customers expect from a business hotel.

Fiesta Inn Monterrey Fundidora is an Eco-friendly hotel, so it is a 100% smoke free hotel.

Please note that check-in begins at 3pm, subject to availability. Check-out is at 12pm. Express check-out is recommended.


Services
The hotel has 155 rooms, a restaurant, a lobby bar open from 5:00 p.m. to 1:00 a.m., outdoor swimming pool and fitness center. Hotel services include:
Handicapped access
Shuttle service with cost
Gym
Restaurant(s)
100% smoke free hotel
Guests access with guide dogs
Pets are not allowed
Indoor parking
Free Wi-Fi access
Business center
Bar(s)
24 hours room service
Outdoor pool
Restaurant

Restaurant
Fiesta Inn Monterrey Fundidora brings you the freedom and service of La Isla, a 24-hour restaurant that lets you choose what you want and when. Offerings include a breakfast buffet, restaurant, grab and go, room service, or special items to take a break and relax.
The hotel also boasts the La Fiesta restaurant, which invites you to try dishes from the menu or buffet while enjoying the warm and welcoming environment. La Fiesta is the perfect venue for work breakfasts and lunches.
Meeting Rooms

Event and meeting rooms
The perfect venue can make an event unforgettable. Fiesta Inn Monterrey Fundidora offers event rooms to host your celebration or meeting. Rooms are carpeted, feature a coffee break area, and come equipped with whiteboard and projector screen. Located on the ground floor, these rooms are easily accessible from the lobby.
Qualified:
x
Fiesta Inn Monterrey Fundidora
Location #15 of 96 hotels in Monterrey
Summary of qualifications
Best comments
"Dirty Pool"
The hotel is located very conveniently for business and tourism purposes, they offer very good meeting services and prices are adequate. However, during my August and September visits, I have found the pool on the roof deck to be dirty, seeming as if little or no maintenance is given to the water. I recommend the property management to take a closer and more frequent look at their pool. Otherwise, the hotel is very convenient and comfortable.
"Ok but location"
Far from everything, rooms are ok clean, everything works fine and us a budget hotel. People are helpful in what is going around the hotel, don't ask for tours or restaurants in town. The breakfast is great but not included in your rate, is extra.
"Dont stay there - false fire alarms and the staff didnt care"
Hotel is nice in its decorations BUT the staff is rude and you can hear what the other guests are doing in there rooms! We were sleeping and our neighbors who were high school kids decided to throw a party with music very very loud and it lasted until 6am, nobody in the hotel told them to lower the volume, they just did not care! Also the next day of our stay, we were woken up by the fire alarm, of course we got dressed quickly and were ready to leave when it stopped; we call the receptionist and they told us it was a false alarm due to a problem in the system. After that the alarm sound again at least another 4 times. We called again and got the same info. Finally by the fifth false alam the reception was so kind (finally!!) of calling each room to say there was no emergency and that is was a problem on their system. Nobodoy cleaned our rooms during our visit and the pillows were not very comfortables. I dont recommend this hotel, dont stay there
"Good Hotel to stay, but be aware staff attention is regular to bad"
I stayed at this hotel last month and installations good at all with this new minimalist ambient of posadas hotels. What is a point of improvement is staff, seems they just have the goal of doing the job, very corporate treatment to everybody not warm at all, some of them very serious. I had an issue with a restaurant receipt, i did not get it and later on I asked for it, the person at the restaurant committed to send it via email, nothing arrived, i called them a week before, same promise, and a month ago just waiting to be attended. As i said, staff needs to imporve service to match installations I hope my review help you if pick this hotel for you stay Regards
"mixed feelings, good service, but much to improve"
beautiful hotel, nice rooms, clean and tidy, not expensive, absolutely no hot water (lukewarm best case), weak internet connection, air-condition not really working, breakfast with good quality food but simple and basic.
Top-rated Attractions Nearby
Photos hotel and surroundings (85)
Rooms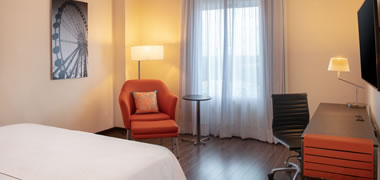 Superior Room, 1 king
Let us be a part of your successful trip by guaranteeing you a pleasant stay in this room. It features a king bed, large work desk, high-speed Internet, 2 telephones, cable TV, armoire, single or double couch, closet, iron and ironing board, coffeemaker, luggage cart, hair dryer, and heating and air conditioning.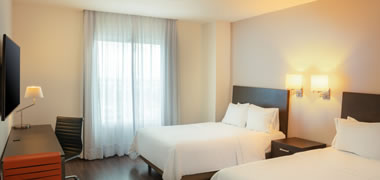 Superior Room, 2 double
After closing a big deal, there is nothing better than returning to a room where you can indulge yourself. This room is equipped with 2 double beds, a large work desk, high-speed Internet, 2 telephones, cable TV, credenza, simple or double couch, closet, iron and ironing board, coffeemaker, luggage cart, hair dryer, and heating and air conditioning.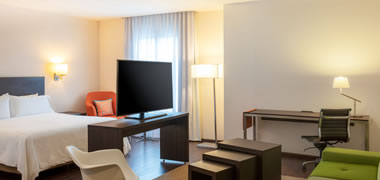 Junior Suite
A hard day's work should be followed by a night of rest and relaxation, and this room will allow you to do both. It comes with a large work desk, high-speed Internet, 2 telephones, cable TV, credenza, single or double couch, closet, iron and ironing board, coffeemaker, luggage cart, hair dryer, and heating and air conditioning. It also features an additional section with a living room, cable TV, closet, and wet bar with a microwave.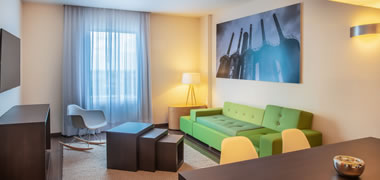 Master Suite
Ensure a successful workday by getting a good night's sleep in this room. Spaciousness abounds, especially in the bathroom and vanity areas. It also features a king bed, desk, credenza, single or double couch, 2 telephones, cable TV, wardrobe, iron and ironing board, coffeemaker, luggage cart and air conditioning.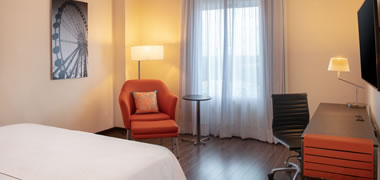 Accessible Room
This functional and spacious room provides our guests with everything you require to meet your special needs. It features 2 single beds, a work desk, cable TV, coffeemaker, iron and ironing board, personal care items, hair dryer, bathtub and shower. It also includes all of the equipment, furniture and space that guests need to move about unrestricted.