Fiesta Inn
Monterrey La Fe - Aeropuerto
Fiesta Inn Monterrey La Fe - Aeropuerto
Fiesta Inn is transforming the Business Class concept and the Fiesta Inn Monterrey La Fe shows how the design and facilities of a hotel can really make a difference in the quality of your stay. The hotel features 209 rooms, including 48 lofts designed to meet the needs of the business traveler who wants the comforts of home.
The hotel is strategically located five minutes from the city's four most important industrial parks, next to Paseo La Fe shopping center and adjacent to the Citadel and Plaza La Fe. It is 10 minutes from Cintermex, the city center, and 15 minutes from the international airport.
The Fiesta Inn Loft Monterrey La Fe offers the 360º Lounge, where the B-On business center, La Isla restaurant, self-service area, and a mini-shop are located. In addition to 24-hour room service, there is high-speed wireless Internet, laundry and dry cleaning services, event rooms, parking, a swimming pool and fitness center.
The hotel 100% smoke-free.
Please note that check-in is 3pm. Check-out is 1 pm. Express Check-out is recommended.
Services
The hotel has 161 rooms, a restaurant, a lobby bar open from 3:00 p.m. to 12:00 a.m., outdoor swimming pool and fitness center.
Handicapped access
Shuttle service
Gym
Restaurant(s)
100% smoke free hotel
Guests access with guide dogs
Pets are not allowed
Indoor parking
Business center
Free Wi-Fi access
Laundry service
Bar(s)
24 hours room service
Outdoor pool
Restaurant

Restaurant
Fiesta Inn Monterrey La Fe brings you the freedom and service of La Isla, a 24-hour restaurant that lets you choose what you want and when. Offerings include a breakfast buffet, restaurant, grab-and-go, room service, plus relaxing areas to take a break.
The hotel also boasts a restaurant, open from 6am to 11pm, which serves breakfast, lunch and dinner. Whether you opt for the buffet or à la carte option, you can choose from tasty regional, national and international dishes.
In the Lobby Bar, enjoy international drinks, wines, liquors, cocktails and snacks in a discreet and elegant atmosphere with music and a giant screen TV.
Meeting Rooms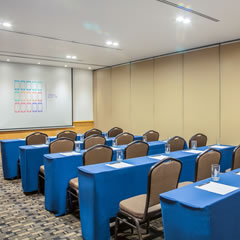 Event and meeting rooms
Executive Services Overview
Work is more enjoyable with B-On, a modern business center featuring computers, office services, and high-speed Internet access.
It has three meeting rooms that can accommodate 6 to 8 people and comes with high-speed Internet access, secretarial service, coffee, and water.
Event Services Overview
For a successful event, Fiesta Inn Monterrey La Fe hotel offers 5 event rooms that can accommodate auditorium seating for 300 guests and banquet seating for 150.
All are equipped with wireless high-speed Internet, and are equipped to handle presentations. You can count on the support of experts who will take care of every detail to make your event effective.
Qualified:
x
Fiesta Inn Monterrey La Fe - Aeropuerto
Location #29 of 97 hotels in Monterrey
Summary of qualifications
Best comments
"Dirty"
I stay at this hotel often for work, not by choice! The hotel is pretty old. Furniture in the rooms is old and dirty. The beds are uncomfortable, and the bathrooms dirty. They did recent "refurbishment", but only to the lobby, the rooms are still awful. I DO NOT recommend this hotel.
"Cucarachas "
Cucarachas en el cuarto . Really bad hotel. Nothing to do near of there. On the left side of the hotel, there is a Ford and just that. The rooms are dirty . The food is not good , there are some people living there for years .
"Fiesta Inn Monterrey"
The Fiesta Inn Monterrey is average at best. The rooms are pretty clean and the hotel service is decent. However, I would give them a 2.5 stars due to the over all appearance and the lack of amenities for guest.
"Great Location but Lacks Basic Amenities"
This hotel is within walking distance to the Citadel mall for shopping and restaurants but the breakfast buffet is 250 MXN, which is about 16.70 USD by a 15:1 exchange rate so I passed on it and got a comparable breakfast at the Bachaka's in the mall for 115 MXN. There is no ice machine available for guests to use so I had to ask the front desk every time I needed ice and had to wait for it over half an hour once. There wasn't a clock radio in my room, which is understandable because of theft concerns but I only had the music channel on the HDTV and had to rely on my mobile phone to set a wake-up alarm. The cleaning staff was very friendly, thorough and attentive to my requests for washcloths, which are also not provided in the room but something I use during every shower.
"good value"
Nice clean rooms. Located close to where I needed to be. breakfast was good. It was nice to be able to eat right at the hotel without having to leave. I would stay here again when I return later this year.
Top-rated Attractions Nearby
Photos hotel and surroundings (26)
Rooms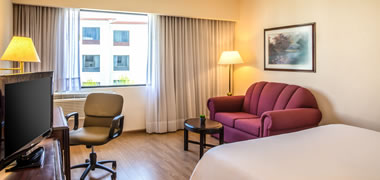 Superior Room, 1 king
Your stay will be more productive and comfortable in this room with king bed, 2 night stands, 32'' TV, spacious work desk, telephone and bathroom with shower, tub and toilet.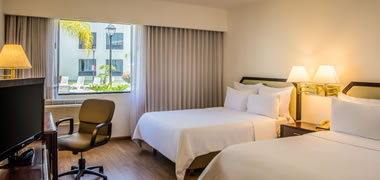 Superior Room, 2 double
A full day of activities requires a good night¿s rest. Rooms are equipped with 2 double beds, 32'' TV, spacious work desk, high-speed Internet access, telephone, air conditioning, heating and bathroom with bathtub, shower and toilet.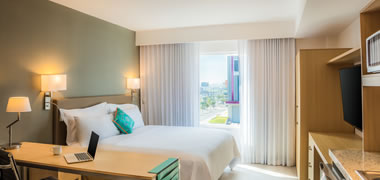 Loft
Feel at home with everything you need to work, eat, relax and sleep comfortably. Our spacious loft is equipped with minibar, kitchenette, microwave, 50'' TV, dining area, spacious work desk, telephone, high-speed Internet, bathroom, AC and heating.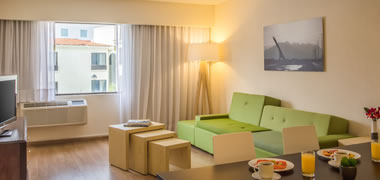 Junior Suite
Be productive in this spacious room with king bed, armoire, ample work desk, 32'' TV, 2 telephones, ironing board and iron. It comes with a refrigerator, microwave, dining area, and kitchen.