Fiesta Inn
Monterrey Valle
Fiesta Inn Monterrey Valle
Fiesta Inn continues to evolve and transform the Business Class hotel concept with the opening of the Fiesta Inn Monterrey Valley. The hotel is designed to let visitors pass their time as they wish, with spaces that are functional and welcoming, so guests can work independently or socialize in groups. Today, the Fiesta Inn is more than just a hotel -- it's a community of travelers who all thrive on hard work and success.

Located in the city of San Pedro, the hotel is strategically located in the Western Valley of Monterrey, the region's financial district and a hub for many large corporations. It's just five minutes from the city's main shopping centers, including the Western Valley Galleria and the Fiesta San Augstin Mall, as well as the Cima Hospital and Zambrano Hospital. Guests also have easy access to the nearby Convex Convention Center, Cintermex and the Parque Fundidora industrial complex.

Fiesta Inn Monterrey Valle is an Eco-friendly hotel, so it is a 100% smoke free hotel.

The hotel check-in time is 3pm. Check-out is 12pm. A convenient Express Check-Out service is available.


Services
There are 177 guest rooms, restaurant, bar and a range of spacious and comfortable multi-use rooms for private work sessions, meetings and other group events. Other facilities include Lounge 360° and fitness center.
Indoor parking
Shuttle service with cost
Handicapped access
Free Wi-Fi access
Business center
Gym
Restaurant(s)
100% smoke free hotel
Laundry service
24 hours room service
Pets are not allowed
Bar(s)
Restaurant

La Isla
The Fiesta Inn features La Isla, the perfect spot to relax and grab a bite to eat, 24 hours a day. It offers a breakfast buffet, a la carte dining, grab-and-go refreshments and even room service for when you really need to just take a break. There's also a self-service bar with domestic and imported drinks.

Meeting Rooms

Event and meeting rooms
The B-on Business Center offers computer workstations with high-speed Internet access and four meeting rooms with projection screen and air conditioning, accommodating up to 10 people.

There are also five meeting and event rooms accommodating up to 150 people in auditorium seating. Each room has whiteboard, video screen, flipchart and other amenities. The professional staff can assist with coffee breaks and other services.


Qualified:
x
Fiesta Inn Monterrey Valle
Location #2 of 11 hotels in San Pedro Garza Garcia
GreenLeader Gold
Summary of qualifications
Best comments
"Good quality."
This hotel has very good facilities, with a nice gym, good rooms and a nice breakfast. There was only one employee who was not nice to anyone during the morning, and the location is far from downtown.
"Average Hotel for Business Stay"
It was renovated not so long ago. I really liked how the lobby was set. You can have an informal meeting. I liked the location, they opened restaurants that are within walking distance. Room service is good, they were really quick and food was good, decent priced. Air conditioning its really noisy. Wifi is free but can be improved, it has a lot of fluctuations. I really did not liked the bed, had a tough time sleeping both nights. The rest of the team did not complain about them. The phone in the room looks modern but It does not work that well. Breakfast buffet has a decent variety but service tends to be a little slow. Service at the front desk is both friendly and speedy. I was in and out with little hassle. Taxis outside the hotel tend to overcharge for short trips, such as Plaza Fiesta shopping mall is really close. Better call an UBER
"Good location but pricey."
If you have appointments between Monterrey City and San Pedro Business Area this is one of the best locations. Good service, free wifi, but avoid ordering room service because it tastes TERRIBLE and is kinda pricey, I strongly recommend you walk a few meters to the restaurants of 7 eleven (yes, 7-eleven food taste way better than the hotel).
"Good hotel, excellent location"
This is a good hotel, located in a very nice neighborhood, near a couple of shopping malls, restaurants and movie theaters. It is a good location for a business trip. Its in house restaurant is ok. All in all, if you are visiting the area on business or pleasure, this hotel is fine.
"Great for business trip"
After renovation the rooms and lobby looks fine and confortable. The room service overnight is quite slow to attend pleople on business trip that wants fast and efficient service (this guy needs to comeback two times for mustard and still forgots the olive oil). The location is great for the people to come to the Valle area in Monterrey.
Top-rated Attractions Nearby
Aventurs
Azuleno Spa & Salon
Calzad 401
Plaza Fiesta San Agustin
Paseo San Pedro Centro Comercial
Oro de Monte Alban Monterrey
Action Quest
Harnn
Facial Co SPA
D'GARHETI Gallery Boutique
Photos hotel and surroundings (32)
Rooms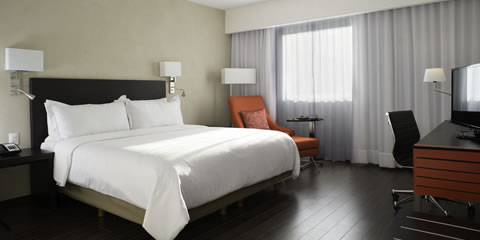 Superior Room, 1 king
Room with king bed, work desk, closet, telephone, coffeemaker, wireless Internet, full bathroom, air-conditioning and flat-screen cable TV.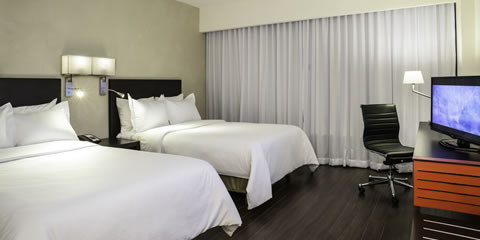 Superior Room, 2 double
Room with 2 double beds, work desk, closet, telephone, coffeemaker, wireless Internet, full bathroom, air-conditioning and flat-screen cable TV.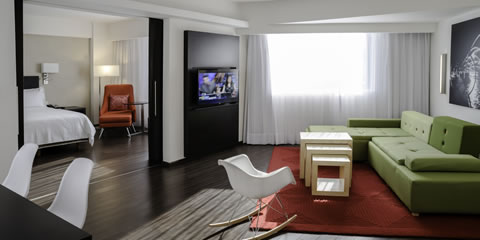 Junior Suite
For guests wanting more space, the Junior Suites features a king bed, work desk, closet, telephone, coffeemaker, wireless Internet, full bathroom, air-conditioning and flat-screen cable TV. These rooms also have a sitting room and alarm clock with iPod dock.