Located on one of the city's most important avenues in the main financial district, at the southern entrance to the Nuevo Laredo industrial park, near the cultural center and the zoo. The hotel is located 8 kilometers from Quetzalcóatl International Airport.

We remind you that the check-in time is from 3:00 PM. Check-out is at 12:00 PM. We suggest you use our express check-out service.

Services
The hotel has 120 rooms, a Lobby bar open from 1:00 p.m. until 11:00 p.m., swimming pool and fitness center. Hotel services include:
Shuttle service with cost
Handicapped access
Gym
Restaurant(s)
100% smoke free hotel
Stores onsite/nearby
Guests access with guide dogs
Pets are not allowed
Business center
Free Wi-Fi access
Indoor pool
Laundry service
Bar(s)
24 hours room service
Outdoor parking
Restaurant

Restaurant
The Fiesta Inn features a restaurant, which opens from 6:00 a.m. until 11:00 p.m. and is an excellent choice for breakfast, lunch and dinner. Choose from buffet or menu dishes, our Mexican appetizers and the finest regional cuisine.
Meeting Rooms

Meeting Room
The hotel has a Business Center with computers and high speed wireless Internet, it also has 2 meeting rooms, one with capacity for 6 people and another for 8 people with a screen and air conditioning.

It also features meeting rooms that can be adapted to host up to 150 people in an auditorium; each room has a board, electric screen, flip charts, coffee service and personalized service. Our professional team will help with your groups and conventions.

Qualified:
x
Location #2 of 10 hotels in Nuevo Laredo
Summary of qualifications
Best comments
"Comfortable!"
Hotel staff was very welcoming and friendly! Free breakfast is continental but for a little bit more you can add hot breakfast. It is wonderful. There was construction on our floor and we did not hear any commotion at all from it.
"Well protected!"
The current address of the Quality Inn is Ave Reforma 5530, formerly the Hotel Hacienda. I booked an accessible room with a microwave and refrigerator for a week but found when I arrived that most of the property was housing Mexican soldiers and that we had been bumped to a room at the back which was fine but was upstairs and without the facilities I asked for. The price was the same. I understand why soldiers are present in Nuevo Laredo, and I understand also that they have to be housed. At least we were very safe. It meant, however, that as almost the only non-military guests we had to walk through bunches of soldiers to exit or enter the property and that the restaurant was not completely happy about opening morning or evening just for us. Fortunately, there's a mall very close by. Ordinarily, this would be a pleasant place to stay but nothing's ordinary in Nuevo Laredo at the moment and when we arrived back in the US after 5 weeks in Mexico, the reaction of the DHS personnel was: "You did *what*?"
"Truck stolen from Hilton parking lot"
My family and I stayed at the Hilton Garden Inn on Wednesday, July 1st, 2009. When we woke up, we found that one of our trucks had been stolen from the parking lot of the Hilton Garden Inn. When we checked in the day before, we asked about parking lot security and were assured the not only security cameras but a Doorman constantly surveyed the area. In the morning when we confronted the front desk and Doorman about our missing vehicle, he replied, "I don't know when it could have happened, I was here the whole night". We were not offered anything for our loss: a hotel credit, a ride to the police department in order to report the crime, breakfast. Clearly hotel employees are part of a ring of thieves that stole our truck. I will never stay at this hotel again, or any other Hilton in the world. I will advise everyone I know to do the same.
"Good service"
We stay on holidays the service was great very polte people and friendly they are making a good service
"be carfull with your hotel bill"
I've been in this hotel several times, sometimes only for some day, sometimes for some month. I had 4 times very strange problems with my hotel bill. They used my creditcard no after I left the hotel for somebody else and I got the bill. I bock the hotel with my Hilton member points and get charged without request or information to my creditcard and other things been happen. Be very carefull here!!! The breackfast assortment was going down by half of the selection in one year and in the good equiped gym room, 60% of the equipment is damaged and not ready to use. Rooms are at a low standard and OK so far.
Top-rated Attractions Nearby
Mercado Maclovio Herrera
Marti's
Zoologico de Nuevo Laredo
New Market
Zaragoza Street
Avenida Guerrero
Boliche de Nuevo Laredo
Photos hotel and surroundings (20)
Rooms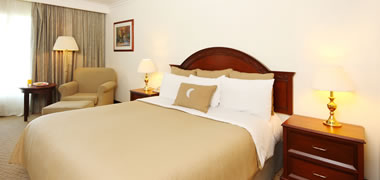 Superior King
The room is 30 m2 with a king-size bed, 2 bedside tables, 29" TV, reading chair and spacious work desk, telephone, bathroom with tub, shower and toilet.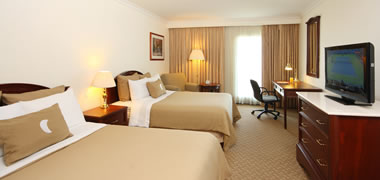 Superior Double
Equipped with 2 double beds, 29" TV, spacious work desk, telephone, bathroom with tub, shower and toilet.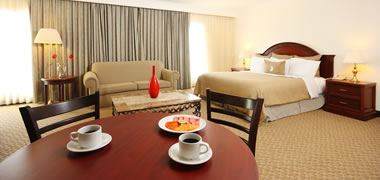 Junior Suite
The room has a king-size bed, mini bar, microwave, plasma screen, bathtub with hand-held shower, steps for the bath, wireless Internet, cable TV, and an executive desk with lamp.