Located in the most commercially developed area of the city, opposite the Plaza del Valle shopping center and Plaza Oaxaca, very close to the main tourist attractions such as the Church of Santo Domingo, the Basilica of La Soledad and the Cathedral. Situated fifteen minutes from the historic center and 10 minutes from Benito Juárez Airport.
Fiesta Inn Oaxaca is an Eco-friendly hotel, so it is a 100% smoke free hotel.

We remind you that the check-in time is from 3:00 PM. Check-out is at 12:00 PM. We suggest you use our express check-out service.

Services
The hotel has 145 rooms, a restaurant, a lobby bar open from 12:00 p.m. to 12:00 a.m., a outdoor swimming pool, gift shop and fitness center. Hotel services include:
Shuttle service with cost
Handicapped access
Gym
Restaurant(s)
100% smoke free hotel
Stores onsite/nearby
Guests access with guide dogs
Pets are not allowed
Free Wi-Fi access
Business center
Laundry service
Bar(s)
24 hours room service
Outdoor pool
Outdoor parking
Restaurant

Restaurant
The Fiesta Inn features a restaurant which opens from 6:00 a.m. until 11:30 p.m. and is an excellent choice for breakfast, lunch and dinner. Enjoy Sunday barbecues in the pool area, from 11:00 a.m. until 6:00 p.m.
Meeting Rooms

Event and meeting rooms
The hotel has a Business Center with computers and high speed wireless Internet, it also has 2 meeting rooms with a screen, air conditioning and capacity for 8 people.
It also features meeting rooms that can be adapted to host for up to 80 people in an auditorium; each room has a board, electric screen, flip charts, coffee service and personalized service. Our professional team will help with your groups and conventions.
Qualified:
x
Location #19 of 110 hotels in Oaxaca
GreenLeader Gold
Certificate of Excellence 2015
Summary of qualifications
Best comments
"Good for business travel"
I stayed here while in town on business in October 2015. It's close to the airport, but not in the center of town. There is reliable wifi, big rooms with desk, and a surprisingly comfortable king size bed. There is a shuttle that can take you into to the centro until ~ 7:30 pm. The breakfast is good, would recommend going out for lunch and dinner.
"GREAT SERVICE ,GOOD STUFF"
My stay at Fiesta Inn can only be described as great.The service is amazing.Everyone who works there are very pleasant ,helpful and very polite.Hotel is very clean ,great location just 2 miles from airport ,2 miles from the central Oaxaca,surrounded with great stores ,and shop malls.Hotel also provide free ride to the centar of the city and back during the day time.very safe area.the best thing is 24 hours restaurant and room service ,any time you feel hungry they are ready to cook for you.Room where i stayed is clean ,big comfortable. Free wifi internet but real slow.
"Bad location, bad service "
I don't like to wrote negative reviews because I love to travel and want to support those who make my travel /work better. But this hotel has so many problems. First, it was very difficult to find. I drove past it four times because there was no sign from one direction, and the sign from the other was tiny and you could only see it once you were on the driveway to the hotel. In other words, no sign on the road. Second, it is way outside of town. So if you are going to Oaxaca to see the city, this is not the hotel for you. But the worst was that the house cleaner kept unlocking my sliding door every time he/she cleaned. It had two locks and they never double locked it and once, the door was left completely unlocked. Not acceptable. I can't think of a reason to stay at this hotel work all the fabulous options in the city of Oaxaca.
"Great"
I have stayed in too many "Fiesta Inn's" in the country, for sure this is the best one. Rooms are pretty much the same, but the rest of the hotel certainly is special. Super nice pool area, 2 fitness centers. Staff is very kind and the hotel is very clean.
"Mediocre hotel experience, mixed opinions about staff. Better options out there, for a better fare."
When we first arrived trouble started, the front desk staff tried to charge us again, even do our booking was already payed via booking.com, they said they didnt know about this, and we showed them the charge on the credit card. It was a terrible experience, it took nearly 20 minutes to get past the issue, after that the hotel staff remembered our names and were extremely nice with us. The hotel room was mediocre, and looking quite dated, it really didn't deserve the 200+USD charge per night. its a very average 4 star hotel, but it doesn't go anywhere past that, the decoration looks very dated in the room, as in most of the hotel. I know that Fiesta INN is going a restructure, with new branding and new experience, but it sems they cant get there fast enough. overall i was disappointed and would not recommend it. The hotel is faraway from everything, 20minutes ride to downtown oaxaca. So that´s a big bummer, we had a car, so we never used the complementary shuttle (that seems to be a nice addition to an overall disappointing experience). Also SUPER SLOW WIFI(less than .7mbps).
Top-rated Attractions Nearby
Monte Alban
Templo de Santo Domingo de Guzman
Fundacion En Via
Mezcal Educational Tours - Distillery Single Day Excursion
Amigos del Sol
Tierraventura Ecoturismo Day Tours
Museo de las Culturas de Oaxaca
Hierve el Agua
Ethnobotanical Garden
Rufino Tamayo Museum of Pre-Hispanic Art
Photos hotel and surroundings (61)
Rooms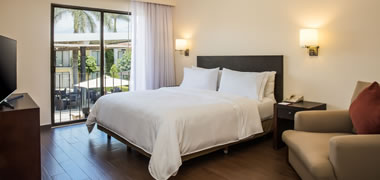 Superior Room, 1 king
Room with a king-size bed, 2 bedside tables, 29" TV, reading chair and spacious work desk, telephone, bathroom with tub, shower and toilet. With a pool or garden view.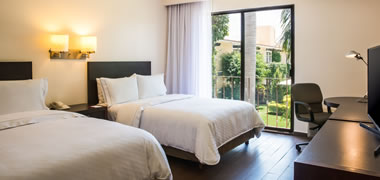 Superior Room, 2 double
Equipped with 2 double beds, 25" TV, spacious work desk, telephone, credenza, bathroom with tub, shower and toilet.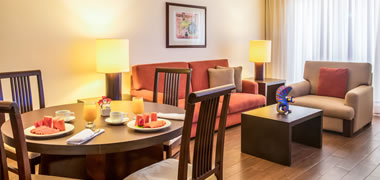 Junior Suite
Suite equipped with king-size bed, private bathroom, air-conditioning, 2 telephones with direct access, hair dryer, Internet access and sofa.