Located in the most commercially developed area of the city, opposite the Plaza del Valle shopping center and Plaza Oaxaca, very close to the main tourist attractions such as the Church of Santo Domingo, the Basilica of La Soledad and the Cathedral. Situated fifteen minutes from the historic center and 10 minutes from Benito Juárez Airport.
Fiesta Inn Oaxaca is an Eco-friendly hotel, so it is a 100% smoke free hotel.

We remind you that the check-in time is from 3:00 PM. Check-out is at 12:00 PM. We suggest you use our express check-out service.

Services
The hotel has 145 rooms, a restaurant, a lobby bar open from 12:00 p.m. to 12:00 a.m., a outdoor swimming pool, gift shop and fitness center. Hotel services include:
Handicapped access
Gym
Restaurant(s)
100% smoke free hotel
Stores onsite/nearby
Guests access with guide dogs
Pets are not allowed
Free Wi-Fi access
Business center
Laundry service
Bar(s)
24 hours room service
Outdoor pool
Outdoor parking
Restaurant

Restaurant
The Fiesta Inn features a restaurant which opens from 6:00 a.m. until 11:30 p.m. and is an excellent choice for breakfast, lunch and dinner. Enjoy Sunday barbecues in the pool area, from 11:00 a.m. until 6:00 p.m.
Meeting Rooms

Event and meeting rooms
The hotel has a Business Center with computers and high speed wireless Internet, it also has 2 meeting rooms with a screen, air conditioning and capacity for 8 people.
It also features meeting rooms that can be adapted to host for up to 80 people in an auditorium; each room has a board, electric screen, flip charts, coffee service and personalized service. Our professional team will help with your groups and conventions.
Qualified:
x
Location #5 of 108 hotels in Oaxaca
GreenLeader Gold
Certificate of Excellence 2017
Summary of qualifications
Best comments
"Nice but more a business hotel than a vacation hotel"
The hotel is OK, Rooms are clean, it has a fitness studio, a swimming pool, a bar and a restaurant. The location of the hotel is not really the best but it´s relatively close to the city center. The hotel offers a free shuttle bus to the city center and back. The food at the restaurant is bad. We went there because it was late, but Oaxaca has so much in food and tastes to offer... The restaurant should improve a lot! Breakfast is good and the omelet lady is great.
"unusual experience ever in my hole traveling life experience"
i checked in around 7am was tiered from driving no energies to hunt for another hotel they charged me for a day and half so i had to pay atime and half for one day stay rule from the management and they were spouse to bring and fix the sofa bed which never did until some time after 5pm which we had already woke up as a result i selept on the floor so the kids could sleep comfortably i have traveled all over in europe, u.s.a & canada never i experienced nor i have heard of such a thing, in the restaurant they had no child portion menu or prices most pay adult portion fee for pancakes and they also wanted to charge us extra for the extra salad dressings also never experienced such a thing in life bunch of nid pickers
"Nice basic hotel "
My cousin and I stayed in April in a double room. The hotel itself is very clean. It is a basic hotel but the staff are very friendly and helpful. We had a double room which was opposite a business. We had to keep the curtains drawn the whole stay as you could see straight in our window. The room was on the small side but did our needs just fine. The restaurant is nice and the food is enjoyable. They have a pool which we did use during our stay. It was ideal for sunbathing. The hotels location is near to the airport but far out from the central town of oaxaca. The hotel does offer a free shuttle service in and out of the town which was useful however it only goes 2-3 times during the day which can be awkward. The cost of taxis isn't ground breaking but still. This hotel also has a basic gym which is situated next to the pool. We enjoyed our stay and would stay again if we were in the area.
"Spendid Hotel surrounded by verdant Oaxacan mountains !!!"
Wonderful, clean, and comfortable room. We felt safe and in a great location as well. The daily included breakfast was superb and the pool was clean and refreshing. The gym was basic, but perfect for the work out you may be used to. We liked the nice view of the Oaxacan mountains and the smart sliding doors that would bring in fresh cool air in the evening. There is a safe, a nice flat screen tv, an ample tub and shower, and a sink and counter big enough for all your toiletries. There is no elevator since there are only two floors, but that did not bother us. The staff was very helpful and friendly. The young lady at the front desk gave us some good advice about seeing Monte Alaban. Mario also helped me call the United States upon my arrival. The hotel is right across from a Mall, and you can take a taxi for 60 pesos to the main plaza or a bus for only 7 pesos.
"We enjoyed it immensely!"
We came to Oaxaca for the first time the week of July 4, 2017. Our stay at the Fiesta Inn was VERY enjoyable. The staff was friendly and helpful. The food was good (especially the breakfast buffet). The room, although a little small, was comfortable and well-appointed. Located in the more developed area of Oaxaca City (across from the Plaza de Valle mall), the hotel is a mere 15-minute bus or taxi ride away from the historical section of the city, and also a 10-minute taxi ride from the airport. We especially enjoyed Andrea the breakfast chef and Hector, one of the fantastic wait staff. Try the chapulines! Overall, our trip to Oaxaca was absolutely wonderful, and a big part of the reason was because of the people at the Fiesta Inn! Thanks!
Top-rated Attractions Nearby
Monte Alban
Templo de Santo Domingo de Guzman
Fundacion En Via
Mezcal Educational Tours - Distillery Single Day Excursion
Museo de las Culturas de Oaxaca
Andador de Macedonia Alcala
Rufino Tamayo Museum of Pre-Hispanic Art
Hierve el Agua
Benito Juarez Market (Mercado de Benito Juarez)
Ethnobotanical Garden
Photos hotel and surroundings (92)
Rooms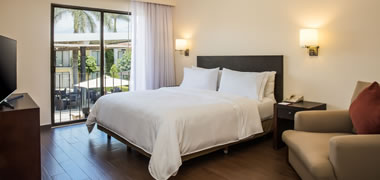 Superior Room, 1 king
Room with a king-size bed, 2 bedside tables, 29" TV, reading chair and spacious work desk, telephone, bathroom with tub, shower and toilet. With a pool or garden view.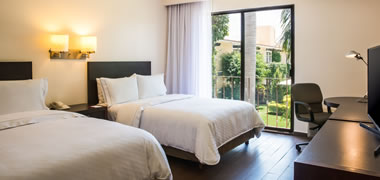 Superior Room, 2 double
Equipped with 2 double beds, 25" TV, spacious work desk, telephone, credenza, bathroom with tub, shower and toilet.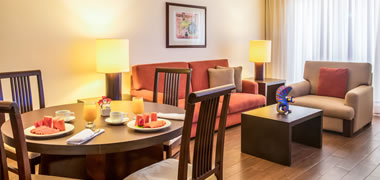 Junior Suite
Suite equipped with king-size bed, private bathroom, air-conditioning, 2 telephones with direct access, hair dryer, Internet access and sofa.