Fiesta Inn
Plaza Central Aeropuerto
Fiesta Inn Plaza Central Aeropuerto
Fiesta Inn continues to evolve, transform, and innovate its Business Class hotel concept. With a fresh, modern image and new facilities, Fiesta Inn Plaza Central Aeropuerto in Mexico City is the perfect example of business accommodations done right. Designed to encourage creativity and productivity, the hotel's spaces are functional yet friendly, allowing guests to be connected while remaining independent. Today's Fiesta Inn is more than simply a hotel; it is a community of professionals who thrive on success.
The hotel has a privileged location, it is located inside the Plaza Central Shopping Mall, 12 minutes away from the International Airport of Mexico City, 5 minutes from the Palacio de los Deportes, Hermanos Rodríguez autodrome and the Foro Sol; 20 minutes from the TAPO bus central and 25 minutes from the Historic downtown.
The hotel offers free 24 hours airport-hotel-airport shuttle service (At the number 4 door in the Terminal 1 and in front of national arrivals in Terminal 2).
Please note that check-in begins at 3pm. Check-out must be completed by 12pm. Express check-out is recommended.
Services
The hotel has 169 rooms, restaurant, bar, a range of spacious and comfortable multi-use rooms for private work sessions, meetings and other group events. Other facilities include Lounge 360°, and fitness center. Hotel services include:
Handicapped access
Gym
Restaurant(s)
100% smoke free hotel
Guests access with guide dogs
Outdoor parking with cost
Shuttle service (subject to availability)
Pets are not allowed
Indoor parking with cost
Free Wi-Fi access
Business center
Laundry service
Bar(s)
24 hours room service
Restaurant

La Isla
The Fiesta Inn Plaza Central Aeropuerto offers the La Isla multi-purpose space that gives you the freedom to recharge 24 hours a day. Guests can grab a delicious snack or pause to refresh and rejuvenate. Meals are available throughout the day in the manner best suited for the occasion, including a breakfast buffet, Grab & Go, a la carte lunch and dinner, and room service. Healthy options include fresh salads, pasta, sandwiches, fish and more. The area has minimalist design, with bright colors, fresh décor, and ambient music, making each visit as pleasant as possible.
Meeting Rooms

Event and meeting rooms
Guests can take advantage of B-On, Fiesta Inn's modern business workspace located in the 360º Lounge. It is outfitted with computer workstations and business services. From here, you can keep in touch with the rest of the world, hold meetings in three private meeting rooms with LCD screens, use the video conference facilities, and find everything you need to stay productive during your stay.
Qualified:
x
Location #61 of 311 hotels in Mexico City
GreenLeader Gold
Summary of qualifications
Best comments
"Horrible experience!!"
5 couples went to see a concert. First they told us to come back in an hour so we can all be on the same floor. We went to dinner and we arrived only one couple had a king size bed, the rest double beds. We weren't even close to each other or on same floor. Our room smelled really bad so they moved us to another room where the toilet was never cleaned from last guest. Went to the bar and the bartender never even said hi or acknowledged my presence. Then in the morning the maid knocked on our door asking if she could clean it at 7:45 A.M.!!! Absolutely horrendous experience.
"loved the hotel in the shopping mall very convenient, O tono resturaunt was excellent!"
Room was very nice..The staff were gracious and extremely efficient. The hotel offered Breakfast, Lunch and Dinner..Although I did not eat there it looked really good. I would return.The location was about 15 min from the airport..Service for any problem was fast and prompt. I would have liked a better view of the city but, I would think that could have been arranged..there were 9 in our party and everyone was very happy with the rooms. They could improve the Air conditioner. It could not be turned down and was pretty chilly for January.
"Modern Room in Convenient Location "
This was a comfortable, modern room for a reasonable price. It is a couple of kilometers from the airport and is conveniently located in a plaza shopping center with coffee shops, food, and retail. The hotel itself had good food for those of us who use room service from time to time. The only drawback to the room is that there was no heater---only air conditioning so it got a bit nippy since it was winter but the room had an extra blanket.
"Great modern clean hotel"
Wonderful staff, clean and comfortable rooms. Enjoyed the shuttle from the airport and location attached to the mall. The staff were prompt to clear up any of our questions, get us an extra blanket and clear up an error on the part of expedia (how we booked). Would stay again for sure!
"Loved it!"
Stayed here prior to our transatlantic flight and again at the end of our trip. Very satisfied both times. We were looking for a reasonably priced, modern and convenient to the airport hotel with a shuttle....and we found it! The room is modern and comfortable...clean...the bathroom is very stylish with a wonderful rainfall shower head. The beds are comfortable and the room is very quiet. The Hotel is located in a mall which was great for my wife and daughter, not so much for me...can a girl ever have enough shoes? Anyway, the shuttle was clean and timely in both directions and the buffet breakfast was delicious, with a lot of variety for all. We'll definitely stay here again.
Top-rated Attractions Nearby
National Museum of Anthropology (Museo Nacional de Antropologia)
Eat Mexico Culinary Tours
Museo del Tiempo Tlalpan
Journeys Beyond the Surface Popular Culture Tours
Eat Like a Local Mexico
Mexcity Tours- Day Tours
Sabores Mexico Food Tours
Mexico City Urban Adventures
Casa Jacaranda
Escape Rooms Mexico
Photos hotel and surroundings (87)
Rooms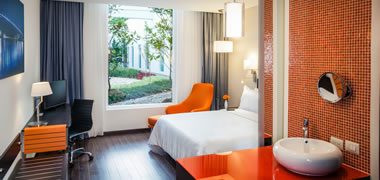 Accessible Room
Experience a comfortable stay in this specially equipped room with a two single beds, closet, bathroom, air conditioning, coffeemaker, executive work desk, two telephones, hairdryer wireless high-speed Internet, and cable TV with an LCD screen. In addition, you will find all standard facilities for people with special needs. The bathroom is outfitted with safety rails, shower bars, elevated toilet with grab bars, and a wide entry door.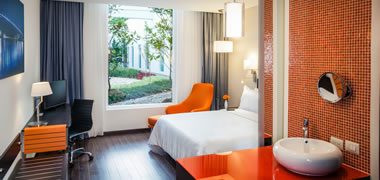 Superior Room, 1 King
Discover the perfect place to work and relax in this comfortable room, outfitted with a king bed, closet, bathroom, air conditioning, coffeemaker, executive work desk, two telephones, wireless high-speed Internet, hairdryer, closet, and cable TV with LCD screen.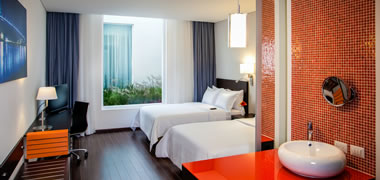 Superior Room, 2 Double
After a long day full of activities, find comfort in this relaxing room equipped with two double beds, closet, bathroom with shower, air conditioning, coffeemaker, two telephones, wireless high-speed Internet, hairdryer, closet, and cable TV with LCD screen. Set up your working area with an executive desk, comfy chair and lamp.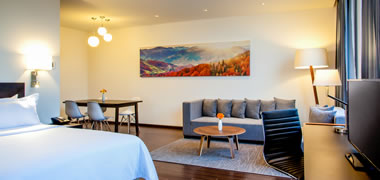 Junior Suite, 1 King
After a long day, you deserve this spacious room to work and relax. Each suite is outfitted with a separate bedroom with king bed, sofa, closet, bathroom, air conditioning, coffeemaker, executive work desk, two telephones, alarm clock, wireless high-speed Internet, hairdryer, closet, and cable TV with LCD screen. Rooms have a sitting room with sofa bed, dining room and kitchen area with microwave.