Fiesta Inn
Plaza Central Aeropuerto
Fiesta Inn Plaza Central Aeropuerto
Fiesta Inn continues to evolve, transform, and innovate its Business Class hotel concept. With a fresh, modern image and new facilities, Fiesta Inn Plaza Central Aeropuerto in Mexico City is the perfect example of business accommodations done right. Designed to encourage creativity and productivity, the hotel's spaces are functional yet friendly, allowing guests to be connected while remaining independent. Today's Fiesta Inn is more than simply a hotel; it is a community of professionals who thrive on success.
The hotel has a privileged location, it is located inside the Plaza Central Shopping Mall, 12 minutes away from the International Airport of Mexico City, 5 minutes from the Palacio de los Deportes, Hermanos Rodríguez autodrome and the Foro Sol; 20 minutes from the TAPO bus central and 25 minutes from the Historic downtown.
The hotel offers free 24 hours airport-hotel-airport shuttle service (At the number 4 door in the Terminal 1 and in front of national arrivals in Terminal 2).
Please note that check-in begins at 3pm. Check-out must be completed by 12pm. Express check-out is recommended.
Services
The hotel has 169 rooms, restaurant, bar, a range of spacious and comfortable multi-use rooms for private work sessions, meetings and other group events. Other facilities include Lounge 360°, and fitness center. Hotel services include:
Handicapped access
Gym
Restaurant(s)
100% smoke free hotel
Guests access with guide dogs
Outdoor parking with cost
Shuttle service (subject to availability)
Pets are not allowed
Indoor parking with cost
Free Wi-Fi access
Business center
Laundry service
Bar(s)
24 hours room service
Restaurant

La Isla
The Fiesta Inn Plaza Central Aeropuerto offers the La Isla multi-purpose space that gives you the freedom to recharge 24 hours a day. Guests can grab a delicious snack or pause to refresh and rejuvenate. Meals are available throughout the day in the manner best suited for the occasion, including a breakfast buffet, Grab & Go, a la carte lunch and dinner, and room service. Healthy options include fresh salads, pasta, sandwiches, fish and more. The area has minimalist design, with bright colors, fresh décor, and ambient music, making each visit as pleasant as possible.
Meeting Rooms

Event and meeting rooms
Guests can take advantage of B-On, Fiesta Inn's modern business workspace located in the 360º Lounge. It is outfitted with computer workstations and business services. From here, you can keep in touch with the rest of the world, hold meetings in three private meeting rooms with LCD screens, use the video conference facilities, and find everything you need to stay productive during your stay.
Qualified:
x
Location #54 of 312 hotels in Mexico City
GreenLeader Gold
Certificate of Excellence 2017
Summary of qualifications
Best comments
"Pay more and go somewhere nearer to the airport, unless it is daytime and you have time to spare"
Pros: Ample room, comfortable bedding Not pristine, but clean enough Coffee maker, toiletries, We asked and got toothbrushes and toothpaste. Friendly and efficient staff Good AC, not directed towards beds Free coffee in the lobby Cons: Nowhere near the airport. They advertise 12 minutes, but it took us more than half an hour. It was raining and traffic was bad (at 11 o'clock at night), but that is quite normal, so don't expect any different. They advertise a free shuttle. Our reservation said to get it in front of Gate 4. Gate 4 was packed with people and trucks downloading boxes. No sign for shuttle or hotel. A porter told us there should be a hotel aide there who would call, but we couldn't find anyone. Called the hotel and got no answer (we asked at check-in and we did have the right number). We took an Uber. It was late at night and the area was very dark. We could see a building with a Fiesta Inn sign, but there is no entrance from the street! There is one directly from a mall, which was closed, and another one through a dark parking lot (there was a sign that we hadn't seen) and up an elevator. The area is ok during the day and the mall is enormous, but it didn't feel that way at midnight. There is nothing around but the mall.
"Very nice hotel"
Shuttle wasn't available when we arrived at the airport but hotel paid for taxi - it's about a 15 minute ride. Hotel was very nice, reception folks friendly, room was very clean and comfortable. Wifi service was excellent. Being attached to a large mall was kind of fun. Great value overall, will definitely stay here again.
"Good hotel for a quick night or two."
I had an overnight layover in Mexico City while headed to Costa Rica. I travelled solo so I didn't want to pay a bunch of money. The hotels closer to the airport were all $120-$190 a night. I was able to book a night here for $77 after taxes. I was semi-prepared to have shuttle issues based on other reviews. It was about 10:50 when I made it to the Fiesta counter inside of the airport. I was the first person there and the gentleman working called and requested a shuttle. Meanwhile more and more people start coming for the Fiesta Inn that's closer to the airport and their shuttle arrived after about 20 minutes. Another few minutes goes by and the guy (who was super nice btw) went ahead and paid for a cab for the three of us who were waiting. Imagine my surprise when we pull up and there's at least 2 shuttles sitting out front empty. They obviously had the transportation but no drivers. I check in and stayed one night. I didn't eat there so I can't talk about the quality of the food. The room is modern and new. The hotel is beautiful inside but I feel like they could clean it a little deeper. There was build up in corners and crevices that kind of grossed me out. My shower door needed to be cleaned and the sink drained slow which is gross when you're brushing your teeth. The best part of the night though... THE BED. Omg if it wasn't for that bed I probably would have given 3 stars. It was so comfortable and clean. The sheets were clean, the pillows were full and firm not flat. I slept so good. The shuttle to the airport runs every hour but you have to be down there at 10 til. I don't speak Spanish and I had no problems checking in or taking the shuttle. It seems to be in a pretty good location, lots of stuff around but I was in and out. Got to the room around midnight and left on the shuttle at 6am. I would stay there again in a similar situation but I probably wouldn't use it as a base for visiting Mexico City. It reminded me of a Mexican version of Aloft but with slightly larger rooms.
"lovely affordable hotel for business or vacation"
The Fiesta Inn Plaza is one of two Fiesta Inn hotels in Mexico City. The review is for the Fiesta Inn Plaza which is located inside the shopping mall about a 20 minute drive from the airport. If you get this hotel, make sure that your driver takes you to the one that is inside a shopping mall. The parking is underneath the hotel and that is how you know you arrived at the right hotel. The staff is usually there to great you. Next, go up one floor by elevator to the lobby. The staff does not speak much English but they understand what you are trying to communicate. The lobby has a restaurant, business center, and bar. The lobby is mostly open without walls giving it an open, spacious, contemporary feeling. The computers are newer with good internet. I could only see one elevator. The hotel only has a few levels. There is no atrium. The ceilings are high. My room was a standard king. The room was spacious with high ceilings. The bed linen was white and of an above average fabric. The entire room design was modern, contemporary with plenty of electrical outlets. Be sure to lock your door because housekeeping may accidentally open your door for cleaning. I did not hear other sounds from other rooms. Attached to the hotel is a modern shopping mall. A money exchange bank is inside the mall. The prices inside the mall are like any other shopping mall in the USA. There are places inside the mall for kids to play and a movie theater. I enjoyed my two-day stay at this Fiesta Inn Plaza. This hotel is like a full service hotel but styled to be ultra modern and contemporary. When I needed taxi service, the hotel called a private car. If you want a luxury limo, you must ask for one. I needed an affordable ride so that's what I received and was satisfied with the service. I advise turning on your GPS on your phone and making sure your driver takes to from the airport to the correct Fiesta Inn. My first driver (chosen by the organization whose conference I attended) took me to the wrong Fiesta Inn. I had to pay a different driver to take me to the correct Fiesta Inn. I booked this hotel through a third party site where the hotel is unknown. I was attending a youth conference hosted through Ministerios Filadelfia and CFM Aljaba.
"Building work all night next to my room!"
I'm currently staying here, I've been awake since 1am. It seems there's some building work going on in the next room. They're drilling, hammering, pulling pushing etc It's now 4.18am and still awake. Having spent almost 11 hours in a plane all the way from UK I was hoping for some quality rest. I'm in room no 1 so ground floor. Big mistake! The fire alarm has been going off at least three times. I don't know what's going on here it's a real mess! Shame really, our room is clean and spacious. Hotel grounds looks good and clean. They really need to sort out their building work schedule also they need to make sure nobody stays in room no 1 whilst carrying out all the building work in the next room!
Top-rated Attractions Nearby
National Museum of Anthropology (Museo Nacional de Antropologia)
Palacio de Bellas Artes
Chapultepec Castle
Coyoacan
Eat Mexico Culinary Tours
Basilica de Santa Maria de Guadalupe
Journeys Beyond the Surface Popular Culture Tours
Murales de Diego Rivera en la Secretaria de Educacion Publica
Paseo de la Reforma
Frida Kahlo Museum
Photos hotel and surroundings (79)
Rooms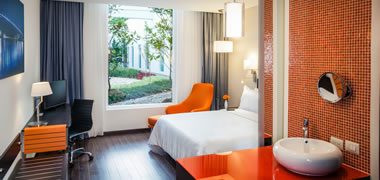 Accessible Room
Experience a comfortable stay in this specially equipped room with a two single beds, closet, bathroom, air conditioning, coffeemaker, executive work desk, two telephones, hairdryer wireless high-speed Internet, and cable TV with an LCD screen. In addition, you will find all standard facilities for people with special needs. The bathroom is outfitted with safety rails, shower bars, elevated toilet with grab bars, and a wide entry door.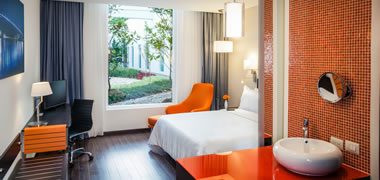 Superior Room, 1 King
Discover the perfect place to work and relax in this comfortable room, outfitted with a king bed, closet, bathroom, air conditioning, coffeemaker, executive work desk, two telephones, wireless high-speed Internet, hairdryer, closet, and cable TV with LCD screen.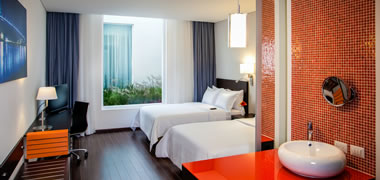 Superior Room, 2 Double
After a long day full of activities, find comfort in this relaxing room equipped with two double beds, closet, bathroom with shower, air conditioning, coffeemaker, two telephones, wireless high-speed Internet, hairdryer, closet, and cable TV with LCD screen. Set up your working area with an executive desk, comfy chair and lamp.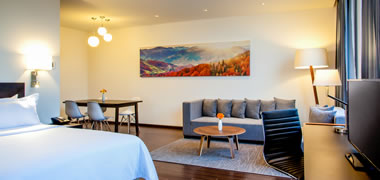 Junior Suite, 1 King
After a long day, you deserve this spacious room to work and relax. Each suite is outfitted with a separate bedroom with king bed, sofa, closet, bathroom, air conditioning, coffeemaker, executive work desk, two telephones, alarm clock, wireless high-speed Internet, hairdryer, closet, and cable TV with LCD screen. Rooms have a sitting room with sofa bed, dining room and kitchen area with microwave.