Fiesta Inn
Puebla las Ánimas
Fiesta Inn Puebla las Ánimas
Fiesta Inn continues to evolve and transform as a leader in Business Class hotels with the Fiesta Inn Puebla las Ánimas. The hotel is designed to let visitors pass their time as they wish, with spaces that are functional and welcoming, so guests can work independently or socialize in groups. Today, the Fiesta Inn is more than just a hotel. It's a community of travelers all working to get ahead.
Located in the Las Ánimas Triangle, one of the main plazas of the city, the hotel is adjacent to the John Paul II financial complex and is close to the Angelopolis shopping center and the University Cultural Center. It offers easy access to many of the most beautiful buildings in the city, which has been declared a UNESCO World Heritage Site.
Fiesta Inn Puebla Las Ánimas is an Eco-friendly hotel, so it is a 100% smoke free hotel.
The hotel check-in time is 3pm. Check-out is 12:00 hrs. A convenient Express check-out service is available.
Services
There are 140 guest rooms, Restaurant, a lobby bar and gift shop. Other facilities include Lounge 360°, outdoor swimming pool and fitness center. Hotel services include:
Shuttle service with cost
Handicapped access
Gym
Restaurant(s)
100% smoke free hotel
Guests access with guide dogs
Pets are not allowed
Indoor parking with cost
Free Wi-Fi access
Business center
Laundry service
Bar(s)
24 hours room service
Outdoor pool
Restaurant

La Isla
The Fiesta Inn features La Isla, the perfect spot to relax and grab a bite to eat, 24 hours a day. It offers a breakfast buffett, restaurant, grab-and-go refreshments and even room service. There's also a self-service bar with domestic and imported drinks.

Meeting Rooms

Event and meeting rooms
The B-on Business Center offers computer workstations with high-speed Internet access and two meeting rooms with projection screen and air conditioning, accommodating up to 12 people.
There are also eight meeting and event rooms accommodating up to 180 people with auditorium seating. Each room has whiteboard, video screen, flipchart and other amenities. The professional staff can assist with coffee breaks and other services.


x
Fiesta Inn Puebla Las Animas
Location #10 of 104 hotels in Puebla
GreenLeader Platinum
Certificate of Excellence 2018
Summary of qualifications
Best comments
"Good place great service"
The hotel is conveniently located, its almost new, staff is super friendly and helpful. Having said that The Intercontinental, Marriot or even Casa Reyna have a similar price and superior facilities to be honest.
"Second time in this hotel and again - almost perfect"
I like this hotel due to close to my office, close to mall (Starbucks, some restaurants, cinema), gym and swimming pool in place. Good service, small issues (e.g. last day they forgo to deliver my laundry and when delivered, forgot about some pieces, but happily it was found) - but these issues happen in all types of hotels. Comparing to other hotels around, this one is quite quiet. Quieter actually!
"Very nice!"
Great hotel! Concierge staff is very helpful. All the staff are very friendly and helpful. I don't speak Spanish and they were very accommodating. Rooms are spacious and pretty. The pool area is very nice. They have a gym, business center, meeting rooms. Full bar and restaurant that stays open until 11pm which was nice for our late arrival. The hotel connects to a mall.
"Modern and comfy hotel close to Old and New Puebla"
This is a very good hotel, clean, comfy, modern, on a very good location. Great value. The hotel has a nice pool and amenities. The staff is friendly, rooms are spacious, bed and pillows are very good and soft. Breakfast buffet is tasty. In summary, this hotel is a very good choice for a the price.
"Excellent location"
Standard nice hotel with good service and attention from staff. If you are not going to get up early, don't forget to hang out the "Do not disturbe" sign outside the door... Most important thing about this hotel: it's location inside the city of Puebla! You have everything near. Also, there is a shopping mall right next to the hotel, lots of shops and restaurants. There is an outside pool at 1st floor
Top-rated Attractions Nearby
Rosary Chapel (Capilla del Rosario)
Iglesia de Tonantzintla
Amparo Museum (Museo Amparo)
Catedral Basilica de Puebla
Biblioteca Palafoxiana
Zocalo
Cantona Archaeological Ruins
Piedras Encimadas
Museo Internacional del Barroco
Church of Santo Domingo (Iglesia de Santo Domingo)
Photos hotel and surroundings (123)
Qualified:
Rooms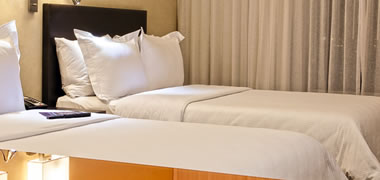 Superior Room, 2 double
The hotel offers 69 rooms with double bed, work desk, closet, telephone, coffeemaker, wireless Internet, full bathroom, air-conditioning and flat-screen cable TV.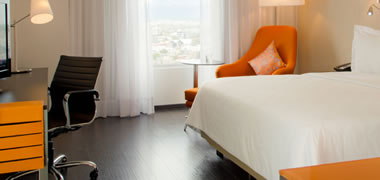 Superior Room, 1 king
There are 68 rooms with king bed, work desk, closet, telephone, coffeemaker, wireless Internet, full bathroom, air-conditioning and flat-screen cable TV.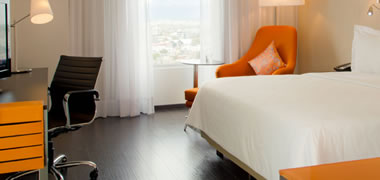 Deluxe Room, 1 king
This spacious suite with volcano view offers both the perfect place to rest and get your work done quietly and comfortably. There are 20 spacious rooms with king bed, equipped with terrace, work desk, closet, telephone, coffeemaker, high-speed wireless Internet access, full bathroom, air-conditioning and flat-screen cable TV.
Junior Suite, 1 king
For guests wanting more space, there are 2 Junior Suites with king bed, work desk, closet, telephone, coffeemaker, wireless Internet, full bathroom, air-conditioning and flat-screen cable TV. These rooms also have a living and dining room, kitchenette with microwave, alarm clock and sofa.