Fiesta Inn
Querétaro Centro Sur
Fiesta Inn Querétaro Centro Sur
Fiesta Inn continues to evolve, transform, and innovate its Business Class hotel concept. With a fresh, modern image and new facilities, Fiesta Inn Querétaro Centro Sur is the perfect example of business accommodations done right. Designed to encourage creativity and productivity, the hotel's spaces are functional yet friendly, allowing guests to be connected while remaining independent. Today's Fiesta Inn is more than simply a hotel; it is a community of professionals who thrive on success.
The hotel is located in the municipality of Querétaro, in the Centro Sur district, just 5 minutes from the Querétaro Congress, the Josefa Ortiz de Domínguez Auditorium, the Querétaro Corregidora Stadium, and the bus station, and 10 minutes from the city's most important industrial parks and shopping centers. The location is convenient to a variety of sites that will make your stay more enjoyable, restful and productive.
Please note that check-in begins at 3pm. Check-out must be completed by 12 pm. Express check-out is recommended.
Services
There are 134 guest rooms, restaurant, and a range of spacious and comfortable multi-use rooms for private work sessions, meetings and other group events. Other facilities include Lounge 360°, and fitness center. Hotel services include:
Handicapped access
Gym
Restaurant(s)
100% smoke free hotel
Guests access with guide dogs
Pets are not allowed
Business center
Free Wi-Fi access
Laundry service
Bar(s)
24 hours room service
Outdoor parking
Outdoor pool
Restaurant

La Isla
The Fiesta Inn Querétaro Centro Sur offers the La Isla multi-purpose space that gives you the freedom to recharge 24 hours a day. Guests can grab a delicious snack or pause to refresh and rejuvenate. Meals are available throughout the day in the manner best suited for the occasion, including a breakfast buffet, restaurant table service, grab-and-go, or room service. The area has minimalist design, with bright colors and fresh décor, making each visit as pleasant as possible. There are many healthy options, including fresh salads, pastas, sandwiches, fish and more.
Meeting Rooms

Event and meeting rooms
Guests can take advantage of B-on, Fiesta Inn's modern business workspace, outfitted with computers and business services. From here, you can keep in touch with the rest of the world, hold meetings in private boardrooms, participate in video conferences, and share documents and presentations online in real time at the center's 2 available meeting rooms.
There are also 3 special event rooms accommodating up to 300 people with auditorium seating. Each room offers a whiteboard, flip-chart and projector and offers coffee breaks and personal attention from the hotel's professional staff.
Qualified:
x
Fiesta Inn Queretaro Centro Sur
Location #11 of 93 hotels in Queretaro City
GreenLeader Platinum
Certificate of Excellence 2018
Summary of qualifications
Best comments
"Dirty toilet, dirty room at Fiesta Inn Queretaro"
I had the misfortune of having to stay at this hotel with my customer. The room apparently hadn't been clean or inspected. I noticed the mirror first as it had smears from a poor effort of getting cleaned. There was dirt and hair on the floor but the worst was the brown stained toilet seat. Needless to say I checked out early. It continues, I left my electronic bag (holds cord and chargers). I called the hotel about 5 hours later to get my property but as you might guess, it wasn't available. Terrible customer service added to a terrible stay. Glad I was able to get into the Crown Plaza on such a short notice. I will never stay here again. I would never recommend this hotel to anyone.
"Far away from downtown"
The hotel says that it is located "centro sur", however, it is really far away from the center of Queretaro. It took me 35 minutes to walk to downtown at a fast pace. The hotel has a nice pool. Rooms are comfy and modern. It is very clean. The hotel is situated next to a highway.
"Very good but with a few flaws"
Stayed there for 10 days. Nice large clean rooms. Friendly staff and mostly helpful. Good atmosphere, very good shuttle service and good breakfast buffet. Quite a few good eating places close by. Reception very good and helpful Now the flaws, struggle to get coffee at breakfast, some breakfast tables not cleared quickly so not an appetising sight and generally bar staff either incredibly good or more interested in their cell phones or talking to their mates. Bar ran out of Bacardi, D'oh
"Very clean and secure"
Everything under one roof. Very friendly staff and excellent breakfast buffet with lots of choices and fresh. Good security and rooms rates were VERY reasonable. Would definitely stay here again when visiting the area.
"Beautiful property, great location."
This location is close to a variety of shops and restaurants, and has its own restaurant/bar onsite, serving good food. Good service, modern vibe to rooms, pool and a small gym on top floor, with a view of the city in the distance. The only 'meh' I had during our stay is the beds and pillows. While a good quality, they were pretty firm. I would suggest offering at least a 'pillow menu' for travelers that prefer a softer rest. At least this would add to better sleep for someone that is not a fan of a firm bed. Also, a side note to management, an upgrade in towels might be in order. The ones available during our stay (May 2017) left much to be desired.
Top-rated Attractions Nearby
Photos hotel and surroundings (111)
Rooms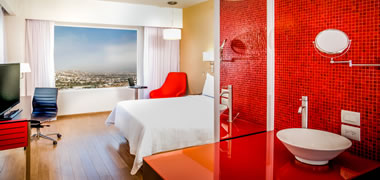 Superior Room, 1 King
Discover the perfect place to work and relax in this comfortable room, outfitted with a king bed, closet, bathroom, air conditioning, coffeemaker, executive work desk, telephone, wireless high-speed Internet, and cable TV with LCD screen.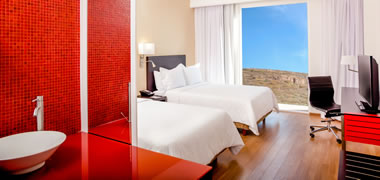 Superior Room, 2 Double
After a long day full of activities, find comfort in this relaxing room equipped with two double beds, closet, bathroom, air conditioning, coffeemaker, and cable TV with LCD screen. It has a private workspace where you can get things done without interruption, complete with an executive work desk, phone, and wireless high-speed Internet.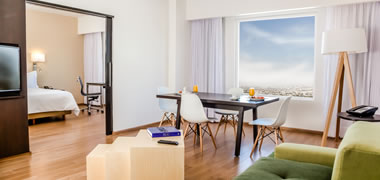 Junior Suite, 1 King
Whether you want to finish some last-minute work or simply get away from it all, the Junior Suite is the perfect choice. It is equipped with modern décor and excellent lighting, with a separate bedroom with king bed, plus closet, bathroom, air conditioning, coffeemaker, executive work desk, telephone, wireless high-speed Internet, and cable TV with LCD screen. It also has a full living and dining room, alarm clock, a sofa bed, and even a view of the city.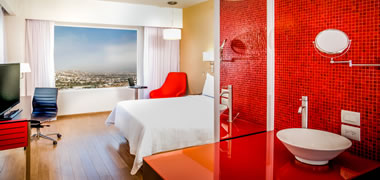 Accessible Room
Experience a comfortable stay in this specially equipped room with a single bed, closet, bathroom, air conditioning, coffeemaker, executive work desk, telephone, wireless high-speed Internet, and cable TV with an LCD screen. In addition, you will find all standard facilities for people with special needs. The bathroom is outfitted with safety rails, shower bars, elevated toilet with grab bars, and a wide entry door.