Located near Plaza Periférico, one of the largest plazas in the city, and very close to the northern industrial park, in an area of high industrial and commercial activity. Situated a few minutes from the border town of McAllen, Texas, where you can visit the many shopping centers it has to offer.

We remind you that the check-in time is from 3:00 PM. Check-out is at 11:00 AM. We suggest you use our express check-out service.

Services
The hotel has 127 rooms, a restaurant, a lobby bar open from 5:00 p.m. to 12:00 a.m., outdoor swimming pool, gift shop and fitness center. Hotel services include:
Indoor parking
Handicapped access
Business center
Free Wi-Fi access
Gym
Restaurant(s)
Guests access with guide dogs
Laundry service
24 hours room service
Pets are not allowed
Bar(s)
Outdoor pool
Restaurant

Restaurant
The Fiesta Inn features a restaurant which opens from 6:00 a.m. until 11:00 p.m. and is an excellent choice for breakfast, lunch and dinner. Choose from buffet or menu dishes, in a setting filled with natural light and beautiful views of the gardens.
Meeting Rooms

Event and meeting rooms
The hotel has a Business Center with computers and high speed wireless Internet, it also has 2 meeting rooms with a screen, air conditioning and capacity for 8 people.
It also features meeting rooms that can be adapted to host for up to 200 people in an auditorium; each room has a board, electric screen, flip charts, coffee service and personalized service. Our professional team will help with your groups and conventions.
Qualified:
x
Location #4 of 15 hotels in Reynosa
GreenLeader Silver
Summary of qualifications
Best comments
"Not worthy of the Fiesta Inn brand"
Stayed at this hotel 3 years ago and could not believe how poorly maintained it is. The shower had trash from previous guest (razor and soap), carpet was dirty, towels old and rough, definitely needs attention from Posadas group, bring your own towels if you stay here
"There has to be a better place to stay."
What a joke at over 1100 pesos. And the name Fiesta Inn has so much going for it but the management here is less than worthy than the property. The restaurant we hung out in was sweating hot, the lounge was a wreck and closed, as we awaited to get an available room. As if they were busy. The room's AC did not work much, even after making a call to the front desk we never got below 72F in 14 hours. Pure crap in this part of Mexico. NO cold water in the shower, trying to cool off a bit in the afternoon. I mean when you move the handle to cold, nothing comes out. Hot water was great if you have some shrimp to cook. The restaurant was like 12 year olds were running the show. It took over 30 minutes to get a drink ..... and we were the only people there! A total and complete train wreck from start to finish. The managers of Fiesta Inn need to come in and clean house.
"Excellent service!"
The hotel staff was extremely courteous and understanding! When we ordered room service, the food was very delicious and delivered in a timely manner. We had a total of 3 rooms and we were all very close to each other, which was very convenient for us.
"One dissapointemet, from begining to end"
Time has come for the first negative review Apon arrival and check in, the prices are not as the unit adverizes on several speciality sites, such a Booking.com. but, ok.... we do understand that sometimes there are some delays in the updating of these sites. The room was simply not cleaned out after the previous guestes, beds was done fresh and all, but garbage bins still with bottles and other garbage, hallways were dirty.... To end the one night experience, I was charged for breakfast........ this was the tip of the iceberg.... one hotel i will never visit again....... The only posive note is the atitude of the people in the restaurant, friendly and helpfull. Thanks to those ......
"Good place to stay"
Nice place to stay, the only disvantaje is that was full of police officer and that is not good in a place like Reynosa, because the violence that remains in that city. The room where clean, the staff is friendly and the food is very good
Top-rated Attractions Nearby
Parque Cultural Reynosa
Parroquia de Nuestra Senora de Guadalupe
Yin Beauty, Health and Relax
Cinepolis VIP Plaza Periferico
La Casa de la Miel
Tembleque Gitano
Camito Splash
Photos hotel and surroundings (31)
Rooms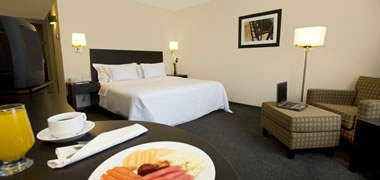 Superior Room, 1 king
The room is 30 m2 with a king-size bed, 2 bedside tables, 29" TV, reading chair and spacious work desk, telephone, bathroom with tub, shower and toilet.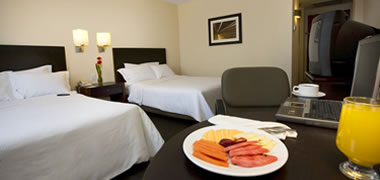 Superior Room, 2 double
Equipped with 2 double beds, 29" TV, spacious work desk, telephone, bathroom with tub, shower and toilet.
Junior Suite King
Executive rooms with a work desk, individually controlled air-conditioning, wireless Internet and smoke detectors. Spacious bathrooms with a separate vanity, and a lounge separate from the bedroom with a dining area and TV. Kitchenette with mini bar refrigerator. Rooms with natural light.