Located near Plaza Periférico, one of the largest plazas in the city, and very close to the northern industrial park, in an area of high industrial and commercial activity. Situated a few minutes from the border town of McAllen, Texas, where you can visit the many shopping centers it has to offer.

We remind you that the check-in time is from 3:00 PM. Check-out is at 11:00 AM. We suggest you use our express check-out service.

Services
The hotel has 127 rooms, a restaurant, a lobby bar open from 5:00 p.m. to 12:00 a.m., outdoor swimming pool, gift shop and fitness center. Hotel services include:
Indoor parking
Handicapped access
Business center
Free Wi-Fi access
Gym
Restaurant(s)
Guests access with guide dogs
Laundry service
24 hours room service
Pets are not allowed
Bar(s)
Outdoor pool
Restaurant

Restaurant
The Fiesta Inn features a restaurant which opens from 6:00 a.m. until 11:00 p.m. and is an excellent choice for breakfast, lunch and dinner. Choose from buffet or menu dishes, in a setting filled with natural light and beautiful views of the gardens.
Meeting Rooms

Event and meeting rooms
The hotel has a Business Center with computers and high speed wireless Internet, it also has 2 meeting rooms with a screen, air conditioning and capacity for 8 people.
It also features meeting rooms that can be adapted to host for up to 200 people in an auditorium; each room has a board, electric screen, flip charts, coffee service and personalized service. Our professional team will help with your groups and conventions.
Qualified:
x
Location #3 of 13 hotels in Reynosa
GreenLeader Silver
Summary of qualifications
Best comments
"Excellent service!"
The hotel staff was extremely courteous and understanding! When we ordered room service, the food was very delicious and delivered in a timely manner. We had a total of 3 rooms and we were all very close to each other, which was very convenient for us.
"One dissapointemet, from begining to end"
Time has come for the first negative review Apon arrival and check in, the prices are not as the unit adverizes on several speciality sites, such a Booking.com. but, ok.... we do understand that sometimes there are some delays in the updating of these sites. The room was simply not cleaned out after the previous guestes, beds was done fresh and all, but garbage bins still with bottles and other garbage, hallways were dirty.... To end the one night experience, I was charged for breakfast........ this was the tip of the iceberg.... one hotel i will never visit again....... The only posive note is the atitude of the people in the restaurant, friendly and helpfull. Thanks to those ......
"Good place to stay"
Nice place to stay, the only disvantaje is that was full of police officer and that is not good in a place like Reynosa, because the violence that remains in that city. The room where clean, the staff is friendly and the food is very good
"Service Matress"
I do not remember if I had reviewed this location, but if I did i would like to do it again, this hotel brand keep the level of service in all several of its location Fiesta Inn is not an exception, the hotel is not very big neither the rooms but they have all you need, ill start with the frontdesk crew they are very atentive and try to solve all your request, the next thing is the room , clean, and everything was working well, my only complaint is the matress they seem quite old and you can even feel the springs; the best thing is the food , yes they a very decent menu, they have room service, and the breakfast buffet is soo good excellent combination of healthy options and mexican delicatesses.
"Great Location"
Since I had such great experience in the past with verious Fiesta locations in Mexico I decided to visit the Reynosa location. I was very pleased with the staff and room. The location was easy to get around the town from and the hotel offers a local taxi service-very friendly and secure. My few days in Reynosa were uneventful and I enjoyed my entire trip. If I could have changed something would have been to have a heated pool available since during my visit the water was to cold to enjoy! Otherwise no complaints. I used the local taxi service and negotiated great prices with the drivers. Used the local bus terminal to get to and from McAllen to Reynosa-only $4.00 each way.
Top-rated Attractions Nearby
Parque Cultural Reynosa
Yin Beauty, Health and Relax
Parroquia de Nuestra Senora de Guadalupe
Tembleque Gitano
Photos hotel and surroundings (24)
Rooms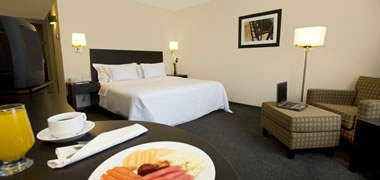 Superior Room, 1 king
The room is 30 m2 with a king-size bed, 2 bedside tables, 29" TV, reading chair and spacious work desk, telephone, bathroom with tub, shower and toilet.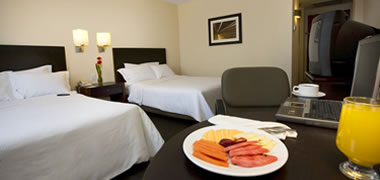 Superior Room, 2 double
Equipped with 2 double beds, 29" TV, spacious work desk, telephone, bathroom with tub, shower and toilet.
Junior Suite King
Executive rooms with a work desk, individually controlled air-conditioning, wireless Internet and smoke detectors. Spacious bathrooms with a separate vanity, and a lounge separate from the bedroom with a dining area and TV. Kitchenette with mini bar refrigerator. Rooms with natural light.