Fiesta Inn continues to evolve, transform, and innovate its Business Class hotel concept. With a fresh image and new facilities, Fiesta Inn Saltillo is designed to encourage creativity and productivity, where getting down to business is a pleasure. It is more than a hotel, it¿s a team dedicated to your success.
The hotel is located just 10 minutes from the Saltillo International Airport near important business parks, including the Ramos Arizpe industrial district, as well as major attractions of the city.
The hotel offers 149 comfortable rooms and features the 360° Lounge, B-On business center, La Isla restaurant, and a convenience store. There is also 24-hour room service, high-speed Internet access, dry cleaning services, parking, a pool and a fitness center.
Please note that check-in begins at 3pm, subject to availability. Check-out is at noon. Express check-out is recommended.
Services
The hotel has 149 rooms, a restaurant, a lobby bar open from 1:00 p.m. to 11:00 p.m., outdoor swimming pool and fitness center. Hotel services include:
Shuttle service with cost
Handicapped access
Gym
Restaurant(s)
100% smoke free hotel
Guests access with guide dogs
Pets are not allowed
Free Wi-Fi access
Business center
Laundry service
Fiesta Kids club
Bar(s)
24 hours room service
Icono Indoor Parking
Outdoor pool
Restaurant

Restaurant
Savor the best of international and regional cuisine from the menu or a la carte. Get a fast start to your day with our breakfast buffet, and for your main meal, enjoy the region¿s fine cuts of beef: rib-eye, T-bone, or skirt steak grilled table-side, plus appetizers, wine, and drinks mixed for you at your table.
Recharge 24 hours a day with La Isla. Grab a delicious snack from the Grab and Go or enjoy the breakfast buffet, the restaurant, or our 24-hour room service.
Meeting Rooms

Event and meeting rooms
B-On: Work, have fun, and connect at B-On in our Lounge 360º business center. We also offer 2 private offices with real-time video-conferencing capabilities.
Group and Event Facilities: Make your event memorable at Fiesta Inn Saltillo. We have business rooms equipped with high-speed Internet, projector screen, white board, flip chart, and telephone line. We also have 4 comfortable event rooms perfect for hosting exhibitions or meetings for up to 200 people.
Qualified:
x
Location #5 of 28 hotels in Saltillo
GreenLeader Gold
Summary of qualifications
Best comments
"Excellent"
Highly recommended. The rooms were comfortable and the staff was very helpful. The front desk attendant was able to recommend a good restaurant for us and help me get a cab to run an errand. The bar / restaurant inside was nice and relaxing.
"Clean and great service"
Service was great, staff was very friendly. I particularly liked that they had free beer for happy hour. The room was clean and nice. Breakfast was tasty and they had a lot of options, however more options for vegetarians would be appreciated.
"Ok hotel for business trip in Saltillo/Ramos Arizpe"
It is an ok hotel for business trips in the Saltillo/Ramos Arizpe area. Bathroom could have been cleaner. GREAT POINT: Breakfast is AWESOME! Loved it. Hotel shuttle schedule is not very well organized.
"Best breakfast in Saltillo, Menu is good too"
Hotel is average to very good for the area, but the breakfast options are excellent and the food and snack menu is also excellent, no need to leave the hotel if you do not wish too. I have stayed at another Fiesta Inn in Toluca and you definitely do not want to go out at night there so thank goodness the food is good! Nice to have fresh eggs rather than egg beaters and bagels..
"Incredible restaurant service"
Staff is generally very available to help you. I like rooms and common spaces. They are good and new, because the building was restored two years ago. Just the water smells like sulfur in the first 10 minutes you use it (I think it is a common issue in that area). The main problem in this hotel is that each single person in the staff has its own rules, especially in the restaurant. Tables preparation - so you often can't establish if the table you're going to use is occupied, free, cleaned or not, because you find tables prepared in several approximate ways. Table service - you ask for something and sometime they bring you something else (ok, it is a misunderstanding), or what you asked, but without the necessary (sugar, cutlery...); They pay no attention to what customers (even just 2 or 3 persons) are doing. Maybe not focused, so two different persons can bring you the same thing two times!! But the most irritating aspect is that the restaurant staff is obsessed by your dirty dishes! Esample: during breakfast, don't stand up to get something else from the buffet, because they will steal everything from your table, included what you're still eating, even if you leave something like your personal phone on the table, as to say that you will return to finish!! I think maybe they should work on a corporate way of service, or sonething similar.
Top-rated Attractions Nearby
Museo del Desierto
Catedral de Santiago de Saltillo
Museo de las Aves
Alameda Zaragoza
Centro Cultural Casa Purcell
Museo del Sarape y Trajes Mexicanos
Museo de la Revolucion Mexicana
Museo de la Cultura Taurina
Museo del Palacio de Gobierno
El Sarape de Saltillo
Photos hotel and surroundings (55)
Rooms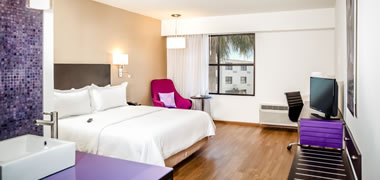 Executive Room, 1 King
Come feel the warmth and inspiration of this room, which is guaranteed to make your stay a productive one. Amenities include a king bed, 32¿ TV, telephone, work desk, high-speed Internet, air conditioning, security safe, ironing kit and everything else necessary to enjoy your stay.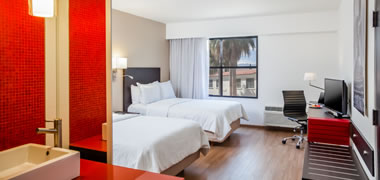 Executive Room, 2 Double
Experience a successful and enjoyable stay in this comfortable room. It features 2 double beds, 32¿ TV, telephone, work desk, high-speed Internet, air conditioning, security safe, ironing kit and everything else you need for a productive stay.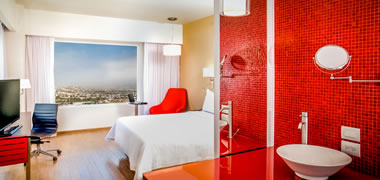 Junior Suite King
If you desire more space and comfort, come see what this suite has for you. The Junior Suite is equipped with a king bed, 32¿ TV, telephone, work desk, high-speed Internet, security safe, ironing kit, minibar, and microwave.