Fiesta Inn
San Luis Potosí Glorieta Juárez
Fiesta Inn San Luis Potosí Glorieta Juárez
Please be advised that until March 2017, we will be working in the Lobby refurbishment to create a better experience for our guests. The service will be provide normally during this process. We apologize in advance for any inconvenience that this may cause.
Located at the Juárez exit, only 10 minutes from the historic center and the industrial corridor where Parque Tres Naciones, Parque Milenium and the Ciudad Industrial are located. Situated fifteen minutes from the airport and within easy access to attractions including the Plaza El Dorado, Plaza Tangamanga and Parque Tangamanga.

Fiesta Inn San Luis Potosi Glorieta Juarez is an Eco-friendly hotel, so it is a 100% smoke free hotel.

We remind you that the check-in time is from 3:00 PM. Check-out is at 12:00 PM. We suggest you use our express check-out service.

Services
The hotel has 135 rooms, a restaurant, a lobby bar open from 1:00 p.m. to 12:00 a.m., outdoor swimming pool, gift shop and fitness center. Hotel services include:
Shuttle service with cost
Handicapped access
Gym
Restaurant(s)
100% smoke free hotel
Guests access with guide dogs
Pets are not allowed
Free Wi-Fi access
Business center
No smoking rooms
Laundry service
Fiesta Kids club
Bar(s)
24 hours room service
Icono Indoor Parking
Outdoor pool
Restaurant

Restaurant
The Fiesta Inn features a restaurant which opens from 6:00 a.m. until 11:00 p.m. and is an excellent choice for breakfast, lunch and dinner. Enjoy our buffet specialties from Monday to Friday, such as steaks, pasta, sandwiches, tacos and Mexican appetizers.
Meeting Rooms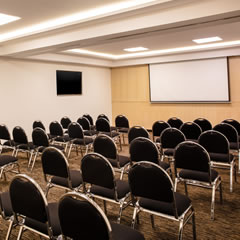 Event and meeting rooms
The hotel has a Business Center with computers and high speed wireless Internet, it also has 2 meeting rooms with a screen, air conditioning and capacity for 8 people.
It also features meeting rooms that can be adapted to host for up to 320 people in an auditorium; each room has a board, electric screen, flip charts, coffee service and personalized service. Our professional team will help with your groups and conventions.
Qualified:
x
Fiesta Inn San Luis Potosi Glorieta Juarez
Location #5 of 42 hotels in San Luis Potosi
GreenLeader Silver
Summary of qualifications
Best comments
"Ordinary"
A large hotel directly adjacent to the major intersection south of the city, this facility is ideally located to reach the industrial zone. The check-in was a little difficult as the trainee on duty spoke no English. There was no offer of a porter and no indication from the front desk how far my room was from reception (far!). Once at the room, I found the bed comfortable, and the furniture somewhat tired and the bath not altogether clean. It did not look like the cleaners had look under the rim of the toilet for a good long time. Breakfast were plentiful, and if on enjoys Mexican breakfast, good. However, there was not all that much for western tastes. The lobby and bar were being redone during my visit, so there was no place to go for a drink in the evening, except for ordering room service Check out was a disaster.
"WELL DONE"
This is my third time in this Hotel and They are improving their rate service all time. This time, the room and service was improved from the second time, and the second one was better than the first one. So well done and good job. In my opinión, this Hotel is a great option to stay in SLP, for business or turism.
"FREEDOM BASQUE PRISIONERS"
Very good place, but rooms are not very good isolated. Hotel is close to the old town and not far to the industry área. According to my last travel (one year ago), the hotel has done some improvements. Good job. Keep on improving.
"Great place when in SLP on business"
I stayed at the Fiesta Inn while traveling within the region. The hotel was great overall, but the closet in my room (224) had an awful odor which subsided once I opened the window and circulated the air within the room. The breakfast buffet was great as was the workout facility. The grounds were well kept and I had a wonderful overall experience.
"Nice"
Very nice hotel with nice staff .Good situation ( no far from city center) .The restaurant quality must be improved .The ratio quality/price is a little bit excesive . The management of cool air is very complicate
Top-rated Attractions Nearby
Huasteca Potosina
Cathedral of San Luis Potosi
Parque Tangamanga
Centro de las Artes de San Luis Potosi Centenario
Museo Laberinto
Plaza de Aranzazu
National Museum of Regional Masks (Museo Nacional de la Mascara)
Plaza de San Francisco
Teatro de la Paz
Plaza del Carmen
Photos hotel and surroundings (51)
Rooms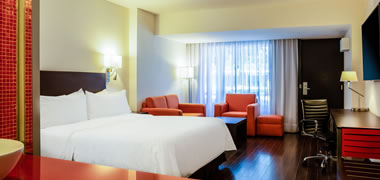 Superior Room, 1 king
The room is 30 m2 with a king-size bed, 2 bedside tables, 29" TV, reading chair and spacious work desk, telephone, bathroom with tub, shower and toilet.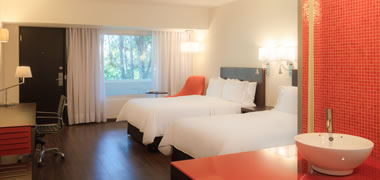 Superior Room, 2 double
Equipped with 2 double beds, 29" TV, spacious work desk, telephone, bathroom with tub, shower and toilet.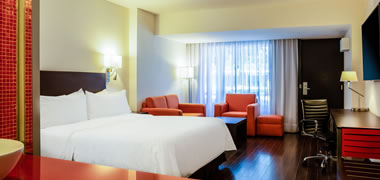 Deluxe Room, 1 king
Spacious room equipped with a king-size bed, air-conditioning, bath and shower, speakers in the bathroom, wireless Internet connection, carpet, work desk with a lamp, and cable television. Ideal for couples.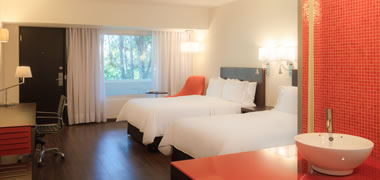 Deluxe Room, 2 double
Spacious room equipped with 2 double beds, air-conditioning, cable TV, carpet, closet, bath and shower, speakers in the bathroom, wireless Internet connection, armchair with an ottoman, and a work desk with a lamp. Perfect for relaxing after a hard day.