Fiesta Inn
San Luis Potosí Oriente
Fiesta Inn San Luis Potosí Oriente
Located in front of the Plaza Sendero shopping mall and a spot with access to various attractions in the city, Fiesta Inn San Luis Potosí Oriente is next to the main Industrial district where you can find the Tres Naciones Park and Milenium Park. The hotel is only 10 minutes from the historic center, 20 minutes from the airport and very close to Plaza San Luis, San Luis Potosí's Conventio Center, Plaza Tangamanga and Tangamanga Park.
We remind you that the check-in time is from 3:00 PM. Check-out is at 12:00 PM. We suggest you use our express check-out service.
Services
The hotel has 140 rooms, a restaurant, a lobby bar open from 1:00 p.m. to 12:00 a.m., outdoor swimming pool, gift shop and fitness center. Hotel services Include:
Handicapped access
Shuttle service with cost
Gym
Restaurant(s)
Guests access with guide dogs
Pets are not allowed
Free Wi-Fi access
Business center
Laundry service
Bar(s)
24 hours room service
Outdoor pool
Icono Outdoor parking
Restaurant

Restaurant
The Fiesta Inn features a restaurant which opens from 6:00 a.m. until 11:00 p.m. and is an excellent choice for breakfast, lunch and dinner. Choose from buffet or menu dishes, our Mexican appetizers and the finest regional cuisine.

Meeting Rooms

Event and meeting rooms
The hotel has a Business Center with computers and high speed wireless Internet, it also has 2 meeting rooms with a screen, air conditioning and capacity for 6 people.
It also features meeting rooms that can be adapted to host for up to 300 people in an auditorium; each room has a board, electric screen, flip charts, coffee service and personalized service. Our professional team will help with your groups and conventions.

Qualified:
x
Fiesta Inn San Luis Potosi Oriente
Location #10 of 45 hotels in San Luis Potosi
GreenLeader Partner
Summary of qualifications
Best comments
"Terrible experience, will never go there again"
pillows to stiff, blankets felt like cartoon boards, no hot water for a shower, internet sucks not able to open a simple web page. Front desk service did not solve efficiently my issue.... terrible, terrible, terrible, there are way much better option close by.....
"Figth for Coffee"
Need to ask 3 times for coffee in the breakfast room until some one was serving me a cup. My Colleague couldn´t make a cup to the breakfast. Even where was a lot of staff to provide cups and coffee.! This is not understandable for me and showes less service orientation from the Team there.
"The service and quality are what you expect from Fiesta Inn but the price was too high."
When you stay at a Fiesta Inn, you know what to expect. The more common dishes at dinner are acceptable, the breakfast buffet is very well laid out and the taste and quality are good for this level of hotel. Its ideal for overnight, business trips when you don´t spend much time in the hotel. You need a well equipped clean room, and acceptable food. Its not a place to spend a vacation in. I was disappointed by having to send a steak back to the kitchen twice, over cooked entirely the first time and raw the second.
"Nice place"
Really Nice service and excellent food to be a normal restaurant just in here. Service room 24hrs. Enough space to park safe. Excellent location. Isn't cheap hotel but a think is fair about what you get.
"Goo dhotel and service"
Spent six nights here recently for a five day business meeting being held at the hotel. Overall, I found this hotel to be clean and comfortable. First, a driver came to the airport and picked me up on time. Check in was quick and easy. Most of the employees spoke English well enough for me to communicate with them. My room was comfortable and clean. I had a king-size bed with a chair and a 32 inch HD TV. Unfortunately, there was only one English speaking channel, CNN. My only complaint about the room is that it was always cleaned near the end of the day. Everyday after my all day meetings, I would head back up to my room, at about 4:30 or 4:45 PM, and my room had not been made up yet. I usually left to go sit outside for some fresh air and then have dinner, and by the time I got back to my room, by about 7:30 - 8:00 PM, the room was made up. The outdoor pool was very nice looking. Although I never went into the water, I enjoyed sitting outside by the pool and relaxing after a long day. The only chairs they have are plastic lounge chairs and after a short time, they become quite uncomfortable. The hotel should provide cushions and also regular chairs, for those who did not want to sit in a lounge chair. There is a gift shop, in case you want to get a snack or something to drink. The restaurant, while not having a great ambience (it looks more like a cafeteria!), had decent food and at decent prices. I was having big lunches every day so on Tuesday night, I decided to have a fruit salad. Big mistake! I don't know if it's the way the fruit and salad was washed, but I got sick. Wasn't too bad but enough to make me feel uncomfortable. Checkout was fine and the hotel van drove me to the airport. That was a huge convenience, being picked up and driven back to the airport.
Top-rated Attractions Nearby
Cathedral of San Luis Potosi
Parque Tangamanga
Centro de las Artes de San Luis Potosi Centenario
Museo Laberinto
Plaza de Aranzazu
National Museum of Regional Masks (Museo Nacional de la Mascara)
Plaza de San Francisco
Cascada de Tamul
Plaza del Carmen
Teatro de la Paz
Photos hotel and surroundings (57)
Rooms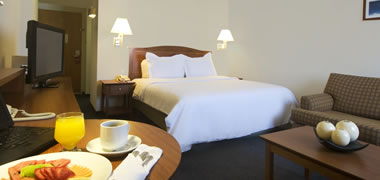 Superior Room, 1 king
The room is 30 m2 with a king-size bed, 2 bedside tables, 29" TV, reading chair and spacious work desk, telephone, bathroom with tub, shower and toilet.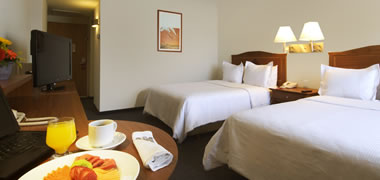 Superior Room, 2 double
Equipped with 2 double beds, 29" TV, spacious work desk, telephone, bathroom with tub, shower and toilet.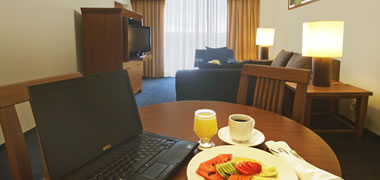 Junior Suite
Spacious and comfortable suite with a separate living room and bedroom with 2 TVs and a work desk. Offering a hair dryer, sofa bed, coffee maker, Internet access, iron, radio alarm clock, safe and toiletries.