Located in the new financial district in the country and also where the largest international firms are located, one block from Expo Bancomer Santa Fe and 5 minutes from the largest shopping center in Latin America: Santa Fe Shopping Center. Situated five km from the highway to Toluca and 1:30 minutes from the Mexico City Airport.

We remind you that the check-in time is from 3:00 PM. Check-out is at 1:00 PM. We suggest you use our express check-out service.

Services
The hotel has 189 rooms, a restaurant, a lobby bar open from 4:00 p.m. until 11:00 p.m., a gift shop and fitness center. Hotel services include:
Handicapped access
Shuttle service with cost
Gym
Restaurant(s)
Guests access with guide dogs
Pets are not allowed
Indoor parking
Free Wi-Fi access
Business center
Laundry service
Fiesta Kids club
Bar(s)
24 hours room service
Restaurant

Restaurant
The Fiesta Inn features a restaurant which opens from 6:30 a.m. until 11:00 p.m. and is an excellent choice for breakfast, lunch and dinner. Choose from buffet or menu dishes, our Mexican appetizers and the finest regional cuisine in a setting designed with contemporary style.
Meeting Rooms

Event and meeting rooms
The hotel has a Business Center with computers and high speed wireless Internet, it also has 2 meeting rooms with a screen, air conditioning and capacity for up to 6 people.

Furthermore, as part of the complex adjoined to the Fiesta Americana Santa Fe, the meeting rooms there are available for use. Our professional team will help with your groups and conventions.
Qualified:
x
Fiesta Inn Santa Fe Hotel
Location #59 of 304 hotels in Mexico City
GreenLeader Gold
Certificate of Excellence 2016
Summary of qualifications
Best comments
"Great service"
The staff of Fiesta Inn is very friendly, they helped me when I have some issues with the bathroom. The breakfast was not included, but is not expensive (is not easy to find a place to eat near the hotel) only a small mall in the Hilton Hotel. There you can find Chili's, Starbucks and some fast food chains
"Deceitful Rating"
This hotel is supposed to be a 4 star hotel. It is clearly a 2.5 - 3 star hotel at best. The rooms are stripped the barest of amenities. No bathrobe, no slippers, only one washcloth, extremly hard as a rock bed, uncomforatable pillows, no mini bar, the walls are paper thin. Everything that you would normally find in a 4 star property it is lacking. My colleauge and I went down to the restaurant for lunch and we were told to go elsewhere or to thier sister hotel as it was closed for a private event. This also happened at the bar the following day.
"It was just "ok" for the price tag"
It' was an ok experience.... Overall clean room, but when my phone charger fell bellow one of the beds in the room, I found some trash there. and there was the detail that i had a reservation for a room with one king size bed, and got a double room for the same price. The Caffe staff questioned me if I had payed for the room service almost to the point of not wanting to emit the corresponding invoice - Although the food was good and the waiters service was excellent.
"Careful with this hotel... Be warned it's like a horror movie!"
I stay every year 100+ nights in hotels around the world for work and boy has this been probably the worst experience of a lifetime! So I checked in 3.5hrs ago and the terrifying experience so far has been as follows: 9:30 Check in - ok, no problems. 10:00 I settle in my room to discover that "broadband" internet access is one of the slowest I've used in hotels and that the heat is not working. Since it's one of the coldest and windiest nights in Mexico city I ask them to fix. 10:15 - 11:00pm Maintenance guy tries to fix for almost 1 hour and leaves saying the room should heat up in 1 hour. 11:00 - 11:50pm I wait having room service dinner (for which they got the order wrong) and hearing all the room walls and ceiling loudly squeaking as if I were sailing in a wooden boat in the middle of a storm. Meanwhile instead of heating the room gets extremely cold because it's a corner room, so I'm basically in a glass box that DOESNT EVEN HAVE DOUBLE WINDOWS for isolation! 11:50pm - 1:00am I request a portable heater and they happily agree over the phone. It doesn't come so I call again. They say the guy already has it and "is on his way". Wait another 20mins and figure out I can walk much faster to the reception than this imaginary guy to my room... So I explain to reception manager and he asks the bellboy to bring up a heater, who explains why he CAN'T get one from the staff who have them to bring it up. So manager nervously offers to get himself the one security people have in their office and bring it to my room. 20 mins later (while I typed this review). Maintenance guy finally comes (smelling like he hasn't showered in weeks and leaving that smell in my room) and leaves an old half broken portable heater. Time to try to get some rest on the hard pillows while hearing all the horrible loud sounds around the room (honest to God they sound like in the Titanic movie when it was starting to sink).
"Just Clean"
The only saving grace this place has is that the rooms are very clean. I arrived late at night and was assigned a stench filled smoking room. Immediately I called the front desk and was told to hold on inside the smokey alcobe and that a bell boy would be there shortly. After 15 minutes nobody arrive. Mexico City is a polluted environment. Imagine sitting in a smoke polluted room within that environment. I finally darted down on the elevator and the attendant said: "Please wait" and shortly thereafter handed me the key to a new "non smoking" room. STRIKE ONE! The next day I sat down for breakfast. The food was not bad. The coffee was horrendous. It was undrinkable. STRIKE TWO! I ran for cover to find a cup of drinkable coffee nearby. Luckily the Samara Shopping Mall is a few blocks downhill and there I found an American coffee place that I could drink. I took out the "do not disturb" sign expecting my room to be cleaned after my coffee finding trip. I arrived an hour and a half later and the room had not been cleaned. (the room is no frills, of a good size and very clean and functional with a large desk, many plugs and good lighting, safe deposit box and a good size closet for a business trip). Later that day disaster struck. A wave of noisy school girls (hundreds of them) took over the hotel. All other guests were set aside. The place became so noisy and disorderly, like a cage full of parrakeets. I complained and the front desk staff simply said "sorry" but did absolutely nothing. The school girls now owned the place. It was a disaster. STRIKE THREE!!!! Late that night I called the operator not less than four times because the school girls had taken over the hall, running around, hosting a picnic, yelling, etc. I asked to talk to a manager. Not a single manager took my call. The operator kept saying she would send hotel security which she did twice. After about an hour and four calls finally the noise subsided or perhaps the school girls got tired and went to sleep. YOU'RE OUT!!!! The next morning I checked out and let everyone know I was not happy. There wasn't a single apology. I should have refused to pay. I was taken for a ride, a rocky one and nobody at the Fiesta Inn seemed to care. What a pity! I guess because of the school girls, this budget business hotel charged me a premium for those two horrible days I had to spend there. If it was my hotel, I would have apologized and refunded the money. That however is probably not on the manual. Sparkling clean and well maintained facilities in a good location are not everything. Hospitality is about much more than that.
Top-rated Attractions Nearby
National Museum of Anthropology (Museo Nacional de Antropologia)
Palacio de Bellas Artes
Chapultepec Castle
Coyoacan
Eat Mexico Culinary Tours
Murales de Diego Rivera en la Secretaria de Educacion Publica
Journeys Beyond the Surface Popular Culture Tours
Basilica de Santa Maria de Guadalupe
Paseo de la Reforma
Frida Kahlo Museum
Photos hotel and surroundings (26)
Rooms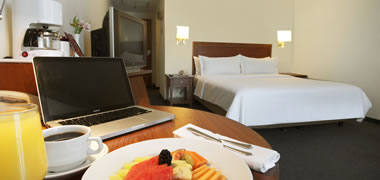 Superior Room, 1 king
The room is 30 m2 with a king-size bed, 2 bedside tables, 29" TV, reading chair and spacious work desk, telephone, bathroom with tub, shower and toilet.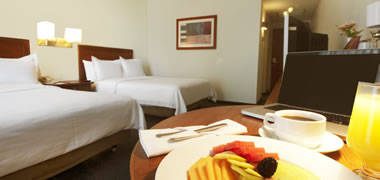 Superior Room, 2 double
Equipped with 2 double beds, 29" TV, spacious work desk, telephone, bathroom with tub, shower and toilet.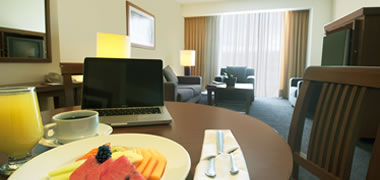 Junior Suite King
This spacious room consists of a fully-furnished bedroom with telephone and TV and a room with a modern dining area with a microwave, coffee maker, a small refrigerator and a comfortable living room with a sofa bed, side tables, a telephone and a 27" television.