Located in one of the most attractive areas, in Tampico's "Zona Dorada" or Golden Zone, opposite the El Chairel lagoon and on the city's main avenue, the hotel is within easy reach of the historic center, Playa Miramar, the Metropolitan Theater and the Los Tres Arcos shopping center. Situated only 3 minutes from the airport.

We remind you that the check-in time is from 3:00 PM. Check-out is at 12:00 PM. We suggest you use our express check-out service.

Services
The hotel has 124 rooms, a restaurant, a lobby bar open from 5:00 p.m. to 11:00 p.m., outdoor swimming pool, gift shop and fitness center. Hotel services include:
Handicapped access
Gym
Restaurant(s)
Guests access with guide dogs
Shuttle service (subject to availability)
Pets are not allowed
Free Wi-Fi access
Business center
Laundry service
Bar(s)
24 hours room service
Icono Indoor Parking
Outdoor pool
Restaurant

Restaurant
The Fiesta Inn features a restaurant which opens from 6:00 a.m. until 11:00 p.m. and is an excellent choice for breakfast, lunch and dinner. Enjoy a welcoming atmosphere and a large variety of national and international food while appreciating the fantastic view of the lagoon.
Meeting Rooms

Event and meeting rooms
The hotel has a Business Center with computers and high speed wireless Internet, it also has 2 meeting rooms with a screen, air conditioning and capacity for 6 people.
It also features meeting rooms that can be adapted to host for up to 180 people in an auditorium; each room has a board, electric screen, flip charts, coffee service and personalized service. Our professional team will help with your groups and conventions.


Qualified:
x
Location #3 of 29 hotels in Tampico
GreenLeader Silver
Summary of qualifications
Best comments
"Hotel quality"
Hotel is average. AC in the room was at fixed temperature of 25c. Paint on ceiling was peeling in bathroom. Hallways and elevators have no AC making the air stale and stagnant. I only stay there because it close to the office. Rooms are not well kept. There is not place to plug your phone or laptop in.
"fiesta inn visit"
Good Hotel with kind staff, nice garden, clean room and acceessibilty to different area of town. Enjoy more by drinking the best beer the world in garden with the perfect view of nature. Breakfast is complet and every day you can find new traditional food to eat.
"A hotel that knows nothing about Customer Service"
Removed me from the room due to investation of bees instead of killing them, moved me to another room with bees, moved me to another room downgrade, and only offered me a burger and fries. Hardly anyone on staff speaks english, so communication is very hard, carpest in hall way are fithy and extremely hot. No AC in hall, you start sweating imediatly. Still changed me for the JR Suite but yet they kill the bees put some of there own in there that same night.
"Very attentive staff"
I stayed at this hotel for 2 weeks while working in the area. The staff was very attentive and nice. The room was clean and cool although the hallway getting to the room was hot. The bed was comfortable. The breakfast buffet is fantastic! I had to catch a shuttle to my workplace the same time it opened so they allowed me to go in and eat even though they were not open yet. The food in the restaurant and room service was very good. My room had a nice view overlooking a lake. Again, the staff was extremely accommodating and friendly. I would definitely stay there again.
"Just OK, Lovely staff and good food, rooms so-so."
To start, the hotel offers transportation to/from the airport which is always convenient. The ride to the Fiesta is short. Check-in is pretty fast if you have a reservation, although it was very full at the time I visited. This is my second stay, the first one was several days ago. I am in a different room. I have tried the restaurant as well. There were no check-in problems so I went to my room on the 5th floor. The elevators are small and you can fit two people and luggage OK but 3 or 4 people with luggage would fit only with uncomfortable intimacy. I did not see any luggage carts available, there are two elevators. You need to use your room card to access the elevators, I suppose the hotel views it as some sort of security but any card operates any of the floors -some security. It also delays you as the card only works in its slot one way. Although the hotel is non-smoking now, as non-smokers know well it is difficult to expunge the stench completely and there was a faint smell of cigarette in the hallway, trapped in the carpet or wallpaper or seeping from one or more of the rooms. The rooms are ample (I've seen two with king beds) and the beds aer comfortable with serviceable and attractive linen. The furniture is plain but functional. Do not look for any ergonomic features or comfort in the desk or chair, but you'll be able to do brief work or some computer use before the lack of adjustments start affecting your comfort and musculo-skeletal health. The rooms have a few detrimental design features: 1. The bathroom is small and the door blocks access to the commode unless you maneuver awkwardly around it; and 2) the dresser serves as the TV stand and is placed at 90 degrees from the natural view from the bed, even though the room size would permit the bed to be placed naturally toward the TV. You are therefore forced to twist your neck in a very uncomfortable posture to view the TV. Not smart! The first night (room) I spent here, five nights ago, the A/C was off upon arrival and the room was muggy, the A/C controls had some sort of digital contraption attached above the original controls, which were not intuitively easy to adjust or turn on the colling, but eventually trial and error was successful in turning the cooling on. The second room was operable with the original controls, but it was also turned off upon arrival, and the room had a slight moldy smell before turning the air on. Cleanliness of the rooms is acceptable. The carpets within the rooms are free of tears and noticeable stains although there is noticeable faded areas and slight discolorations. It was hard to find a hair, but I did find one in the bathroom floor to the side of the toilet. There is an electronic safe located in the closet but it was high up, could be uncomfortable for shorter people and you cannot really see what's in it as it is overhead. I did not attempt to operate it. I have had two dinners at the restaurant. As has been said elsewhere the staff is very attentive and friendly. The food was very good at the restaurant. One glitch was two items ordered from the menu were not available and the waiter did not know. A replacement dessert was provided free of charge, unsolicited, which was a nice gesture. The waitress during my second dinner offered helpful advise regarding city activities, again unsolicited, which was appreciated. The restaurant is really big and every time I saw it it was empty. The tables and chairs are not uncomfortable, and the staff wears professional attire. One side of the restaurant faces a lagoon and is visible from that end. Another notable point is that this hotel WILL NOT ACCEPT U.S. dollars, and claims to be prohibited from doing so by regulation. It claims to be designated as a "business" and not a "tourism" hotel and thus not allowed to accept U.S. currency. I was separately advised that the local economy likewise would not accept U.S. currency due to concerns with money laundering? If that is true, it would be a major factor for tourists coming to this hotel, this city, or Mexico. The internet is serviceable, if not fast. Whats App voice calls were difficult to maintain, while Skype calls were slightly better voice quality. The hotels are equipped with a typical hotel phone, but it requires a deposit to use it. Pesos or credit card only as U.S. currency not accepted! There is no ATM at the hotel but there are a number of banks nearby including 24 hr ATMs. The hotel has a small car rental office, but I did not try its services. I also did not use the pool. The hotel has smoke detectors and sprinklers in the rooms but it is not known if there are operable or whether the hotel conducts any drills. It's safer to stay in lower floors to ensure safe evacuation and reach by local fire department ladder trucks, specially for elder, infirm or lazy guests. There is a fitness room with a few machines 6 or 7, and does not require a key. It has no TV. In summary: This is a serviceable hotel which provides a decent night sleep, quiet and comfortable, and should be OK to spend a few nights, up to a week. After that, if you need to work at the desk or enjoy to watch many hours of TV in your bed, your neck and your back will make you wish you had stayed elsewhere! The staff is wonderful, and the food is good and reasonable. Tip is not included and for restaurant is 10-15%. Many things are nearby. I've been drinking the water for 5 days with no detectable ill-effects. I've never worried about that ! Vaya con Dios!
Top-rated Attractions Nearby
Laguna del Carpintero
Las Escolleras
Antigua Aduana MarItima
Catedral de la Inmaculada Concepcion
Altama City Center
Canal de la Cortadura
Suenos Humedos- Boat Day Tours
Escape Rooms Mexico Tampico
Centro Comercial 3 Arcos
Cinepolis MacroXE Tampico
Photos hotel and surroundings (44)
Rooms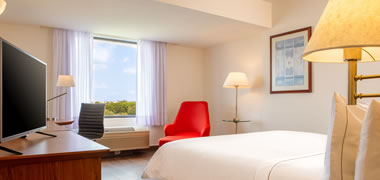 Superior Room, 1 king
The room is 30 m2 with a king-size bed, 2 bedside tables, 29" TV, reading chair and spacious work desk, telephone, bathroom with tub.

Superior Room, 2 double
Equipped with 2 double beds, 29" TV, spacious work desk, telephone, bathroom with tub.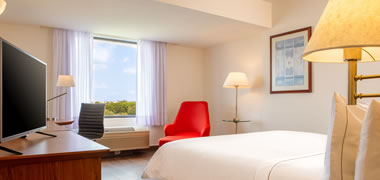 Superior Room, Lagoon View, 1 King
The room is 30 m2 with a king-size bed, 2 bedside tables, 29" TV, reading chair and spacious work desk, telephone, bathroom with tub. It features a spectacular view to the lagoon of the Chairel.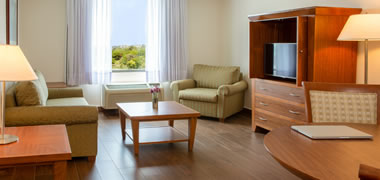 Junior Suite King
Luxury suite with a beautiful view of the city, excellent lighting and modern decoration; consisting of a bedroom and a living room. Equipped with king-size beds, a work desk and a small living room, a kitchenette with a microwave, 2 telephones, Internet connection, voicemail and wake-up calls; air-conditioning, coffee maker, 2 televisions, hair dryer, shower and bathtub in the bathroom. Personal care amenities are also provided.