Located in one of the most attractive areas, in Tampico's "Zona Dorada" or Golden Zone, opposite the El Chairel lagoon and on the city's main avenue, the hotel is within easy reach of the historic center, Playa Miramar, the Metropolitan Theater and the Los Tres Arcos shopping center. Situated only 3 minutes from the airport.

We remind you that the check-in time is from 3:00 PM. Check-out is at 12:00 PM. We suggest you use our express check-out service.

Services
The hotel has 124 rooms, a restaurant, a lobby bar open from 5:00 p.m. to 11:00 p.m., outdoor swimming pool, gift shop and fitness center. Hotel services include:
Handicapped access
Gym
Restaurant(s)
Guests access with guide dogs
Shuttle service (subject to availability)
Pets are not allowed
Free Wi-Fi access
Business center
Laundry service
Bar(s)
24 hours room service
Icono Indoor Parking
Outdoor pool
Restaurant

Restaurant
The Fiesta Inn features a restaurant which opens from 6:00 a.m. until 11:00 p.m. and is an excellent choice for breakfast, lunch and dinner. Enjoy a welcoming atmosphere and a large variety of national and international food while appreciating the fantastic view of the lagoon.
Meeting Rooms

Event and meeting rooms
The hotel has a Business Center with computers and high speed wireless Internet, it also has 2 meeting rooms with a screen, air conditioning and capacity for 6 people.
It also features meeting rooms that can be adapted to host for up to 180 people in an auditorium; each room has a board, electric screen, flip charts, coffee service and personalized service. Our professional team will help with your groups and conventions.


Qualified:
x
Location #3 of 29 hotels in Tampico
GreenLeader Silver
Summary of qualifications
Best comments
"Amazing Buffet Breakfast"
Staff are friendy and helpful. English language was not a problem. Taxi and car hire available from a kiosk in the hotel looby. The lake view is special, especially at sunset. Rooms are spacious and comfortable. AC can be a little noisy however, the hotel location at the waterside and cool breeze allows for the AC to be switched off at night. Room and closet is a bit dated but nice and clean. The bed is just right, slightly firm but very comfortable. Ice machine in the corridor. The buffet breakfast is trully amazing. A hotel that makes you feel at home.
"Disgusting awful hotel"
My girlfriend was sexually harassed by a staff member at this location of fiesta inn in Tampico. He followers her from the restaurant where he works and was suppose to stay up the elevator and waited till she was in our room when I was in the pool. He then knocked on the door and when she opened it he forced his way in closed the door behind him. He grabbed her arm and stated talking to her Spanish about how beautiful she way. She had to run out to escape and come find me. She was obviously terrified. The management did nothing! We r so offended and disgusted with this company. Do not support this hotel chain or stay there. The employees name who sexually harassed and tried to sexually assault my girlfriend in Tampico was Miguel Angel
"Hotel quality"
Hotel is average. AC in the room was at fixed temperature of 25c. Paint on ceiling was peeling in bathroom. Hallways and elevators have no AC making the air stale and stagnant. I only stay there because it close to the office. Rooms are not well kept. There is not place to plug your phone or laptop in.
"fiesta inn visit"
Good Hotel with kind staff, nice garden, clean room and acceessibilty to different area of town. Enjoy more by drinking the best beer the world in garden with the perfect view of nature. Breakfast is complet and every day you can find new traditional food to eat.
"A hotel that knows nothing about Customer Service"
Removed me from the room due to investation of bees instead of killing them, moved me to another room with bees, moved me to another room downgrade, and only offered me a burger and fries. Hardly anyone on staff speaks english, so communication is very hard, carpest in hall way are fithy and extremely hot. No AC in hall, you start sweating imediatly. Still changed me for the JR Suite but yet they kill the bees put some of there own in there that same night.
Top-rated Attractions Nearby
Las Escolleras
Laguna del Carpintero
Antigua Aduana MarItima
Catedral de la Inmaculada Concepcion
Altama City Center
Canal de la Cortadura
Suenos Humedos- Boat Day Tours
Escape Rooms Mexico Tampico
Centro Comercial 3 Arcos
Cinepolis MacroXE Tampico
Photos hotel and surroundings (50)
Rooms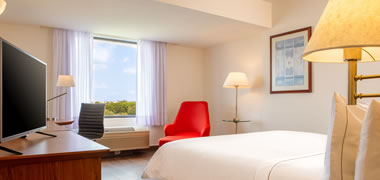 Superior Room, 1 king
The room is 30 m2 with a king-size bed, 2 bedside tables, 29" TV, reading chair and spacious work desk, telephone, bathroom with tub.

Superior Room, 2 double
Equipped with 2 double beds, 29" TV, spacious work desk, telephone, bathroom with tub.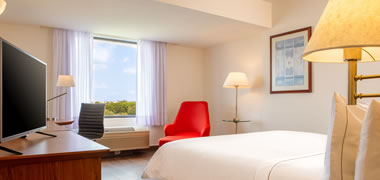 Superior Room, Lagoon View, 1 King
The room is 30 m2 with a king-size bed, 2 bedside tables, 29" TV, reading chair and spacious work desk, telephone, bathroom with tub. It features a spectacular view to the lagoon of the Chairel.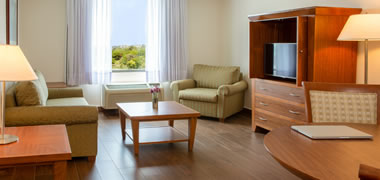 Junior Suite King
Luxury suite with a beautiful view of the city, excellent lighting and modern decoration; consisting of a bedroom and a living room. Equipped with king-size beds, a work desk and a small living room, a kitchenette with a microwave, 2 telephones, Internet connection, voicemail and wake-up calls; air-conditioning, coffee maker, 2 televisions, hair dryer, shower and bathtub in the bathroom. Personal care amenities are also provided.