Fiesta Inn
Tijuana Otay Aeropuerto
Fiesta Inn Tijuana Otay Aeropuerto
Located next to the American Consulate, 5 minutes from the bus station, providing easy access to the Tijuana Cultural Center, Parque Morelos and Parque de la Amistad.  Situated only 8 minutes from the airport and very close to the United States border checkpoint (Garita Otay).

Fiesta Inn Tijuana Otay Aeropuerto is an Eco-friendly hotel, so it is a 100% smoke free hotel.

We remind you that the check-in time is from 3:00 PM. Check-out is at 12:00 PM. We suggest you use our express check-out service.

Services
The hotel has 142 rooms, a restaurant, a lobby bar open from 12:00 p.m. to 11:00 p.m., outdoor swimming pool, tobacco shop and fitness center. Hotel services include:
Indoor parking
Handicapped access
Business center
Free Wi-Fi access
Gym
Restaurant(s)
Guests access with guide dogs
Laundry service
24 hours room service
Pets are not allowed
Bar(s)
Outdoor pool
Restaurant

Restaurant
The Fiesta Inn features a restaurant which opens from 6:00 a.m. until 11:00 p.m. and is an excellent choice for breakfast, lunch and dinner. Choose from buffet or menu dishes, our Mexican appetizers and the finest regional cuisine.

Meeting Rooms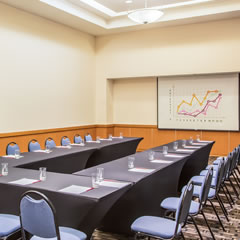 Event and meeting rooms
The hotel has a Business Center with computers and high speed wireless Internet, it also has 2 meeting rooms with air conditioning and capacity for 6 people.
It also features meeting rooms that can be adapted to host for up to 180 people in an auditorium; each room has a board, electric screen, flip charts, coffee service and personalized service. Our professional team will help with your groups and conventions.
Qualified:
x
Location #3 of 45 hotels in Tijuana
GreenLeader Gold
Certificate of Excellence 2015
Summary of qualifications
Best comments
"Value for money"
Most of the staff speaks English, in case you don't speak Spanish. Its located out side the city and near to airport. So every time you have go to some place its at least 10 km far. Hotel taxis charge from 200-300 pesos per hour. I asked for English speaking driver, and I got him in a 5 min. Rooms are spacious and internet speed is great. Also got free swimming pool.
"excelente hotel"
en muy buena hubicacion, muy tranguilo, no se hoye ruido es muy seguro el hotel el check in fue muy rapido el personal muy amable muy antentos al cliente excellent hotel to stay , you don't really hear any noise in your rooms . I love it there cause I could sleep in and check out time is at 1pm
"Over night stay after flight from Puerto Vallarta"
We stayed here 1 night, arriving about 10:30pm, easy check in. We had a King size room, very nice, the bed was comfortable. The room was clean and had a coffee pot in the room. They also offer 24 hour a day room service. We had the breakfast buffet which is not included but was very good with lots of choices. The service in the restaurant was excellent along with the hotel staff. Would definetly recommend this hotel.
"Nice, clean"
A nice hotel just across the border. Easy to find. The rooms are very clean with comfortable beds and cotton sheets. The rooms we had had 2 beds, both double size. I prefer queen, but the doubles were adequate. The bathroom is of average size with a tub/shower and toilet, separate from the sink. Adequate hot water and water pressure in the shower in the morn. One drawback here was no breakfast was included and the dining options were quite expensive, even for simple fare. There were no restaurants nearby that I could find quickly. The WiFi was fast and strong and the cable was fine (Spanish with a few English channels). They didn't love that we had a service dog and staff repeatedly asked if she had fleas or diseases, but they were tolerant and didn't balk! I have had worse experiences re: our service dog... Nicely done for 30 minutes drive out of San Diego (we were even red lighted thru the border!) and saved about $300US for the trip. Will stay here again.
"Poor service"
I stayed for just 3 nights. The restaurant wouldn't give me a receipt of my dinner, I asked for help at the frontdesk and they told me they would ask the restaurant for my receipt but did nothing about it, I had to asked for it myself. I payed for one more night because my flight was leaving at 11pm and I wanted to get some sleep before going to the airport. When I came back from work (4pm) the Maid hadn't even touched my room, so had to leave again for a while until they tidy the room, which ruined my plans of getting some sleep. At the end they couldn't send the invoice of my stay, I had to call again to find out what was going on once I was already in another city. Quite a mess... I sent my comments when I got their survey and the manager nicely contacted me to apologize, so that was the nicest thing I got from my stay. The rooms are nice though...
Top-rated Attractions Nearby
Tijuana Cultural Center (CECUT)
Turista Libre Tijuana Tours
Playas de Tijuana
Avenida Revolucion
Mercado Hildago
El Popo Market
Tijuana Walking Tour
Estadio Caliente Xoloitzcuintles de Tijuana
Universidad Autonoma de Baja California
Cinepolis Theater
Photos hotel and surroundings (18)
Rooms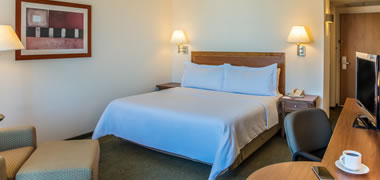 Superior Room, 1 king
The room is 30 m2 with a king-size bed, 2 bedside tables, 29" TV, reading chair and spacious work desk, telephone, bathroom with tub, shower and toilet.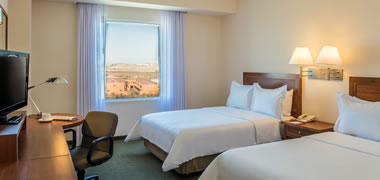 Superior Room, 2 double
Equipped with 2 double beds, 29" TV, spacious work desk, telephone, bathroom with tub, shower and toilet.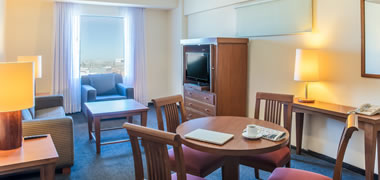 Junior Suite
A spacious, luxury room that includes a bedroom with a king-size bed, armchair with ottoman, vanity, full-length mirror, TV and work desk with a telephone, lamp and high-speed Internet connection. The living room features a small cupboard, microwave, mini bar, balcony and a beautiful panoramic view.