Fiesta Inn
Tijuana Otay Aeropuerto
Fiesta Inn Tijuana Otay Aeropuerto
Located next to the American Consulate, 5 minutes from the bus station, providing easy access to the Tijuana Cultural Center, Parque Morelos and Parque de la Amistad.  Situated only 8 minutes from the airport and very close to the United States border checkpoint (Garita Otay).

Fiesta Inn Tijuana Otay Aeropuerto is an Eco-friendly hotel, so it is a 100% smoke free hotel.

We remind you that the check-in time is from 3:00 PM. Check-out is at 12:00 PM. We suggest you use our express check-out service.

Services
The hotel has 142 rooms, a restaurant, a lobby bar open from 12:00 p.m. to 11:00 p.m., outdoor swimming pool, tobacco shop and fitness center. Hotel services include:
Indoor parking
Handicapped access
Business center
Free Wi-Fi access
Gym
Restaurant(s)
Guests access with guide dogs
Laundry service
24 hours room service
Pets are not allowed
Bar(s)
Outdoor pool
Restaurant

Restaurant
The Fiesta Inn features a restaurant which opens from 6:00 a.m. until 11:00 p.m. and is an excellent choice for breakfast, lunch and dinner. Choose from buffet or menu dishes, our Mexican appetizers and the finest regional cuisine.

Meeting Rooms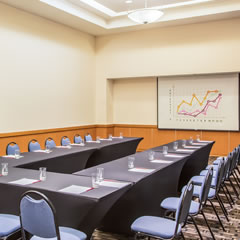 Event and meeting rooms
The hotel has a Business Center with computers and high speed wireless Internet, it also has 2 meeting rooms with air conditioning and capacity for 6 people.
It also features meeting rooms that can be adapted to host for up to 180 people in an auditorium; each room has a board, electric screen, flip charts, coffee service and personalized service. Our professional team will help with your groups and conventions.
Qualified:
x
Location #3 of 45 hotels in Tijuana
GreenLeader Gold
Certificate of Excellence 2016
Summary of qualifications
Best comments
"Enero2017"
As always very comfty and nice But a plus could be to include breakfast....thats the big diference in comparisson with others nice hotels. A good thing is if you will concentrate on Otay area You must take Fiesta Inn Otherwise the rest are 20 min gar away
"Nice hotel and close to the airport"
I normally stay at the Principado because it is even closer to the TJ airport but it was full so I decided to give the Fiesta Inn a try. It's a little more expensive than the Principado but much nicer. The room was spotless and well maintained. The WiFi worked well and the bed was comfortable. The only negatives I could find is the water pressure in the shower was pretty weak but it was fine in the sink so maybe they just have a very restrictive flow for the shower. You may be unfamiliar with the type of drain in the tub and shower. If the water isn't flowing out like it should, just press down on the stopper and it will pop up to allow the flow. One other thing of importance: Make sure you have a reservation! If you just walk in like I did, you will be charged a much higher rate. Next time I stay there and it's on very short notice, I will go around the corner, make a reservation and then approach the desk.
"Very nice hotel"
Good hotel. Reminds me of Holiday Inn Express. Does things well. Employees very friendly and helpful. Close to the airport and border crossings. Either Otay or San Ysidro. Nice pool and gym for working out. The back of the hotel has views of the American Consulate, the front has views of the Tijuana Airport.
"Great bed, good restaurant"
So many Mexican hotels have such hard mattresses, this one was soooo comfy -- amen! Also excellent buffet breakfast. Convenient to TJ airport. TripAdvisor wants me to put in additional filler words, but the main point is: Good value.
"Dirty hotel!!"
We were making a trip to El Valle de Guadalupe but had to stay a night at Tijuana for schedule issues so we decided to stay at the Fiesta Inn because it was ranked # 2 in Tripadvisor. Upon arrival no one helped, there was no parking spots and we had to wait to find one for about 15minutes. There was no light in the hallway and there was food in the carpet outside it also didn't smell good. Once in our room the bed was wrinkled and the carpet dirty, the food was terrible and they wouldn't answer for room service. The had no ingredients available to make a club sandwich even tough it was late.
Top-rated Attractions Nearby
Tijuana Cultural Center (CECUT)
Turista Libre Tijuana Tours
Playas de Tijuana
Avenida Revolucion
Tijuana Walking Tour
Mercado Hildago
El Popo Market
Estadio Caliente Xoloitzcuintles de Tijuana
Universidad Autonoma de Baja California
Plaza Rio Tijuana
Photos hotel and surroundings (25)
Rooms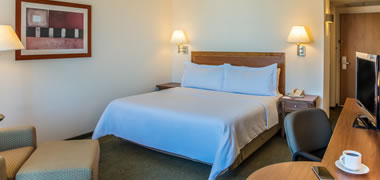 Superior Room, 1 king
The room is 30 m2 with a king-size bed, 2 bedside tables, 29" TV, reading chair and spacious work desk, telephone, bathroom with tub, shower and toilet.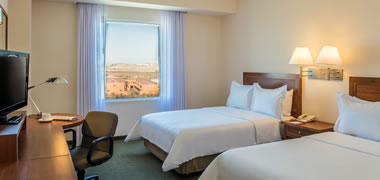 Superior Room, 2 double
Equipped with 2 double beds, 29" TV, spacious work desk, telephone, bathroom with tub, shower and toilet.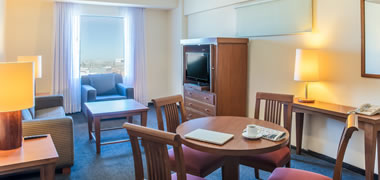 Junior Suite
A spacious, luxury room that includes a bedroom with a king-size bed, armchair with ottoman, vanity, full-length mirror, TV and work desk with a telephone, lamp and high-speed Internet connection. The living room features a small cupboard, microwave, mini bar, balcony and a beautiful panoramic view.