Located very close to the Tlalnepantla Executive Center and the Convention Center, and surrounded by the largest industrial zones such as Atizapán and Vallejo, and next to the Mundo E, Plaza Satélite and Punta Norte shopping centers. Situated sixty minutes from the Mexico City Airport and 30 minutes from the bus station.

We remind you that the check-in time is from 3:00 PM. Check-out is at 1:00 PM. We suggest you use our express check-out service.

Services
The hotel has 131 rooms, a restaurant, a lobby bar open from 2:00 p.m. until 12:00 a.m., gift shop and fitness center. Hotel services include:
Restaurant

Restaurant
The Fiesta Inn features a restaurant which opens from 6:00 a.m. until 11:00 p.m. and is an excellent choice for breakfast, lunch and dinner. Enjoy flavors with traditional Mexican flair and informal international dishes under the umbrellas of this terrace-style restaurant.
Meeting Rooms

Event and meeting rooms
The hotel has a Business Center with computers and high speed wireless Internet, it also has 1 meeting room with a screen, air conditioning and capacity for 6 people.
It also features meeting rooms that can be adapted to host for up to 150 people in an auditorium; each room has a board, electric screen, flip charts, coffee service and personalized service. Our professional team will help with your groups and conventions.

Qualified:
x
Location #2 of 7 hotels in Tlalnepantla
Certificate of Excellence 2016
Summary of qualifications
Best comments
"Fantastic hotel!"
Enjoyed the service! Staff very friendly and willing to help with anything. Mostly Spanish speaking, but easy to accommodate in English. Breakfast buffet is a little pricey, but good. Rooms very comfortable and a good deal for the level of quality. The location is a bit far from the city center, but in a good neighborhood without the hustle & bustle of Center Historico. Will definitely stay with the chain again.
"Oasis of simple elegance in the center of a busy suburb"
Really a nice safe location in a surprisingly quiet neighborhood, good staff, Stephany was terrific and great service. I Really enjoyed the stay. Kudos to a good stay, good rooms clean and well kept facility.
"nice hotel not the best location"
I stayed at this hotel as it was convenient for work - i would not recommend staying in this location for 'pleasure.' Nice clean quite new hotel with good amenities - ideal for a short business stopover.
"Really Bad Service..."
95% of my orders came wrongly... missing something.. or not as I order... I really don´t known what else I can do... I already complained several times, and nothing changed. They received a group of around 15 teenagers, during 3 days they stayed in the hall until 1 AM doing a lot of noise, I also complained 3 days, after that they changed my room. I am really sad with this hotel... TERRIBLE SERVICE!!!
"BEST HOTEL IN AREA - GREAT STAFF"
This year I have stayed in ths hotel for at least 16 stays of 1 week each and still repeating. If you have to stay in the northern area of Mexico City for business purpose, Fiesta Inn is the best option based on service, room size and accommodation, food & service, location. Only critic would be that the gym is not that great and less appealing and there is no wi fi in the car lobby.
Top-rated Attractions Nearby
Go Kart Mania
Santa Cecilia Acatitlan
Gran Salon Victoria
Zona Arqueologica Tenayuca
Plaza Tlalne Fashion Mall
Cameron Balloon Flights
Naam Spa
Bacano
Photos hotel and surroundings (110)
Rooms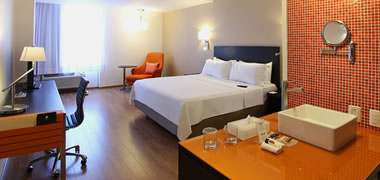 Superior Room, 1 king
32 m2 room with a king-size bed and some with a sofa and/or sofa bed, air-conditioning and heating, private bathroom, closet, ironing board and iron. Two telephones, one TV with remote control, and Wi-Fi capabilities.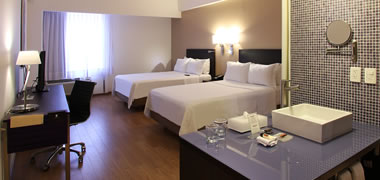 Superior Room, 2 double
32 m2 room equipped with 2 double beds, 29" TV, spacious work desk, telephone, bathroom with shower and toilet.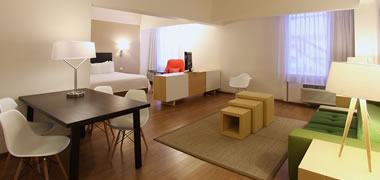 Junior Suite
50 m2 room with a king-size bed, air-conditioning and heating, private bathroom, closet, ironing board and iron. Two telephones, two TVs with remote control, microwave, bathroom scale, small refrigerator and special amenities.