x
Location #3 of 5 hotels in Tlalnepantla
Summary of qualifications
Best comments
"Being Renovated- surprisingly good for a mid range hotel"
Hotel room was booked by our Company, it did take 65 minutes through on and off heavy traffic to reach the hotel from the International Airport. Check in was quite fast and painless. Our rooms on the second floor were all newly renovated, as was the whole interior of the hotel. Painters were working on the underside of the outside canopy. Rooms were spacious, with laminated timber flooring, unfortunately several planks already showed a couple of scratches in my room. Room lighting was pleasant, but not too bright. Amenities were up to 4 Star US hotels with electric iron and board, coffee maker, a 300ml complimentary bottle of water on check in and also good set of bathroom amenities. There were also tea, coffee and small bottles of water, available on a serving table on our floor. The room also had a digital combination safe. The king bed was large and quite firm. The rooms also seemed quiet, just some water noise from the next bathroom. There was quite a good menu and price range of food in the 1st Floor restaurant. Dinner was good with excellent service- we did have to rely on Google Translate to have the steaks cooked to our preferred 'medium'. Breakfast choice of fresh ruits and hot breakfast was also quite good. Again service was very good. But needed to avoid the hotcakes, several seemed stale and hard each morning.
"Probably the best hotel in the Tlalnepantla area"
Tlalnepantla is an industrial area and this hotel is probably the best in Tlalnepantla if you are going to be visiting facilities in the area. Hotel personnel are really nice with the guest and always trying to be helpful. The room was clean. Eating at the hotel is the best alternative in the area. Food is good.
"Good Nice Hotel to stay in industrail area of tlalnepantla"
Good Nice Hotel to stay in industrail area of tlalnepantla. Most of the major companies are sitaulted near to this hotel.There are major banks and ATM near that area, starbucks is opposite to hotel and other eating ventures.Old church and city center,located a few steps far.
"All show, no real quality or service"
2 hours for an extra towel to arrive to our room; after waiting 1.5 hours for someone to unplug the toilet, no one was available so they eventually moved us to a different room; 5 young girls waiting at the elevators to push the button for you but no one to help you unplug your toilet! Nice lobby, nice uniforms, terrible beds! Also, avoid the California restaurant across the street.
"Not bad but could use an update..."
I only stay here for business but I do have occassion to stay here often. It's convenient for my customer so I take my room here and just hope that some day I'll arrive to find they've updated the place. I have hosted an event there and they were accomodating but it's just a very basic hotel so it wasn't anything spectacular. Mostly, the staff is very kind and I feel safe there but I do wish they would update the place. The rooms are dark although not entirely uncomfortable, I just think the brand is better than this and they should invest a little money here.
Top-rated Attractions Nearby
Santa Cecilia Acatitlan
Go Kart Mania
Gran Salon Victoria
Cameron Balloon Flights
Photos hotel and surroundings (24)
Located very close to the Tlalnepantla Executive Center and the Convention Center, and surrounded by the largest industrial zones such as Atizapán and Vallejo, and next to the Mundo E, Plaza Satélite and Punta Norte shopping centers. Situated sixty minutes from the Mexico City Airport and 30 minutes from the bus station.

We remind you that the check-in time is from 3:00 PM. Check-out is at 1:00 PM. We suggest you use our express check-out service.

Services
The hotel has 131 rooms, a restaurant, a lobby bar open from 2:00 p.m. until 12:00 a.m., gift shop and fitness center. Hotel services include: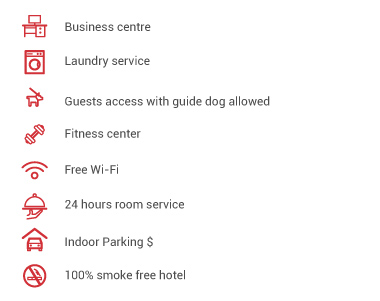 Restaurant

Restaurant
The Fiesta Inn features a restaurant which opens from 6:00 a.m. until 11:00 p.m. and is an excellent choice for breakfast, lunch and dinner. Enjoy flavors with traditional Mexican flair and informal international dishes under the umbrellas of this terrace-style restaurant.
Meeting Rooms

Event and meeting rooms
The hotel has a Business Center with computers and high speed wireless Internet, it also has 1 meeting room with a screen, air conditioning and capacity for 6 people.
It also features meeting rooms that can be adapted to host for up to 150 people in an auditorium; each room has a board, electric screen, flip charts, coffee service and personalized service. Our professional team will help with your groups and conventions.

Rooms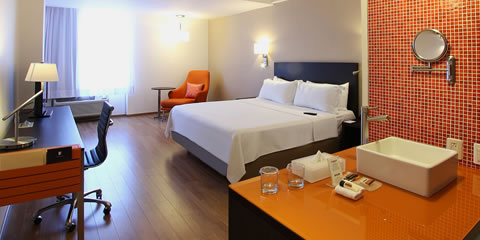 Superior Room, 1 king
32 m2 room with a king-size bed and some with a sofa and/or sofa bed, air-conditioning and heating, private bathroom, closet, ironing board and iron. Two telephones, one TV with remote control, and Wi-Fi capabilities.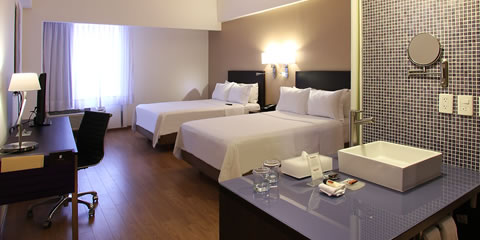 Superior Room, 2 double
32 m2 room equipped with 2 double beds, 29" TV, spacious work desk, telephone, bathroom with tub, shower and toilet.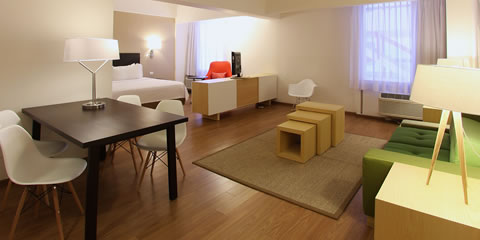 Junior Suite
50 m2 room with a king-size bed, air-conditioning and heating, private bathroom, closet, ironing board and iron. Two telephones, two TVs with remote control, microwave, bathroom scale, small refrigerator and special amenities.