Fiesta Inn Toluca Centro, the chain's only hotel in downtown Toluca, is proud to offer a business-class experience by providing services and tools to support you at every moment of your stay and make it as productive as possible.
Work, relax, and enjoy the tourist attractions that Toluca has to offer, such as the Cosmovitral stained glass mural and botanical garden, the Los Portales arches, and Nevado de Toluca National Park, as well as other historic and cultural sights and activities.
The hotel is conveniently located just two minutes away from the Historic District, state government offices, the Cathedral, and the city's most important museums. Other nearby attractions include the industrial area and La Bombonera Stadium, just 10 minutes away, and the airport and the ''Magical Town'' of Metepec, less than a half hour away.
At Fiesta Inn, we take care of business travelers and do everything to ensure a successful stay.
Please note that check-in begins at 3pm. Check-out is at 12pm. Express check-out is recommended.
Services
The hotel has 85 rooms, a restaurant, a lobby bar open from 1:00 p.m. until 11:30 p.m. and fitness center. Hotel services include:
Handicapped access
Business center
Free Wi-Fi access
Gym
Restaurant(s)
Guests access with guide dogs
Laundry service
Shuttle service (subject to availability)
24 hours room service
Pets are not allowed
Bar(s)
Indoor parking with cost
Restaurant

Restaurant
The Fiesta Inn features a restaurant which opens from 6:00 a.m. until 11:00 p.m. and is an excellent choice for breakfast, lunch and dinner. Choose from buffet or menu dishes, our Mexican appetizers and the finest regional cuisine.

Meeting Rooms

Event and meeting rooms
The hotel has a Business Center with computers and high speed wireless Internet, it also has 2 business rooms with a screen, air conditioning and capacity for 8 people.
It also features meeting rooms that can be adapted to host for up to 210 people in an auditorium; each room has a board, electric screen, flip charts, coffee service and personalized service. Our professional team will help with your groups and conventions.

Qualified:
x
Location #5 of 25 hotels in Toluca
Certificate of Excellence 2017
Summary of qualifications
Best comments
"Would stay here again if I come back to Toluca"
Centrally located in downtown Toluca. This hotel isn't new but rooms are adequate and beds are comfortable. They also provide cribs for babies. I was just shocked to see the prices they have on the wall behind the reception was around 5 times more than what I paid online on a major booking website. Make sure you book online. The ramp to underground parking is very narrow, and extremely angled. We had to be extra careful accessing parking area. The elevator from the parking was not working at the time, and the staff arranged us to use the service elevator instead.
"Cops stay there too!"
At first I felt a little weirded out that the hotel had many police trucks outside. Looks like this hotel is some sort of base for them. After a day or so I felt comfortable having them there. Kind of like extra protection. Hotel is simple but nice. I enjoyed my stay.
"Simple and comfortable"
Well situated in the center of Toluca. The rooms are comfortable and although in the CBD, it is amazingly quiet and peaceful at night. The staff is friendly and very helpful. Not all are fluent in English but can understand well enough to assist in your very needs. I can recommend this hotel for business trips. I stayed here for a 3 week business trip and I would certainly stay there again next time.
"Recommended"
A very fine hotel. My room, 514, was perfectly quiet even though it faced the street. The kingsize bed and the pillows were very comfy. If you are looking for a hotel in this price range, I think you will be pleased. The wi-fi worked fine. I did not eat here or take advantage of the breakfast buffet as the place you should have at least one breakfast in Toluca is Amaranta, and the coffee shop you should go to is A Donde Sea.
"NICE CITY HOTEL WITH A GOOD LOCATION"
I stayed about 4 times at this hotel within the last 6 months, I love the location, right there in downtown, close to shopping, dinning and entertaining. Rooms are average, the first time I stayed there, they gave me a Junior Suite but I only had that luck once, every other time I just received a regular room, which was "ok", not to fancy but will accommodate me needs. This is a day hotel, I did not feel safe walking on the evenings/nights around the area, the street where is located is very quiet and lonely at dark.
Top-rated Attractions Nearby
Cosmovitral Jardin Botanico
Catedral de Toluca
Zoologico de Zacango
Los Portales de Toluca
Nevado de Toluca / Xinantecatl
La Vaquita Negra Del Portal
Calixtlahuaca
Museo de la Acuarela
Plaza de los Martires
Plaza de la Tecnologia, Sucursal Toluca
Photos hotel and surroundings (42)
Rooms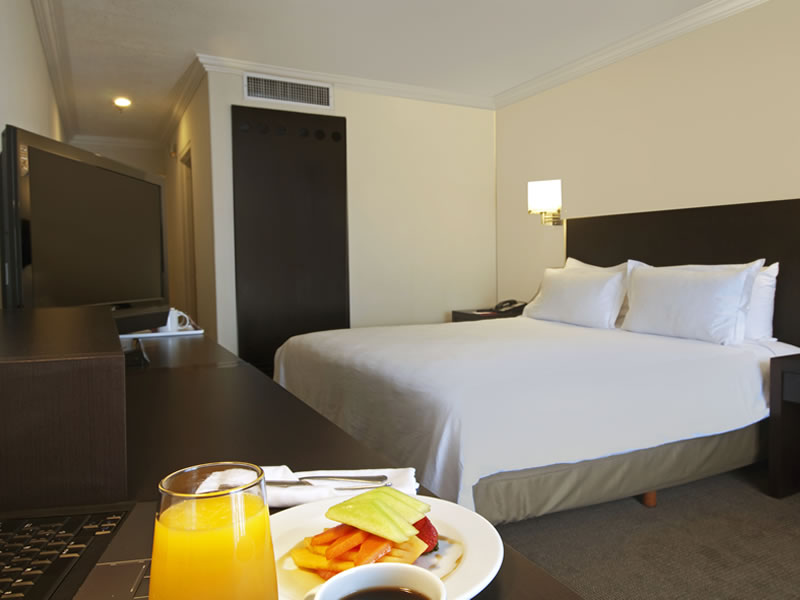 Superior Room, 1 king
The room is 30 m2 with a king-size bed, 2 bedside tables, 29" TV, reading chair and spacious work desk, telephone, bathroom, shower and toilet.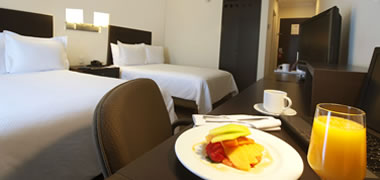 Superior Room, 2 double
Equipped with 2 double beds, 29" TV, spacious work desk, telephone, bathroom with shower and toilet.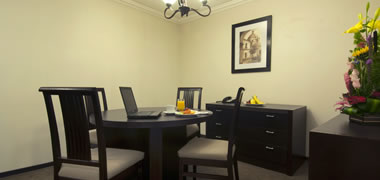 Junior Suite King
Large room with a living room and dining area, bedroom with a king-size bed, two cable TVs, a work desk, Internet connection, closet, a luggage rack and iron.