Strategically located across from the Mexico City Airport, with shuttle service for guests during all year, this hotel is an excellent option for business travelers that need a central location and an agreeable setting. The hotel has gardens and an outdoor pool. The hotel is situated just 20 minutes from the Historic Center, the Zona Rosa neighborhood and 10 minutes from the Foro Sol stadium and the Palacio de los Deportes (sports arena). The hotel offers free airport-hotel-airport shuttle service every 20 minutes (At the number 4 door in the Terminal 1 and in front of national arrivals in Terminal 2)


Fiesta Inn Aeropuerto Ciudad de México is an Eco-friendly hotel, so it is a 100% smoke free hotel.

We remind you that the check-in time is from 3:00 PM. Check-out is at 12:00 PM. We suggest you use our express check-out service.

Services
The hotel has 327 rooms, a restaurant, a lobby bar open from 1:00 p.m. to 12:00 a.m., swimming pool and fitness center. Hotel services include: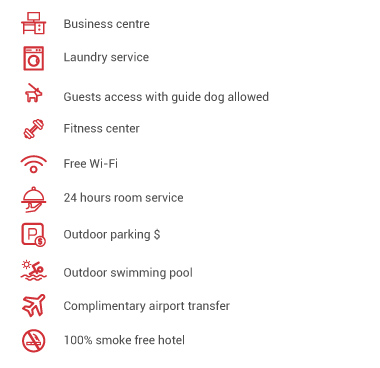 Restaurant

Restaurant
The Fiesta Inn features a restaurant which opens from 6:00 a.m. until 12:00 a.m. and is an excellent choice for breakfast, lunch and dinner. Try our breakfast, lunch or dinner buffets or order items from the menu. Different buffet styles are served Monday through Friday including Mexican, Italian and Seafood on Fridays.
Meeting Rooms

Event and meeting rooms
The hotel has a Business Center with computers and high speed wireless Internet, and 12 meeting rooms with a screen, air conditioning and capacity for 8 people.

It also features event rooms that can be adapted to host up to 500 people in an auditorium; each room has a board, electric screen, flip charts, coffee service and personalized service. Our professional team will help with your groups and conventions.
x
Fiesta Inn Aeropuerto Ciudad de Mexico
Location #76 of 295 hotels in Mexico City
GreenLeader Platinum
Summary of qualifications
Best comments
"Best choice"
After I was treaty very badly by Mario the desk manager of NH airport Hotel, I decided to stay in another hotel near the airport. In Fiesta Inn I received a very warm welcome, I arrived at 5 am after a long tripp and even at that time the staff was very welcome and profesional. Different from NH airport Hotel, Fiesta Inn has 24 hrs check inn, indispensable for frecuent travelers.
"The Purecos last night at Mexico City"
Since our flight back home was very early in the day. The Purecos decided to stay at The Fiesta Inn Hotel right across Terminal 1 at The International Airport in Mexico City. Luckily the hotel has a shutter service to the airport since the walk to the aiport would have been too long at 3:30 am The room was exquisite. The decore was elegant yet minimalistic. The bathroom was marble-tiled and features were very nice. Like most hotels adn restaurants in Mexico, the staff was very friendly and hospitable. Would highly recommend
"The bed was MASSIVE!"
Stayed here during a stop over to Miami, we had 12-13 hours between arrival and departure. The ONLY reason I'm not giving a 5 star is because I didn't use the whole facilities on offer. The room was very big, bathroom had modern decor and shower could have easily fit 6 adults on it (that didn't happen!). As for the bedroom, had an instant coffee machine with two normal size mugs, not the thin ones you normally get TV was easily 40" Had an iron and board in the room. Comfortable chair in the corner and also a large closet. The star of the show was the bed, the best bed I've ever slept in, now I'm 6ft3 and I couldn't touch all four corners it was that big, and comfy too. It's a good 10mins away from the airport, but a very nice hotel in what is a run down area. Shame we didn't have longer to enjoy it but served a purpose very well!
"Best Choice"
This is your best choice near to the Mexico City Airport. They are very close to the airport, van service, excelente rooms and friedly reception. For sure this will be my prefered from now on. Do not exitate ....
"Fiesta Inn: Fine If Pricey"
The outstanding advantage of this Fiesta Inn is its proximity to the Aeropuerto International de la Ciudad de México. That's one reason that it's more expensive than our regular hotels in Mexico City. But the extra money bought quality. The attractively decorated room was sufficiently spacious, the beds unusually comfortable, the bed linens high quality, the shower in the bathroom had voluminous hot water almost instantaneously, the wifi was fine, and, despite being close to the airport and the busy Boulevard, the room was quiet. And, it was air conditioned, which is uncommon in Mexican hotels. The only sour notes were the $34 peso price tag on the 2 liter bottle of purified water in the bathroom ( a tiny, approximately 8 ounce bottle was marked "complimentary"). Considering that we paid over $1700 pesos a night for the room, taxes included, about $105 is U.S. Dollars, we think that purified water should be included in the price. A minor defect was that the wall decoration next to the thermostat came loose during the night. But aside from being unsightly, it was no problem. The free shuttle ride to Terminal 1 at the Airport was a welcome bonus. Because of our early departure, we were unable to take advantage of the free breakfast buffet, but we did have supper in the restaurant. Overall, I would describe it as mediocre. The buffet option was $250 pesos. There were plenty of dishes, both hot and cold, from which to choose, but nothing stood out. An a la carte order of Tacos de Arrachera was about $172 and the portion was large, but I had indigestion afterwards. I have to mention that we'd gone to bed very early, but at about 7:30 we were awakened by staff members tapping at our door. My wife answered, but couldn't understand what that was about. They left, and we went back to sleep.
Top-rated Attractions Nearby
Banos Medicinales del Penon
Car Executive Tours
Helitour
Museo Interactivo del Medio Ambiente
Brisa Tours Mexico
Mirador Pena del Cuervo
Iglesia de Santa Teresa La Nueva
La Merced
Zoologico de San Juan de Aragon
Iglesia de San Francisco
Photos hotel and surroundings (149)
Rooms
Executive Room, 1 King
Whether traveling for work or pleasure, you will feel instantly relaxed when entering these spacious rooms with minimalist design and laminated floors. Each room has a king bed, 32" LCD TV, two telephones, and work desk with high-speed wireless Internet. They also offer a bathroom with tub, air conditioning, security safe and ironing kit, and everything you need for an enjoyable stay, including 24-hour room service and a travelers kit.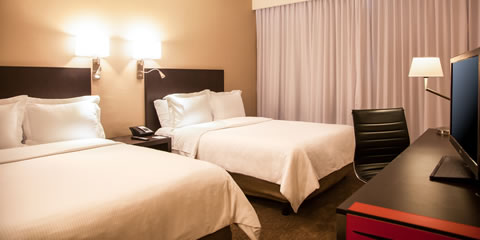 Executive Room, 2 Double
These spacious rooms feature minimalist design and laminated floors, making them ideal for rest and relaxation. Each room has two double beds, 32" LCD TV, two telephones, and work desk with high-speed wireless Internet. They also offer a bathroom with tub, air conditioning, security safe and ironing kit, and everything you need for an enjoyable stay, including 24-hour room service and a travelers kit.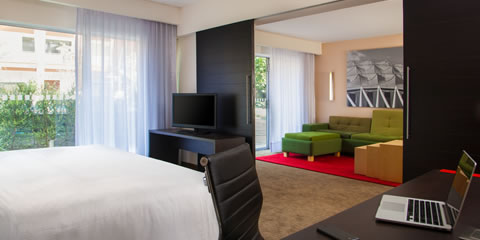 Junior Suite King
A spacious room with 2 areas: living room and bedroom; featuring 1 king-sized bed, microwave, mini refrigerator, two 32" LED screens (one in each room), 2 phone lines and a spacious desk.