Located within the Parque Alameda Commercial Plaza, in the Historic Center, very close to Mexico City's main attractions, such as the Cathedral, the Casa de los Azulejos, Bellas Artes and countless museums. The hotel is situated just minutes from Reforma and Polanco Avenues, and important business, commercial and social districts.

Fiesta Inn Centro Histórico is an Eco-friendly hotel, so it is a 100% smoke free hotel.

We remind you that the check-in time is from 3:00 PM. Check-out is at 12:00 PM. We suggest you use our express check-out service.



Services
The hotel has 140 rooms, a restaurant, a lobby bar open from 1:00 p.m. to 11:00 p.m. and fitness center. Hotel services include: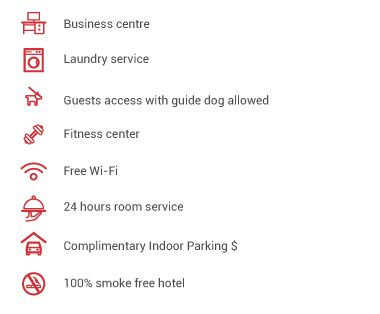 Restaurant

Restaurant
The Fiesta Inn features a restaurant which opens from 6:00 a.m. until 11:00 p.m. and is an excellent choice for breakfast, lunch and dinner. Enjoy dishes from our buffet or menu, as well as our Sunday brunch.
Meeting Rooms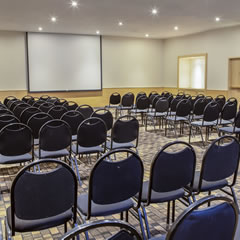 Event and meeting rooms
The hotel has a Business Center with computers and high speed wireless Internet, and 2 meeting rooms with a screen, air conditioning and capacity for 8 people.
It also features 4 event rooms that can be adapted to host up to 210 people in an auditorium; each room has a board, electric screen, flip charts, coffee service and personalized service. Our professional team will help with your groups and conventions.

x
Fiesta Inn Centro Historico
Location #31 of 295 hotels in Mexico City
Certificate of Excellence 2015
Summary of qualifications
Best comments
"An unfortunate noise problem"
Unfortunately my first night's sleep was disturbed by loud music - I think there is some kind of club/bar underneath the hotel which is audible in rooms around the central courtyard. I asked for a quieter room and was given one the next day with little fuss, and didn't have the same problem again. Otherwise I would give a 4-star rating - the rooms are a good size and quite well-equipped, the location is very good, service is very friendly and fairly efficient. Breakfast is generous. Most reception staff have reasonable English.
"Good all aspects"
Not expensive, well located, clean, if you dont mind take an elevator to get to the lobby, but a lot of services and stores around, walking distance of museums, Templo Mayor Aztec Ruins, Bellas Artes Palace, and at the side of the Hilton, where you can find the best mexican food restaurant: "El Cardenal"
"Great location very safe"
Close to Zocalo Mexico City walk on,surround by Museum's, Art galleries, Nice Restaurants, Bus stop,metro bus,shopping day and half midnight, very safe secure by police and army,on the Zocalo you can differents activities during night, like seeing great musical grups
"Hope you like music ..."
I was transferred here for a night when I turned up at the Fiesta Americana at midnight to be told there was no room for me. Not a good start, but that's not a problem with the Fiesta Inn itself. It has plenty of its own problems. The rooms are sparse and poorly decorated. The bed was uncomfortable, and the pillows too large for me - and I'm not a small person. There was no desk, the TV had extremely bad reception, the lights are not controlled by a switch by the bed, there was no minibar, the shower had no hot water, half the hangers in the wardrobe were broken, and so on. Still, I was only there for the night, so it's not as if I needed anything but somewhere to sleep. This wasn't it. There was constant music playing from what I can only assume is a nightclub downstairs. It wasn't just a faint noise either, it was recognisable music. I was on the second floor; I pity people on the first. In all I probably managed about three hours of sleep during the night, and the music continued until at least four in the morning. I packed up in the morning and checked out; when I told the reception desk about the music they didn't really seem to care. The concierge took my case and I asked them to take it to the Fiesta Americana during the day so when I got to the hotel in the evening it would be waiting for me. Guess what ... in fact, they couldn't tell the Fiesta Americana staff where it was for ages and I ended up finally getting it delivered to my new room at 10pm. Not somewhere I'll return.
"Nothing wrong with this hotel"
The hotel is conveniently located downtown, within walking distance of 3 different metro lines, so you can pretty much get anywhere from here. There are lots of food options in the lower level (may i suggest "italiani"?) and also within walking distance of hotel (restaurants, 7/11, oxxo). You can also grab a taxi just outside and avoid those "convenience fees". Please keep in mind Mexico City is one of the most densely populated cities in the world, and this is downtown, so there is a lot going on outside. That being said, the hotel does a really good job at keeping a lot of that noise out. A lot of people complain about the noise, but i don't see how you can get away from that at any hotel in the area. We had 3 rooms, my parents, my brother (with his family) and my family. We had a baby in our group 7 months and my parents in their 50s, my kids and nephew (ages 6-8), and not one of us had any trouble sleeping due to noise or anything like that. The hotel room is clean, comfortable, has a safe and coffee machine. The staff is amazing, world class service, you dont see that kind of customer service much anymore. From the reception staff, bellhop, concierge, chambermaid, etc. Traveling with kids, a fridge would have been nice, but this is considered a "business hotel" (think Holiday Inn) so this hotel meets or tries to meet your needs as much as possible. We stayed for a week over the holidays and it was nice to come "home" every night to a clean, warm, comfy bed and tv. I would recommend this hotel and highly consider staying here again.
Top-rated Attractions Nearby
Museo de Arte Popular
Museo Mural Diego Rivera
Pinacoteca Virreinal de San Diego
Barrio Alameda
Gray Line Tours
Museo Memoria y Tolerancia
Centro Cultural Jose Marti
Ballet Folklorico de Mexico
Iglesia de San Hipolito
Ruta de los Conventos
Photos hotel and surroundings (40)
Rooms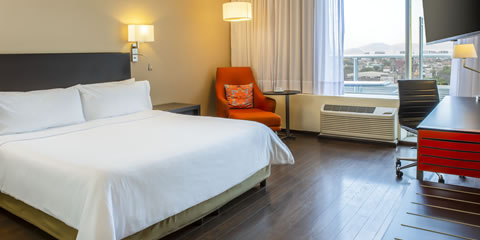 Executive Room, 1 King
Whether traveling for work or pleasure, you will feel instantly relaxed when entering these spacious rooms with minimalist design and laminated floors. Each room has a king bed, 32" LCD TV, two telephones, and work desk with high-speed wireless Internet. They also offer a bathroom with tub, air conditioning, security safe and ironing kit. Each room has a view of the famous Juarez Avenue (subject to availability), and everything you need for an enjoyable stay, including 24-hour room service and a travelers kit.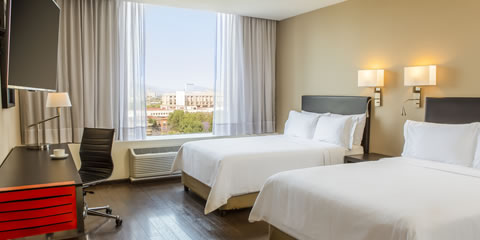 Executive Room, 2 Double
These spacious rooms feature minimalist design and laminated floors, making them ideal for rest and relaxation. Each room has two double beds, 32" LCD TV, two telephones, and work desk with high-speed wireless Internet. They also offer a bathroom with tub, air conditioning, security safe and ironing kit. Each room has a view of the famous Juarez Avenue (subject to availability), and everything you need for an enjoyable stay, including 24-hour room service and a travelers kit.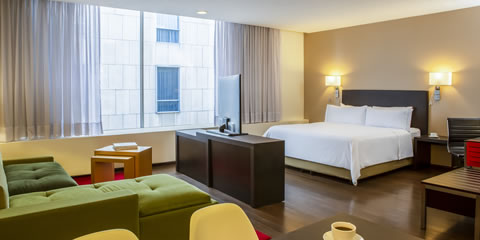 Junior Suite
A spacious room with 2 areas: living room and bedroom; featuring 1 king-sized bed, microwave, mini refrigerator, 2 televisions (one in each room), 2 phone lines and a spacious desk.