Fiesta Inn innovated and transformed the Business Class concept. At the Fiesta Inn Insurgentes Sur, these changes can be seen in the hotel's design and facilities. The rooms are practical and welcoming, connected and independent at the same time, and have been designed to provide creative freedom, making work enjoyable. Today, Fiesta Inn is more than a hotel, it's a community that enjoys constantly striving for success.

Located in the Centro Comercial Insurgentes plaza, behind Teatro Insurgentes, the hotel is surrounded by both corporate and government offices including Conacyt, Grupo Bursátil Mexicano, Apotex, SFP and is very close to UNAM. The hotel is attached to a shopping mall that offers restaurants, cafés, shops, bars, a gym with a pool and a casino.

Fiesta Inn Insurgentes Sur is an Eco-friendly hotel, so it is a 100% smoke free hotel.

We remind you that the check-in time is from 3:00 PM. Check-out is at 12:00 PM. We suggest you use our express check-out service.




Services
The hotel has 162 rooms, restaurant, bar and provides open, multifunctional, comfortable and spacious facilities ideal for working in a pleasant environment without distractions. It features Lounge 360° and fitness center. Hotel services include: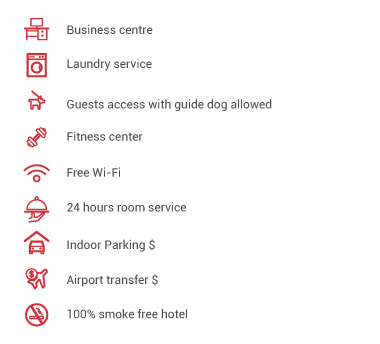 Restaurant

La Isla
The new Fiesta Inn features "La Isla", where you can refuel your energy with a convenient snack, open 24-hours and offering many options: breakfast buffet, restaurant, grab and go, room service or other specials, letting you take a break and relax. It also includes a self-service area and a bar with domestic and imported drinks.
Meeting Rooms

Event and meeting rooms
The hotel features a B-on Business Center with computers and high speed wireless Internet, it also has three meeting rooms: one with capacity for 20, one with capacity for 14 and one with capacity for 8 with a screen and air conditioning.
It also features meeting rooms that can be adapted to host up to 358 people in an auditorium; each room has a board, electric screen, flip charts, coffee service and personalized service. Our professional team will help with your groups and conventions.

x
Fiesta Inn Insurgentes Sur
Location #53 of 295 hotels in Mexico City
GreenLeader Gold
Certificate of Excellence 2015
Summary of qualifications
Best comments
"All you need for Business trip"
If you are going to Mexico for Business, the Fiesta In Insurgentes Sur is a good option. It offers the exactly what is need for a short business trip. Rooms are clean, facilities works and the Starbucks at the corner is really useful.
"good hotel in mexico city"
if you have to go to mexico city, this is the the place to stay. the hotel desk staff speaks English for those of us too stupid to learn Spanish. the hotel is in a great location with excellent food in the restaurant and within walking distance. There are 7-11s on every corner to buy bottled water. Starbucks are all over the place as well. Bus stop is a half block away. You will not regret staying at this hotel.
"It's good but can we deserve better"
Great location close to restaurants, bars and a theater. For pleasure trips is a good option but for business, the rooms are small and don't have a good desk to do some work. The food in the restaurant is very standard, if want to indulge yourself with better options go across street.
"Perfect Business Hotel - Clean /Efficient/ good staff"
This was my first stay in this hotel in this area of Mexico City. I usually stay in Polanco. It was very convenient to access south of Mexico City. I stayed for 5 days. Breakfast was very good - selection and quality. Wait staff were also pretty helpful. There is sufficient open space to have informal meetings/discussions in the lobby. And the area has several good restaurants for a proper lunch/diner The room staff were very accommodating and I was most impressed with their attention. The rooms were typical business fair, did the job ( not the luxury of Polanco -W or HR) Wifi was consistent and good speed Really nothing to complain about a decent clean ( safe) hotel in Mexico City.
"Good option!"
I have been at this hotel a couple of times, one in November 2014, one in February 2015. And I have had a very good experience on this hotel. The hotel looks remodeled, modern and in general terms the room was pretty good! Comfortable bed, bathroom in good condition, lights, etc. I was eating the dinner a couple of days at the hotel restaurant, they have a buffete service, and is very good! They have salads, pasta, chicken, etc. At the morning the breakfast is good, but the girl cooking the "omelettes" is not cooking omelettes; is doing something else. since november she struggle with this, at February is still the same issue, and I know she is doing the best but would be good idea to instruct with some courses this girl chef how to cook an omelette. The gym is good, has just a few equipment but is enough to keep in shape while traveling. In general this hotel is good, the service, facility, etc. Definitely I would continue returning as a safe and good known option! (Only want thing to improve, please check the Internet service, it is not good and would be great to have good Internet service)
Top-rated Attractions Nearby
Teatro de los Insurgentes
Casa Jacaranda
Teatro Sogem Wilberto Canton
Cookingstudio
La Hogaza
Culinary Tours Mexico
La Penita Tiangui
Liverpool Insurgentes
Mixcoac
Casino Life
Photos hotel and surroundings (33)
Rooms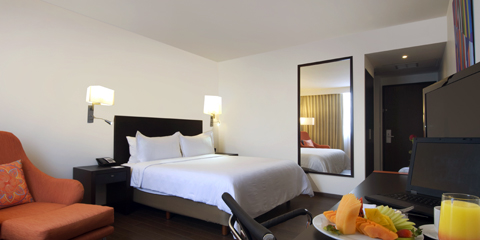 Superior Room, 1 king
Room with one king-size bed, a work desk with ergonomic office chair, LCD screen, one bedside table, bathroom with shower and toilet separated by a sink, cable TV, suitcase rack, closet, full-length mirror and ottoman chair.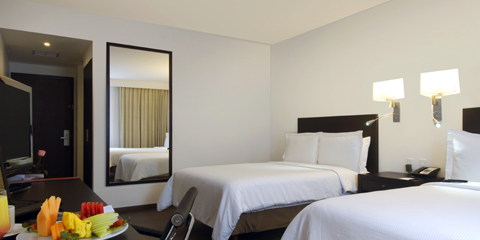 Superior Room, 2 double
Room with two double beds, a work desk with ergonomic office chair, LCD screen, two bedside tables, bathroom with shower and toilet separated by a sink, cable TV, suitcase rack, closet, full-length mirror and ottoman chair.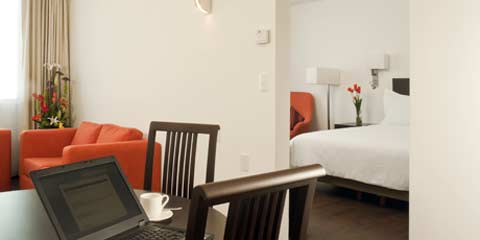 Junior Suite
A one bedroom suite with a living room with lounge for 4 people and a small dining room for 4 people. Also includes a bar with microwave, sink, mini fridge and shelf. Room with one king-size bed, a work desk with ergonomic office chair, LCD screen, one bedside table, bathroom with shower and toilet separated by a sink, cable TV, suitcase rack, closet, full-length mirror and ottoman chair.