x
Fiesta Inn Monterrey La Fe - Aeropuerto
Location #21 of 93 hotels in Monterrey
Summary of qualifications
Best comments
"Excelent"
Was a very pleasing experience, all the crew help me a lot, keeping me spoiled all the time, giving me the oportunity to print my board pass, and giving me transportation to the airport even at 4:30AM. I totally recommend this hotels.
"Good, not great"
For business travelers, this hotel is really only valuable due to its proximity to the airport. I wasn't impressed. It was far from most of my appointments but the hotel has a taxi service that basically sits on the lot and harangues guests looking for transport. They charge way more than the local green taxis, but the rates are more consistent. Green taxis will try to give you an exaggerated, false rate if you are a foreigner. We stuck with hotel taxis or Uber. The room had just been painted and I could smell the fumes. It was reasonably clean but had exposed, filthy pipes under the sink. The water pressure of the shower was pitiful and the water pressure of the sink was grossly excessive. This hotel is also hard to get to when traveling from the main city because it is on the inbound side of Carretera Miguel Aleman. During the day, it can take 45 minutes to make the U-Turn. We would just get out and cross the street on foot going around the bridge, it was that bad. The restaurant was disorganized and the food served for breakfast wasn't very good. Every day for breakfast they had out soggy fruit and ham & cheese sandwiches. Room service was fine and reasonably priced. Odd thing with breakfast was that only on certain days could I charge it to my room and the price was never the same. They said in certain hours they do BOGO, but even taking that into account I still found the prices highly inconsistent. Overall, I wouldn't stay here again, even though the customer service was quite good. The staff of the hotel were generally nice and helpful, but the lack of attention to detail on some of the amenities did this hotel in. It is a three-star that is trying too hard to act like a four-star.
"Fiesta Inn La Fe mala opción como hotel"
El costo del hotel no es proporcional al servicio, mala recepción, malos alimentos, le falta mantenimiento a las habitaciones del hotel. El servicio del personl que cuida el estacionameinto es muy lento dado que siempre registra las placas aun cuando ya conoce el numero de habitacion, esto provoca descontento por el tiempo perdido en el registro.
"No es la mejor ubicación ni el mejor servicio."
La ubicación no es la mejor a menos que tu lugar de trabajo este cerca. Se supone que mi empresa pago por mi cuarto y me lo cobraron en el front desk porque no encontraban el comprobante, cuando lo encontraron me notificaron que me harían un reembolso. El servicio de taxi es muy básico, solo al aeropuerto y unos pocos km a la redonda. No me volvería a quedar ahí.
"Trato al cliente"
Excelente el servicio proporcionado, el desayuno buffet esta tambien muy rico, solo estuve 2 noches pero el trato y la atencion que recibi fueron muy buenos, en unos meses construiran el paseo la fe a un lado del hotel, definitivamente sera una muy buena opcion
Top-rated Attractions Nearby
Zoologico Parque del Nino
Parque Zoologico La Pastora
Bosque Magico
Parque Plaza Sesamo
Parque Fundidora
Adobe Guadalupe Vineyards & Inn Aztec Breeding Farm
Parque Espana
Museo del Acero Horno3
Cintermex
Catedral Metropolitana de Nuestra Senora de Monterrey
Photos hotel and surroundings (21)
Located 5 minutes from the four most important industrial parks in the city: Stiva, Monterrey, Kalos and Milimex, next to the La Fe shopping center and just steps away from the Citadel shopping center. The hotel is situated 15 minutes from the international airport, 10 minutes from Cintermex and 15 minutes from the city center.

Fiesta Inn Monterrey La Fe is an Eco-friendly hotel, so it is a 100% smoke free hotel.

We remind you that the check-in time is from 3:00 PM. Check-out is at 12:00 PM. We suggest you use our express check-out service.


Services
The hotel has 161 rooms, a restaurant, a lobby bar open from 3:00 p.m. to 12:00 a.m., outdoor swimming pool and fitness center.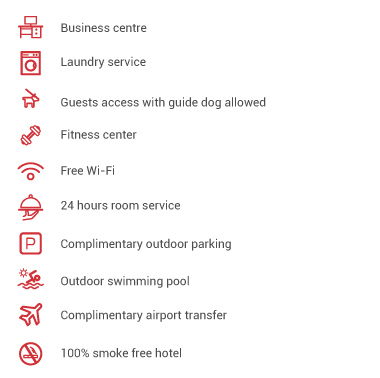 Restaurant

Restaurant
The Fiesta Inn features a restaurant which opens from 6 00 a.m. until 11:00 p.m. Choose regional, national and international dishes from the buffet or menu.

Meeting Rooms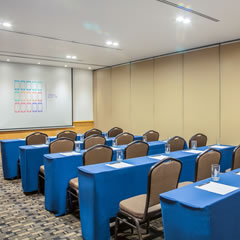 Event and meeting rooms
The hotel has a Business Center with computers and high speed wireless Internet, it also has 2 meeting rooms with a screen, air conditioning and capacity for 8 people.
It also features meeting rooms that can be adapted to host up to 60 people in an auditorium; each room has a board, electric screen, flip charts, coffee service and personalized service. Our professional team will help with your groups and conventions.

Rooms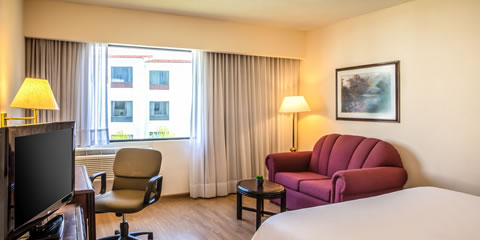 Superior Room, 1 king
The room is 30 m2 with a king-size bed, 2 bedside tables, 29" TV, reading chair and spacious work desk, telephone, bathroom with tub, shower and toilet. With a view of the city, except on the 1st floor.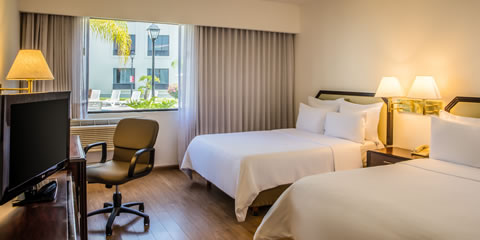 Superior Room, 2 double
Equipped with 2 double beds, 29" TV, spacious work desk, telephone, bathroom with tub, shower and toilet. With a view of the city.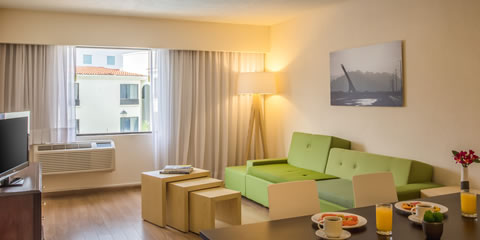 Junior Suite
A spacious 1 bedroom suite with a king-sized bed, closet, large work desk with telephone and lamp, interactive TV system, video games, 2 telephones, scale, iron and ironing board, and a room with a mini-bar, microwave, dining suite, a living area and kitchenette.