The hotel has an excellent location, near the main industrial area in Silao, which makes it the best option for business travelers. Close to the city's main shopping center Centro Max, and near Outlet Mulza, the more exclusive fur zone. The hotel is situated just 10 minutes from Explora theme park where children can learn and play, and 25 minutes from the Bajio international airport.

We remind you that the check-in time is from 3:00 PM. Check-out is at 12:00 PM. We suggest you use our express check-out service.

Services
The hotel has 160 rooms, a restaurant, a lobby bar open from 4:00 p.m. to 11:00 p.m., swimming pool, gift shop and fitness center. Hotel services include: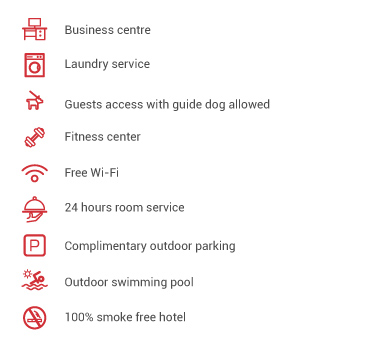 Restaurant

Restaurant
The Fiesta Inn features a restaurant which opens from 6 00 a.m. until 11:00 p.m. and is an excellent choice for breakfast, lunch and dinner. Choose from buffet or menu dishes, Mexican appetizers, regional and international cuisine.
Meeting Rooms

Event and meeting rooms
The hotel has a Business Center with computers and high speed wireless Internet, and 2 meeting rooms with a screen, air conditioning and capacity for 8 people.
It also features 4 meeting rooms that can be adapted to host up to 200 people in an auditorium; each room has a board, electric screen, flip charts, coffee service and personalized service. Our professional team will help with your groups and conventions.
x
Location #7 of 47 hotels in Leon
Summary of qualifications
Best comments
"Poor customer service"
I booked this hotel during an important business trip. At the time of arrival and after driving for more than 5 hours, the personnel at the front desk told me that their system had cancelled my booking and I was offered a room at a considerably higher price. The hotel manager and the personnel did not do much to help but to offer free breakfast next morning.
"Just Awesome"
I have stayed here 2013 & 2014. It was just awesome. Service is great. Breakfast buffet is out of this world. Maids are great. Mgt. are always on the floor. Nothing but smiles & happy faces. Rooms are great & super clean. Room service is really good. Rates are fine. Very safe. I didn't feel like a guest, instead part of their very happy family. Based on their service alone, they could change their name to the Four Seasons. Unbelievable across the board. Thanks to the entire staff. Mike, Coyote Village, Loreto Baja. See you in 2015 (I cannot wait...).
"Fiesta Inn November 2013"
Good location for business trip. It has it's own parking. Pool area is very pretty. I had a king bed that was very nice. My room was very large. They provide you with bottled water. There was no alarm clock in the room. The room service food was really good.. A little pricey though. I found the staff very friendly. They didn't speak much English though. Everything worked out fine though.. My room floor was laminate. THat was different but nice. The hotel has a restaurant for lunch and breakfast. Coffee was provided at night on the floor. Overall I believe it's a good place to stay.
"Make sure you stay at a renovated room"
The actual rating would be good/fair (between average and very good). First room I got was on the ground floor... old dark room, a dungeon! luckily after I complained, I was moved to the second or third floor to a renovated room. The latter was very comfortable, with modern decor. Bathroom on the smaller side and sort of basic but good. There is no mini bar at the rooms though, which for me is a problem. Front desk and service are very attentive and listen to your requests. Breakfast is very good.
"Not what I expected"
I have been in other Fiesta properties before, and I have a memory of having a great stay. Maybe this was long ago, or the properties are fading, but this was not what I expected. The personnel was corteous and friendly, but the property seems a little dated. The rug outside of the rooms was kind of old looking. The room does not feel warm. Maybe it is the flooring, or the minimalistic furniture. There is no room for your clothes other than 8 coat hanguers. You have to use your baggage to hold your other clothes. If you have to be here 9 days, you can imagine how messy this is. One thing that really upset me is that even when they are supposed to let a small container of lotion and shampoo every day, they did not do this. In 9 days they left only 3. I think this is a savings which is not really thought off, because it creates a negative feeling. The bathroom had some kind of splatter on the door, which was probably from cleaning, and it could have been very easy to clean, but it was never done. The breakfast is not really good. In fact one day the fruit tasted kind of acid. Maybe it was spoiling. Overall, I felt the price charged was too much for the service received. If I can help it, I would not stay here again.
Top-rated Attractions Nearby
Plei Bar-Lounge
Estadio Nou Camp
Museo de Arte E Historia de Guanajuato
Teatro del Bicentenario Forum Cultural Guanajuato
Arco Triunfal de la Calzada de los Heroes
Templo expiatorio del Sagrado Corazon de Jesus
Plaza Martires del 2 de Enero
Teatro Manuel Doblado
Plaza del Zapato
Parroquia de San Sebastian
Photos hotel and surroundings (55)
Rooms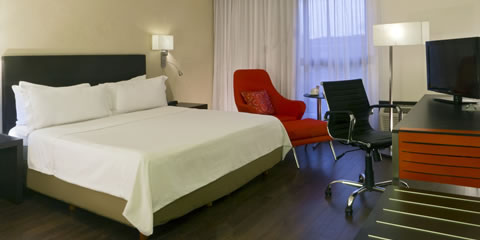 Superior Room, 1 king
The room is 30 m2 with a king-size bed, 2 bedside tables, 29" TV, reading chair and spacious work desk, telephone, bathroom with shower and toilet. With a view of the city, except on the 1st floor.
Superior Room, 2 double
Equipped with 2 double beds, 29" TV, spacious work desk, telephone, bathroom with shower and toilet. With a view of the city.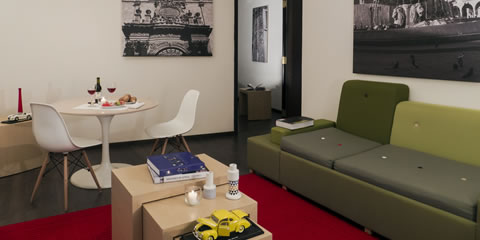 Junior Suite
A large room with an additional living area, both spacious and fully equipped with cable TV, telephone, bathroom with shower and toilet, and everything you need to make your stay more comfortable. We have 3 rooms of this type on floors 2 and 3.