x
Location #27 of 81 hotels in Queretaro
Summary of qualifications
Best comments
"Best casual/business hotel in town"
Fiesta Inn Querétaro is conveniently located on the way to San Luis, Juriquilla or Celaya just across Galerías shopping mall. Recently remodeled will give you a neat rest in their large rooms at a great rate with an excellent breakfast buffet.
"Nice hotel, few bugs to work out"
This is a very nice hotel, clean with nice amenities. It has an on-site restaurant, and a small bar area. There are many restaurants within walking distance. It had only been open a few weeks when I stayed and there were a few bugs to work out. The HVAC in my room would not cool down, and there was an elevator not working. My biggest issue was the lack of English speaking staff and inadequate English translations on the signs. For a hotel marketed to business people, it should be a requirement for much of the staff to have strong English skills since it is the language of business. One of the other reviews mentions a garden & pool, but I didn't find it and there was no hotel map that referred to it--at least in English. That said, I will stay here again when I go back to Queretaro. Maybe I'll stumble upon the garden then!
"Excelent for Business Trips"
Very comfortable to meet with colleagues in common areas, a lot of electrical connections to charge laptops and phones. Attention in the Bar was excelent. Rooms very comfortables and minimalist decoration was nice! a big garden makes the stay peaceful!
"great hotel, location not so hot"
we had a hard time finding this hotel because there's no visible sign on the road and it's hidden down the back. it's at least a mile from downtown, which is no good if you're in queretaro to do tourist stuff. that being said, hotel amenities are great, breakfast is very good, rooms are clean, everything works, beds very comfortable and very friendly staff. kind of hard to find a parking spot late at night. i would still recommend this hotel as having good standards and very clean and modern. if it were located about half a mile closer to the city center it would be an absolute gem. as it is, it's too far to walk and your safety can't be guaranteed if you do that as it's a good mile to any of the centro historico attractions. if you're staying here you'd better have your own car and preferably with a good working GPS.
"Nice hotel nice rooms"
Rooms are nice and clean. Good looking furniture with a desk with electricity plugs on top of the desk. Comfortable bed and pillows. My room had a shower instead of a tub, which I consider a big plus. Free internet service with very good speed. The restaurant offers good buffet at breakfast and lunch times. I'd suggest you skip the dinner buffet (hot dogs, hamburgers and the like). The general environment of the hotel is nice. There are internal gardens with water fountains and a central area around all the rooms where the pool is located.
Top-rated Attractions Nearby
Aventuras Denali
La Pena de Bernal
Exxi Challenge Mexico
Iglesia de Santa Rosa de Viterbo
Plaza de Armas
El Acueducto De Queretaro
Leyendas y Mitos de Queretaro
Megusta Queretaro
Centro de congresos y convenciones Queretaro
Museo Regional
Photos hotel and surroundings (83)
Fiesta Inn continues to evolve, transform, and innovate its Business Class hotel concept. With a fresh, modern image and new facilities, Fiesta Inn Querétaro is the perfect example of business accommodations done right. Designed to encourage creativity and productivity, the hotel's spaces are functional yet friendly, allowing guests to be connected while remaining independent.
Today's Fiesta Inn is more than simply a hotel; it is a community of professionals who thrive on success.
The hotel has a privileged location close to the historic downtown district and just 10 minutes from the city's main industrial areas.
Please note that check-in begins at 3pm. Check-out must be completed by 1pm. Express check-out is recommended.
Services
There are 175 guest rooms, restaurant, bar and a range of spacious and comfortable multi-use rooms for private work sessions, meetings and other group events. Other facilities include Lounge 360°, outdoor pool and fitness center.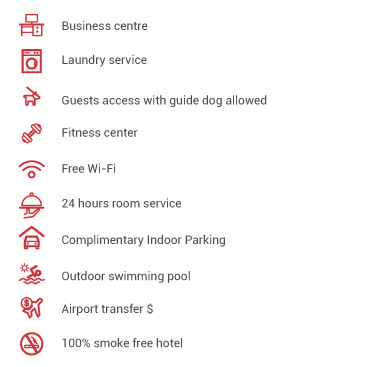 Restaurant

La Isla
The Fiesta Inn Querétaro offers the La Isla multi-purpose space that gives you the freedom to recharge 24 hours a day. Guests can grab a delicious snack or pause to refresh and rejuvenate. Meals are available throughout the day in the manner best suited for the occasion, including a breakfast buffet, grab-and-go, a la carte lunch and dinner, and room service. The area has minimalist design, with bright colors, fresh décor, ambient music, making each visit as pleasant as possible.
Meeting Rooms

Event and meeting rooms
Guests can take advantage of B-on, Fiesta Inn¿s modern business workspace, outfitted with four computer workstations and business services. From here, you can keep in touch with the rest of the world, hold meetings in private boardrooms, participate in video conferences, and share documents and presentations online in real time at the center's two meeting rooms with space for up to eight people.
There are also special event facilities located in front of the hotel with a private entrance. There are four rooms that can be combined to accommodate up to 500 people with auditorium seating.
Rooms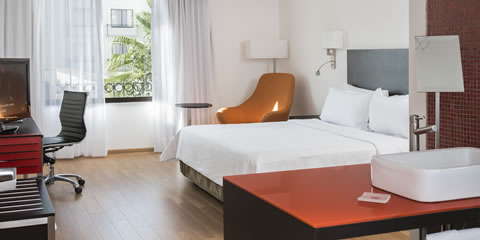 Superior Room, 1 king
Discover the perfect place to work and relax in this comfortable room, outfitted with a king bed, closet, bathroom, air conditioning, coffeemaker, executive work desk, two telephones, wireless high-speed Internet, hairdryer, luggage rack, closet, bathroom amenities, and cable TV with LCD screen. Each room has a view of the pool or hotel terrace.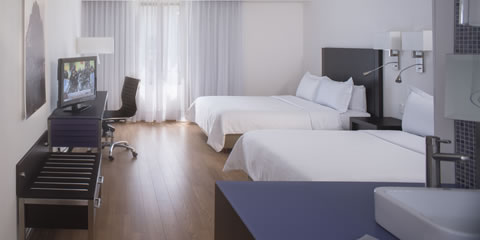 Superior Room, 2 double
After a long day full of activities, find comfort in this relaxing room equipped with two double beds, closet, bathroom with shower, air conditioning, coffeemaker, executive work desk, two telephones, wireless high-speed Internet, hairdryer, luggage rack, closet, bathroom amenities, and cable TV with LCD screen.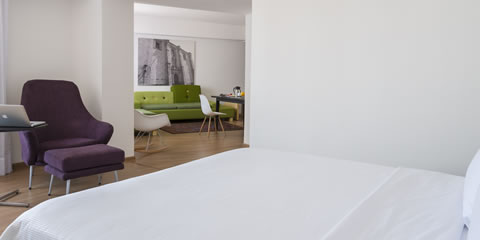 Junior Suite King
After a long day, you deserve this spacious room to work and relax. Each suite is outfitted with a king bed, sofa, closet, bathroom, air conditioning, coffeemaker, executive work desk, two telephones, wireless high-speed Internet, hairdryer, luggage rack, closet, special bathroom amenities, and cable TV with LCD screen.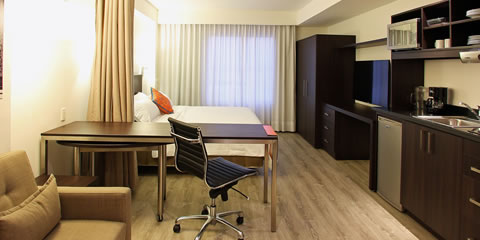 Loft
These larger guest suites are ideal for guests planning on staying for an extended period of time or hosting guests. Each suite has air conditioning, grill, kitchenette, mini-fridge, microwave oven, dining area, sitting room with satellite TV, work desk, executive chair, high-speed Internet access and telephone. Buffet Breakfast Included for 2 people.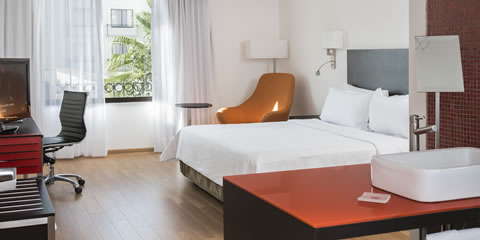 Room for handicapped persons
Experience a comfortable stay in this specially equipped room with a two single beds, closet, bathroom, air conditioning, coffeemaker, executive work desk, two telephones, hairdryer wireless high-speed Internet, and cable TV with an LCD screen. In addition, you will find all standard facilities for people with special needs. The bathroom is outfitted with safety rails, shower bars, elevated toilet with grab bars, and a wide entry door.