Strategically located in the town's most developed area, within the Nuevo Nogales industrial park and at the main entrance to the town and with easy access to the El Greco, Kalitea and Nogales  shopping centers. Situated ten minutes from the center of the city and the United States border, 10 minutes from the airport and 15 minutes from the bus station.

We remind you that the check-in time is from 3:00 PM. Check-out is at 12:00 PM. We suggest you use our express check-out service .

Services
The hotel has 107 rooms, a restaurant and a lobby bar open from 12:00 to 23:00 hrs. Other facilities include the Lounge 360°, outdoor swimming pool and fitness center. Hotel services include: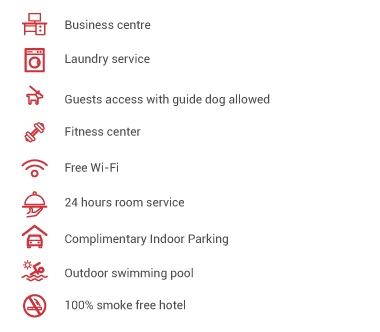 Restaurant

Restaurant
The Fiesta Inn features a restaurant which opens from 6:00 a.m. until 11:00 p.m. and is an excellent choice for breakfast, lunch and dinner. Choose from buffet or menu dishes, our Mexican appetizers and the finest regional cuisine.
Meeting Rooms

Event and meeting rooms
The hotel has a Business Center with computers and high speed wireless Internet, it also has a meeting room with air conditioning and capacity for 4 people.

It also features meeting rooms that can be adapted to host for up to 240 people in an auditorium; each room has a board, electric screen, flip charts, coffee service and personalized service. Our professional team will help with your groups and conventions.
x
Location #1 of 6 hotels in Nogales
GreenLeader Silver
Summary of qualifications
Best comments
"Beautiful Hotel and Friendly staff"
What a nice hotel! price was very affordable and the service was spectacular. They have clean stylish rooms although the beds were a little hard. They have a bar, a pool, a gym, a buffet style kitchen, and conference rooms. It is in a nice little section of the city. make sure you bring pesos though! Only thing that would have made things better was if I could have spent my Dollars there instead of having to find a place to exchange them.
"A nice place to stay"
I am giving the hotel 5 stars for giving me a good stay for my money and for everything going smoothly. I didn't experience any of the bad things noted in some of the reviews. All of the employees were nice, I liked my room and though it is not to be confused with a much more expensive hotel, it was all bright and looked new. Paint, carpet, etc., all seemed new and fresh. Everything from the A/C to the hot water to the internet all worked fine. I had no issues. The only item of note was the curtains didn't keep the room dark in the mornings, so on a sunny summer morning, it was bright in the room by 7:30AM. The view of the pool/garden was very nice in the morning for breakfast. I liked the breakfast. The food selection and quality was very good for the price. . I only ate the breakfast buffet, I can't speak to the other menu items. Remembering what I paid for the place, I think I got a lot for my money. The location may be good for you, or may not. It's not near downtown or the border. I took a cab from the border for under $10. One thing I would have done differently...I would have reserved on the hotel's own website. They offered a free breakfast buffet with the room. Several outside sites sold the room a little cheaper, but no breakfast and they then added a fee back to make the rate the same as getting the hotel's rate that includes breakfast.
"Some days good most bad"
You can definitely, notice changes, but still not there yet. Rooms stink like cigarettes, called front desk but nobody came to verify.The cleanliness of the floors is really bad, if you wear white socks in the room, you can definitely tell that no one pays attention to it. Breakfast, if the regular lady that prepares breakfast is there, you would feel right at home, the same happens if your waiter is Lucio, but if someone else is providing you of any service, you'll get angry faces or answers. One day it took them 30 minutes to tell me that they were out of cheese that's why they didn't prepare my breakfast. Internet, had a couple of issues but after contacting Jose Valenzuela everything got fixed ASAP, he's your go to guy with internet. All the front desk staff are really friendly and try to help right away, but seams to me that it's beyond their control
"Functional and clean"
I only stayed one night due to scheduling. The rooms are not fancy by any stretch of the imagination, but they are clean and functional (and the beds are comfortable). My only complaint is that either the walls or the door is thin as hallway noises filtered right through. It appeared that the sweep at the bottom of the door didn't quite reach the floor, so that was probably where the noise was coming in. In hindsight, a well-placed rolled up towel probably would have alleviated the hallway noise issue. Breakfast was tasty (the usual assortment) and the front desk staff were quick, efficient, and friendly. If in Nogales I'd stay here again, but as others noted it's essential to have transportation if you want to get away for dinner.
"Very slow Internet, chef doesn't know how to cook steak medium"
The last time I stayed here was over about a year ago. They did some renovations at the front desk. The staff speaks pretty good English. Breakfast was good. The hotel is clean, staffs are nice. It is not close to restaurant and anything. You need to have transportation. There are 2 problems: 1) Internet WiFi connection is very slow. I can't use it to transfer files or Skype. Most of the guest stay here are on business. It is a major problem. 2) Ordered steak medium from the restaurant and it came out well done. I had similar last time. How hard is it to cook meat medium? It was terrible. Please do not order steaks at the hotel. You'll be disappointed.
Top-rated Attractions Nearby
Enrikes Adventures
Nogales Mall
El Duque Liveaboard and Boat Charter - Day Tours
Morley Avenue Border Shops
Pimeria Alta Museum
Sacred Heart Parish
Nogales City Library
Hilltop Gallery
Nogales-SCC Chamber of Commerce Visitor & Tourism Center
Paul Bond Boots
Photos hotel and surroundings (87)
Rooms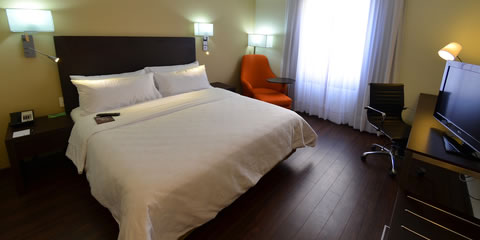 Superior Room, 1 king
Room with a king-size bed, 2 bedside tables, 32" LCD screen, spacious work desk, telephone, shower and toilet.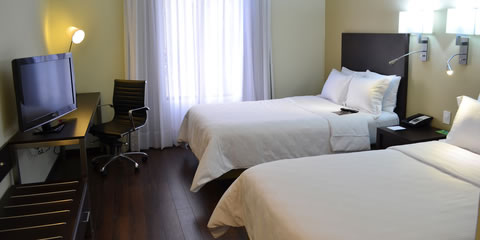 Superior Room, 2 double
Equipped with 2 double beds, 32" LCD screen, spacious work desk, telephone, shower and toilet.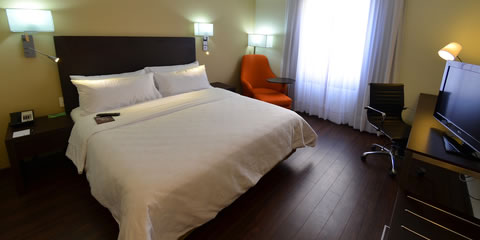 Handicapped Room
Furnished room equipped to meet the needs of handicapped guests: 2 single beds, 32" LCD screen, desk, telephone, a bathroom equipped with a 1 meter high handrail, shower and toilet with special safety bars.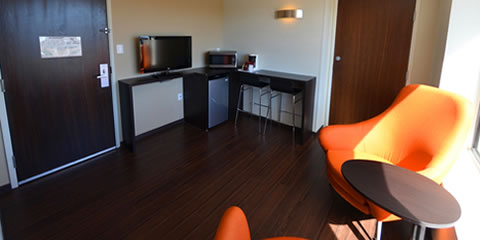 Junior Suite King
Suite equipped with king-size bed, private bathroom, air-conditioning, 2 telephones with direct access, hair dryer, two  32" LCD TVs, internet access, living area with breakfast bar, microwave, minibar, and individual sofa bed.