x
Fiesta Inn Periferico Sur
Location #127 of 294 hotels in Mexico City
Summary of qualifications
Best comments
"Very satisfied"
I've always been told that Mexicans are very friendly but this hotel staff was evidence of that. Everyone was very nice from the very beginning, helped me to find a trustful taxi driver to take me for a tour with reasonable price during the weekend.
"Makes you just feel like a number"
I stayed here for two weeks and it was ok, comfortable and clean, but that is it. The staff were "ok", the food was "ok", the rooms were "ok" (stayed in a room that was over $200USD per night). The problem I had with this hotel was there is no personal touch from the staff or any of the services they provide, this hotel is aimed at serving large groups of people I guess. I have stayed in many other hotels within Mexico City for a cheaper price that act as if they care about your well being. It's not a bad hotel, I just wouldn't recommend it to you, go if you have no other option really!
"Nice hotel, but some things need improvement"
Well, I´ve been to this particular hotel in early September for 3 days to attend a business meeting. I arrived on Sunday morning (9 a.m.) and I was promptly attended by the front desk clerk. She was amazing as my reservation only began in the afternoon, but seeing that I was coming from a 9 hour flight (from Brazil) she managed to get me checked into a room ASAP, and she was also very warm and receptive. Great first impression! The second impression was not the best, as the room she gave me was still dirty from the last guest. I called the front desk and a bell boy came within seconds with the keycard to another room. They were very sorry for the mistake and I believe it was a honest one. WIthin minutes I was in the hotel restaurant having a wonderful brunch, filled with typical mexican dishes, absolutely great food! What I loved: - big comfortable beds - good location, 1 minute walk away from a little mall and a 4 minute cab ride away from a big mall (Perisur) - great service, people were always nice to me - great food in the restaurant, both in the brunch and breakfast What I didn´t like: - the gym was very small and not very well mantained - the air conditioning in my room didn´t cool the room well enough. Thankfully the weather was very mild (from 15 C to 27 C). If it was warmer I was going to have a bad time... - on the second day of my stay a group of 200 hundred teenagers participating in a soccer tournament made the hotel an absolute chaos for the remaining days. They were everywhere, messing everything up, in the restaurant, in the lobby, in front of the elevators, in the gym (actually that was quite dangerous as they were messing with the barbells and someone could get hurt) - There was no fridge in the room. For the price they charge I don´t think that´s acceptable All things considered that is a good place to stay, in a great location in Coyoacan, and with a good cost-benefit ratio. But next time I would look for a newer hotel nearby.
"Comfortable"
I stayed here for several days on a business trip. Overall, I thought the hotel is pretty good: the rooms are large, free internet, free coffee in the rooms, and helpful staff. The bathrooms were dated and a little grubby. I didn't get time to use the small indoor pool, but it looked well maintained. I enjoyed the breakfasts- there was tons of choice, and also a cook to order station. I'm not a vegetarian, but those who don't eat meat might find their choice very limited at breakfast. I also used the business centre, which was very small but set up well. The hotel seemed very busy and there were sometimes long lines at the reception desk. The hotel location was fine for my purposes, but it's not in walking distance of the subway system or the guided bus system. The nearest subway station is a 5-10 minute taxi ride. I think if you are a tourist, you'd want to be nearer to the centre or possibly Coyoacan. 5 minutes walk behind the hotel is a large shopping mall with a range of restaurants and fast food options, plus there's guys that sell tacos in the street near the hotel. I didn't feel unsafe in the streets around the hotel but you do need to be careful. I had a little free time and the hotel organised a good trip out to the pyramids at Teotihuacan, which was excellent value for money.
"Don't expect a smile..."
Spent a week on business staying in that hotel and was purely used for sleep, breakfast and dinner. And was very satisfied as specially the restaurant has a very fresh and diverse meals. The service in the restaurant was very good too and always with a smile and a chat. But I spent an extra day after a trip and there I realised the quality of the service on reception. First when I went to use the computers for the guest all of them were used by very rude business men that only took the desk to put their laptops and produce a meeting room between them. Went to Reception to ask them move to another place and nobody came… Finally managed to get one computer to print my boarding passes…but the printer didn't have paper…went to reception and (all with a terrible unfriendly face) managed to negotiate to have 3 pages…and no more. Leaving the place and take the taxi to the airport I've asked if they could post a postcard for me and I pay in advance. They not only refused but also told me if I want any service I should go somewhere else where may be have a post office nearby. My experience is that many hotels (specially the ones you pay a good price for a room) have this and many other services…or at least will be friendly. I left with the impression that not only paid a fortune for the room but also I was disturbing the peace by asking the staff of reception. Nice place, good food and staff of the restaurant but don't try anything with Reception. Good luck...
Top-rated Attractions Nearby
Centro Comercial Perisur
Universum: Museo de las Ciencias
Estadio Azteca
Barrio Tlalpan
Parroquia de la Purisima Concepcion
Museo Arqueologico Cuicuilco
Museo del Tiempo
Universum Museo de las Ciencias de la UNAM
KidZania Cuicuilco
Cursos Anuales de Verano en Educacion Ambiental para Ninos
Photos hotel and surroundings (94)
Within one of the largest cities in the world, the hotel is strategically located close to Perisur, one of the top shopping centers in Mexico City, prestigious universities and specialized hospitals. The hotel is situated between Insurgentes Sur and Calzada de Tlalpan Avenues, nestled amongst the colonial charm that is characteristic of the southern part of the city and just minutes from Six Flags, the largest amusement park in Latin America.

We remind you that the check-in time is from 3:00 PM. Check-out is at 12:00 PM. We suggest you use our express check-out service.

Fiesta Inn Periférico Sur is an Eco-friendly hotel, so it is a 100% smoke free hotel.
Services
The hotel has 212 rooms, a restaurant, a lobby bar open from 1:00 p.m. to 11:00 p.m., indoor swimming pool, gift shop and fitness center. Hotel services include: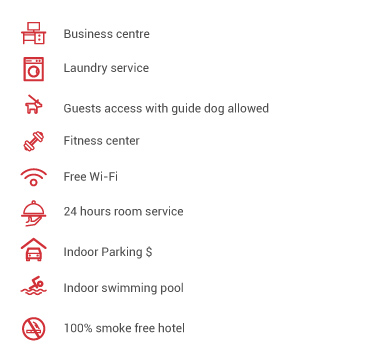 Restaurant

Restaurant
The Fiesta Inn features a restaurant which opens from 6:00 a.m. until 11:00 p.m. and is an excellent choice for breakfast, lunch and dinner. Choose from buffet or menu dishes, Mexican appetizers and the best regional cuisine.

Meeting Rooms

Event and meeting rooms
The hotel has a Business Center with computers and high speed wireless Internet, and 2 meeting rooms with a screen, air conditioning and capacity for 8 people.
It also features meeting rooms that can be adapted to host up to 500 people in an auditorium; each room has a board, electric screen, coffee service and personalized service. Our professional team will help with your groups and conventions.

Rooms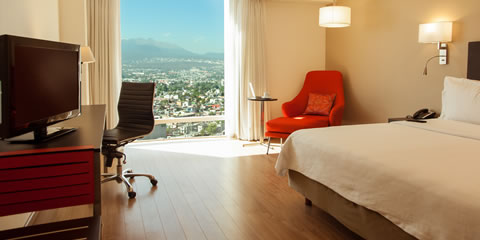 Superior Room, 1 king
The room is 30 m2 with a king-size bed, 2 bedside tables, 29" TV, reading chair and spacious work desk, telephone, bathroom with tub, shower and toilet. With a view of the city, except on the 1st floor.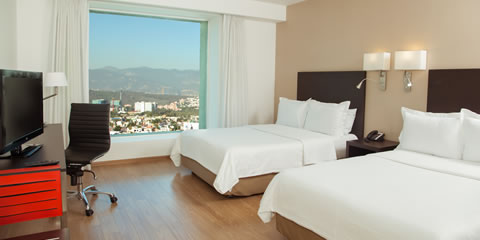 Superior Room, 2 double
Equipped with 2 double beds, 29" TV, spacious work desk, telephone, bathroom with tub, shower and toilet. With a view of the city.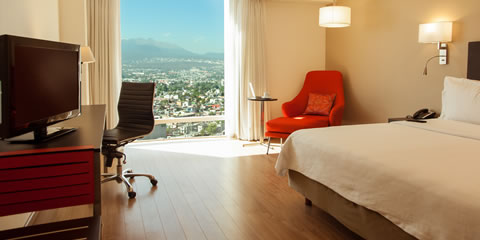 Executive Room, 1 King
These spacious guest rooms feature warm colors and laminated floors, making them ideal for relaxation. They are outfitted with a king bed, and bathroom with shower stall. Each room has a 32" LCD TV, two telephones, and work desk with high-speed wireless Internet access. They also have bottled water, a coffeemaker, selection of teas, and a travelers kit.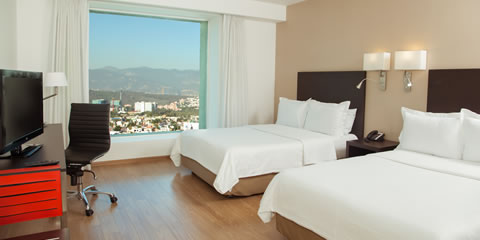 Executive Room, 2 Double
Whether traveling for work or pleasure, these spacious rooms offer a tranquil getaway. They feature warm colors and laminated floors, and are outfitted with a two double beds, large dresser, and bathroom with shower stall. Each room has a 32" LCD TV, two telephones, and work desk with high-speed wireless Internet access. They also have bottled water, a coffeemaker, teas, and a travelers kit.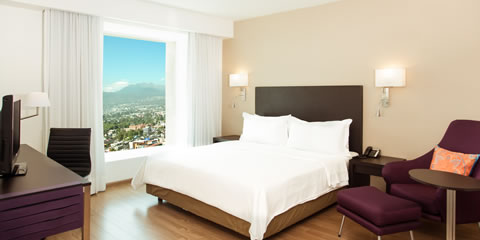 Deluxe Room, 1 king
A spacious and comfortable room. It features a sofa, king-sized bed and space for an additional bed or serving table for 2 people. Bathroom equipped with tub, shower and toilet. Ideal for extended stays.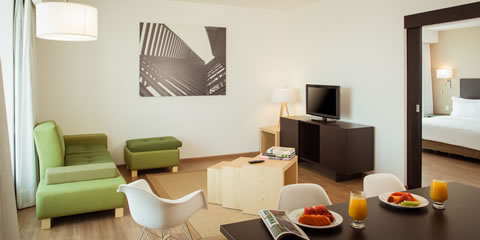 Junior Suite
The room includes 2 areas: a dining area for 4 people, kitchenette with microwave, coffee maker and a small refrigerator; living room with 2 sofas that each seat 3, 2 side tables, telephone, 29" TV, bathroom with tub, shower and toilet, scale and luxury toiletries.