x
Fiesta Inn San Luis Potosi Glorieta Juarez
Location #20 of 37 hotels in San Luis Potosi
GreenLeader Silver
Summary of qualifications
Best comments
"Business stay"
Stayed here for 3 nights and 4 days Was impressed with hotel staff and friendly atmosphere This hotel is only two floors and features rooms that are all in one line Rooms from 160 and lower are at far end of hotel - quite a walk Restaurant is good for breakfast - lots to choose from - although better to swing by Oxxo and get some granola bars and water Fitness room is well equipped with machines Night time bar area is good for drinks and food choices - although menu is in Mexican and you will basically need to describe meal using hands and gestures shower is separate from toilet and sink - therefore three people can use washroom at once This hotel is safe and has an outdoor swimming pool
"25 pesos for coffee in room??"
Woke up on my second day ready to fix my coffee in my room....there was no coffee pouch. Called the operator and she said that the coffee pouch costs 25 pesos! She said that the 1st day the coffee was free. I stayed 2 nites at 1,800.00 pesos each nite..I think they should of thrown in that extra coffee pouch ... The restaurant food SUCKS
"Outdoor Hotel pro & con"
I stayed in this Hotel due to Bussines visit, is not very far from another Fiesta inn Hotel (4 mi) rooms are standard and have all you would expect froma bussines class acommodations. Big bed, desk, WiFi, TV, Iron Board, Hair Drier. Almost all rooms face to central garden, but you need to go outside in case you need to go to lobby or other facilities. In some rates the breakfast is included and is good, not the bread and coffee type, but you can have ham, eggs, bacon, bread and an assortment of juice and cereal. I think that this place is good with kids as they can be on the central garden playing, for a bussines trip I'd rather not to have to go outside all times I want to go to gym, lobby or get some ice.
"Nice, Affordable, great breakfast"
The Good: neat, clean, very nice courtyard, good staff, excellent breakfast. The Bad: could be more modern, breakfast is not free. It's a very nice place and I enjoyed a three day stay. The staff was very friendly and the English was good. The breakfast bar was top notch with very high quality with tons of choice. The cost was about $9 USD, so no bargain by local standards. The courtyard is very nice and well maintained with songbirds. Their is a little restaurant and bar that is open 24 / 7 and a nice gym.
"It's ok - but there are better places"
The Fiesta Inn San Luis Potosi Glorieta Juarez (there are two Fiesta Inns @ Av Benito Juarez) is a good hotel for business travellers planning for meetings in the close by industrial area. Although it is not brand new it is a ok place to stay. Location: Not far from the industrial area as well a short 5-10min ride to down-town San Luis Potosi. The front desk is helpful and takes care about your needs. Rooms: Enough space. Cleanliness is so la-la. The carpets seem to stem from Aztec-times: worn and not really clean. The bathroom area is also covered with them... The best thing - really! - are the beds. I slept wonderful. Internet: WiFi is free but bandwith is limited. Especially in the evening speed goes south. IP-teleconferencing is still possible but not good. Pricing is ok. Next time I would look for other options in town.
Top-rated Attractions Nearby
Huasteca Potosina
Parque Tangamanga
The Cave of Swallows
Plaza de San Francisco
Cathedral of San Luis Potosi
Centro de las Artes de San Luis Potosi Centenario
Cave of Swallows (Sotano de las Golondrinas)
Museo Laberinto
Museo Silva Federico
Plaza de Aranzazu
Photos hotel and surroundings (26)
Located at the Juárez exit, only 10 minutes from the historic center and the industrial corridor where Parque Tres Naciones, Parque Milenium and the Ciudad Industrial are located. Situated fifteen minutes from the airport and within easy access to attractions including the Plaza El Dorado, Plaza Tangamanga and Parque Tangamanga.

We remind you that the check-in time is from 3:00 PM. Check-out is at 12:00 PM. We suggest you use our express check-out service.

Services
The hotel has 135 rooms, a restaurant, a lobby bar open from 1:00 p.m. to 12:00 a.m., outdoor swimming pool, gift shop and fitness center. Hotel services include: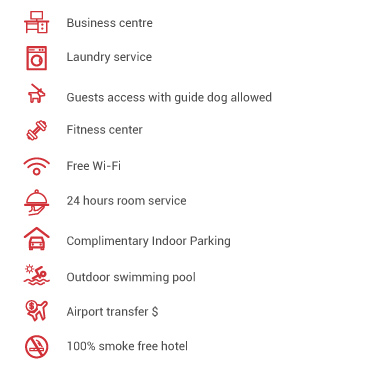 Restaurant

Restaurant
The Fiesta Inn features a restaurant which opens from 6:00 a.m. until 11:00 p.m. and is an excellent choice for breakfast, lunch and dinner. Enjoy our buffet specialties from Monday to Friday, such as steaks, pasta, sandwiches, tacos and Mexican appetizers.
Meeting Rooms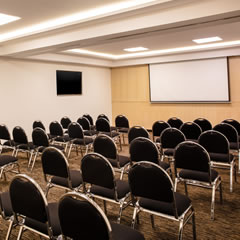 Event and meeting rooms
The hotel has a Business Center with computers and high speed wireless Internet, it also has 2 meeting rooms with a screen, air conditioning and capacity for 8 people.
It also features meeting rooms that can be adapted to host for up to 320 people in an auditorium; each room has a board, electric screen, flip charts, coffee service and personalized service. Our professional team will help with your groups and conventions.
Rooms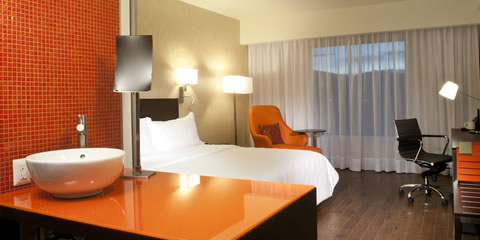 Superior Room, 1 king
The room is 30 m2 with a king-size bed, 2 bedside tables, 29" TV, reading chair and spacious work desk, telephone, bathroom with tub, shower and toilet.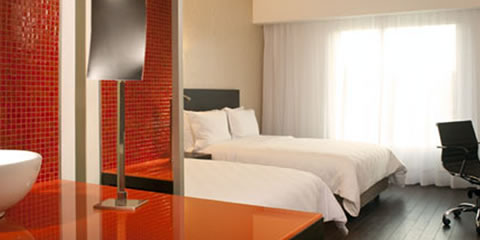 Superior Room, 2 double
Equipped with 2 double beds, 29" TV, spacious work desk, telephone, bathroom with tub, shower and toilet.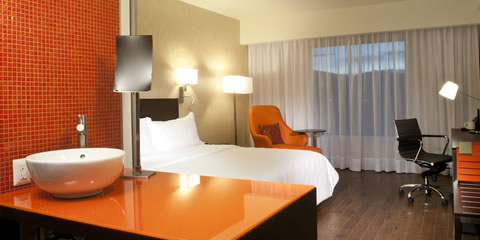 Deluxe Room, 1 king
Spacious room equipped with a king-size bed, air-conditioning, bath and shower, speakers in the bathroom, wireless Internet connection, carpet, work desk with a lamp, and cable television. Ideal for couples.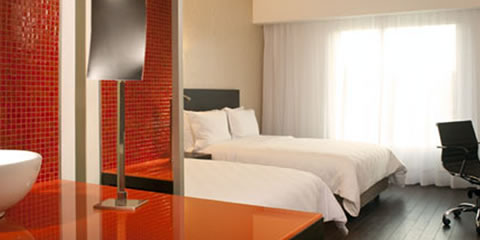 Deluxe Room, 2 double
Spacious room equipped with 2 double beds, air-conditioning, cable TV, carpet, closet, bath and shower, speakers in the bathroom, wireless Internet connection, armchair with an ottoman, and a work desk with a lamp. Perfect for relaxing after a hard day.