x
Location #6 of 44 hotels in Tijuana
Certificate of Excellence 2015
Summary of qualifications
Best comments
"LOVE THIS HOTEL"
I love this hotel! honestly out of all the hotels I have stayed at in Tijuana this has to be the best! this hotel is very quiet, so you can get a good nights rest! and also their room service restaurant has great food and drinks.
"Nice, safe spot for a short stay"
Working in the TJ area I stayed for a night. Very clean facility with no much around it. Restaurant and Bar in hotel was all I needed. Room was nice and staff was friendly. I will use this facility again!
"Pre-night hotel for the airport"
This is a nice hotel close to the TIJ Airport. It does not have a shuttle service and the taxi rates are set from the border and to the airport. It's less than 10 minutes to/from both. It's a full service hotel with bellmen, restaurant, exchange service, and pool. The rooms are large, nicely furnished and there's free WiFi. The restaurant opens early for the airport crowd. I had an upper level room and the views were not wonderful, but it is nice to see the planes coming in, and the hills in the distance. There's an Asian Fusion restaurant and a steakhouse sorta across the street and down just a little. A little further walk brings more restaurant and fast food choices. With the new US side terminal of TIJ opening up the choices get more complicated. This hotel is an international standard hotel. There are also some motel type places right at the Otay crossing. The new terminal opens up other hotels closer to San Diego as options. This hotel is a very good choice for pre-night on the Mexican side.
"Nice hotel but restaurant needs improvement"
Nice hotel, rooms are clean, bed was comfortable, front desk service was good, wifi worked. The restaurant needs improvement, the food and service is not all that good. I order tuna tostadas and could not eat them, the seafood soup was terrible. The only good thing in the restaurant is the breakfast buffet. The best thing about the hotel were the mockingbird singing in the morning outside the pool, the swimming pool is very clean with a very nice garden.
"Disappointed..."
This hotel has in the website description that is close to the hotel and that they have shuttle service... The hotel is at the back of the TJ airport and they no longer have a shuttle service. So it becomes a hassle to stay in this hotel if what you want is to be close/convince to the airport...
Top-rated Attractions Nearby
Turista Libre Tijuana Tours
Tijuana Cultural Center (CECUT)
Universidad Autonoma de Baja California
Ceart Tijuana
Mercado Hildago
Playas de Tijuana
Cinepolis Theater
Pub Crawl Tijuana
Estadio Caliente Xoloitzcuintles de Tijuana
Catedral de Nuestra Senora de Guadalupe
Photos hotel and surroundings (23)
Located next to the American Consulate, 5 minutes from the bus station, providing easy access to the Tijuana Cultural Center, Parque Morelos and Parque de la Amistad.  Situated only 8 minutes from the airport and very close to the United States border checkpoint (Garita Otay).

Fiesta Inn Tijuana Otay Aeropuerto is an Eco-friendly hotel, so it is a 100% smoke free hotel.

We remind you that the check-in time is from 3:00 PM. Check-out is at 12:00 PM. We suggest you use our express check-out service.

Services
The hotel has 142 rooms, a restaurant, a lobby bar open from 12:00 p.m. to 11:00 p.m., outdoor swimming pool, tobacco shop and fitness center. Hotel services include: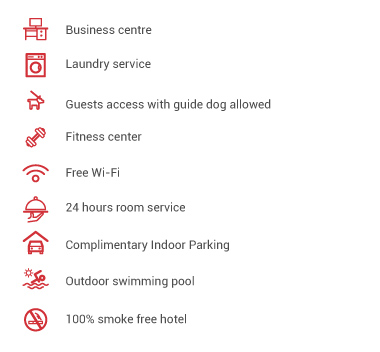 Restaurant

Restaurant
The Fiesta Inn features a restaurant which opens from 6:00 a.m. until 11:00 p.m. and is an excellent choice for breakfast, lunch and dinner. Choose from buffet or menu dishes, our Mexican appetizers and the finest regional cuisine.

Meeting Rooms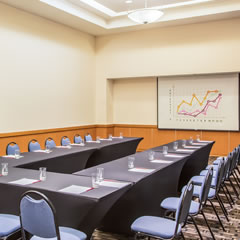 Event and meeting rooms
The hotel has a Business Center with computers and high speed wireless Internet, it also has 2 meeting rooms with air conditioning and capacity for 6 people.
It also features meeting rooms that can be adapted to host for up to 180 people in an auditorium; each room has a board, electric screen, flip charts, coffee service and personalized service. Our professional team will help with your groups and conventions.
Rooms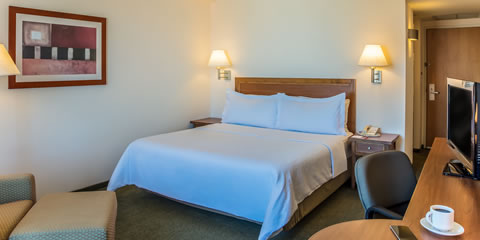 Superior Room, 1 king
The room is 30 m2 with a king-size bed, 2 bedside tables, 29" TV, reading chair and spacious work desk, telephone, bathroom with tub, shower and toilet.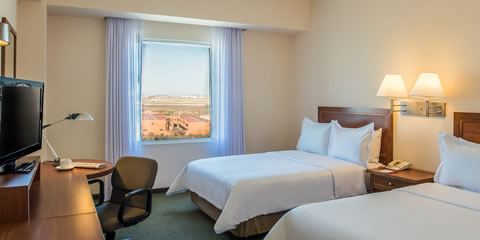 Superior Room, 2 double
Equipped with 2 double beds, 29" TV, spacious work desk, telephone, bathroom with tub, shower and toilet.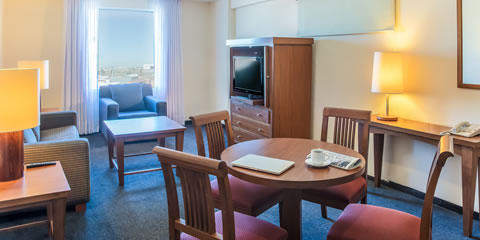 Junior Suite
A spacious, luxury room that includes a bedroom with a king-size bed, armchair with ottoman, vanity, full-length mirror, TV and work desk with a telephone, lamp and high-speed Internet connection. The living room features a small cupboard, microwave, mini bar, balcony and a beautiful panoramic view.