Located in the hotel district in the heart of Boca del Rio. From here, you'll enjoy views of both the sea and Sacrificios Island. The hotel is very close to Plaza las Americas and to the best bars and restaurants in the city. The hotel is 5 minutes from the World Trade Center and 15 minutes from the airport.

Fiesta Inn Veracruz Boca del Río is an Eco-friendly hotel, so it is a 100% smoke free hotel.

We remind you that the check-in time is from 3:00 PM. Check-out is at 12:00 PM. We suggest you use our express check-out service.

Services
The hotel has 144 rooms, a loby bar open from 12:00pm to 12:00am, restaurant, outdoor swimming pool, gift shop and fitness center. Hotel services include: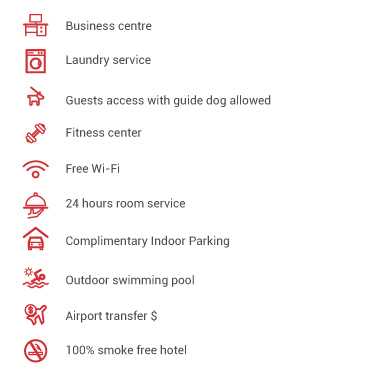 Restaurant

Restaurant
The Fiesta Inn features a restaurant which opens from 6:00 a.m. until 11:00 p.m. and is an excellent choice for breakfast, lunch and dinner. Choose from buffet or menu dishes, our Mexican appetizers and the finest regional cuisine.

Meeting Rooms

Event and meeting rooms
The hotel has a Business Center with computers and high speed wireless Internet, It also has 2 meeting rooms with a screen, air conditioning and capacity for 8 people.
It also features meeting rooms that can be adapted to host up to 350 people in an auditorium; each room has a board, electric screen, flip charts, coffee service and personalized service. One of the rooms offers a wonderful view of the ocean. Our professional team will help with your groups and conventions.

x
Fiesta Inn Veracruz Boca del Rio
Location #6 of 79 hotels in Veracruz
Summary of qualifications
Best comments
"Great veneer, Poor rooms and Service"
The pool area is fantastic with a great view of the ocean and nice beach; the rest of the hotel is average to poor. Our room was a reasonable size with an acceptable bathroom. The air conditioner didn't work so we asked for it to be serviced while we were out for the day. When we returned it was working but there was a lot of water surrounding both beds so obviously there was no proper follow-up on the maintenance. Check out was painfully slow; far below industry standard. The restaurant staff for breakfast were very friendly and reasonably attentive. The pool bar, which has very slow service, closes at 5:30 PM. This would be okay if there was a proper bar inside the hotel but the interior lounge area is minimalist and the service bad. Overall, I was underwhelmed by my stay here.
"Food poisoned"
I lead 2 workshops during two weeks at this hotel and stayed there the first. During the first week, I only ate there and when I went back home for the weekend, I had all the symptoms of a serious intestinal infection which took one month of strong antibiotic treatment. I told the banquets & food manager before I left that I was sick due to their food and he apologized and promised to do something about it. However, the next week, during the first day of my workshop, five of the attendants got sick with the lunch eaten at the hotel's restaurant and therefore, were unable to attend the rest of the sessions. When my clients complained, the response of the lady in charge of the event at the hotel instead of apologizing tried to put minimize the seriousness of their lack of higiene and food handling. A terrible experience and a shame at such a wonderful place as Veracruz.
"Disappointed"
I had to come to Veracruz for business purposes with a 16 people team on 4/29/2015 for one night, Fiesta inn was recommended so I made all team reservation by my AMEX travel agency. (I have A LOT of Mexico and international hotel experience, mainly from business trips). (Room 346) The Bad: -In this super windy day the window was rattling, they came to fix it with tape while I was in a meeting in the bar but they didn't put the tape in the correct part so, when I return I had to call them again to finish the job property. -While I was in the meeting in the Bar I ordered a vodka martini, I taste it and it tastes like it has a lot of water, I asked to the capitan if he put the correct amount of the vodka and he said that yes that if I felt it weak he can put more vodka but instead of that he gave me another one more decent drink, so they take away the other cup, but they charged me the two drinks!!, he told me that he would be in troubles if he doesn't charge me both drinks, he offered to give me another drink but I didn't want another drink so I accepted to pay! -Noisy A/C (I had to turn it off to be able to sleep) -When you change the bath to the shower, you can hear like a mouse creaming, seems it creates an annoying resonance noise. The Normal: -Check in time. The Good -Free parking lot. -Free Internet. -Courtesy small water bottle in the room. Conclusion: I am sure this won't repeat since I won't return here. I prefer pay some more money or I am sure I will find something else better for the same price. My experience: disappointed! I do not recommend this hotel.
"Great Hotel and Staff"
Lovely Hotel, very clean. Area outside was very well kept. Staff were awesome and went out of there way to make our 1st Mexican holiday enjoyable. Currently they are re-doing there lobby, but it was not an inconvenience. It will be very nice when done. Restaurant in the hotel was very good. Breakfast buffet awesome. All staff were friendly and helpful. Some spoke no English and still acknowledged you with a smile or a hello in Spanish. There was a wedding, a youth conference held at the hotel. And everything was the same. Even the Mexican Pro soccer team, with newspaper guys and fans trying to get a glimpse of the boys did not inconvenience any one. The staff made sure all guests were taken care of and that the extra security did not inconvenience the guests. the hotel has a lovely pool area with a bar and music playing. It also backs on to the Gulf of Mexico so the beach is right there. For swimming or a stroll. Nets are also put up for volleyball or soceer. Definitely would stay there again.
"Beautiful view of the ocean"
I thoroughly enjoyed my 3 nights there. The staff goes out of their way to help, with a smile and courtesy. They have a breakfast buffet that caters to every gastronomical wimp one might have. A lady is available to prepare on the spot Mexican dishes, all absolutely to die for. If one is into a dip in the ocean, one can accomplish this by taking a few steps from the swimming pool right into the ocean. Most convenient. They have entertainment at night, which is very nice and provides with winding down for the evening If my travels take me back to the heroic city and port of Veracruz, I most certainly would stay there again.
Top-rated Attractions Nearby
Mundo Submarino
Granja Interactiva de Patrulla Animal
Laguna de Sontecomapan
Aquarium of Veracruz
Tranvias Veracruz
Herpetario Patrulla Animal
La Josefina
Wax Museum of Veracruz
Kingsports
El Ciclo Verde
Photos hotel and surroundings (42)
Rooms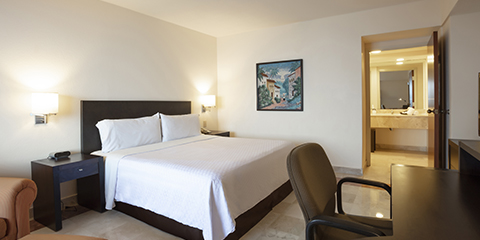 Superior Room, 1 king
The room is 30 m2 with a king-size bed, 2 bedside tables, 29" TV, reading chair and spacious work desk, telephone, bathroom with tub, shower and toilet.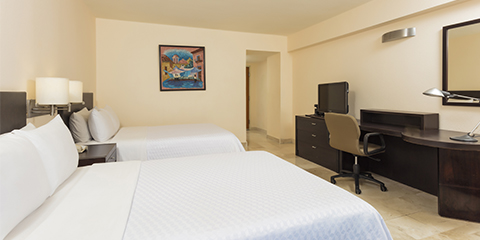 Superior Room, 2 double
Equipped with 2 double beds, 29" TV, spacious work desk, telephone, bathroom with tub, shower and toilet.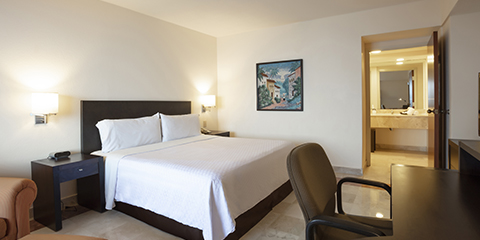 Superior Room, Ocean Front, 1 King
These rooms offers ocean front view, equipped with a king size bed, 32" LCD TV, WiFi internet access, hair dryer, iron, safety deposit box large enough for your laptop, coffee-maker and toiletries.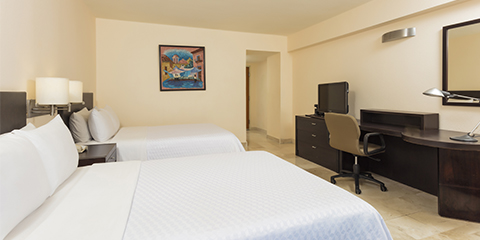 Superior Room, Ocean Front, 2 Double
These rooms offers ocean front view, equipped with two double beds, 32" LCD TV, WiFi internet access, hair dryer, iron, safety deposit box large enough for your laptop, coffee-maker and toiletries.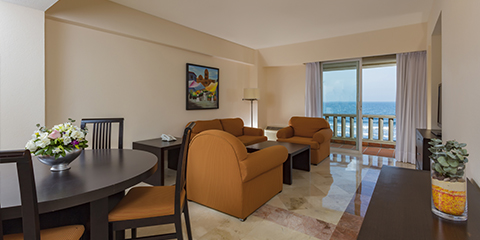 Junior Suite
Large suite with a bedroom with king-size bed that's separated by a door from a living room with breakfast area, microwave and mini bar. There's also a bathroom with bathtub. These suites offer a patio and full ocean view.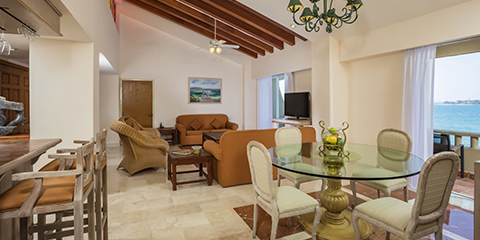 Governor Suite
Elegant, one-bedroom suite with king-size bed, full bathroom, hydromassage tub and patio. The suite has a living room with a breakfast area for six people, breakfast bar and kitchenette with microwave oven and mini bar.