Fiesta Inn
Insurgentes Sur
Fiesta Inn Insurgentes Sur
Fiesta Inn innovated and transformed the Business Class concept. At the Fiesta Inn Insurgentes Sur, these changes can be seen in the hotel's design and facilities. The rooms are practical and welcoming, connected and independent at the same time, and have been designed to provide creative freedom, making work enjoyable. Today, Fiesta Inn is more than a hotel, it's a community that enjoys constantly striving for success.

Located in the Centro Comercial Insurgentes plaza, behind Teatro Insurgentes, the hotel is surrounded by both corporate and government offices including Conacyt, Grupo Bursátil Mexicano, Apotex, SFP and is very close to UNAM. The hotel is attached to a shopping mall that offers restaurants, cafés, shops, bars, a gym with a pool and a casino.

Fiesta Inn Insurgentes Sur is an Eco-friendly hotel, so it is a 100% smoke free hotel.

We remind you that the check-in time is from 3:00 PM. Check-out is at 12:00 PM. We suggest you use our express check-out service.




Services
The hotel has 162 rooms, restaurant, bar and provides open, multifunctional, comfortable and spacious facilities ideal for working in a pleasant environment without distractions. It features Lounge 360° and fitness center. Hotel services include:
Shuttle service with cost
Handicapped access
Gym
Restaurant(s)
100% smoke free hotel
Stores onsite/nearby
Guests access with guide dogs
Pets are not allowed
Indoor parking with cost
Business center
Free Wi-Fi access
Laundry service
Bar(s)
24 hours room service
Restaurant

La Isla
The new Fiesta Inn features "La Isla", where you can refuel your energy with a convenient snack, open 24-hours and offering many options: breakfast buffet, restaurant, grab and go, room service or other specials, letting you take a break and relax. It also includes a self-service area and a bar with domestic and imported drinks.
Meeting Rooms

Event and meeting rooms
The hotel features a B-on Business Center with computers and high speed wireless Internet, it also has three meeting rooms: one with capacity for 20, one with capacity for 14 and one with capacity for 8 with a screen and air conditioning.
It also features meeting rooms that can be adapted to host up to 358 people in an auditorium; each room has a board, electric screen, flip charts, coffee service and personalized service. Our professional team will help with your groups and conventions.

Qualified:
x
Fiesta Inn Insurgentes Sur
Location #25 of 304 hotels in Mexico City
GreenLeader Gold
Certificate of Excellence 2016
Summary of qualifications
Best comments
"Good hotel for business trip"
Ammenities are reasonable. Room is spacious (one king-size bed plus chair and workdesk). TV selection is limited in English (but this is a business trip). Air conditioning was so-so - but it did lower the temperature by a few degrees to comfortable (for me). Restaurant food choice is okay, but it is very convenient when you are tired or it is pouring rain outside. Slightly pricey, but the competition is scarce, and location was convenient for me.
"Good basic hotel"
Liked the friendly staff best - they tried to provide good service. Room was sufficiently spacious. At last a room with sufficient hangers! Amenities were sparse (gym too small and opening hours inconvenient). Had to chase up to receive laundry. Hot water at basin not always hot. Restaurant was acceptable. Internet was generally good but sometimes a bit slow. Wifi availability very good. Aircon noisy.
"Perfectly Adequate"
Just what I look for in a business hotel, everything I need without paying for luxuries that I don't need. The breakfast buffet was extensive, if not lavish, and had a great variety of local dishes, as well as eggs & omelets cooked to order. Service was friendly and eager to please. I had a double room with enough desk space, comfortable beds, and a view of the apartments next door. The large shower was a bonus. I wanted to try out the pool and fitness center, but wasn't able to get there during only a three-day stay. I'd be happy to hear that clients arranged for me to stay there again.
"great hotel, nice staff - wifi was great enough to work remotely"
I didn't pick this hotel and I expected a tiny room with barely adequate wifi but was quite surprised and had a huge room. Wifi was great- the staff was great. And this was just a quick business trip. My only possible complaint was about the AC but the staff took care of it once I brought it up. I'm pretty familiar with Mexico City and speak Spanish- so I could navigate the area easily. If you're not familiar and don't speak Spanish- - don't worry, the staff spoke English and there are enough restaurants around and things to do that you'll be fine. There's even a Starbucks downstairs and some restaurants connected to the building so you don't have to wander far for things.
"Nice Business Hotel"
Great location in a good neighborhood in south central Mexico City. The rooms are large and clean. Costs are reasonable. The buffet breakfast is excellent and they offer both Mexican and America fare. Hotel staff is friendly and helpful. When in Mexico City for business, this will be my hotel. I'm a usual Marriott person and wish they had a Courtyard close by, but they are all a long distance. One warning, traffic is a nightmare.
Top-rated Attractions Nearby
National Museum of Anthropology (Museo Nacional de Antropologia)
Palacio de Bellas Artes
Chapultepec Castle
Coyoacan
Eat Mexico Culinary Tours
Basilica de Santa Maria de Guadalupe
Murales de Diego Rivera en la Secretaria de Educacion Publica
Journeys Beyond the Surface Popular Culture Tours
Frida Kahlo Museum
Paseo de la Reforma
Photos hotel and surroundings (47)
Rooms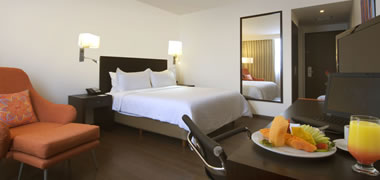 Superior Room, 1 king
Room with one king-size bed, a work desk with ergonomic office chair, LCD screen, one bedside table, bathroom with shower and toilet separated by a sink, cable TV, suitcase rack, closet, full-length mirror and ottoman chair.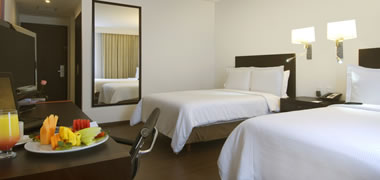 Superior Room, 2 double
Room with two double beds, a work desk with ergonomic office chair, LCD screen, two bedside tables, bathroom with shower and toilet separated by a sink, cable TV, suitcase rack, closet, full-length mirror and ottoman chair.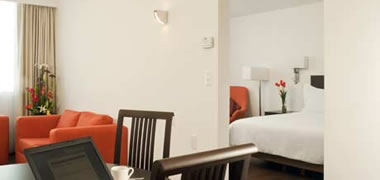 Junior Suite
A one bedroom suite with a living room with lounge for 4 people and a small dining room for 4 people. Also includes a bar with microwave, sink, mini fridge and shelf. Room with one king-size bed, a work desk with ergonomic office chair, LCD screen, one bedside table, bathroom with shower and toilet separated by a sink, cable TV, suitcase rack, closet, full-length mirror and ottoman chair.