Fiesta Inn
Insurgentes Sur
Fiesta Inn Insurgentes Sur
Fiesta Inn innovated and transformed the Business Class concept. At the Fiesta Inn Insurgentes Sur, these changes can be seen in the hotel's design and facilities. The rooms are practical and welcoming, connected and independent at the same time, and have been designed to provide creative freedom, making work enjoyable. Today, Fiesta Inn is more than a hotel, it's a community that enjoys constantly striving for success.

Located in the Centro Comercial Insurgentes plaza, behind Teatro Insurgentes, the hotel is surrounded by both corporate and government offices including Conacyt, Grupo Bursátil Mexicano, Apotex, SFP and is very close to UNAM. The hotel is attached to a shopping mall that offers restaurants, cafés, shops, bars, a gym with a pool and a casino.

Fiesta Inn Insurgentes Sur is an Eco-friendly hotel, so it is a 100% smoke free hotel.

We remind you that the check-in time is from 3:00 PM. Check-out is at 12:00 PM. We suggest you use our express check-out service.




Services
The hotel has 162 rooms, restaurant, bar and provides open, multifunctional, comfortable and spacious facilities ideal for working in a pleasant environment without distractions. It features Lounge 360° and fitness center. Hotel services include:
Handicapped access
Gym
Restaurant(s)
100% smoke free hotel
Stores onsite/nearby
Guests access with guide dogs
Pets are not allowed
Indoor parking with cost
Business center
Free Wi-Fi access
Laundry service
Bar(s)
24 hours room service
Restaurant

La Isla
The new Fiesta Inn features "La Isla", where you can refuel your energy with a convenient snack, open 24-hours and offering many options: breakfast buffet, restaurant, grab and go, room service or other specials, letting you take a break and relax. It also includes a self-service area and a bar with domestic and imported drinks.
Meeting Rooms

Event and meeting rooms
The hotel features a B-on Business Center with computers and high speed wireless Internet, it also has three meeting rooms: one with capacity for 20, one with capacity for 14 and one with capacity for 8 with a screen and air conditioning.
It also features meeting rooms that can be adapted to host up to 358 people in an auditorium; each room has a board, electric screen, flip charts, coffee service and personalized service. Our professional team will help with your groups and conventions.

Qualified:
x
Fiesta Inn Insurgentes Sur
Location #33 of 312 hotels in Mexico City
GreenLeader Gold
Summary of qualifications
Best comments
"Excellent hotel / Excelente hotel"
The staff was very friendly. The room was very clean. The wifi worked well. The restaurant area was comfortable and had a nice outdoor seating area. The food was great, too. I recommend the grilled salmon with vegetables or the pepito de arranchera (flank steak on a baguette with a little bit of guacamole and refried beans, served with fries.) I was there for business and would be very happy to stay there again. / El personal fue muy amable. La habitación estaba muy limpia. El wifi funcionó bien. La area del restaurante era cómoda y tenía una bonita area para sentarse afuera. La comida también fue genial. Recomiendo el salmón a la parrilla con verduras o el pepito de arranchera. Estuve allí por negocios y estaría muy feliz de estar allí de nuevo
"Good business location with basic rooms"
Our company put us up here for the afternoon of the earthquake, until we could get to our own hotel. The front desk personnel were very courteous. We shared room 511, which had two beds along with a single sink vanity with a tiny water closet but a fairly large walk-in shower. The room had the faux wood laminate floor rather than the usual carpet.
"Good business location, quiet rooms, pretty basic"
I was in room 218 which looked out over a quiet pedestrian alley and across to a shopping mall. It was far down the hall from the elevator so it was quiet. Turning the fan on (default is off) generated good white noise, so I slept well. The hallways have grey carpet and tiny lights, so it is too dark for my taste. The gymnasium is bare bones: 2 treadmills, 2 recumbent bikes, an old weight machine and dumb bells. It also was dimly lit. I had a large room with a comfortable bed. The floors are plastic tiles so noise could be an issue. Breakfast was excellent: good selection of Mexican dishes and standards like breads, yogurts, eggs (an omelettes bar), French toast, etc. The service was excellent.
"Filthy Floor in Room"
When walking into the lobby we felt this would be a decent standard hotel. Modern decor and clean looking. Having a Starbucks and separate bar/lounge area looked appealing. There are good eating and shopping options within walking distance. Reception wasn't exceptionally friendly. We usually find staff anywhere in Mexico to be very friendly so this stood out. Our biggest disappointment was the cleanliness of the room floor. We all showered in the morning and walked around the wood floors barefoot, and all realized we felt we were walking on dirty floors. When we checked the souls of our feet we were surprised how black and gritty they looked. I alerted teh front desk when we left and the employee apologized and said she'd pass the information along. The hallways and rooms also have a very strong fragrance that two in my party found overwhelming in an unpleasant way.
"A very comfortable stay!"
The Fiesta Inn Insurgentes Sur quickly and easily exceeded my expectations. Valet parking (an additional fee) was straightforward, check-in was quick and pleasant, and hotel staff were helpful and friendly, particularly Miguel in the lobby and Pati in housekeeping. The room was quiet and spotlessly clean and the bed and bedding were very comfortable. Housekeeping and room service were quick and efficient. The hotel's lone yet spacious restaurant's breakfast buffet, for which I paid extra, was extensive and quite tasty (the cactus, though, is a possible exception). The surrounding neighborhood features many restaurants and shopping, all within easy walking distance. Minor complaints: a late-evening bowl of soup ordered in the restaurant was served promptly but guacamole ordered at the same time arrived very late, after I left the table because I was falling asleep while waiting for it. Also, obtaining ice was difficult. The options were to order it through room service or to go to the ice machine tucked away on the fifth floor. Unfortunately, though, buckets to take ice back to the room were not available in the room nor at the ice machine. All factors considered, the Fiesta Inn Insurgentes Sur offered a very comfortable stay and I would not hesitate to return, contingent upon the competitiveness of room rates for comparable hotels.
Top-rated Attractions Nearby
National Museum of Anthropology (Museo Nacional de Antropologia)
Palacio de Bellas Artes
Chapultepec Castle
Coyoacan
Eat Mexico Culinary Tours
Basilica de Santa Maria de Guadalupe
Journeys Beyond the Surface Popular Culture Tours
Murales de Diego Rivera en la Secretaria de Educacion Publica
Paseo de la Reforma
Frida Kahlo Museum
Photos hotel and surroundings (63)
Rooms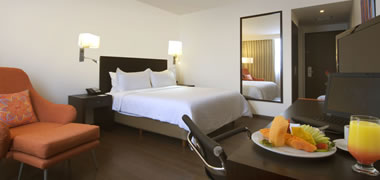 Superior Room, 1 king
Room with one king-size bed, a work desk with ergonomic office chair, LCD screen, one bedside table, bathroom with shower and toilet separated by a sink, cable TV, suitcase rack, closet, full-length mirror and ottoman chair.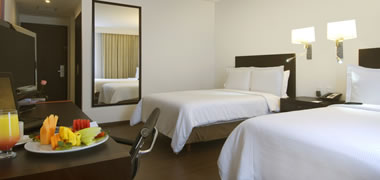 Superior Room, 2 double
Room with two double beds, a work desk with ergonomic office chair, LCD screen, two bedside tables, bathroom with shower and toilet separated by a sink, cable TV, suitcase rack, closet, full-length mirror and ottoman chair.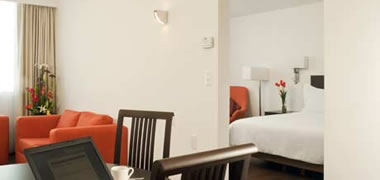 Junior Suite
A one bedroom suite with a living room with lounge for 4 people and a small dining room for 4 people. Also includes a bar with microwave, sink, mini fridge and shelf. Room with one king-size bed, a work desk with ergonomic office chair, LCD screen, one bedside table, bathroom with shower and toilet separated by a sink, cable TV, suitcase rack, closet, full-length mirror and ottoman chair.